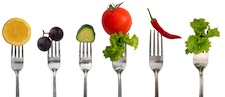 We're not fond of crash diets and torturous regimes at Healthista Towers.  So – this is not exactly a diet per se, but a lifestyle and it can help calm your nerves while shrinking your waistline.  Healthista's Slim and Calm diet eating plan is based on ground-breaking book The De-Stress Diet (Hay House £12.99) written by Charlotte Watts and Healthisa Editor-in-Chief Anna Magee.  It changed our lives and bodies, we hope it works for you too.  Read more about it here or jump straight in and do the following, give it three weeks and you should feel so good you'll want to keep going (remember to check with your doc first though)…
Choose from these simple meal options from the authors of The De-Stress Diet
Breakfast – Choose from
Smoked salmon, soft goat's cheese, capers and raw red onion on pumpernickel rye toast
Two-egg omelette made with a pat of butter and a splash of milk, beetroot, spinach, cherry tomatoes and optional feta
Slow-cooked porridge – put into a slow cooker overnight with water, grated apple, cinnamon, raw almonds and a spattering of raisins for sweetness, add live whole Greek yoghurt to serve
BREAKFAST TIP Coffee on an empty stomach exacerbates stress and can lead to exhaustion and false hunger later by encouraging your body to produce the stress hormone adrenalin.  Have coffee after breakfast and the energy hit is slower – without the crash later.  After lunch is fine too but try and avoid caffeine after 2pm so it doesn't interfere with sleep. Pick-me-up alternatives include peppermint or licorice herbal tea.
Lunches – Choose from
Free-range turkey or chicken slices on a hearty salad of any mix of the following; avocado, watercress, romaine or cos lettuce, asparagus, cucumber, red onion, cherry tomatoes, avocado, grated beetroot grilled artichokes or any raw vegetables you have available
Tinned or smoked salmon with hearty salad above and dressing made from extra virgin, cold-pressed olive oil, a little vinegar (see tip) and hot horseradish sauce.
Slow-cooked black bean and leafy green stew made with celery,  garlic and onions, dark greens such as spinach or kale, carrots, garlic and onions and flavoured with curry mix, rosemary and oregano and a simple vegetable stock
LUNCH TIP  A study from Arizona State University found that adding vinegar to food lowers its Glycaemic Index, helping control insulin levels, keeping you full longer and also led study subjects to eat around 200 fewer calories through the day. Adding lemon juice may have a similar effect too.
Dinners – Choose from
Salmon fillet spread with pesto sauce and roasted in foil for 20 minutes served with lashings of steamed dark green leafy vegetables, broccoli and cauliflower with sea salt a and a pat of butter.
Thai coconut curry made with prawns, free-range chicken or tofu. Make it from a base of good quality Thai green curry paste and add in extra lemon grass, kaffir lime leaves, fresh garlic, ginger and coriander at the end for liveliness. Don't be scared of cooking it with whole fat coconut milk (it contains Monounsaturated Fatty Acids shown to assist in the break down of fat around the middle) and add vegetables such as carrots, red peppers, baby sweetcorn and pak choi and fresh chilli.
Slow-cooked Morrocan style lamb stew with garlic, onion, preserved lemons, prunes, dried apricots, raw almonds, cinnamon, cumin and ground ginger – the dried fruit and almonds can be soaked in a pint of strong tea for an hour beforehand for optional flavour.  Serve with any fresh greens, some live whole Greek yoghurt and fresh coriander garnish
Snacks – Choose from
Celery sticks with nut butter. The ultimate De-Stress food, celery calms the nervous system and the creamy taste of nut butter (we love the praline like taste of hazelnut) provides satisfaction from fats and calming magnesium and vitamin B6.  A great pre-bed snack.
Mixed raw, unsalted nuts with a few dried sour cherries or blueberries or a fresh apple or pear provide a sweet taste that helps regulate rather than upset blood sugar balance and could keep hunger pangs at bay between meals
Fancy a treat? Opt for dark chocolate covered Brazil nuts, dark chocolate contains small amounts of chemicals such as theobromine and phenylethylamine that some studies have shown may help elevate mood while the added protein and healthy fats in the nuts keep blood sugar balanced for longer than if you ate chocolate alone.
SNACKING TIP Constant snacking can lead to food fixations, unnecessary calorie intake and a feeling that you're never quite satisfied.  The protein and good fats in De-Stress Diet meals should sustain you for about four hours between meals without eating. But if you leave longer between meals or feel hungry try one of the snacks listed here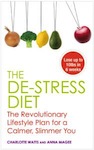 The De-Stress Diet
 (Hay House £12.99) by Charlotte Watts and Anna Magee is now available from amazon.co.uk
.  For downloadable yoga and fitness videos, shopping help and to 
sign up to a free email and podcast support program for your Six Week De-Stress Diet Plan, log on to de-stressyourlife.com
.
Like this article? Sign up to our newsletter to get more articles like this delivered straight to your inbox.