Busy mums, we've found your new saviour. Our new blogger, Carole Beck, will be sharing her favourite healthy 30-minute meals every fortnight. This week's culinary adventure: vegetarian Indian thali. (Good thing we only have to wait half an hour -we're salivating.)
I'm Carole, and like many busy mums, I'm tired in the evenings. With three kids and work, just the thought of spending more than half an hour cooking dinner for me and my husband is exhausting.
Nutritious food in a hurry is a bit of a holy grail in our modern lives, but I'm not giving up yet. I've set myself a challenge to try new dishes, scour the supermarkets for shortcuts and try out healthy cooking courses so my family's 'fast food' can come from the kitchen.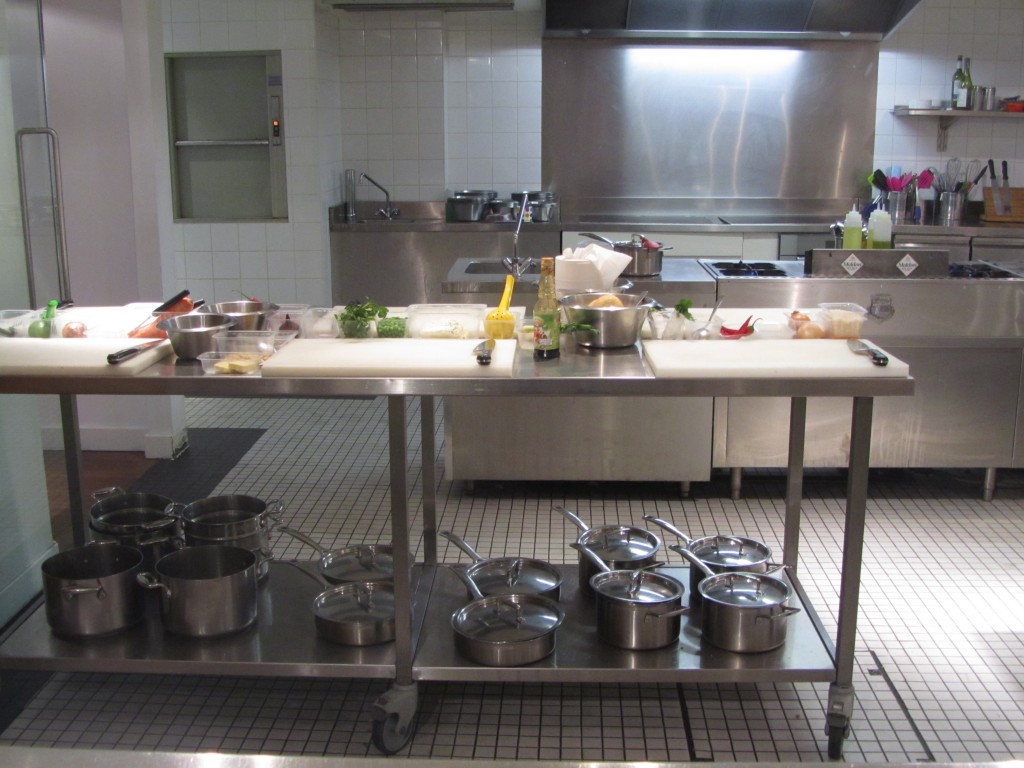 This week, I went on a cooking course at L'Atelier des Chefs – a cooking school in London that offers a range of classes to suit every interest, pocket and time constraint.
I chose a vegetarian Thali lesson. Thali is an Indian and Nepalese dish made of a selection of various dishes all in little cup-sized servings and eaten as one meal. The 1.5 hour hands-on class taught me how to make a selection of Indian dishes that work together.
Confession time: it was my first ever cooking class. And so it was with relief that I finally learned proper chef's techniques for chopping an onion and peeling a garlic.
So for anyone not acquainted with culinary basics like these: First, chop the pointy end off the onion, and halve it. Peel both halves of the onion but keep the root end intact. Next, using a sharp knife, slice your knife through the onion half from the tip to the end about eight times to make a sort of fan shape, but, most importantly, don't cut through the root end. Then slice the onion once along the horizontal, again without cutting through the root. Finally, slice the onion as normal. You should find that the onion stays in place nicely while you slice, and that the result is finely diced. See more
For garlic, put the clove on the chopping board, and hold a knife with a wide blade over it. Then smash down on the blade with your fist. The garlic breaks and the skin peels off easily.
I also learnt how to prepare a chilli without adding too much heat to the dish. (With the back of a sharp knife, scour away the seeds and also the white membrane running down the inside of the chilli. This is where the heat lies.) I'm hoping that these practical tips will speed up my dinner preparation times.
There were five of us taking the class – the others were a group of friends celebrating a birthday – and we worked together to cook a variety of thali dishes: butternut squash curry, matar paneer, carrot and green chilli achar (a kind of pickle), lentil pilau rice and naan bread.
The bread was made using baking powder as the raising agent, because our class didn't allow enough time for yeast to rise. I loved kneading the dough and shaping it-making bread just might be the perfect weekend activity with the kids.
Results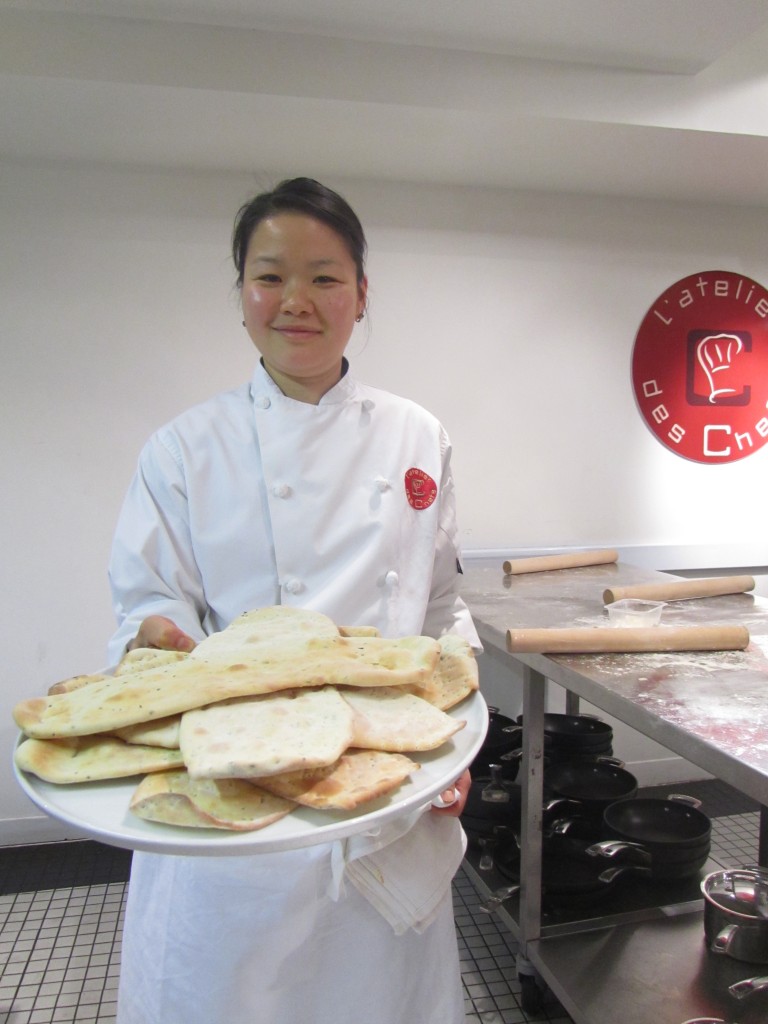 The naan bread was tasty – but not as authentic as if it had been made using yeast. However, it is a good substitute if you're short of time. The other dishes were absolutely amazing. It was the kind of meal that you want to somehow capture in a bottle so that you can enjoy it over and over.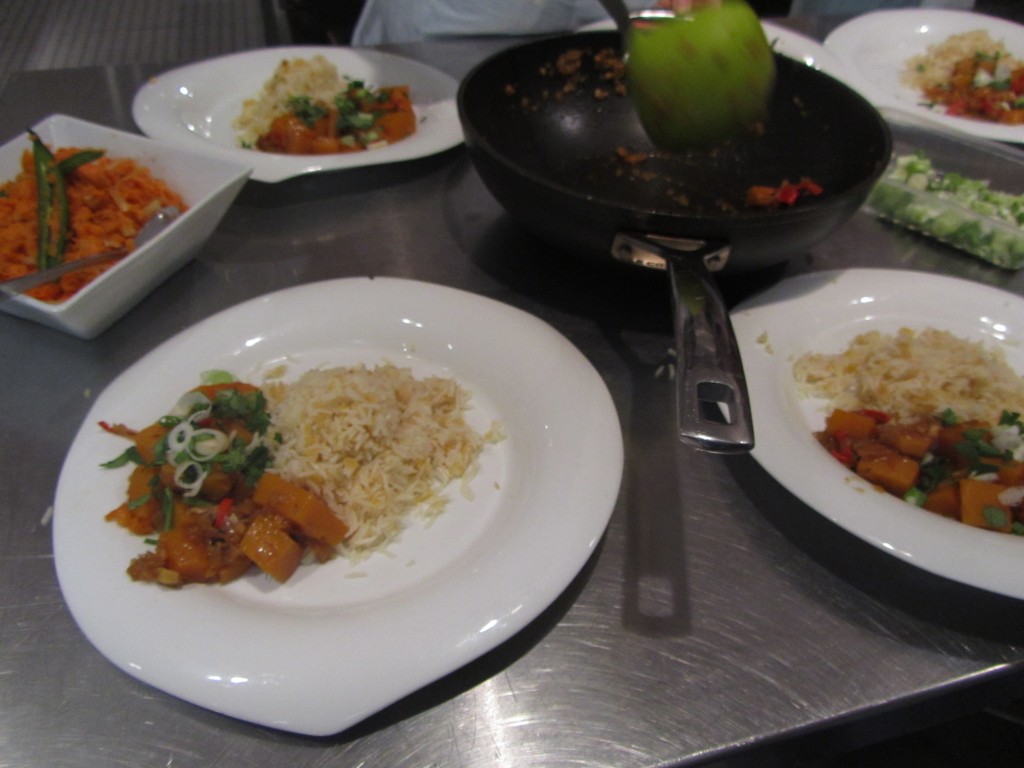 And excitingly, each element of the meal takes 30 minutes or less to make at home, meaning that vegetarian thali dishes are ideal for us busy people too.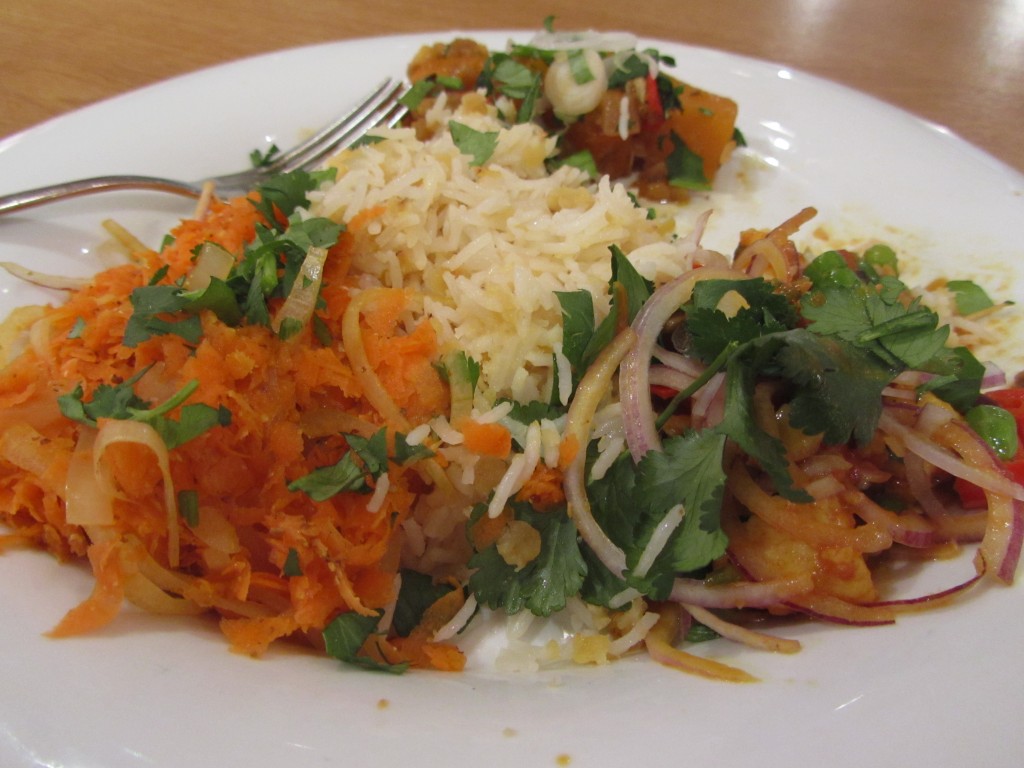 Making it at home
This week, after putting the kids to bed, I opted to cook one of my favourite dishes from the thali for our dinner, the matar paneer. (I used halloumi as Dahlia, our chef, said that it's a good substitute if you can't find paneer.) It took about 10 minutes to prepare the ingredients and another 20 minutes of simmering till it was ready.
Okay, okay, I cut a couple of corners – I didn't hand-pick the leaves off the coriander as in the recipe, and also I didn't garnish with onion. Those are just a couple of steps too far for a weeknight. I also used light halloumi and less butter to save a few calories.
But it was still delicious. And because the halloumi is such a substantial and solid cheese, it was also really satisfying.
Matar paneer
Recipe courtesy of L'Atelier des Chefs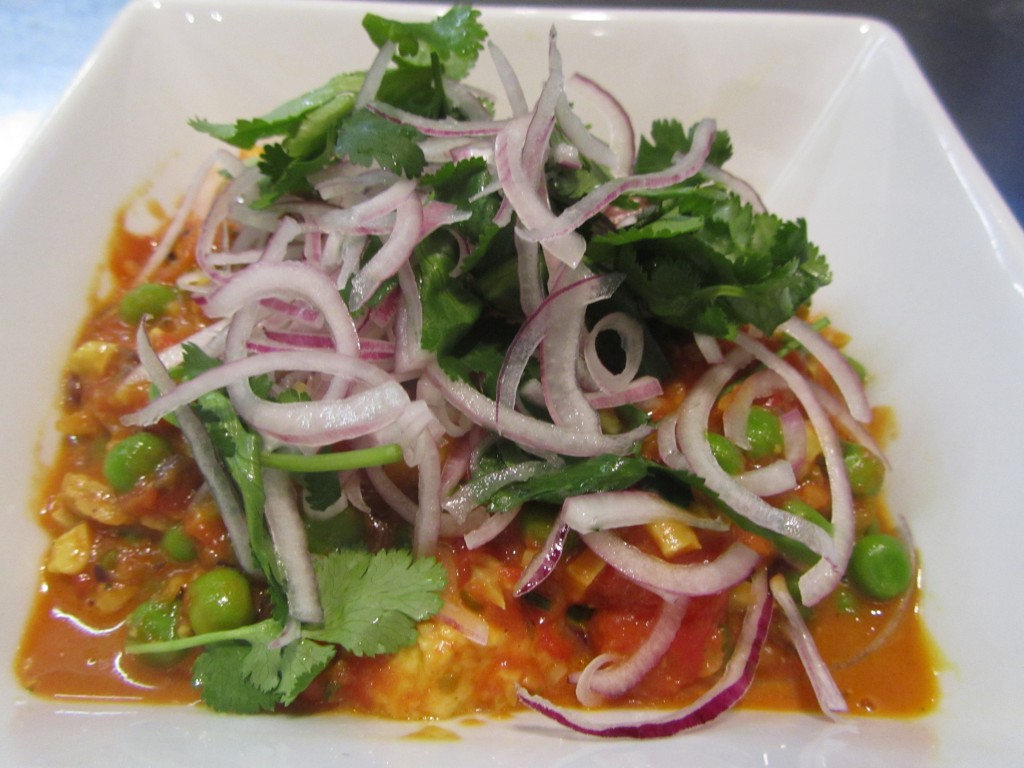 Serves 4 as a main course, or 6 as a thali dish
400g of paneer (or halloumi cheese)
150g frozen peas
1 tsp ground turmeric
1 whole red chilli
1 tsp cumin seeds
½ tsp ground coriander
400g chopped tomatoes
1 red onion, chopped
25g fresh ginger
4 garlic cloves
50g cashew nuts
quarter of a bunch of fresh coriander
25g unsalted butter
3 pinches of Maldon sea salt
Method
Finely chop half the red onion. Save the other half for the garnish.
Mince the garlic and chop the red chilli. Roughly crush the cashew nuts and chop the cheese into large dices of about 2cm each.
Peel and finely grate the ginger. If you have time, pick the leaves off the coriander and finely chop the stalks. (If short of time, just chop it roughly.) The remaining half of the red onion should be sliced as thinly as possible, and then left to soak in ice cold water.
Over a medium high heat, melt the butter and fry off the onion with the salt. When the onion is translucent, add the garlic and chilli, cooking them for about one minute.
Add all the dried spices and toast them until fragrant.
Add the ginger and coriander stalks and fry until any juices evaporate. Add the crushed tomatoes, paneer and crushed cashew and leave to simmer until it has thickened, for about 20 minutes.
Adjust the seasoning to taste. Add the frozen peas and heat them through before serving.
Garnish with the coriander leaves.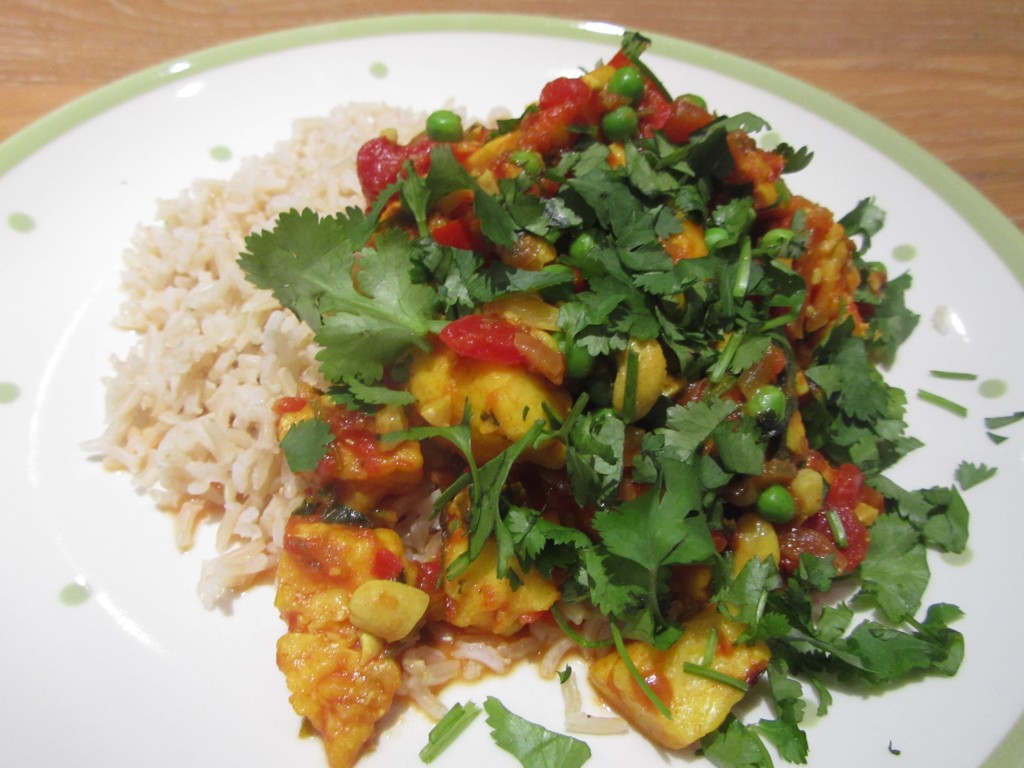 Carole was given a free cooking class for review purposes. To find out more about cooking classes at L'Atelier des Chefs, click on the link.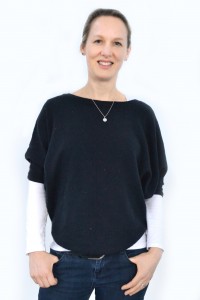 Carole is a health and parenting journalist, and has three children, aged seven, five and two. She lives in London, and writes a blog at Healthier Mummy about trying to lead a healthier family life. Follow her at @healthiermummy.
Like this article? Sign up to our newsletter to get more articles like this delivered straight to your inbox.