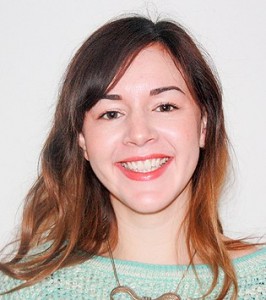 Eva Caiden uncovers a secret side to Tenerife at this peaceful detox retreat where she underwent a famously strict detox, The Mayr Method
I say: Tenerife. You say: podgy Brits abroad with unfortunate tan lines and a penchant for fry-ups. Right? Wrong.
In fact, the largest of the seven Canary Islands is a haven for active, outdoor types, with excellent biking, hiking, diving and surfing. Its balmy year-round climes and short, four-hour flight time from the UK make it the perfect winter escape.
The island has been home to the Oceano Vitality Hotel & Medical Spa since 1965, when the Rolle family first came here.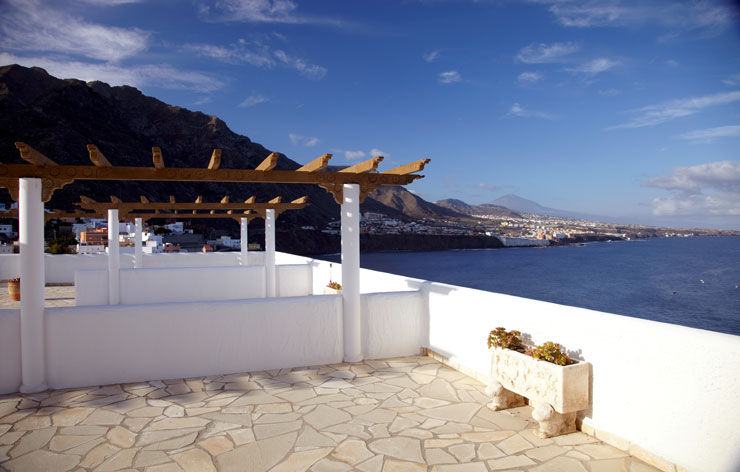 Since 2001, this third-generation family-run hotel has specialized in the FX Mayr method, a holistic approach to improving health through the digestive system. It's a strict but notoriously effective system of purging the body of toxins. This detox cure is much beloved by Austrians (where it originated) and Germans, but on British shores, few have heard of it.
What is the FX Mayr method?
Mayr medicine believes your gut is key to your overall health. According to Dr FX Mayr, the naturopath who developed it, most disease begins there as a result of two things: your diet and not chewing your food properly. Combined with high levels of stress and a lack of exercise common in modern lifestyles, it places undue stress on the digestive system (specifically intestines and colon) causing them to become inefficient and full of toxins. This results in bloating, premature aging, stubborn belly fat, food intolerances, bowel problems and even high blood pressure and heart disease.
Dr Mayr's solution was a gentle detox designed to cleanse your digestive system using a combination of kind-to-your-stomach foods, mindful eating, low-level fasting, and a tailored programme based on your needs. This can be used in conjunction with orthodox medicine and includes treatments such as hydrotherapy, abdominal massage and colonic irrigation.
The end result? Not only do patients report a rejuvenated digestive system but there are also marked differences in blood pressure and energy levels. A secondary benefit is weight loss, revitalized skin and a boosted sense of well-being.
The approach was conceived in Austria, by Dr Mayr during WW2. He found that patients in his military hospital recovered more quickly on a simple diet of soups. He combined this with his belief in the power of fasting, to come up with his theory about the digestive system as the 'root' of health.
It's hugely popular with Austrians and Germans aged 40+. But now, for the first time, owner Dr Rolle is seeing more and more patients in their 20s. He blames our hectic lifestyles, 'People are so stressed these days,' he says, 'The internet and social media mean we never switch off. Using the Mayr method, we re-establish natural, biological rhythms: eating, resting, sleeping. We press the reset button.'
Mayr and me
After weeks of running on empty (too much work + too many Christmas parties), I needed some downtime. The festive fun had also taken its toll on my tummy; I felt bloated and lethargic. I'm keen to see if the FX Mayr method can work its magic on my tired body.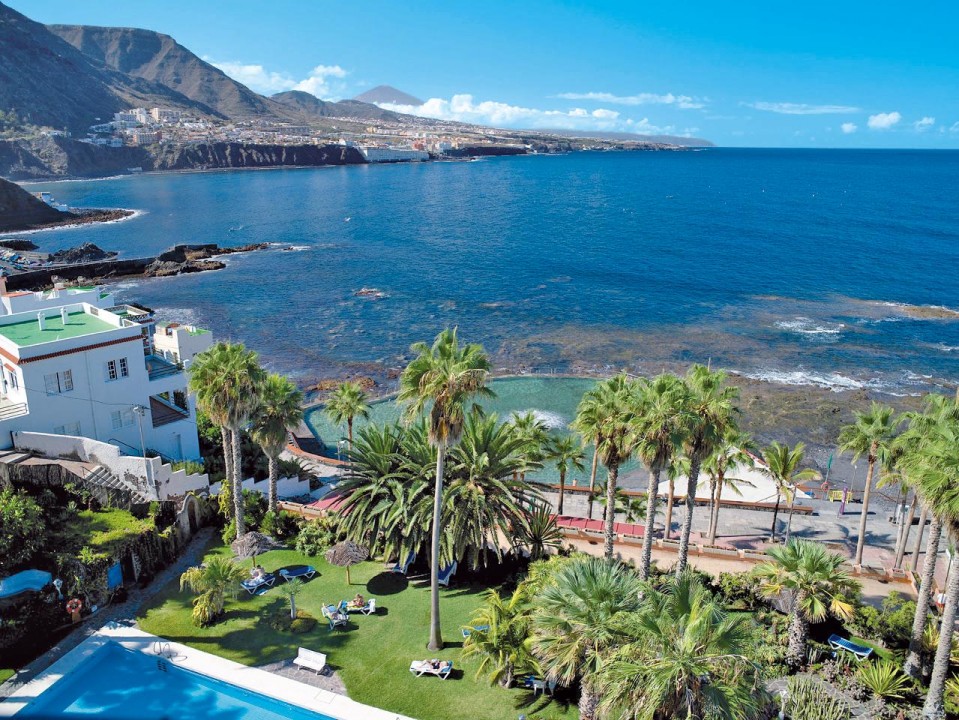 My stay begins with an appointment with Dr Rolle, the German owner. His office is located two buildings down from the hotel, in a typically local, whitewashed house that's also home to the hotel gym.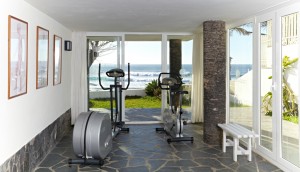 Inside his clinic, I am weighed and my stomach is examined ('Too much gas,' prompts Dr Rolle after tapping the top of my ribcage.) He takes my blood pressure (normal) and asks all sorts of questions about my diet, activity levels, stress levels and bowel movements. After our chat, he tells me I'm exhausted.
He prescribes a diet and treatment plan for me (each patient's diet is built around their needs, some even include a glass of wine a day) There are five phases of the diet to work through, from phase one, which is fasting, to phase five, which includes fish or meat and veg at dinnertime. I'm placed on phase three.
Dr Rolle gives me my orders for the next three days:
Eat three meals a day, in the dining room at your allocated times (there's no snacking allowed as it disrupts the 'rest' you're trying to give your digestive system and disturbs the bacteria in your intestines)
Chew each mouthful at least 20 times (to ensure your food is properly broken down before it reaches your intestines)
Drink 2.5 litres of water a day. Don't drink anything for an hour before your meals and half an hour after (Liquids disrupt the digestion process)
Drink Epsom salts first thing in the morning (Mixed with hot water, this acts as a laxative, helping to ease a poorly functioning digestive system)
Try out a treatment: I'm booked in for a massage, jet shower treatment and Thalasso bath
That's it. No punishing exercise regime. No early starts. Simple, right? However there's also no alcohol and no late nights. As someone who thrives on being busy, I wonder how I'll cope with the enforced relaxation on offer here.
Pressing the reset button
The hotel is situated in the sleepy town of Punta Del Hidalgo, perched atop the northern tip of the island, far away from the tourist hordes of the south. The town is just an hour's drive from Tenerife South airport (or 17km from Tenerife North airport, although there are far fewer flights).
This is the real Tenerife, the locals will proudly tell you. Time moves slower here. The elderly senora, who casually opens her shop 20 minutes late after siesta to find me waiting outside looking at my watch, just shrugs and smiles. A palm tree lined promenade snakes around the town, offering sea views so close you'll feel the spray on your face. Locals swear by their daily dip in the natural seawater pool. Flanked on the other side by the lunar-like volcanic mountains, it makes for a captivating view.
From the outside, the white, high-rise aesthetic of the hotel is very functional. But step inside and it's a different story. From the tranquil lounge, with its eastern feel (intricately carved wooden furniture, Buddha statues and hanging tapestries) to the sweeping curved book-lined walls of the small library, this place screams, or rather, whispers, serenity. I have to suppress the urge to hush anyone who talks at a normal volume; it's like being in a library. There's a cave-like feel to the communal interiors, with their higgledy-piggledy white walls, and all around me are men and women in their fifties and sixties.
The outdoor pool is surrounded by palm tree filled gardens on one side, at the bottom of which, you can step through a door that leads directly to the sea. The on-site restaurant and bar has pool views, and serves up a daily changing menu of locally sourced food like paella. There's a spa which offers everything from pedicures to Thalasso baths and in the basement sits a series of modern saunas, the hottest of which is a wood and glass creation that's a steaming 90'C.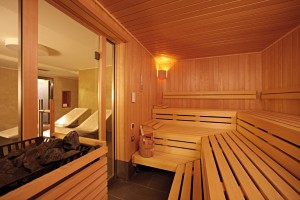 Nine flights up (thank god there's a lift), and I'm in my apartment. It's roomy and comfortable (though not particularly stylish). Decorated in creams and browns, there's a huge king-size bed, a carpeted lounge area with a dark wooden sofa, TV, table and chairs and a small balcony with sea views. In the hallway area, separated from the bedroom and living area by a sliding door, is a kitchenette, with a fridge, sink and hob. The shower has excellent pressure and there's the European stalwart that my brothers and I used to call a bum-washer when we were younger (or bidet, for the more mature minds)
On my first morning, I bounce down the spiral stairs to the dining room. Mayr clients are placed in a separate room to the main hotel restaurant – presumably to stop food envy at the bloke beside you who's just ordered steak and a bottle of red. The dining room is painted in shades of cream; the rattan chairs and natural tones create a calming atmosphere. There are around a dozen tables. Most have couples seated at them but a few solitary diners are dotted around. Apart from the pool views, there are no distractions: no music, no chatter, nothing in the room that stands out. I soon learn that this is so you can focus on 'mindful eating.'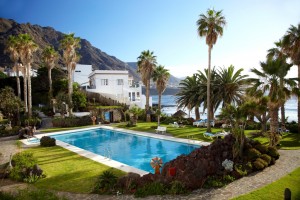 I've already downed my Epsom salts in hot water. They taste disgusting and I pull a face. On the first morning, nothing happens. But by the second day it's clear their laxative-like properties are justified. They give me stomach cramps and diarrhea. Not the glamorous holiday look I was going for.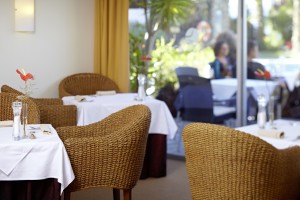 There's a small bar in the corner of the dining room, and a waitress soon comes over to explain my menu options which are pretty limited. Breakfast brings goat's yoghurt (the only dairy included in meals due to the predominance of intolerances to cow's milk and soya) and a dark orange shot of papaya and carrot juice. The yoghurt is tangy but not unpleasant while the juice isn't sweet like I was expecting. This is followed by papya, a small piece of spelt bread (made without wheat, which many people are intolerant to) and almond paste, which tastes yummy, like an unsweetened peanut butter. Chewing each mouthful 20 times is tiring and boring at first– I have to really focus, but by the end of the meal, I'm full.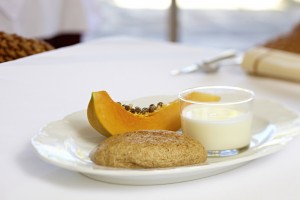 Lunches and dinners are similar each day. I can choose from two rice cakes, a small hunk of spelt bread, or one ryvita-style cracker, which is served up with half an avocado, drizzled with lemon juice (an alkaline forming food). Then I pick one 'protein pot' from a list: tofu, turkey (this was coated in herbs), almond paste, goat's cheese, (rubbery, like halloumi, rather than the crumbly stuff we're used to).  At dinnertime, I also have a fennel or spinach broth. The waitress recommends I eat small bites of everything together – rather than eating my broth first – to make it as easy to digest as possible.
The meals are like baby food: bland, comforting, soft and mushy. There's herb salt and cinnamon in place of salt and pepper on the tables (they stimulate the digestive system) and everyone is slathering it over their plates in the hope of finding some flavour. Strangely enough, it's enjoyable and very soothing on the stomach. The first day I go to bed hungry but the second day I actually can't finish my dinner and leave some. While the food is far from exciting, I look forward to meal times and the peace and quiet of the dining room. My stomach feels calm and unbloated.
All about alkaline
Magda Corominas, the hotel manager, says the food combinations are deliberate, "The main focus of meals here is balancing alkaline and acid levels in your body to create the optimum pH level. Our body's pH level should be between 7.35 and 7.45, where 0 is most acidic and 14 is most alkaline."
"An overly acidic stomach environment causes problems," says Magda, "Alkaline foods help keep your blood at the optimum pH level. So the diet here contains alkaline carbs such as buckwheat and quinoa, alkaline protein such as avocado, white fish and turkey and alkaline veg such as carrot and zucchini, which are all good for improving the immune system."
I'm in good company: celebs who worship at the alkaline altar include Jennifer Aniston, Gwyneth Paltrow and Kirsten Dunst.
Prepare to be pampered
The spa is located next to the dining room behind a glass door. I pad down in my dressing gown and slippers (provided in my room) for my treatments. The full body oil massage is an hour of bliss as all the stress is worked out of my body, from head, to toe. The jet shower treatment is bizarre; it involves standing in a tunnel-like wet room while being blasted with a hose of seawater up and down my body to improve circulation and cellulite. It feels invigorating but faintly ridiculous. The Thalasso bath (coming from the Greek word for 'sea')  takes place in a room overlooking the pool. It's basically a seawater jacuzzi, again, designed to improve circulation. It's relaxing but doesn't feel as effective as the jet shower.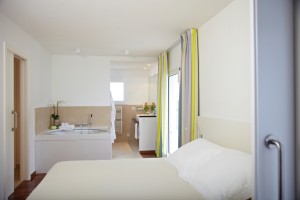 Once the treatments are over I spend my days lazing on the beach, my body gulping up the 24'C rays as I watch myriad surfers gracing the waves. I take part in one of the hotel's outdoor morning yoga sessions. I finish a book in one evening, sitting on my balcony listening to the sea. I take a wander around the sea front, nodding at the locals who smile at me along the way. It's blissful.
Is it worth it?
By the end of the three days I am feeling serene. Like some sort of hemp-loving earth-mother-type figure. Nothing will ever get up my grill again. Stress? I laugh in the face of it! Or rather, I say, chill, dudes.
My tummy is flatter. I've lost 2.3lbs. I'm feeling glowy, thanks to the combination of sun and diet. Mainly though, I feel like I've recovered some time just for me. Time when I'm not stuck on my daily commute, or answering emails in my lunch hour, or saying yes to things I want to say no to.
Despite how great I feel, I don't know if I would pay for this (my trip was provided free of charge for this review). At least not for another 15 years. If you're 40+ and are suffering from digestion problems, food intolerances, high blood pressure or other ailments, this is for you.
If, like me, you're in your twenties or thirties, you might feel a little out of place among the older clientele. The hotel could definitely gear itself more to British tourists too: it wasn't so much the lack of English that made me think this, but the prevalence of German, which made me feel like an outsider.
At present, Dr Rolle recommends a 2-3 week detox for best results, but I think this would be of more benefit to someone in their forties or fifties, especially as it'd mean using most of my annual leave in one go.
A long-weekend option would be the perfect inbetween for me and Dr Rolle says this option is still beneficial, especially to younger people.
You can do it too
No time to detox? Here are the five most important things you can do for a healthy digestive system:
Chew – chew every mouthful 20 times to ensure it's properly broken down and can be digested easily
Eat regular meals – snacking and irregular eating places a burden on your digestive system, as it doesn't get a chance to rest.
Eat mindfully – take time to sit down, chew, and eat your meal properly. It's too easy to grab something on the go, but this makes it hard to make good food choices, chew properly and places stress on your digestive system.
Choose alkaline foods – or balance acidic foods with alkaline ones, to maintain your body's pH level
Small, early dinners – allow your digestive system to rest by avoiding heavy dinners late at night
Don't miss
Once you're all blissed out, why not check out these picture perfect local attractions:
1.  La Laguna
A UNESCO World Heritage Site, Tenerife's oldest city (and former capital) is now a lively university town full of colourful historical buildings
2. Mount Teide
Take a cable car or hike to the top of the world's third highest volcano – visible from the hotel
3. Macizo de Anaga
The hiking in this mountain range is second to none – sections of it now have national park status. There are tons of trails, but look for the impressive surf (it's several metres high) off the north coast.
Words: Eva Caiden
Eva is a freelance journalist with a special interest in health and well-being and (we may as well be honest about it) G&T. You can follow Eva on Twitter:
@evacaiden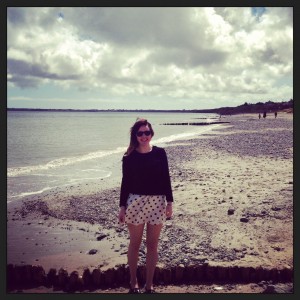 The details
Prices at Oceano Vitality Hotel & Medical Spa start from 66 euros per person per night for a standard room based on single occupancy and 49 euros based on double occupancy. For design rooms, prices start at 98 euros per person per night based on single occupancy and 66 euros based on double occupancy.
Prices for the FX Mayr Classic detox start from 1278 euros for 14 nights including initial and final medical examinations, abdominal examinations or colonic irrigation therapy, 3 meals a day on phases 1-3, epsom salts, a massage treatment, Thalasso application and Schiele bath.
Monarch, the scheduled leisure airline, operates flights to Tenerife from Birmingham, East Midlands, Leeds Bradford, London Gatwick, London Luton and Manchester airports with fares, including taxes, starting from £54.99 one way (£110.98 return). For further information or to book Monarch flights, Monarch Holidays or Monarch Hotels, please visit www.monarch.co.uk
Like this article? Sign up to our newsletter to get more articles like this delivered straight to your inbox.