In week eight of her Strictly Dance Diaries, Jo Willacy went to Elstree Studios to watch the filming of Strictly. Excited. A bit.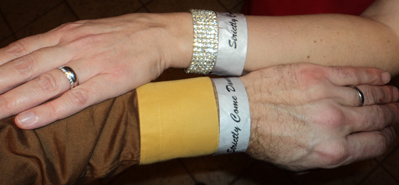 The last time I wore a paper wristband was the day I was admitted to hospital this summer. I can't say I was quite as excited then as I was about being asked to wear one on Saturday night. 'Strictly Come Dancing 2013' this one said (as opposed to my hospital number and bar code for blood tests and x-rays) and I happily displayed it on my wrist (next to the obligatory diamante, of course).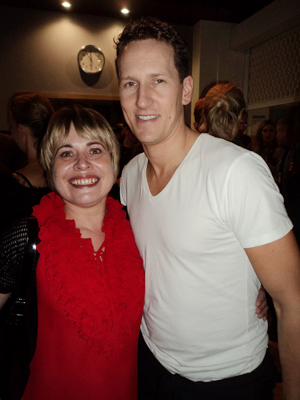 Within minutes of arriving at Elstree Studios, my excitement was almost shattered. The news about Artem and Natalie not dancing had just broken. My offer to step into her shoes received a resounding silence…
Stepping into Brucie's shoes on Saturday was Claudia, a fact Gav, for one, was most pleased about (he's had a soft spot for her for years). The fact our seats were a short chassé away from her off-camera hiding spot pleased him no end. She was as quick-witted and entertaining behind the camera as she is on it – the woman who doesn't mind donning a bald cap, Mark Benton style, admitted she was 'sick with nerves' before the show, claiming in classic Claudia style to have thrown up on Tess just before coming out to greet us and, equally classily, trying to resolve a knicker malfunction seconds before going live. Only Claudia!
The atmosphere in the Strictly studio sparkles and, even as an audience member, I was tingling with nerves and excitement. Having danced just once before a crowd of people – with our surprise cha cha cha at Gav's 40th birthday party – and suffered nerves that made me lose all feeling in my legs, I can only imagine what the celebs go through each week, performing in front of a live audience in the studio and knowing that, last week alone, a whopping 11.3 million viewers are watching at home, too.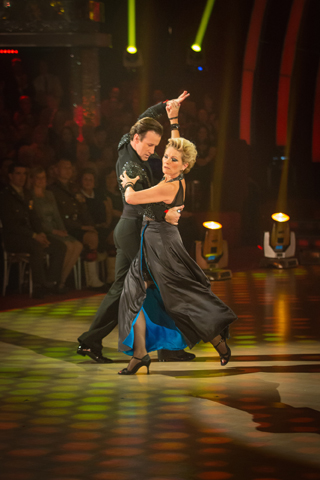 The most obvious case of nerves on Saturday night came from Fiona. The tension in her face was visible and her deep intakes of breath were audible – or perhaps I mistook a bad case of nerves for a great actress' channelling of aggression as she found her inner matador.
What's wonderful about being at the live show is that you can feel the audience willing each and every celeb on. Yes, the warm-up guy encouraged us to clap and give standing ovations but little persuasion is needed. Take Ben and his backflip (and, let's be honest here, our very first glimpse of his tantalisingly tight sailor suit), Patrick swirling Anya above his head, Abbey putting on the cabaret in her Charleston, Ola and Ashley launching themselves onto the judges' desk and Susanna's quite sensational spins. Our whoops and cheers were as spontaneous as they come.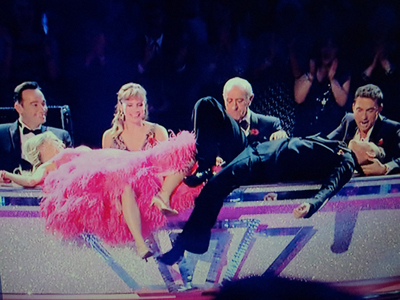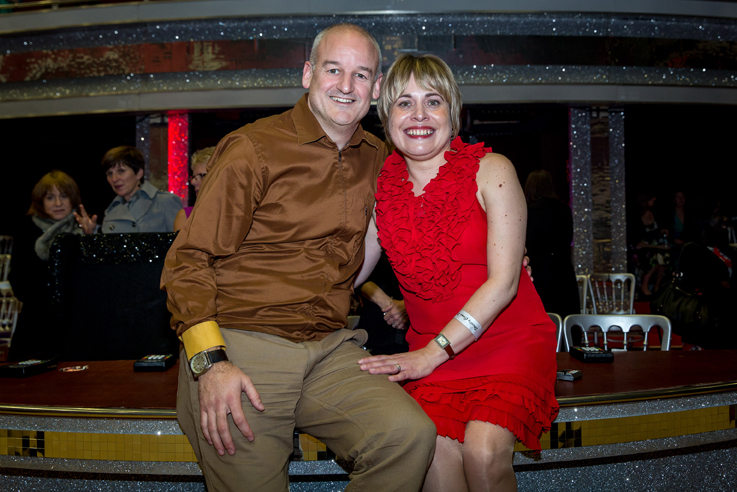 When Dave got voted out, the lump in my throat and tear in my eye was spontaneous, too. I know many people thought Mark should have gone, but unlike Len (I never disagree with Len, what's going on?) I did think Dave was the right choice. I was still sad to see him go, though – come on, I can't get through an episode of Strictly at home without shedding a tear, so what chance did I stand being there in the flesh?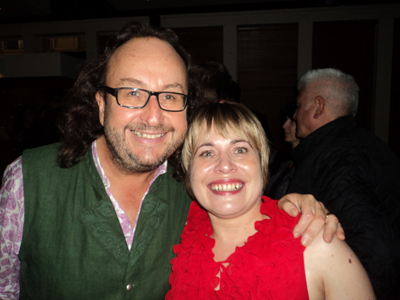 Dave's taken learning to dance seriously, tried his hardest and loved it. His analogy of his first Strictly dance lesson was perfect: "It's a bit like having a first driving lesson but they give you a Ferrari." After the show, I asked if he thought he'd carry on dancing. If his wife has anything to do with it, apparently he will. 'She'd love to learn to dance,' he said. Perhaps they could join forces with Deborah and her husband – another Strictly spin-off! And speaking of husbands, if a Strictly pro is a Ferrari, what's an amateur dancing husband from Hertfordshire? A Fiesta? Useful when we learn the samba, perhaps!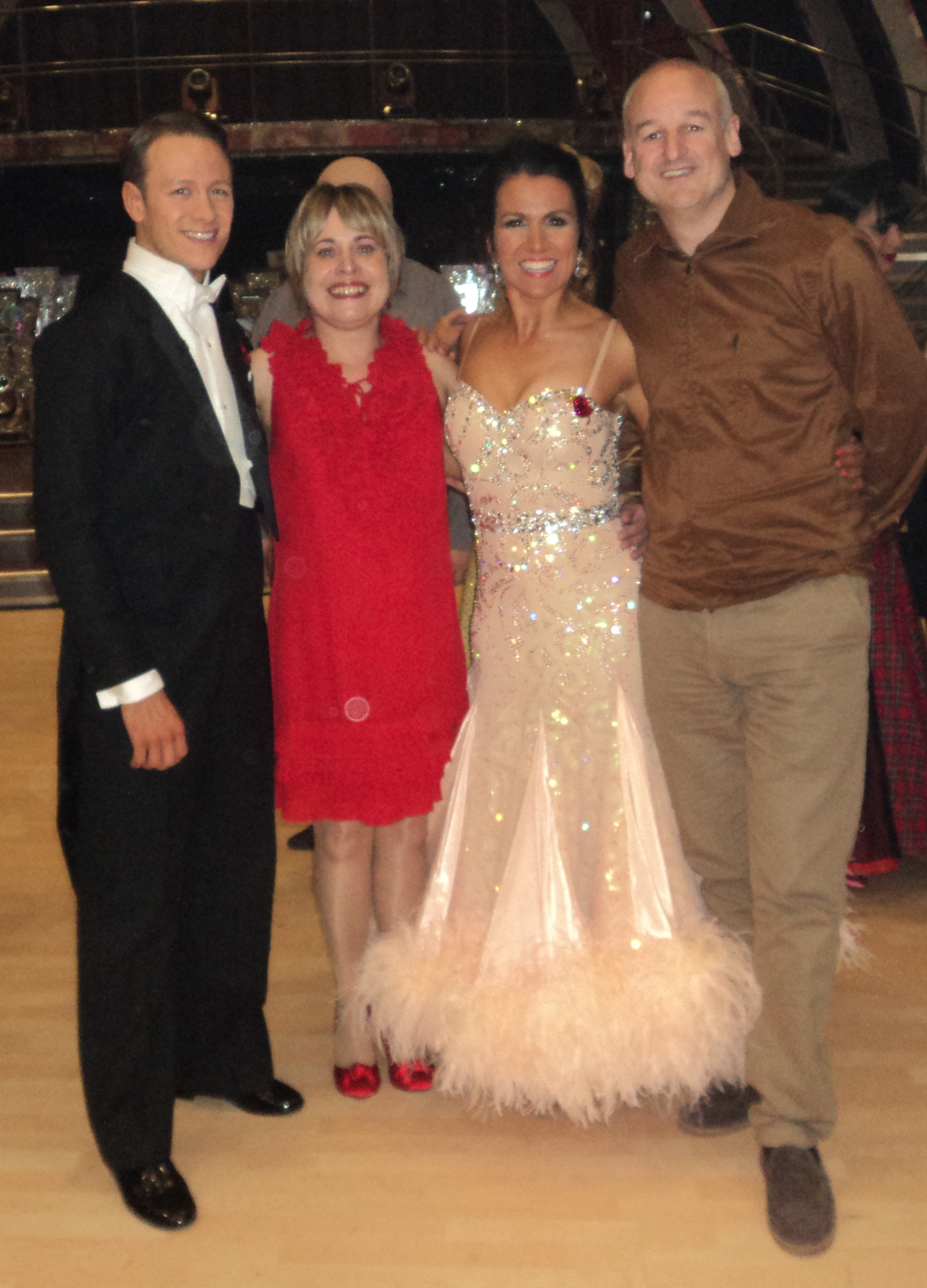 As Dave and Karen were whisked away to be interviewed by the It Takes Two team, we were introduced to Kevin (from Grimsby) and Susanna. Gav managed to talk football, not waltzes, with Susanna (she supports Crystal Palace, Gav works with their apprentice players) while Kevin took me in close hold. I rarely dance with anyone other than Gav and it felt wonderful to be partnered with someone more suitably matched in height (sorry Gav). Maybe it just felt amazing to be in the arms of a Strictly pro. The stuff my dancing dreams are made of.
Before I could even begin to talk technique, Kevin had spun me round and lifted me off my feet (well, one foot). Conscious of not letting the side down for amateur dancers, I did at least try to point my toe. How I wished at that moment I'd worn my Supadance Latin shoes, not my impossible-to-walk-in-let-alone-dance-in sparkly numbers. Gav even remarked how nice it must have felt for me to have a man who knew how to lead…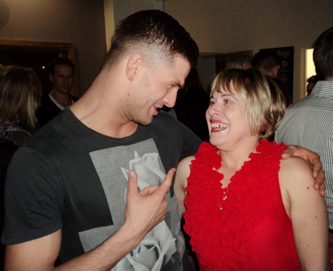 Perhaps Gav will be a transformed dancer this week if he remembers the words of wisdom he received from Strictly new boy Aljaz later in the evening. 'Up, back and down,' he explained, showing Gav how to work on his shoulders and posture for ballroom. And my special Aljaz trick? I have to picture Gav as a tree and, when we're dancing, imagine I'm growing out of him. I like it. Gav, you're now my Al-'Ash' tree forever more!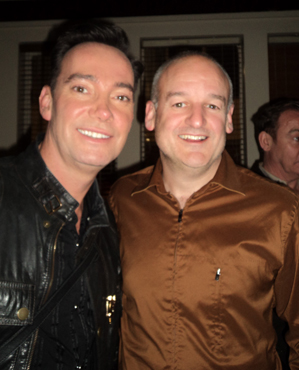 Not content with personal tips from a pro, Gav was intent on talking armography with the man who makes it his specialist subject. Exuding charm (yes, really!), Craig demonstrated beautiful rumba arms – like many of the celeb men, rumba is the dance Gav finds hardest. It seems a new hip certainly hasn't stopped Mr Revel Horwood from being graceful up top and, this straight from the horse's mouth, Craig hopes to be back dancing in around three weeks. Expect lots of extra hip-powered demos on It Takes Two soon.
As we headed home, our heads spinning as fast as a Strictly glitterball (from sheer excitement, not fizz!) I recalled Len's words I did agree with. "The top ones danced great and the bottom ones were wonderful entertainment. Absolutely brilliant. What a lucky boy, sitting there, watching them." And what a lucky girl this Strictly and dance lover was, too.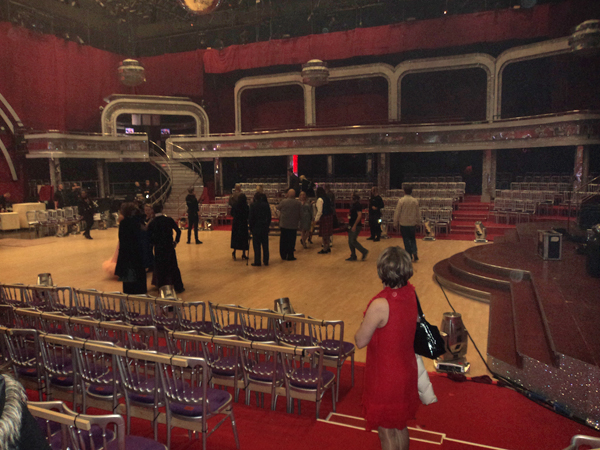 Large picture of Jo and Gav by Guy Levy
Read more Strictly Dance Diaries from Jo
Like this article? Sign up to our newsletter to get more articles like this delivered straight to your inbox.