Pollution in London is at a new high, but the effects on our skin aren't so visible. Vanessa Chalmers has an expert plan to help you combat pollution-related skin ageing
The truth about London's air pollution has come to light this week and it's pretty terrifying. New figures released by mayor Sadiq Khan show every area in the capital exceeds World Health Organisation (WHO) limits for one of the most dangerous toxic particles called PM2.5. This means that nearly 95 per cent of the capitals population are at an increased risk of respiratory and cardiovascular diseases – what Mr Khan rightly describes as 'sickening'. What's more, children exposed to these pollutants are more likely to develop reduced lung function and asthma later in life, while PM2.5 is also known to result in 29,000 premature deaths in the UK every year, the Committee on the Medical Effects of Air Pollutants said.
Earlier this year, those who use public transport were given a fright when research found that PM particles are significantly present on the London Underground, especially the Victoria and Northern lines. Those that use it are exposed to more than eight times as much air pollution than those who drive to work, research from the University of Surrey found.
Protecting our skin from the sun has been harped on about by experts for years. But now, the pollution we are coming into contact with every day is a potentially more dangerous factor, causing dark spots, wrinkles and pigmentation. Polluted air, along with UV radiation and smoking, is the most detrimental external factors pre-ageing our skin but Brit's, especially those outside of London, are underestimating the dangers. Friends of the Earth revealed a poll carried out by YouGov found only one in ten rate their air quality as poor, despite legal pollution limits being breached throughout the country.
How pollution is effecting your skin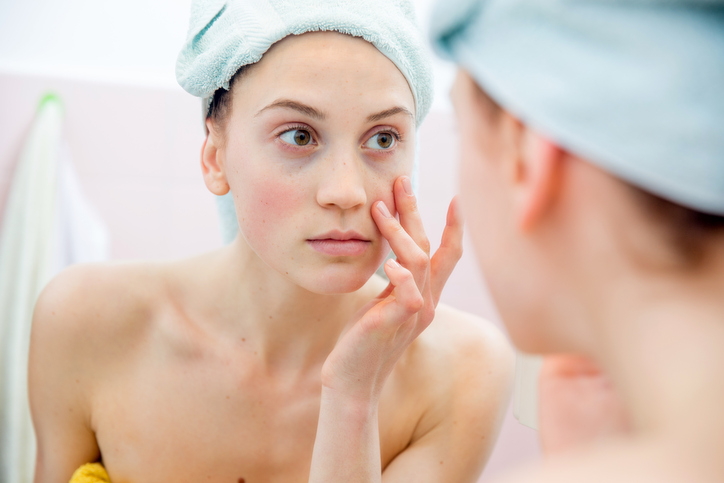 The skin is there as a physical barrier for our insides against the environment and like the environment, the damage isn't so clear until its done. Even if you avoid smoking or drinking, the skin is exposed to toxic chemicals, exhaust fumes, water exposure, radiation, free radicals and oxidative stress. These deplete oxygen from the skin, reducing collagen production and clogging pores, appearing on the face as wrinkles, fine lines, acne and altered pigmentation.
PM, a type of pollutant, is associated with 20 per cent more pigment spots on the face
'Air pollution can age you by ten years', says leading Harley Street Dermatologist Dr Daniel Glass from The Dermatology Clinic, London. 'There are two main types of air pollutants; Particulate Matter (PM), which is often called fine (PM2.5, PM10) or coarse particles, and gases (O3, CO2, CO, SO2, NO2). A recent study showed that living in an area with exposure to high levels of Particulate Matter was associated with 20 per cent more pigment spots on the forehead and cheeks. This type of air pollution also correlates, although less strongly, with the amount of skin wrinkles. Increased exposure to PM particles can escalate the loss of the skin's collagen and elasticity, thus leading to skin ageing.'
MORE: What dermatologists eat for great skin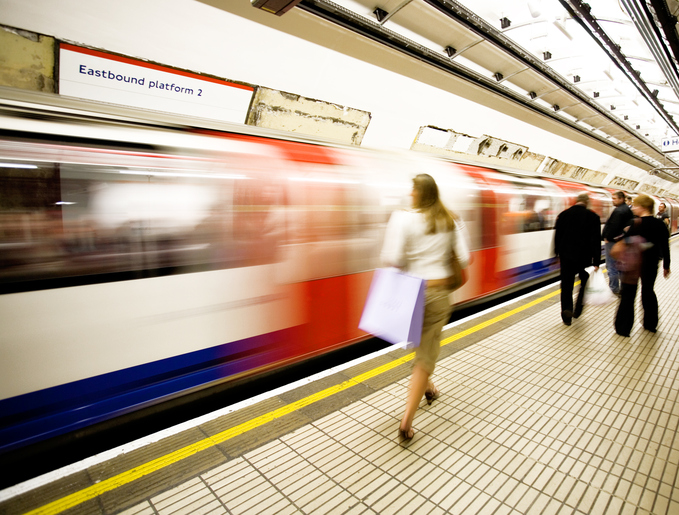 Although drivers are not exposed to as many pollutants as those who use public transport, due to filters in their cars, the types given out by cars are more harmful than the ones found on the Underground. NO2 is a gas released around main roads and traffic, which government statistics note transport as being the most responsible for at 80 per cent of emissions. 'This gas, which has been linked to lung diseases including cancer, seems to also contribute to development of ageing spots on facial skin', warns Dr Glass.
Solid fuel, such as wood on an open fire, or coal on a BBQ, are recognised factors
The dermatologist advises working or living as far as you can from main roads, and only taking the Underground a little less. But it's not just outdoor pollution from traffic which can cause damage to your skin, but the way you cook our food and heat our homes. Solid fuel, such as wood on an open fire, or coal on a BBQ, are recognised factors. 'A study in China showed that women who cooked with solid fuel had at least 5 per cent more wrinkles on their face and 74 per cent more wrinkles on their hands than those who did not', says Dr Glass. 'This study demonstrates that particulate matter may arise from indoor sources such a cooking with solid fuel which will make you look older.'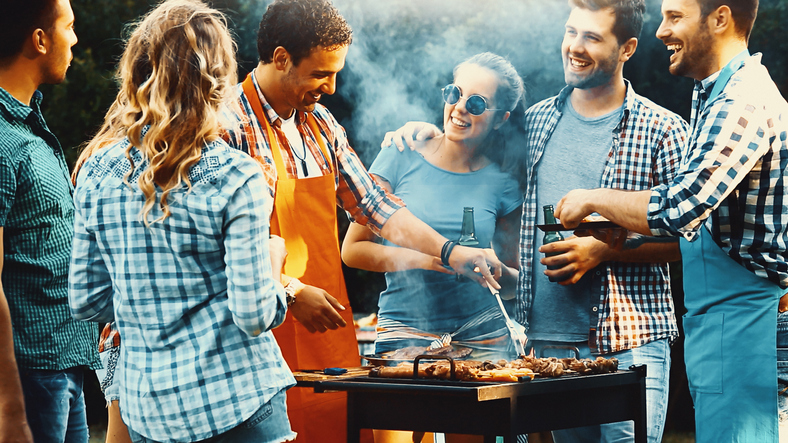 Whilst considering ways to reduce our own emissions, we can protect our skin in the meantime (without looking paranoid wearing a face mask. Although if you are brave enough, hats off to you). Here are the best lifestyle and beauty steps to take to combat and prevent the damage.
Foods to protect your skin from pollution
One of the primary ways to support our body's antioxidant defence system is to consume plenty of plant foods
Cosmetics are life-savers, but as with anything, experts advise focusing on what goes on the inside as well as the outside, with food playing a pivitol role in our general skin health. Our skin is exposed to free radicals in pollution, which can be seen as rust in the environment. In our bodies, it can damage the cells and proteins which make up the bodies tissue. 'When we're exposed to lots of toxins and free radicals – and don't have enough antioxidants to 'mop them up' – one of the results can be faster skin ageing', says medical nutritionist Naomi Beinart.
Antioxidants are able to react with free radicals and stop the chain of damage, and luckily there are foods high in substances containing antioxidant activity. 'One of the primary ways to support our body's antioxidant defence system is to consume plenty of plant foods – especially vegetables and fruit', says Naomi. 'As well as providing vitamin C, they are literally brimming with all-important polyphenols, as well as other types of antioxidants.'
Organically grown crops are 60 per cent higher in a number of key antioxidants
To see the benefits of antioxidant rich foods, Naomi recommends always going organic. Organically grown crops are 60 per cent higher in a number of key antioxidants than conventionally grown ones, according to research carried out by Newcastle University. The chemicals found in non-organic produce (pesticides, artificial fertilisers and more), are among the very substances playing a part in damaging our health.
Naomi Beinart's top food choices to protect against pollution:
Step 1: Drink Green tea
'Green tea contains catechins, which have demonstrated pretty impressive abilities to fight free radicals. A specific catechin called EGCG (epigallocatechin gallate) is thought to have the most potent protective activity.
'To get the most out of your green tea, go for matcha. A study carried out at the University of Colorado found that the content of the EGCG in a cup of matcha can be over 100 times greater than that found in a standard green tea!'
Try Pukka Herbs' Clean Matcha Green tea – £2.79
MORE: 7 science-backed reasons to drink matcha green tea
Step 2: Purple, blue or dark red fruits and vegetables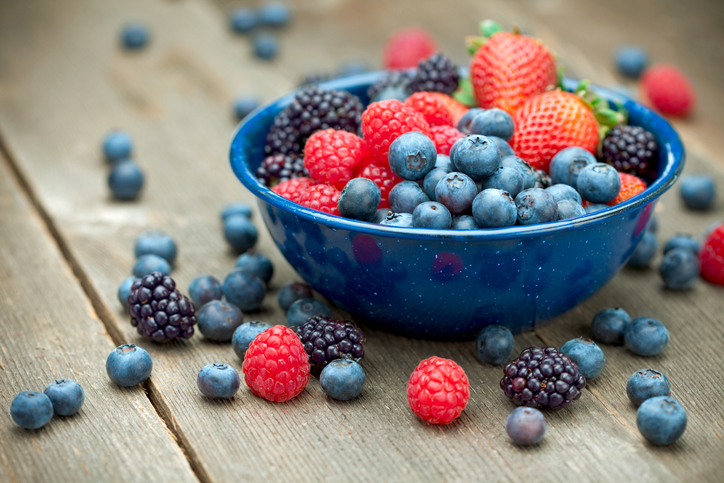 'Berries are among the big hitters here, including blackberries, blueberries, raspberries, blackcurrants, redcurrants, and so on. Their colours indicate the presence of anthocyanin antioxidants – 'cyan' in the word anthocyanin means 'red', so cherries, plums, red cabbage and purple carrots all provide anthocyanins, too.
'Beetroots have a fantastic purple-red colour too. They are also high in antioxidants but primarily a different type, called betalains.'
Step 3: Orange and yellow vegetables and fruits
These are rich in carotenoids, another type of antioxidant
'Think carrots, sweet potatoes, butternut squash, pumpkin, peaches, apricots and papaya. All of these are rich in carotenoids, another type of antioxidant.
'One important thing to note about carotenoids is that they're fat-soluble. That means they will only be absorbed efficiently when you consume them with fat. So roasting your carrots or sweet potato in coconut oil, or tossing your greens with butter or ghee after steaming is ideal.'
Step 4: Spices – especially turmeric
'Spices and herbs have perhaps the highest antioxidant activity of any foods. However, their impact tends to be lower because we only eat a very small amount of them compared to vegetables and fruits. Some of the best examples include cinnamon, cloves, star anise, oregano, rosemary, basil, thyme and parsley.
'Turmeric in particular stands out. It contains curcuminoids, which have particularly strong antioxidant activity, and pigments which give this super-spice its bright yellow-orange colour. Curcumin, the most widely studied curcuminoid, may even directly reduce skin aging – including preventing moisture loss and protecting against wrinkles. You can get your daily dose of turmeric by adding organic powder of fresh root to curries or taking a supplement such as Pukka Herbs' Turmeric Lifekind, £14.95'.
Step 5: Dark chocolate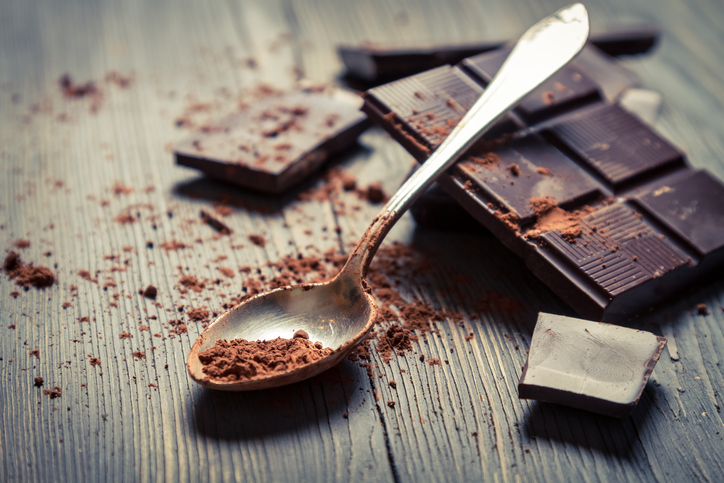 'The average chocolate bar is high in sugar and contains only a small amount of cocoa. But the cocoa bean itself (called cacao in its raw form) is actually a good source of nutrients and is rich in antioxidant flavonols. In fact, in a study published in 2010, cocoa and dark chocolate came in the top ten of a list of the 100 richest dietary sources of polyphenols.
'The higher the percentage of cocoa in your chocolate bar, the more flavonols you're going to get – ideally go for 85% and upwards, or for the ultimate antioxidant boost, go for organic, raw chocolate.'
MORE: 3 healthy chocolate recipes that could help your SKIN
Best beauty buys to protect your skin from pollution
Equally important to living healthily for protecting our skin is our beauty regime. Whilst there are no glowing protective shields, there are ingredients that can strengthen our skins natural barrier. 'Seek beauty products which are rich in antioxidants and moisturising agents', says Pedro Catalá, pharmacist and founder of Twelve Beauty.
Ingredients such as mallow is as useful on the skin as it is delicious to eat like marshmallows
'Ingredients like mallow and hyaluronic acid that create a protective film on top of the skin can come in handy, especially combined with other ingredients with soothing activity.' Although hyaluronic acid sounds far from natural, it is in fact a lubricant produced by the body naturally. As for mallow, it is just as useful on the skin as it is delicious to eat as marshmallows! Mallow is made up of the collagen, protein derived from animal skin, tissue and bones, which we loose in our own skin as we age.
Although we can't physically see the changes in our skin, the Healthista team have tried and tested a bunch of anti-pollution claiming beauty products to find the best for a daily skincare regime:
Step 6: Cleanse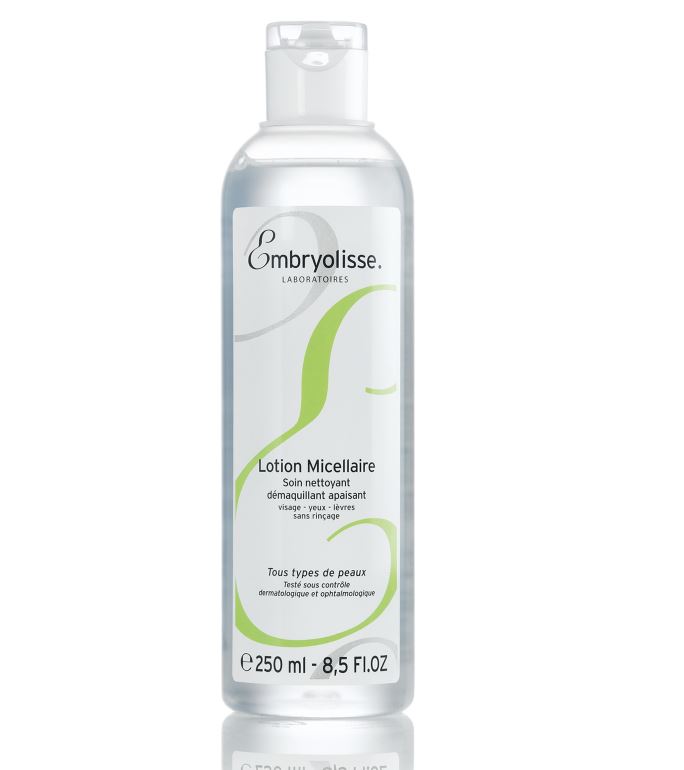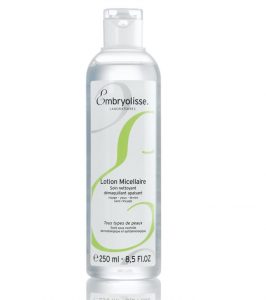 Removing makeup is one thing we remind ourselves is important to do every evening. Everyday pollution and dirt also needs to be eliminated to prevent build-up and to keep the skin healthy. Embryolisse is a makeup remover suitable for those with sensitive skin, which can be a side effect of pollutant damage, as well as being animal-cruelty free. Micelles, the cleansing agent, works on the face in a solution of cornflower, camomile and witch-hazel water, for a gentle but highly effective removal of product and pollution impurities. The glycerin is to soothe and tone the skin.
My makeup was removed quickly and easily with a cotton pad
Multimedia and Fitness writer Parisa says: I had a chat with dermatologist, Dr Anjali Mahto recently and she stressed the importance of taking off your makeup at the end of the day – especially in a big city with high pollution levels.
When I used this product, my makeup was removed quickly and easily with a cotton pad. It was smooth and easy to apply, and like most other micellar water, it was a clear, thin liquid which was almost water like. It felt light on my face and took a while to dry. However, I did find that it dried out my skin. I would definitely recommend using a moisturiser immediately after using this product.
The smell was clean and clinical – it didn't quite smell of chemicals but it wasn't perfume-like either – it was quite a neutral smell for a face wash.
I didn't notice any huge changes in my skin, but while I usually prefer a cheaper makeup remover, I have really enjoyed using this product. If the price were a little cheaper I'd definitely use again – I love the fact I can get it from ASOS (next day delivery is my ultimate vice).
Buy Embryolisse Micellar Lotion here for £12.70
Step 7: Apply serum
Exuviance Antioxidant Perfect 10 Serum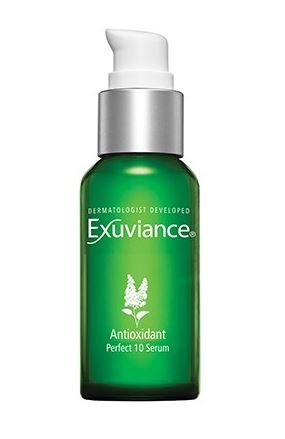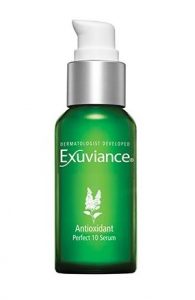 Oxidative stress – where the body is struggling to balance out and detoxify the production of free radicals – could be helped with the Perfect 10 Serum from Exuviance. The six potent antioxidants, such as grape seed and green tea extract, together with vitamins C and E, supposedly work to defend the skin from ten sources of oxidative damage, including pollution. A patented combination of Bionic Acids AHAs and PHAs have been included to protect the elasticity and collagen in the skin. Apply after cleansing but before moisturising to reap the benefits of the rich ingredients.
Digital director, Yanar says: "I love a serum with high levels of actives so I was instantly won over by the long list of science-backed ingredients. It goes on like a clearish gel and spreads easily although there's no pretty scent, it sinks in quickly leaving no residue or slip so you can layer a moisturiser on top without interference. I totally trust the ingredients in this bottle of wonder especially the EGCG green tea extract which studies have shown can protect and heal skin. And what a great price for such an intelligent serum. 
Buy Exuviance Antioxidant Perfect 10 Serum here for £29.99
Dr Goldfaden's Brightening Elixir Serum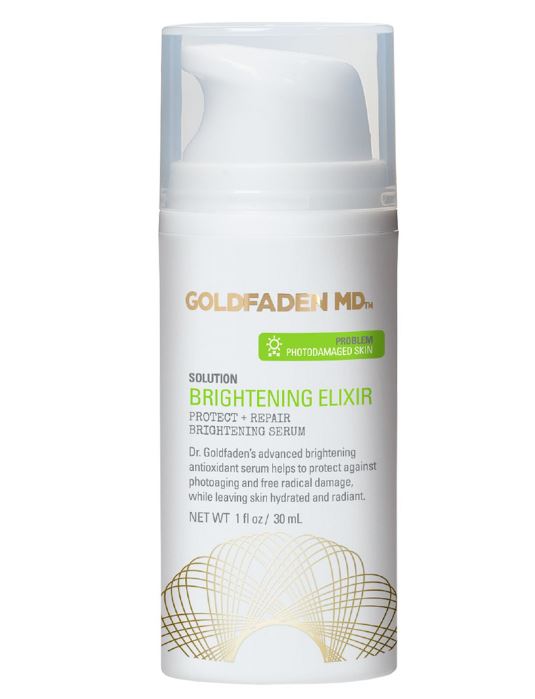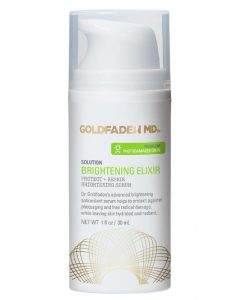 Dr Goldfaden, the man himself being a dermatologist for 40 years, uses natural ingredients with technological skincare advances to improve dull, ageing or even photo-damaged skin. The Brightening Elixir, which sounds quite magical, contains key ingredients that have been studied and proven to be effective antioxidants. The makers have used red tea, ferulic acid, vitamin C, vitamin E, japonica flowers, water cress sprouts, retinol and resveratrol. As a serum, it is applied after cleansing but before moisturising, to deliver all its powerful ingredients deep into the skin.
Editor Anna says: I enjoyed using this product, it quickly absorbed into my skin, smelled gorgeous and worked really well under way make-up. I felt it had a kind of priming effect on my skin too, increasing its radiance. I can't vouch for whether it protected my skin from pollution but the ingredients have great credentials so I think if anything is going to work, this will.
Buy Dr Goldfaden's Brightening Elixir Serum here for £72
Step 8: Moisturise
Caudalie VineActiv 3-in-1 Moisturiser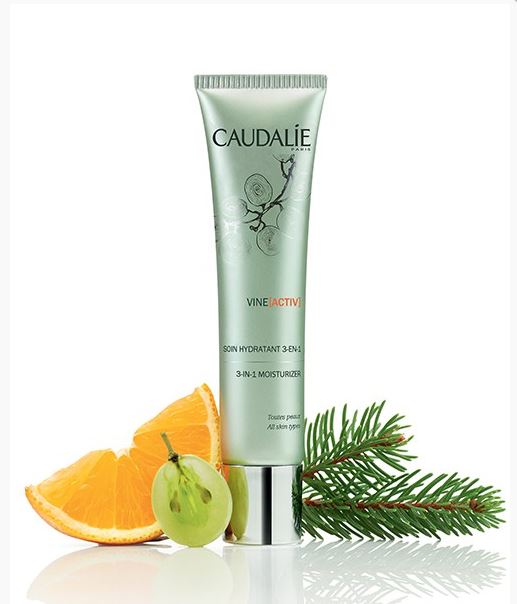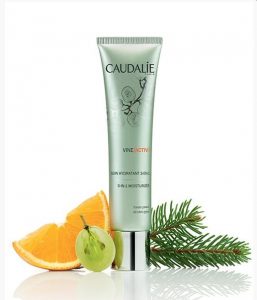 Everyone has their go-to moisturiser. But the 3-in-1 moisturiser from Caudalie's new anti-pollution range has added polysaccharides and antioxidant polyphenols to create what they describe as a veil on the skin. Mattifying powders also help to minimise the appearance of wrinkles, but it isn't as heavy as it suggests – the light watery texture blends in quickly without stickiness.
It leaves my skin feeling baby soft
Writer Amanda says: The Caudalie 3-in-1 moisturizer has a unique but refreshing scent. To me, it smells like a mixture of citrus and cucumber. It's lightweight, dries quickly and doesn't leave any shine or oily residue. It's perfect for me because it gives my skin moisture without making it oily.
It goes on more like a primer than a moisturizer, and it leaves my skin feeling baby soft. I only have to use a small amount (a little more than a pea size,) which is ideal considering the tube is fairly small for the price. Living in London, I am concerned about pollution (my snot is grey!). I'm not sure whether this moisturizer actually helps protect against it, and I do wish it had SPF in it, but I will continue to use it simply because I love it.
Buy Caudalie VineActiv 3-in-1 Moisturiser here for £32
Step 9: Shield
Elizabeth Arden Prevage City Smart SPF 50 Hydrating Shield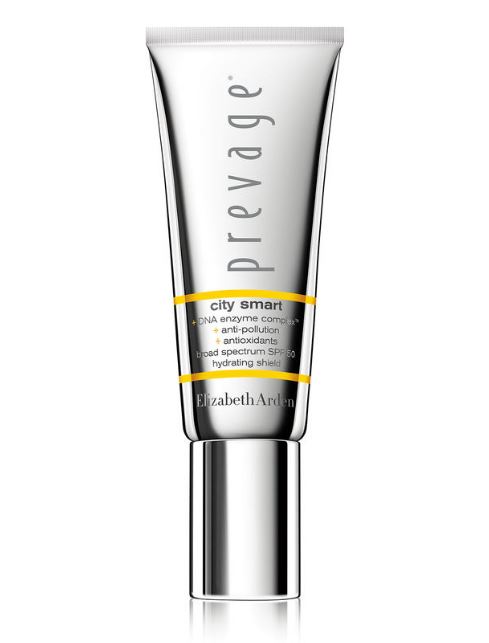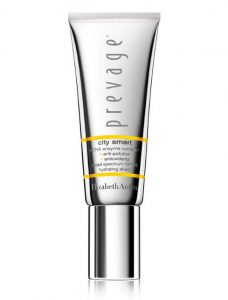 Combining pollution and UV protection is the Prevage City Smart lotion, containing SPF 50 sunscreen and Anti-Pollution Technology. Apparently, this technology creates an invisible barrier to prevent the penetration of harmful toxins, with optical diffusers to leave the skin with a radiant appearance. The formula strengthens, hydrates and supports the skin's natural repair, helping the skin to look youthful and safeguarded.
I didn't have to use my primer when I was wearing it
Writer Ony says: I applied the product onto clean skin as the final step of my skincare regimen (so after washing, scrubbing, moisturising and whatever else we do before applying makeup). It didn't have a smell so I didn't find it imposing. It glides onto the skin really easy and can be applied using your fingers or a foundation brush.
The texture reminded me of a BB cream and I found that I didn't have to use my primer when I was wearing it, as it ticked all of the same boxes. I didn't really see any results when I had makeup on, but on the days that I didn't I felt that my skin was firmer.
I couldn't see a visible difference, but I will continue to use it with a combination of other factors (like eating well, skincare regime & avoiding certain activities) to see an improvement.
Pollution is a serious issue that we often ignore. I believe that we are yet to see the real effects of it on our body and looks.
Buy Elizabeth Arden Prevage City Smart SPF 50 Hydrating Shield here for £39.95
Step 10: Protect with makeup
IXXI Daily Defense Care ELIXIR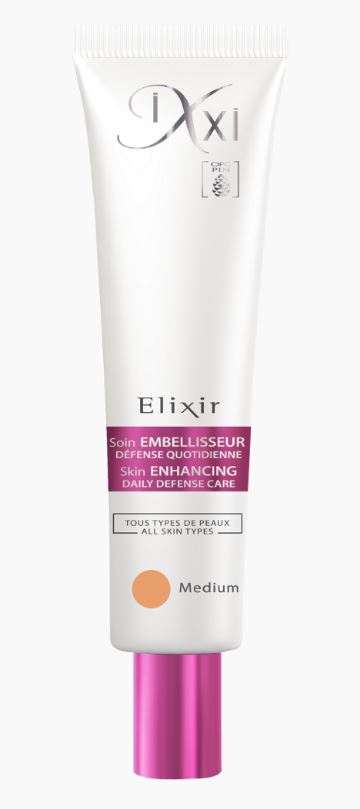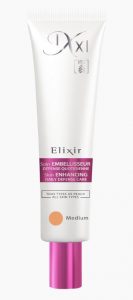 This is a multi-action must-have, moisturising and protecting the skin with a tint. OPC use extracted pine tree bark from the Landes region in the South of France as their skin defence ingredient, ethically sourced and replaced with replanting. They use pine after finding it in vitro tests to be 30 times more powerful than vitamin C – commonly praised for its antioxidant properties. It comes in light or medium shades.
It added a considerate amount of colour back into my dull winter skin
Food and Lifestyle writer Vanessa says: A tiny bit of this product goes a long way. Although it is only tinted, it reminded me much more of a foundation. When applying, it feels thin, but as you work it into the skin it spreads and sits on the face quite thickly.
It needs a moderate amount of blending, but once I did this it added a considerate amount of colour back into my dull winter skin. I am confident it wasn't a match to my skin – I used the 'Clair Light', and it has a pink undertone and darker than I expected, so I wouldn't recommend for those with a yellow tone skin.
I'm confident this product lasted throughout the day. I felt it 'sat' on my skin, rather than sank in, so I'm not sure how effective it would be as a moisturiser (I used my own underneath). It has a very slight refreshingly pleasant smell which I believe to be the pine tree bark. I would continue to use this with a better matching shade instead of my normal foundation, as the anti-pollution properties are an added bonus at no extra cost.
Buy IXXI Daily Defense Care ELIXIR here for £22
Murad MattEffect Blotting Perfector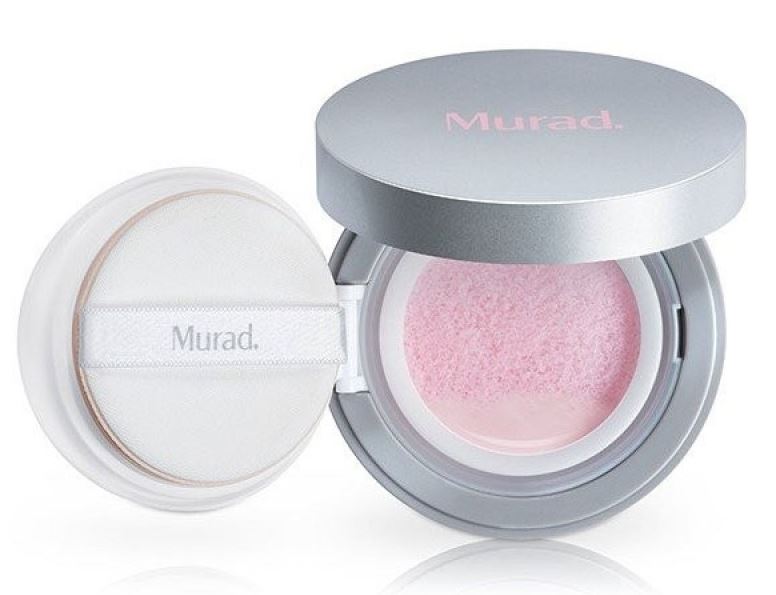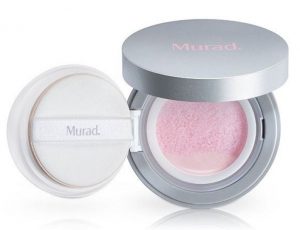 Without containing any recognised antioxidant or anti-pollution ingredients, the marshmallow powder (mallow) in Murad's latest beauty product is a recommended choice for collagen enhancing. The MattEffect Blotting Perfector is in fact a blotting product to absorb the skin's oil and give a matte finish. It doesn't dehydrate by taking any water from the skin, only the sebum to control shine. When you press the applicator puff into the cushion it is wet, but after drying it has a softness on the skin.
Digital director, Yanar says: What a novel product – a makeup product that minimises shine with a liquid solution. It's a bit of a surprise at first to find you have to dip your makeup pad into a pink wet sponge but once dabbed onto skin it magically dries matte within a few seconds. Love the floral scent which is lovely and the generous mirror housed inside the case. It's not the most glamorous or dainty of packaging but I imagine it will be great on a hot day as you'll be de-shining and cooling the complexion in one.
Buy Murad MattEffect Blotting Powder here for £32
Do you have a beauty product you swear by? We'd love to know what works for our readers. Tweet us at @HealthistaTV or write on our Facebook page.
Read more
6 ways virtual reality will soon change YOUR health
60 second smoothie for hair, skin and nails – tropical splash
7 types of skin moles and exactly what to do about them
Like this article? Sign up to our newsletter to get more articles like this delivered straight to your inbox.