New research shows that spinach extract helps curb appetite and sugar cravings, possibly leading to weight loss.
A study by researchers at Lund University in Sweden looked at 30 and 40 overweight people. Half the subjects were given spinach leaf extract and half given a placebo. Professor Charlotte Erlanson-Albertsson, lead researcher of the study, found that after a shot of spinach extract in the morning, subjects felt less hungry and had fewer cravings throughout the day.
The researchers also found that when consumed, spinach extract triggered a release of satiety hormones in the intestines.  Spinach leaf extract, Erlanson-Albertsson said, contains a compound called thylakoid, which can help slow down food digestion making us feel fuller. Unlike modern processed foods which don't trigger satiety hormones as directly, thylakoids use the entire intestine to break down the food making us feel fuller.
Taking spinach extract is different to consuming regular spinach though. The spinach has to be crushed, filtrated and centrifuged so the thylakoids can be released from the plant's cells, since our bodies can't break it down directly from the spinach leaf.
The study subjects found it easier to stick to three meals a day compared to the control group that was given a shot without the substance. The thylakoid group had higher levels of satiety hormones in their blood and more stable glucose levels.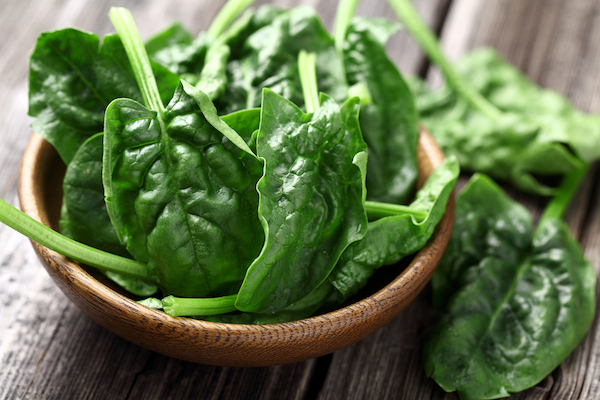 Despite this research, she thinks that the powerful effect that thylakoids have can't be traced to just one of the many ingredients that it contains.
'It contains hundreds of substances – galactolipids, proteins, vitamin A, E, K, antioxidants, beta-carotene, lutein, and so on,' Erlanson-Albertsson said.
Another study was conducted in 2013 by the Swedish firm, Greenleaf Medical. They recently released the results from five new human studies that confirm the appetite suppressing and weight loss effects of spinach leaf extract. After patenting the technology from Lund University, they created their own product of spinach extract, called Appethyl, which are still in the stages of research. Fortunately, the product has deemed successful in multiple case studies.
The findings from Greenleaf Medical's Appethyl case study showed that appetite was significantly reduced four to six hours after ingesting 3.7g to 7.4g of the substance. Hunger and thoughts about food were greatly reduced. Weight loss and fat loss were also increased in another 12 week study using 2.5g twice daily.
Another interesting result that researchers found was that subjects tended to feel better when they took the product, which could be due to the 100 proteins found in the thylakoids. Cravings also were reduced just after the very first dosage.
Watch for spinach extract on the market if you want to kick your sugar cravings to the curb – and possibly shed some unwanted pounds. In Healthista's humble opinion, taking a shot of
Like this article? Sign up to our newsletter to get more articles like this delivered straight to your inbox.