Queen of Retreats founder Caroline Sylger Jones explores spas of all kinds around the globe. Our Spa of the Week this week is the Four Seasons Hotel at Ten Trinity Square in London.
Four Seasons' latest addition to the London spa hotel scene is a 100-bedroomed impressively converted Grade 11 listed building in the City, looking south over the Tower of London to Tower Bridge and the River Thames. Originally built in the 1920s as the Port of London Authority Headquarters, its design mixes enriching art deco touches with historic grandeur and makes a good central spot for a spa day or a quick break – as it's the City it's quiet at the weekends, busy midweek, very close to the river and not too far from markets such as Spitalfields for some shopping.
The fragrant spa has been cleverly designed to emit warmth and energy despite it being in the basement. Enter from the lifts to a spacious reception area graced with gold mosaic tiled walls, then move through to the large 14 metre swimming pool, surrounded by a restful wall design of tall silver trees and flanked by a large, comfortable sauna at one end and a steam room at the other. There are wide, white loungers to relax on after a session, and a vitality pool running along the length of the swimming pool which has good jets for all areas of the body.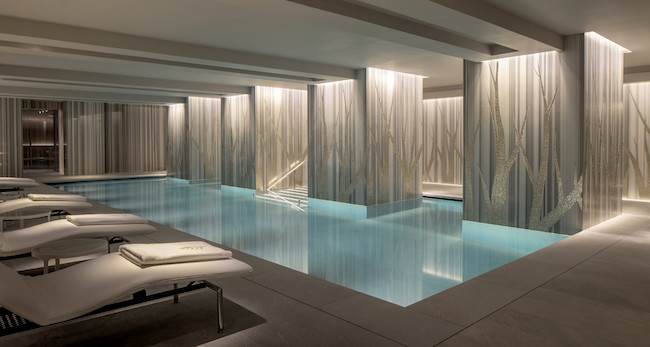 There's a luxury hamman here, with treatments by marocMaroc, specialists in authentic Moroccan hammam treatments, and eight domed-ceilinged treatment rooms where men and women can indulge in a menu of relaxing, results-driven treatments by organic German skincare line Amala, facial experts Dr Burgener and reliable UK spa brand ESPA. We enjoyed an exceptional 90 minute personalised massage with Italian therapist Melissa, using Amala oils – choosing the Energising oil packed with orange, frangipani, camphor, bergamot and grapefruit to get us ready for a vibrant birthday party that night. The relaxation area after treatments is small, with loungers simply facing a wall, but it's fine if you just want to close your eyes and sleep a little bit.
We're not usually partial to soft toys, but we can't not mention the Caresse d'Orylag collection in the spa shop. Toys sourced kindly from the downy hair of an extraordinary rabbit related to the chinchilla (using methods approved by the World Organisation for Animal Health), they are super super super soft to touch and feel like a spa therapy in their own right.
There's a 24-hour fitness centre next to the spa for those who want – though if you're anything like us, you'll want to get outside to run or walk along the river. This is especially true if you desire oodles of natural light to feel good, for the one niggle during our weekend here was that we felt the lack of it – a little bit in the spa, but also in our room, and even sitting in the central rotunda, where light comes from one side of the building only. On our visit it was brilliantly sunny outside – on a cold or rainy day (plenty of them in Blighty) this may well not have mattered or even been noticed.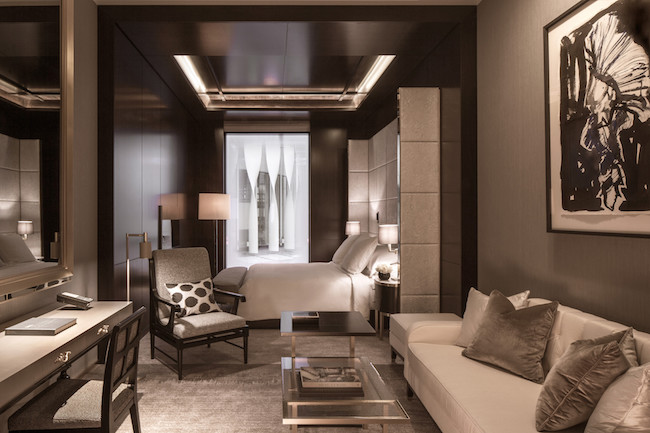 Bedrooms are understated and elegant, with white marble ensuite bathrooms and Bottega Veneta products. The art decor bar at the Rotunda is an impressionist painting in itself, and it's here too a pianist plays most evenings and where staff's smart maroon and mocha uniforms perfectly match the decor. We enjoyed late breakfasts here (with excellent home made smoothies to hydrate, boost our immune system or recharge).
But the most delightful experience of our stay here was experiencing a tasting menu at the hotel's light-flooded French restaurant La Dame de Pic, a branch of the Paris La Dame de Pic by three-star Michelin chef Anne-Sophie Pic, third-generation chef of Maison Pic in Valence, south-eastern France who was named World's Best Female Chef by the World's 50 Best Restaurants in 2011.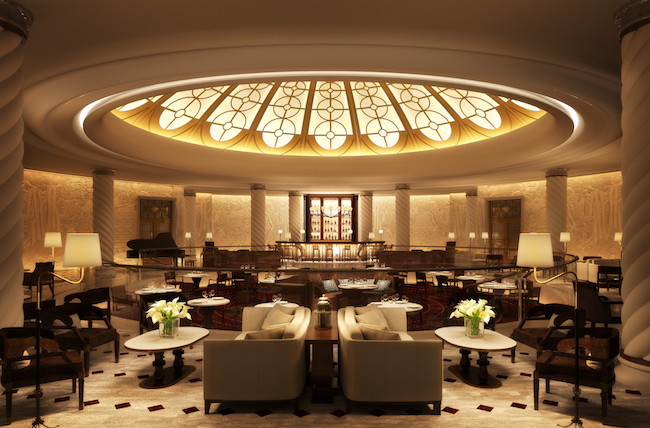 We had champagne to start, then enjoyed elegant, fusion-inspired pre-dinner morsels laid out with care on inventive surfaces such as logs (for a 'leaf' of Jerusalem artichoke) and bowls of ice (for fragile, savoury marshmallows). The main meal was light, nourishing and inventive fare such as Challans Chicken marinated in saké, hispi cabbage with razor clams, Gilou lemon and sauce Supreme, and for desert, the exceptionally snowy, perfectly formed and deliciously satisfying to cut into White Millefeuille. Staff were attentive, the atmosphere understated, and it was a wonderful way to end a husband and wife spa break.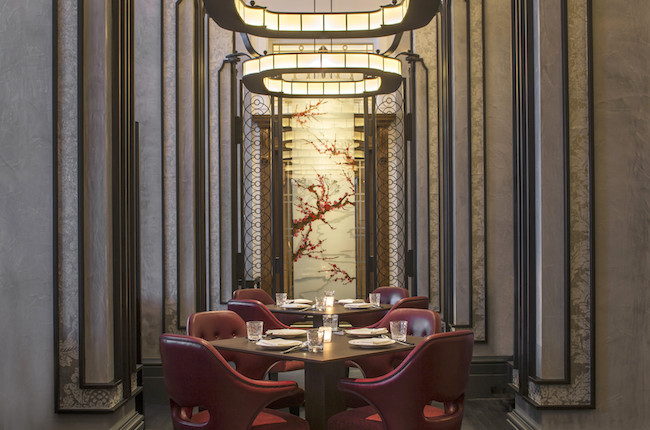 Pricing
For a one night stay our starting price for a Superior Room is £450 inclusive of VAT based on two people sharing.
Starting price of the Continental Breakfast is £28.
Spa treatments vary in price, the starting price of a massage is £70 ( 30 minute back, neck and shoulder massage).
Planning a stay
Four Seasons Hotel London at Ten Trinity Square
10 Trinity Square, London, EC3N 4AJ, United Kingdom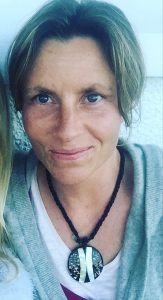 Caroline Sylger Jones is an author and freelance journalist who travels the

world checking out spas, retreats and healthy holidays for international newspapers, glossy magazines and websites. She is the founder and director of wellness travel site Queen of Retreats.
Follow on Twitter: @QueenOfRetreats
Follow on Facebook: @QueenOfRetreats
Follow on Instagram: @QueenOfRetreats
For more wellness travel ideas check out Caroline's brilliant site Queen of Retreats, a curated collection of retreats brought to you by trusted writers and wellbeing buffs at www.queenofretreats.com.
Read More:
Spa of the week – posh retreat meets country estate
Spa of the week – Four Seasons hotel Beirut
Spa of the week – Hotel Tigmi in Morocco
Spa of the week – The Grove Hotel, the country estate a stone's throw from London