The ghd Platinum Copper Styler claims to reduce hair breakage by half and add shine.  Curly-haired Vanessa Chalmers tries it out
The minute I got my first ghds five years ago, I couldn't get enough and used them daily. But over the years, with colouring and bleaching added, my hair's condition deteriorated.  My Classic Styler is still performing great results on my thick, unruly curly hair. But the ghd Plantinum Copper Luxe Premium styler in a limited edition gift set for £175 (£145 on its own) is a rather snazzy step up, and with the added bonus of healthier and shinier hair. So I gave it a thorough test to find out how it compares to the classic range…
The technology
The ghd Platinum Copper Styler claims to reduce hair breakage by over 50 per cent, and to add 20 per cent more shine, which I find revolutionary as someone with heat-damaged locks. But how does that work? This statistic is comparable to stylers that work at 230º C, which I know my Babylis hair curlers work at. However, with less heat, this translates to a repeated action of going over a piece of hair to get that dead-straight look. According to ghd, this is not the case. Tri-zone technology, developed by the scientists at ghd, works by keeping the plates at a consistent optimum temperature of 185°C with three sensors spread out across each plate (the inside part that gets hot). This temperature has been tested by the ghd Research and Development facility in Cambridge to ensure the hair doesn't get too hot, and passes the glass transition phase. This is where hair starts to break, as the heat causes vertical cracks along the cuticle, allowing hairs to split and tangle.
According to ghd, the tri-zone technology, which is exclusive to them, means there are no surges and dips in the temperature, which at a maintained level can mean better results from root to tip. Essentially the lower temperature and non-repetitive strokes means less heat damage than hotter stylers.
Unboxing the Copper Luxe platinum styler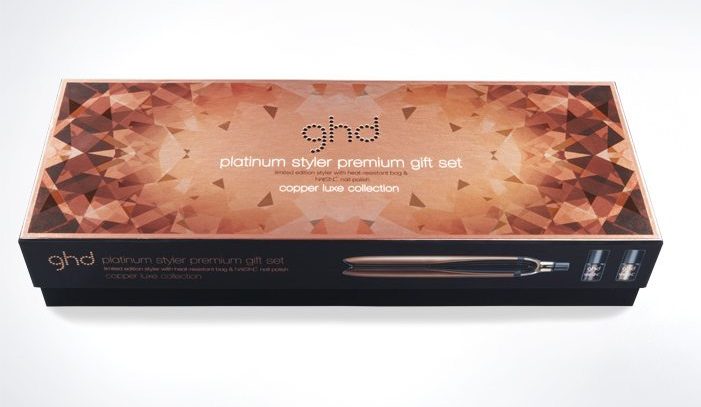 If you're anything like me, simply seeing a ghd box makes your heart flutter a little. When you have been using your old (but trustworthy) classics for years, the box and bag itself is enough to get you excited. Rose gold and copper have soared in fashion popularity, so if you like the thrill of everything matching then you can't go wrong with these sleek stylers and Nails Inc polishes. The copper stylers with shimmer gold plates came in a heat resistant plate guard, making it more practical for travel if you don't want to pack the bag. It also has a swivel cord, which makes it move more freely.
Using the products
The styler is very lightweight, which at first I thought made it feel cheap. But it was clear this was a re-design to make the task easier, especially when your hair takes longer than 20 minutes. I also wasn't a massive fan of the 'ready to use' sound, which I can only describe as a fairy godmother wand waving sound- not as stylish as the simple three beeps. But it did heat up impressively quickly.
I know that styler to styler, you will have a different experience. But the platinum styler felt completely different, almost like it wasn't a ghd. It is difficult to get a grip on them, and a twice or more I have been sitting on a chair and the styler has slipped through my hands and I've seen my life flash before my eyes imagining the burning hot tools dropping onto my bare legs.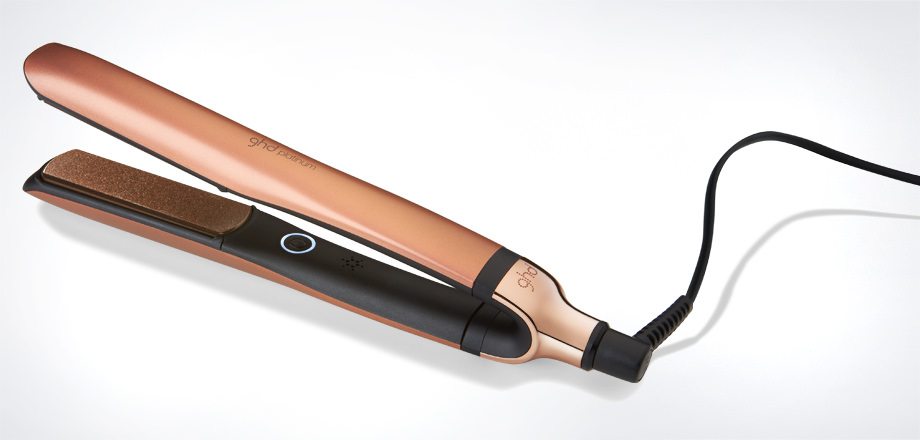 It applied a lot less pressure when clamped, so it glided through the hair very softly. This is one of the myths that ghd are trying to bust- that a tighter grip means a better end product. But with curly hair, which is often frizzy, I was concerned this would hardly touch the surface in smoothing it out. This was the case the first time I used them; I had to go over each section at least 3 times to achieve a straight lock, which didn't look particularly shiny, presumably because it hasn't been singed.
Three weeks on, I have used these ghds a handful of times, and am slowly getting more used to the feel of them. I have made a conscious effort to use them in the correct way; what I mean by this, is that I realised I often repetitively go over the hair to straighten it by habit. Using the straightener, in the way advised in the ghd YouTube tutorials, on inch sections of hair, slowly from root to tip, I did see a noticeable change. From root to mid length, the styler can straighten the hair with one stroke, but I did need to pull it through a couple of times on the ends.
My sister, Maddie, has wavy-straight hair, and took no more than 5 minutes to get sleek straight her. She also tested it for its curling abilities (I worship my BaByliss Curling Wand Pro
, so am rubbish at using anything else). I watched her easily bring the styler through the hair in round motions to give a perfect curl. Some straighteners slip through hair and a curl needs to be attempted more than once, but Maddie said this one held its grip, and the bigger barrel makes a larger but still well-formed curl.
The nail varnish is an extra special touch to this gift. The colours are on trend for the season, a dark brown metallic shade Fierce Copper, and a light gold shimmer, Copper Luxe. Both are eye catching but subtly glam.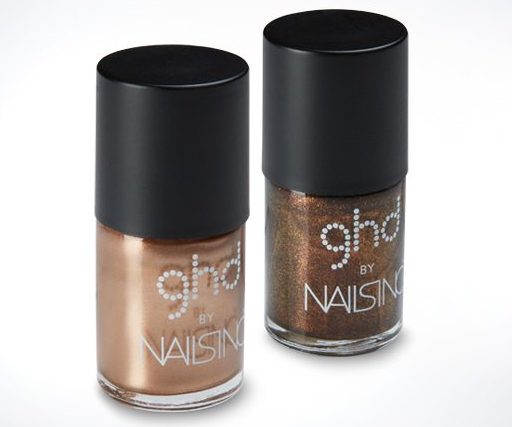 The verdict
The ghd Platinum Copper Luxe Premium Gift Set is a delightful gift for a beauty buff, with on trend nail varnishes and copper finish styler. Despite looking pretty, when in your hand I don't think the styler itself feels 'luxe'. In comparison to the other, more sophisticated ghds, these felt rather cheap in my opinion. Beneath the glitz, the styler claims to give shinier and healthier hair whilst in keeping with ghds top of the range straightening abilities. I believe if you used it, with its tri-zone technology, rather than a hotter styler on the market, you could potentially reduce hair breakage. It's worth checking the temperatures of other stylers you are considering though; the rest of the ghd range actually also work at 185°C. So essentially, you are paying up to £75 more for the look of these stylers and the added nail varnishes.
The barrel does give good results for curling, and you can straighten your hair with one, maybe two, strokes (if you focus on using the tool properly). Unfortunately, curly-haired people like me require a little more heat or time to get the finished look.
What makes the Platinum Styler unique is its ability to still perfect a look, without too much damage, whilst looking a little more special. Now can they make dreams come true and create something that doesn't use any heat at all?
The ghd Plantinum Copper Luxe Premium styler comes in white, black and electric pink and costs £145. It's available in a limited edition gift set for £175