Indulge in healthy black bean soup and salsa? Yes, please! Enjoy some extremely flavorful soup without sacrificing your days' worth of calories. In 30 minutes you can prepare this delicious two-part recipe from Alli Godbold
Here's what you'll need for the black bean soup:
2 plum tomatoes
3 garlic cloves, unpeeled
25g butter
Olive oil
1 small white onion, finely chopped
1 tbsp. fresh oregano, chopped
2 fresh bay leaves
1 tsp. Chipotles en adobo or 1 red chilli, finely chopped
Sea salt
Freshly ground black pepper
2 tins/cartons of black beans, drains
1 litre stock (Marigold bouillon)
Juice of 1 lime
First, dry roast the tomatoes and garlic in a heavy based pan until blackened. Remove the skin.Meanwhile, heat the butter and a tablespoon of olive oil in a large, heavy based pan and when the butter foams, add the onion and herbs. Cook for about 10 minutes, then add the garlic. Cook for a few minutes before adding the skinned tomatoes and Chipotles or chili. Season well with salt and pepper. Cook gently for a few minutes and add the drained beans, the stock and the juice from the lime. Simmer for about another 10 minutes.
For a textured soup, whizz with a hand blender. Continue blending longer for a smooth, soupier dish.
The next step: Fresh tomato salsa. For this part of the process, here is what you will need:
4 ripe plum tomatoes
Small handful of coriander leaves, roughly chopped
1 small red onion, finely diced
1 green chilli, finley chopped
1 tbsp. olive oil
Juice of 1/2 lime
1 tsp. of sea salt
Freshly ground black pepper
First, cut the tomatoes in quarters and scoop out the seeds to prevent the salsa from being too watery. Dice the outside of the tomato and combine in a bowl with the coriander leaves, onion, chili, oil, and juice from 1/2 a lime. Leave to marinate about 20 minutes before serving.
Once the second part of this recipe is complete, scatter some salsa on top of the black bean soup and serve for a dish that will have you, your guests, or your family feeling completely satisfied (or even begging for more!)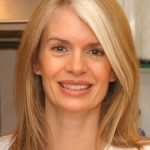 Alli Godbold is a leading nutritionist who has worked alongside chefs Charles Amos and Alan Wichart at Divertimenti Cookery Schools in Knightsbridge and Marylebone. She is author of cookbook Feed Your Health (£13.99 feedyourhealth.co.uk)
More soup recipe videos:
Roasted red pepper soup from Alli Godbold
Dale Pinnock's flu-fighting soup
Simple lentil soup from Emma Grazette
Like this article? Sign up to our newsletter to get more articles like this delivered straight to your inbox.