A new fitness trend called Piloxing that's swept the US has arrived here in the UK and can burn up to 900 calories a session. Move over Zumba, we've found the new dance craze for 2015 and it can burn 900 calories a session! 
Being described as the new Zumba, Piloxing is a high-intensity mix of standing Pilates, boxing, and dance.  You benefit from the speed, power and agility (spowergility?) of boxing, targeted sculpting and flexibility of Pilates, and throw in some intensely fun dance moves.  Combine all of that and you have an empowering workout that tones your muscles and burns countless calories.
Piloxing came to fruition about five years ago when dancer-turned-pilates instructor Viveca Jensen decided to mix strength and conditioning with femininity.
'At the core of piloxing is the principle that women are powerful and can boost their self-esteem by taking charge of their own health', Jensen explained to sheknows health and wellness.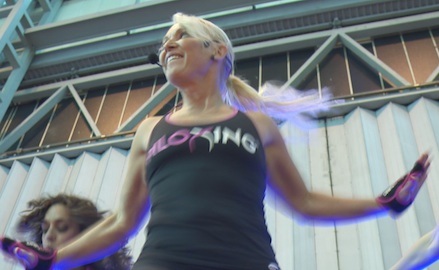 Jensen explains what's special about Piloxing is the weighted gloves worn by the participants.  These one-pound gloves work to tone your muscles and maximise your cardiovascular health.
'It will tone those trouble areas that we all have: the buttocks, the legs, the thighs, the arms will tone up because we have these amazing gloves that tone your arms,' she said.
Not only is Piloxing a great strength workout, it's fast-paced, high-intensity interval training that's beneficial to your stamina.  The moves are performed in sync with a pumping music track at 145 beats per minute.  What's more, you're guaranteed to burn between 900 and 1,000 calories every session.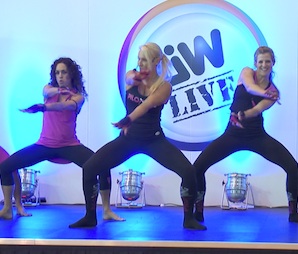 Piloxing is a fun new inter-disciplinary program that's a great way to stay in shape and feel empowered, but it's not for the faint of heart.  So if you crawl out of your Zumba class red in the face and spent, fasten your seatbelt, it's going to be a bumpy ride.
Currently, piloxing is offering classes in fifty countries right now, including Ireland, Scotland, the US and England.  It's all over Europe and Asia as well, so if you're ready for a sleeker, sexier and more powerful you, go ahead and give this exciting new trend a try.
Click here to find a class in the UK
Like this article? Sign up to our newsletter to get more articles like this delivered straight to your inbox.