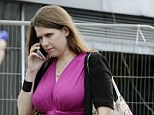 Last week Jo Swinson, currently seven months pregnant was one of a large number of MPs who were left standing during PM's questions.
It led to a Twitter mini-storm in a teacup accusing MPs of being unthoughtful and unkind in not offering her a seat.
Even the PM David Cameron has now commented, calling it indecent to not offer a pregnant woman a seat.
This is another example of our society wading in and treating pregnant women as incapacitated.  Had she wanted a seat, Jo would have asked for it.
There is no evidence to suggest that pregnant women cannot stand or walk or do anything that they hadn't done previously when they weren't pregnant.
Certainly women like Jo in their third trimester will get tired more quickly than non-pregnant women – they are carrying the weight of their baby around – but if that were the case with Jo I am sure she would have asked for a seat had she felt the need to sit down.
Indeed, last night she tweeted that she was about to get on the Tube and that seat offer would have been welcome and not sexist. By 7.41pm when she posted no doubt she would have been knackered and ready for a sit down.
Swinson went on to say in her tweet that she was happier standing at PMs qs yesterday.
It wouldn't have necessarily been sexist to offer Jo a seat – and could have been considered thoughtful and kind.  But it wasn't barbaric or indecent not to offer her one, assuming she can stand and work and walk just like the rest of us – while pregnant.
It's also thoughtful to offer your Tube seat to an elderly person on the bus but no one would assume that if Vince Cable (aged, 70) was left standing that he too needed a seat during MP's questions, would they?
To treat Jo Swinson in any way differently to any other working member of parliament just because she is pregnant is to infer that pregnant women are somehow less able to carry out their daily affairs – that includes standing at work if the need arises.
Listen to Healthista Editor Anna Magee's interview on BBC Radio London 94.9 
Like this article? Sign up to our newsletter to get more articles like this delivered straight to your inbox.