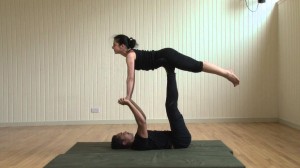 Imagine doing your weekly vinyasa yoga class not on a sticky mat but on another person's feet.  That's what happens during the new Acroyoga.  Healthista's Anna Magee – against her better judgement – tried it 
One person lies down on their back with their feet in the air in a yogic imitation of the old aeroplane rides you used to play as a kid (or just me?).
Then, another person literally jumps on, facing downwards until they're propelled in the air  on the soles of the lying person's feet.  Seriously.
Then, holding onto the lying persons hands with your own, you attempt the yoga poses you would normally do from the safety of your mat – including inverted shoulder stands, supine face-up postures, back bends, 'floor' postures in which there is no floor, the lot.
Like all yoga, you need to stay inward focused because once you start thinking about the shape from the outside, you become an observer and stop feeling it from the inside.
Here, it was my first time and staring at the ceiling I had no idea what I was doing, so didn't think too much about the difficulty or danger of some of the postures.
It was only after I watched myself back on the video that I began to feel the adrenalin fear hit literally flooding my arteries.  That's the moral of yoga.  Feel it.  Forget what it looks like.
I was attending a macrobiotic retreat at Pennigham House in northern Scotland where, Viktor Frih, a Swedish teacher and acroyoga pioneer happened to also be 'retreating' with his girlfriend.
Perhaps because you're forced to trust  the other person as well as your own strength and there is no gravity, it's not only far easier than it looks on video, it's also therapeutic.  Afterwards I felt lighter, looser somehow probably because I was forced to let go control or literally fall on my face.
Oh, and be prepared for the close-up-and-personal factor.  As the flying person, your head repeatedly and necessarily dangles in the other person's crotch.  But don't worry you'll be too freaked out by the thought of hanging upside down on a limb and a prayer to feel any embarrassment.
Besides, if your teacher is as gorgeous as Victor, this might just be the thing that gets you there in the first place.   As the yogis would say, it doesn't matter why or how you get to yoga, as long as you get to yoga.
Like this article? Sign up to our newsletter to get more articles like this delivered straight to your inbox.