Coffee Calorie Counter allows you to access information on drink calories and content of all your favourite coffee spots all in once place, allowing you to make health conscious decisions on the go. Emma Jones tried it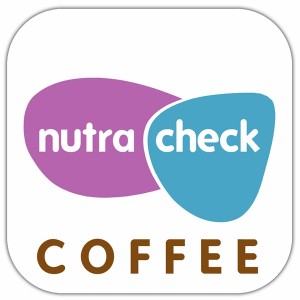 With one in five of us now visiting a coffee shop every day, it seems iced lattes and mocha frappuccinos are our newest early-morning must haves. Coffee Calorie Counter, the new app from Nutracheck, aims to help keep you informed in the easiest possible way by allowing you to tailor your drink exactly as you like it before finding out its naughty nutritional secrets.
To save you trawling the internet for the calorie content of your tall, Iced Caffe Mocha with one sugar from Starbucks, the app lets you manipulate every aspect of the drink all in one handy calculator, adding up the calories and fat content of every extra you include until the total reflects the beverage exactly as you have it made in the shop.
Asking you first to choose your favourite coffee spot (Costa, Café Nero, Starbucks or Pret), the handy Coffee Builder then lets you choose your milk preference, cup size and any extras such as cream, sprinkles, syrups or flakes.
The app then lets you save your coffee combination, before encouraging you to compare it with lower calorie alternatives. You can search the drinks menus of the four main coffee haunts to compare between each, or even scroll through the menu of your favourite spot to find the lowest calorie options they offer.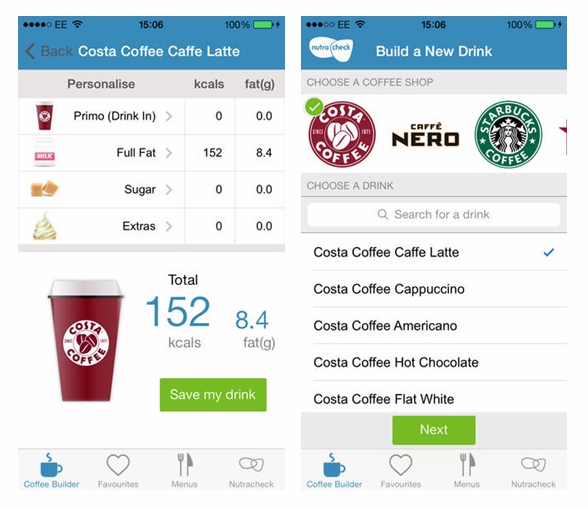 It's super easy to get to grips with and gives you the information instantly, so you don't have to wait around for pages to load or waste time searching for the right shop or cup size. As it only tells you the calorie and fat content of each drink, it gives you the information you need without overloading you with unnecessary facts and figures, and as a result is very user friendly.
Coffee Calorie Counter also offers fat and calorie information on coffee shop foods such as cakes and desserts, paninis and toasties and pasta, salads and soups. Once looking at a specific menu, you can decide whether the list is organised by fat or calorie content and whether it goes from lowest to highest or vice versa.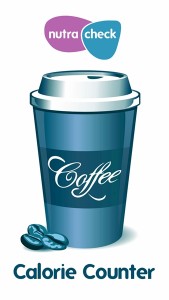 Janet Aylott, the company's nutritionist, says: 'For many people, visiting a coffee shop is still a treat – we're certainly not about ruining that! It's just about understanding the impact of your food and drink choices'.
'For example one high street coffee shop sells a cup of hot chocolate with cream that contains almost 700 calories – that's a third of a female's recommended daily calorie allowance in one drink – fine for a treat, but something to bear in mind if you have it regularly'.
Nutracheck also offer a comprehensive app and online weight loss system recommended by the NHS, which provides its members with a food diary service that makes counting calories easy. Prices start from £1.93 per week (based on a three month membership) and the app is available to download for a five day free trial.
You can also download the Coffee Calorie Counter app free from the app store or find out more here.
Like this article? Sign up to our newsletter to get more articles like this delivered straight to your inbox.