Feeling the January blues? Today for Blue Monday, Healthista's Nutritional Director Rick Hay suggests a mood food plan with recipes including ingredients to make you happier
For many of us happiness could be easily achieved with a favourite chocolate bar or a  bowl of ice cream – but that's not exactly a healthy sustainable way to eat yourself happy is it?
Rick Hay's seven-day Mood Food diet is designed to improve your day to day mood. You can also use this diet to reduce your weight and stress levels.
When your body is functioning well, you tend to feel happier, healthier and things just seem to fall into place in terms of energy and immunity levels, which both contribute to a better mood.
Hay's Mood Food diet will help to reduce stress and anxiety levels and could help with insomnia too.
With many of us working longer hours, spending more time looking at screens, and not getting enough exercise, it's important to look at nutrient density in what you eat.
So how can the 7 day Mood Food diet help?
This Mood Food diet will help supply the body with the nutrients it needs to support the nervous system. One of the key nutrients found in this diet is trytophan, an amino acid obtained from the food we eat that is important because it helps the body make serotonin, often referred to as the brain's 'happiness' chemical.
Trytophan can be found in nuts, seeds, eggs and tofu and will help with the production of feel-good chemicals such as serotonin. Trytophan is also high in vitamin C, which helps to support nervous system function, magnesium to help boost your mood and in vitamin B for hormonal regulation and nervous system support.
The colourful foods in this Mood Food diet also offer antioxidant protection to help boost the immune system. They are high in fibre too, helping to stabilise blood sugar levels.
If your blood sugar is unstable, you'll have more mood swings, more cravings and less energy. To sum up, you'll probably be grumpy and tired.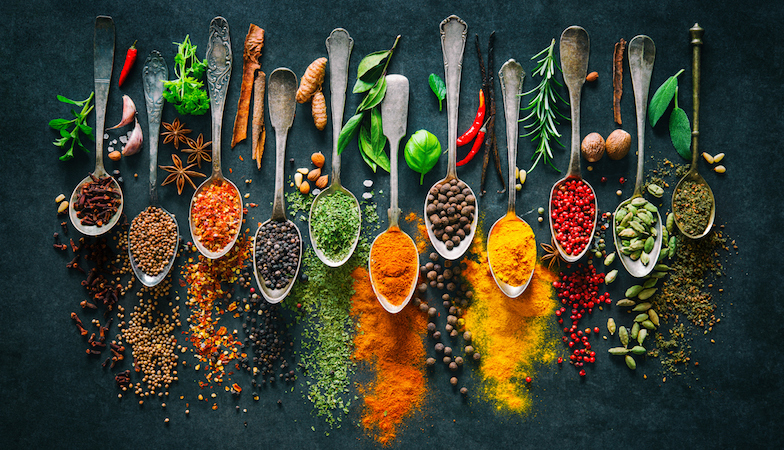 Hay's Mood Food diet will help to reduce stress and anxiety levels and could help with insomnia too. It goes without saying that the more energy you have, the happier you'll be. Another bonus is that with more energy you may well have enough get up and go to move more.
'As you are less stressed, energy tends to increase,' says Hay, 'which may lead you doing more exercise.'
'I think that this diet could also help you lose two kilo or more weight loss in a week,' suggests Hay.
Another important aspect of the diet is that it provides the best possible digestion so that the body has optimal nutrient absorption. The inclusion of some fermented foods and lots of fibre help to create a healthy gut microbiota, which has been shown to help with both immunity and your mood.
'I think that this diet could allow you lose two kilos or more in a week,' suggests Hay. 'You can do it for longer and if you do a combination of aerobic exercise such as at leats three sessions of brisk walking, swimming or cycling for 30-45 minutes and two sessions of circuit or resistance training for around 20 minutes, you will see even more weight loss benefits.'
When your weight comes down, your cardiovascular health improves too, reducing cancer risk. Eating more plant-based food positively impacts on many disease states, lowering mortality rates.
This seven day Mood Food diet replaces what can be a vicious cycle of stressful lifestyle (caffeine, fast food, sugar fixes) with a healthful eating plan that can help reduce your stress levels and provide you with more sustained energy, ultimately enhancing your mood.
17 types of mood-enhancing foods:
Avocados contain essential fatty acids and tyrosine, which helps improve feel good dopamine levels.
Berries are rich in antioxidants such as anthocyanins that help cognitive function and reduce inflammation. They also contain Vitamin C which helps stress levels.
Lentils are complex carbs that will boost serotonin levels and help give you sustained energy through the day.
Bananas contain the amino acid tryptophan, a precursor to mood enhancing serotonin.
Oats are rich in vitamin B and will help to stabilize blood sugar for a steadier mood and  energy.
Salmon and sardines are essential fatty acids. Salmon in particular is rich in Vitamin B12 which helps to reduce tiredness and fatigue and also helps improve mood.
Nuts contain healthy fats that are also high in Vitamin B. Brazil nuts are rich in selenium which can help with thyroid health and to prevent oxidative damage.
Leafy greens like spinach are high in relaxing magnesium and energising Vitamin B.
Tea contains L theanine which helps produce alpha waves, which can improve and relax your mood. Green Tea and Matcha Tea are best for L theanine levels.
Chamomile and lemon balm tea have calming effects.
Algae, such as algal oil, spirulina, or chlorella, contains essential fatty acids as well as Vitamin B to help your mood and iron to help with circulation.
Herbs and spices like cinnamon, rosemary, basil, turmeric, ginger, garlic, and sage have mood-boosting and memory-enhancing properties.
Fermented foods such as tempeh, kefir, yoghurt, and miso can help with healthy gut bacteria to improve your mood (because 90 per cent of serotonin is made in your gut) and immunity.
Seeds contain essential fatty acids and B vitamins for brain health.
Quinoa also contains vitamin B to help nourish the nervous system.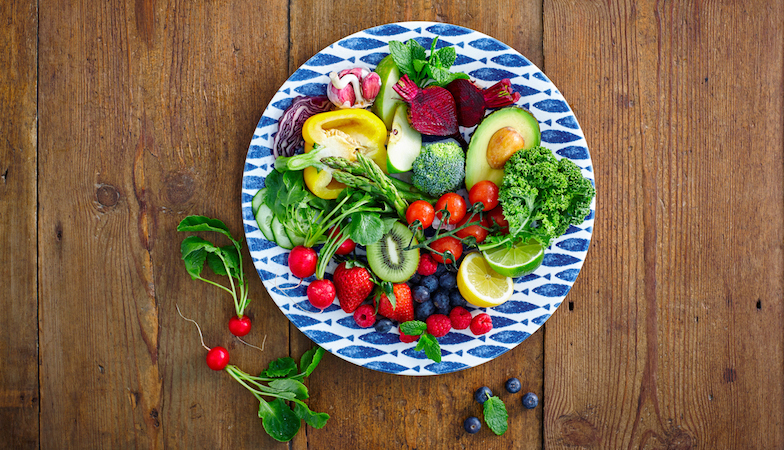 Things to avoid on the seven day Good Mood diet are excessive caffeine (one weak coffee a day is ideal – but caffeine from green tea or Builder's tea is fine), sugar and alcohol. Too much coffee can on the other hand, make you jittery and may lead to adrenal exhaustion and insomnia.
Excess sugar may cause mood swings and tiredness by causing blood sugar fluctuations that come with a crash in mood.
Alcohol is a depressant that negatively impacts your liver health, which can worsen your mood and leave you feeling down the next day.
A little bread is okay as long as it supplies the carbohydrates that help serotonin production, just try to limit it.  A great choice in bread is sour dough rye bread, this is often gluten- and wheat- free and is fermented so it's much easier on digestion, delicious and packed with fibre so it really fills you up.
The 7-day Mood Food diet:
Below we list breakfast, lunch, dinner and snacks for days 1, 3, 5 and 7 followed by days 2, 4 and 6 and within those, Rick Hay has given you plenty of options so you won't be short of choices. Happy eating.
Days 1, 3, 5, 7
Breakfast
Option 1:
Raspberry Smoothie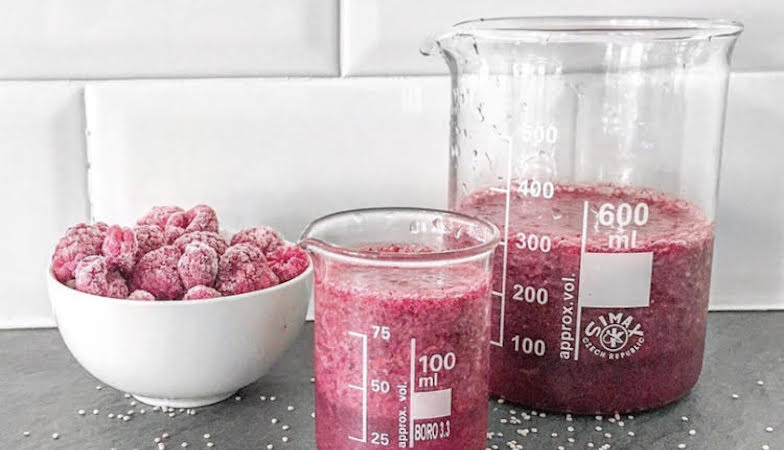 Two cups of raspberries
One cup of spinach
One teaspoon cinnamon
Two teaspoons chia or linseeds
200 mls of hemp, rice, oat, or almond milk
Option 2:
Chia Seed Porridge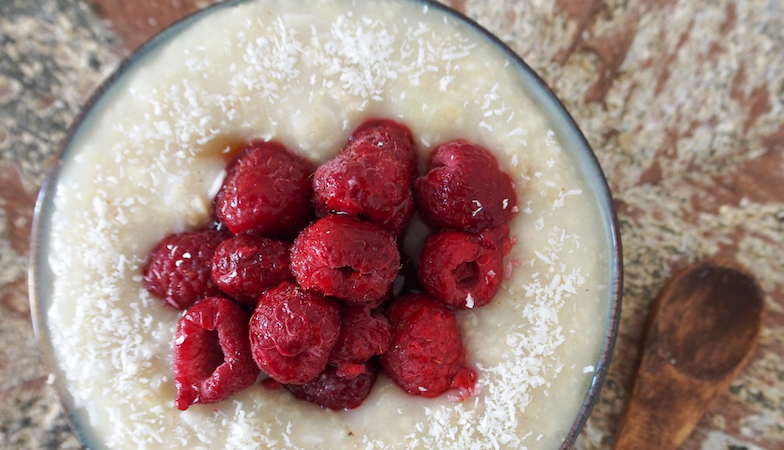 One cup of oats
Rice milk or coconut milk
One teaspoon of chia seeds and coconut flakes
Top with berries
Cup of tea, coffee, or Matcha green tea.
Snack
Option 1:
Bananas and prunes – Have a few prunes or a glass of prune juice if you prefer, together with one banana.
Option 2:
Mixed nuts and seeds – this will provide protein to help keep you full and satisfied until dinner.
Cup of peppermint or spearmint tea.
Lunch
Option 1:
Teriyaki Tofu Roll
1 tablespoon sesame oil
4 medium sized chestnut mushrooms, sliced
A pinch of salt
Pepper to taste
1 small baguette or 2 slices of bread of choice
2-3 teaspoons organic teriyaki sauce
Tofu, five thin slices
1 tablespoon tahini
Small tomatoes to garnish
In a frying pan, heat oil over medium heat until hot.
Add mushrooms, salt and pepper, stir and cook/fry for about five-six minutes.
Add tofu slices and simmer for 5 minutes.
Cut small piece of roll in two halves.
Spread tahini on both halves.
Place tofu and mushrooms on one of the baguette halves and add teriyaki sauce on top .
Place the other half of the baguette on top.
Option 2:
Quinoa, Chickpea and Spinach Salad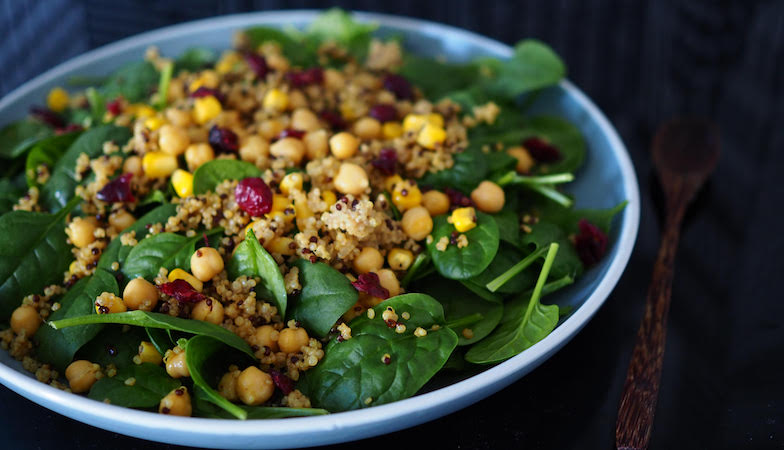 3 small cups quinoa
1 can organic chickpeas
1 can organic corn
3 tablespoons extra-virgin olive oil
3/4 tsp salt
Black pepper
3 thyme sprigs
1 tsp chilli powder
1 clove garlic, minced
1 tsp fresh lemon juice
4 cups fresh spinach
1 tbsp sliced shallot
1 tbsp cranberries
6 cups water
Add 3 cups of uncooked quinoa to 6 cups of water.
Boil in a medium saucepan.
Reduce heat to low – cover and simmer until tender and until most of the liquid has been absorbed for 15 to 20 minutes.
Heat oven to 200 degrees.
Toss the corn and chickpeas with 2 tablespoons of oil and season with 1/2 tsp salt and a dash of pepper.
Spread on a medium rimmed baking sheet and top with thyme sprigs.
Roast, tossing occasionally until golden-brown for about 25 minutes.
Using a mortar and pestle, mash the garlic with a large pinch of salt until it forms a paste.
Add this to a small bowl and whisk in lemon juice and the remaining oil – season with salt and pepper.
In a large bowl combine the spinach, shallots, roasted corn & chickpeas and quinoa.
Toss with enough dressing to lightly coat vegetables and greens.
Add cranberries.
Cup of Peppermint or Spearmint tea
Mid Afternoon
Glass of Kefir or Cup of Miso Soup
Dinner
Option 1:
Vegan Stir Fry
Lightly fry in olive oil two cups of mixed vegetables, such as courgette, mushrooms, carrots, green beans and spinach with one teaspoon of grated fresh ginger.
Add in a handful of cashew nuts when the vegetables are almost ready.
Add mood boosting turmeric and sesame seeds.
Serve with rice noodles or brown rice.
Option 2:
Tofu/Tempeh with Salad or Salmon with Salad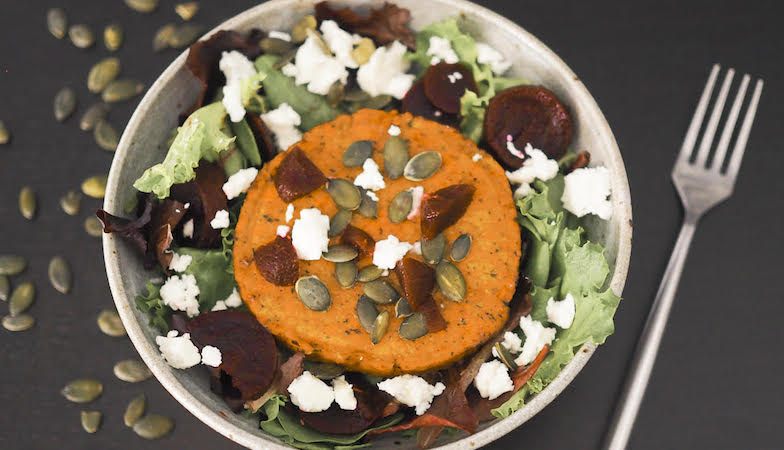 Small piece of grilled/lightly fried fish, tofu or tempeh served with a bowl of green leaves, sliced avocado and dressed with olive oil.
Add almond slivers or pine nuts, olives and some small slices of citrus fruits such as orange or grapefruit.
Add a drizzle of balsamic vinegar and basil leaves.
Cup of Dandelion tea
Dessert
Option 1:
Sleepy Raspberry
1 lemon
0.15 litre still water
1 inch piece of fresh ginger root, peeled
8 -10 fresh raspberries
Pinch of cayenne pepper
Peel ginger, and chop roughly. Add into blender.
Squeeze lemon, and add water and blend.
Option 2:
Green Mango Smoothie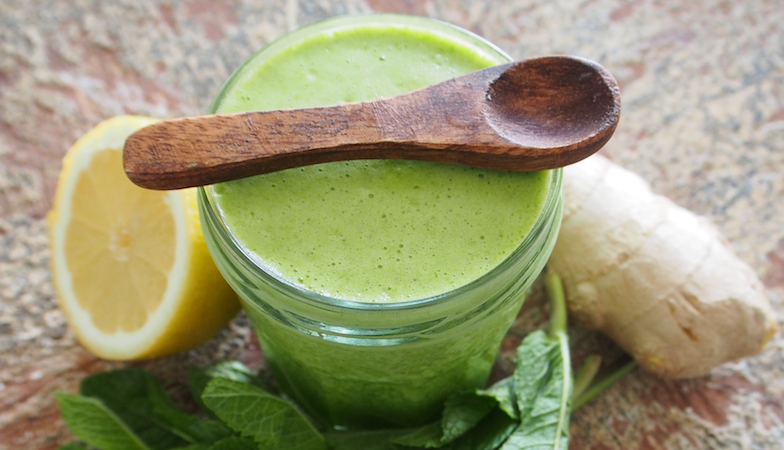 1 cup frozen mango
½ apple
1 cup organic spinach
4-5 fresh mint leaves
1 inch fresh ginger (peeled)
2 teaspoons fresh lemon juice
Cup of Chamomile, Ginger or Lemon Balm tea
Days 2, 4 and 6
Breakfast
Option 1:
Berry Blast Smoothie
1 cup of blueberries fresh or frozen
Coconut Yoghurt
Water
1 teaspoon of cinnamon, granola coconut flakes
Option 2:
Scrambled Eggs with Salmon and Avocado (or Beans and Avocado if vegan)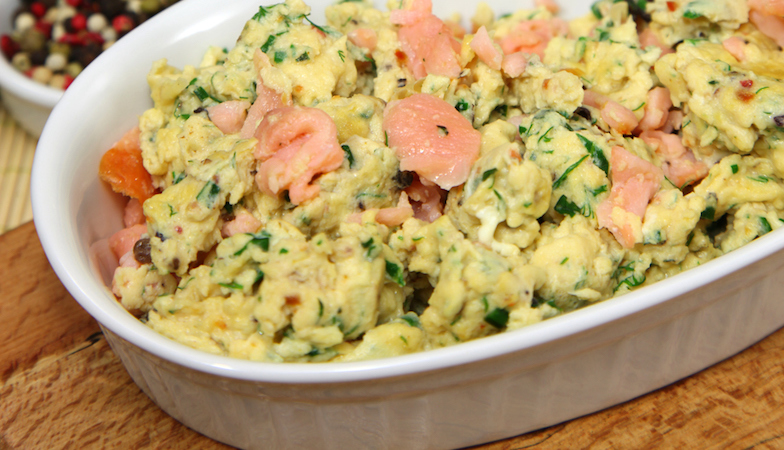 Scramble two eggs and serve with a few thin slices of salmon and half an avocado.
Season with rosemary and black pepper.
Cup of tea, coffee or green tea.
Snack
Option 1:
Handful of mixed nuts and seeds with half an apple
Option 2:
Two or three squares of dark chocolate or vegan chocolate for a bitter mood boosting treat.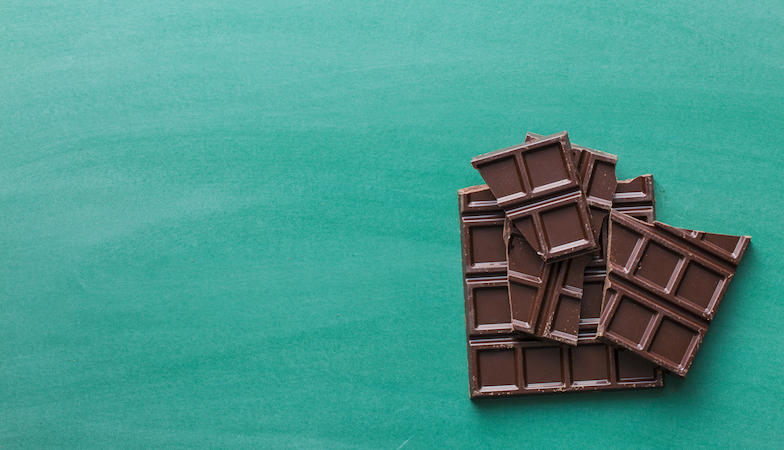 Cup of Fennel, Licorice or Berry Herbal Tea
Lunch
Option 1:
Carrot and Coconut Soup with Sweet Potato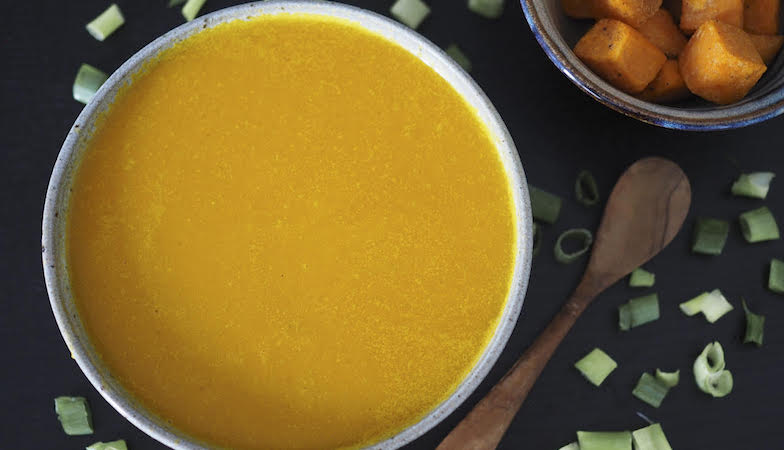 1 tablespoon of coconut oil
2 carrots, peeled, chopped
1 medium onion, chopped
Sea Salt and freshly ground black pepper
2 cups water with
1 can of coconut milk
2 tablespoons Thai-style chilli sauce.
Try with a handful of sweet potato garlic cubes. Lightly fry them in olive oil and garlic.
Melt coconut oil in a large saucepan over medium-high heat.
Add carrots and onions, season with salt and pepper and cook, stirring often, until carrots are softened.
Stir in broth, coconut milk, and 2 Tbsp. chili sauce.
Bring to a boil, reduce heat, and simmer, stirring occasionally, until vegetables are very soft and liquid is slightly reduced.
Let soup cool slightly, then purée in a blender until smooth.
Reheat in a clean saucepan, thinning with water to desired consistency; season with salt and pepper.
Divide soup among bowls, drizzle with chilli sauce.
Option 2:
Veggie Burger with Salad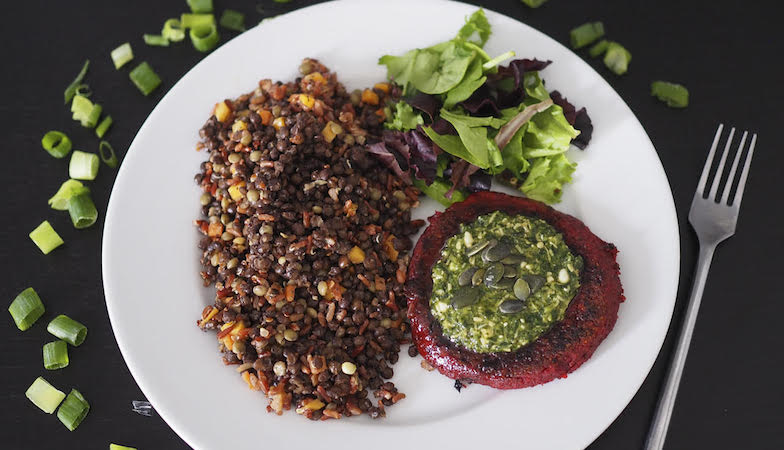 3 tbsp olive oil
1 red onion finely chopped
2 garlic cloves, crushed
2 beetroot peeled and grated
1 courgette, grated
2 large carrots peeled and grated
400g tin chickpeas drained
3 tbsp tahini
1 large free-range egg or use egg replacement
4 spring onions thinly sliced
Sea salt and freshly ground black pepper
Mould into burger size patties and lightly fry in olive oil.
Serve with small lentil, avocado, onion and green leaf salad with a handful of pine nuts.
Drizzle with olive oil.
Cup of Tulsi tea
Mid Afternoon
Glass of Kombucha or Turmeric Latte. Try one to two teaspoons of turmeric in a glass of rice or coconut milk heated in a saucepan with a little honey or agave syrup and some ginger and cinnamon.
Dinner
Option 1:
Squash and Lentil Stew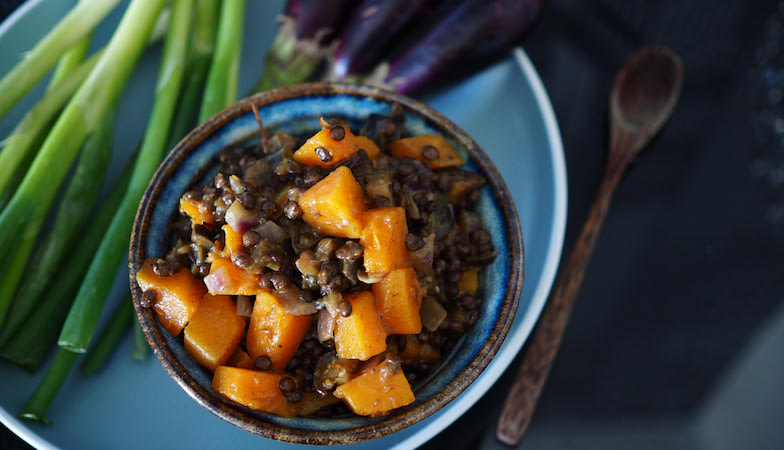 Add a cup of pre- cooked lentils in sachet or tin to quarter of a cup of diced butternut squash to water.
Simmer slowly and add turmeric, chilli, garlic and ginger.
Serve on a bed of brown rice in a small bowl.
Option 2:
Green Vegan Curry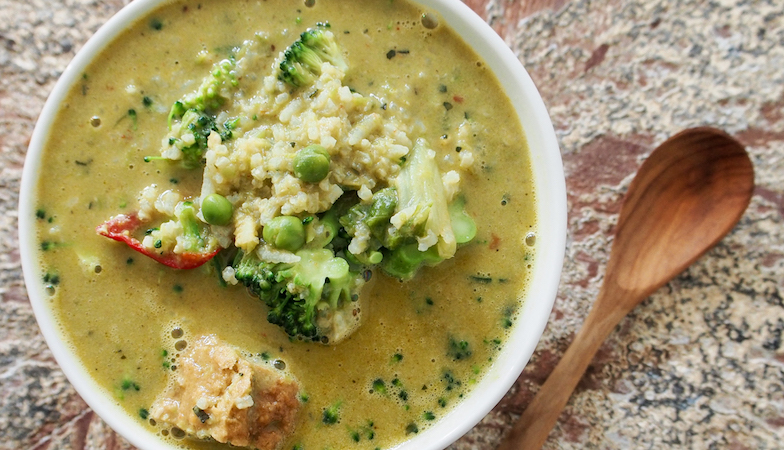 1 tablespoons sesame oil
1 tablespoons green curry paste,
1 clove garlic, finely chopped
1/2 can coconut milk
1 inch fresh ginger, cut in thick slices
Cubed tofu pieces
1 chilli cut in strips
2 tablespoons tamari
1 tablespoon maple syrup
Half a cup of peas
Half a cup of broccoli
Half an onion too
1 cup brown rice cooked
Stir fry all ingredients in a wok.
Stir in coconut milk and vegetable broth.
Mix in brown rice when cooked.
Serve in a small bowl.
Dessert
Option 1:
Bowl of Berries with yoghurt or coconut yoghurt topped with almond slivers.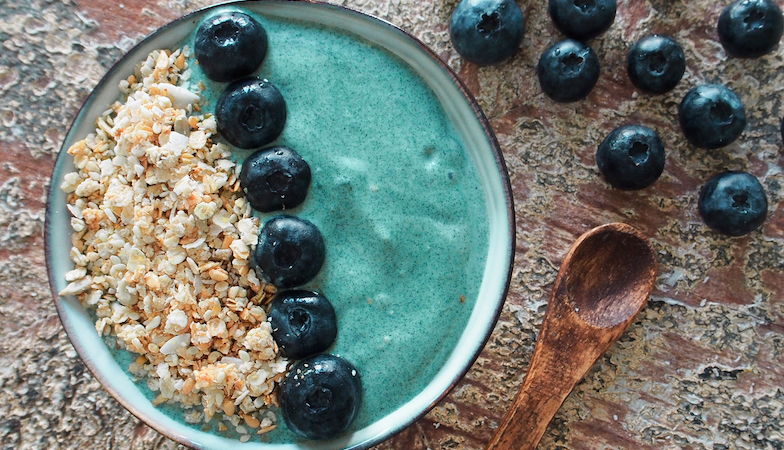 Option 2:
Smoothie Bowl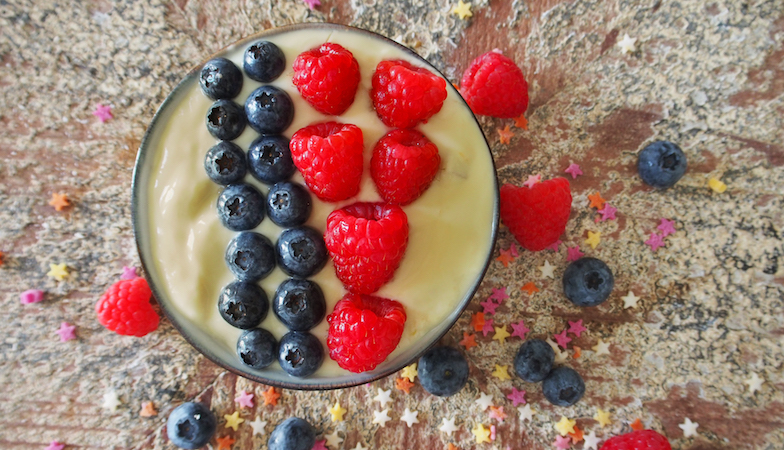 1 mango, chopped and frozen
½ frozen banana
½ cup of coconut yoghurt
½ cup of nut milk
Blueberries
Raspberries
Add all ingredients into a high-speed blender. Blend until smooth.
Spoon into small bowls.
Add berries.
A cup of dandelion tea.
Before bed
One cup of Lemon Balm, Ginger or Chamomile Tea.
More Healthista Content:
3 things this TV Doctor wants you to know about healthy weight loss
10 health trends to watch in 2019
Should you try a low calorie diet?
Stressed? Anxious? This new probiotic for the mind can help
Like this article? Sign up to our newsletter to get more articles like this delivered straight to your inbox.