Welcome to our new #foodieFriday recipe series with The Body Coach, Joe Wicks who will bring you a weekly #LeanIn15 15-second video to help you live a leaner life. Today, fast and fierce curry prawns (PS: he's a BIT gorgeous)
This meal is a great post workout refuel meal with a good ratio of fats, proteins and carbohydrates. It's also a great lunch idea for work as it can be eaten cold or warmed up in the microwave.
Malaysian Curry prawns with Sticky Coconut Rice Ingredients: Serves 1
60g Jasmine rice
10g Coconut oil
1 clove of Garlic
2 fresh Chillies
125g King Prawns
50ml Coconut milk
Handful of Fresh Basil
2 Mixed peppers
50g Mange tout
One tablespoon of Malaysian Curry Paste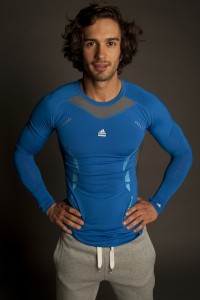 Joe Wicks is a health and fitness professional with a strong background in sports science, nutrition and personal training. Joe is particularly well known via the popular social media website Instagram as 'The Body Coach' for his 90 day shift, shape and sustain plans as well as his 'lean in 15' video meals. Specifically, Joe focuses on weight loss, building muscle tone and training for endurance events by providing boot camps, personal training, diet plans and personal workouts whilst providing motivation and enjoyment in clients ranging from professional athletes to complete beginners. Follow Joe on Instagram and Twitter: @thebodycoach
Like this article? Sign up to our newsletter to get more articles like this delivered straight to your inbox.