To celebrate Thai New Year Holiday season from 13th-15th April,  Healthista's Vicky Hadley has reviewed a brand new Thai fine-dining restaurant that opened in London in November and it's delicious…
Standing outside a Thai restaurant located between Tottenham Court Road and Oxford Circus my friend, Deni and I, both on a very strict diet told each other sternly, 'we will have a bite of tofu and a small portion of pak-choi (Chinese cabbage), the rest we will wrap up and take away'.  Well, that was the plan…
Patara London is a brand new fine dining Thai restaurant that opened in November last year. Still unknown by most I wasn't prepared for the delicious meal I was about to consume. Being a very difficult guest with allergies including dairy, gluten and nuts and being a vegan I don't make it very easy for restaurants. However, calling ahead about our dietary requirements meant that the restaurant had actually tailored the set vegan menu designed around our dietary needs.
MORE: 8 Best vegetarian restaurants in London
The restaurant is beautifully laid out with an oriental style interior and posh candles and glasses presented on each table. We were seated and given the drinks menu, as we had the intention of being healthy we both ordered a fresh jasmine tea and a cold green tea. The green tea was delicious blended with ice and light fragrant spices it tasted sweet and fresh from the added honey.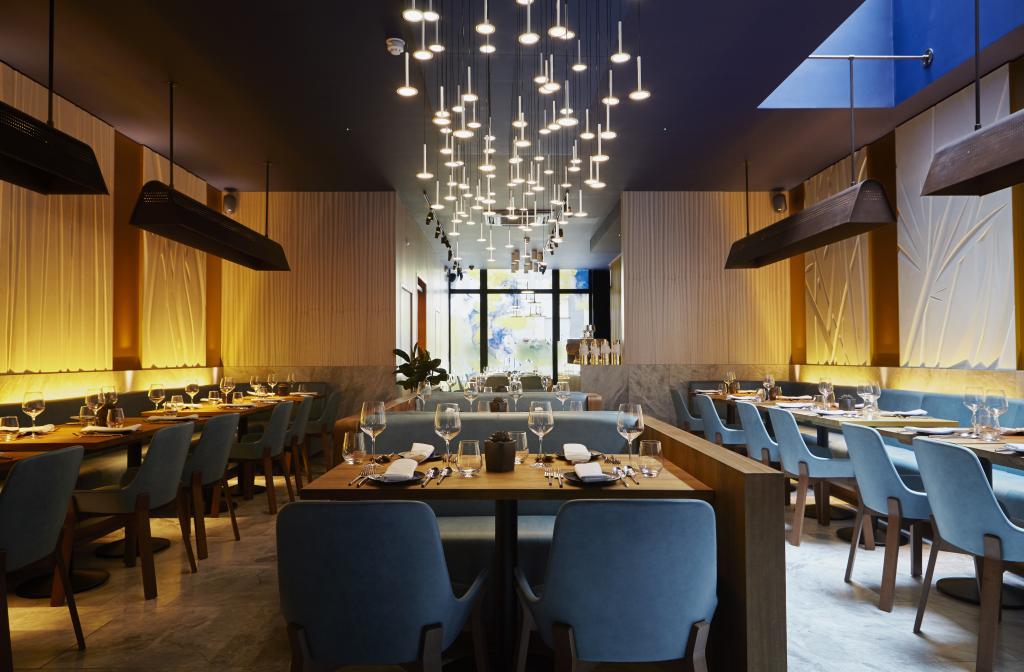 Andy, the manager of Patara London gave us a quick over view about what we were about to try and explained how all of the ingredients are created from the true roots of Thailand with seasonal and local ingredients. The starter arrived on a china spoon and consisted of what looked like a mouthful of sweetcorn in a white creamy sauce. Perfect, we thought, we aren't going to over eat at all. The sweetcorn was marinated in a creamy coconut sauce mixed with tomato that tasted sweet and moreish and hit all of our taste buds.
We may as well eat everything…
Next a platter of satay sauces and tofu and mushroom kebabs arrived in curried coconut milk. Being allergic to peanuts I often miss out on sauces especially satay, however, the restaurant had created this sauce from scratch completely without nuts. The sauces arrived in little china bowls with a white leaf delicately squeezed on top, the way your coffee arrives in a posh artesian restaurant. The platter included bite-sizes rice wraps filled with the softest and freshest mushrooms and vegetables I have ever tasted. The tofu kebabs were deliciously spicy giving off a slight kick from the satay sauce. By this point we had both consoled each other saying, 'well, the restaurant has gone to all this work preparing us with such an amazing meal, we may as well eat everything'. The kebabs were partnered with fresh vegetable and avocado rice rolls that had a zingy blend of mint, chilli and lime.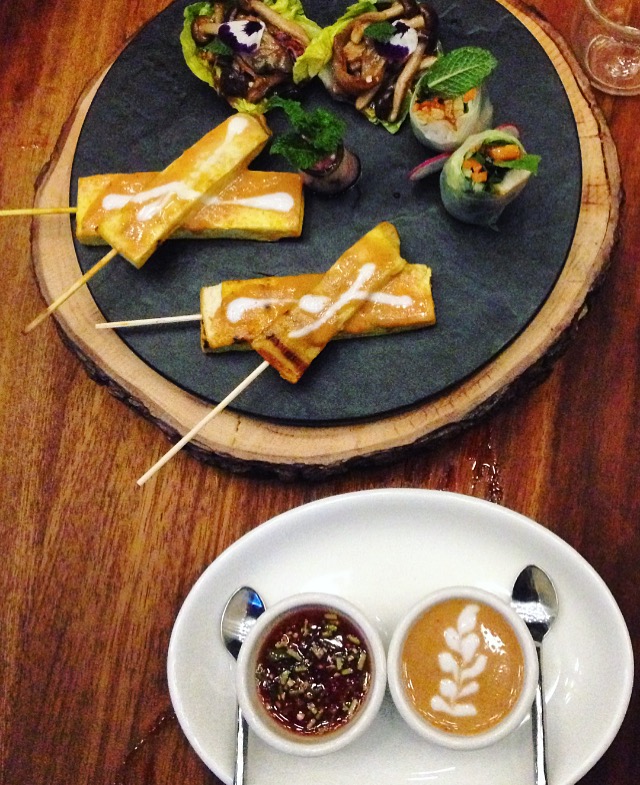 As what we assumed was our main course arrived we already felt pleasantly full. A stunning looking coconut cocktail turned up in front of us. The coconut was presented on turquoise beads with a lemon grass straw poking out of the top as though it should be found in a exotic beach bar. However, this wasn't a cocktail – this was a soup. A thick, creamy coconut soup with fresh mushrooms that melted on the tongue and light spices that was blended with coriander and lime slices. The coconut was so fresh that we could actually scrape around the edge of the shell to peel away delicious coconut flesh. 'It's full of essential fats, and as they're essential…', were the words now coming out of our mouths.
MORE: Vegan restaurants in London: The first totally free-from, healthy ICE-CREAM PARLOUR has opened in London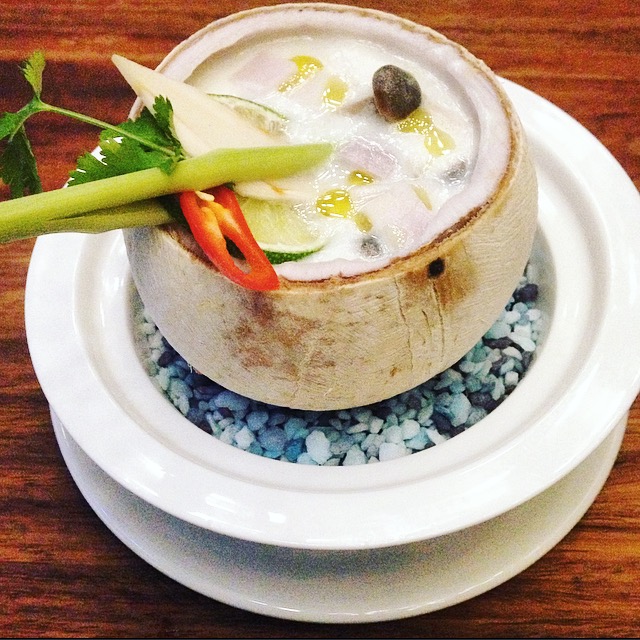 Suddenly, the waitresses and waiters appeared at our table and started clearing away our glasses and candles to make room for something. We eyed each other suspiciously thinking what could possibly be that big that we were about to eat? Ten minutes later and meal after meal started appearing in front of us. A peanut free, pad thai with gluten free noodles and a small tea plate of sugar, chilli and lemon for us to add to our taste. A green coconut tofu curry was presented on top of a candle to keep warm which smelt so mouth-wateringly fresh and exotic I couldn't possibly say no. Next a dish name Panang tofu was laid in front of us which consisted of tofu steaks served in a mild and creamy red curry sauce with a lime leaf. Each curry was so diverse and unique in its flavours, with the Panang definitely being my favourite due to the creamy mild spices that set my taste buds on fire. The tofu was so firm and hard that it reminded me of a salmon fillet. I never manage to press my tofu for long enough to get it as hard as I would like, but Patara had the technique nailed.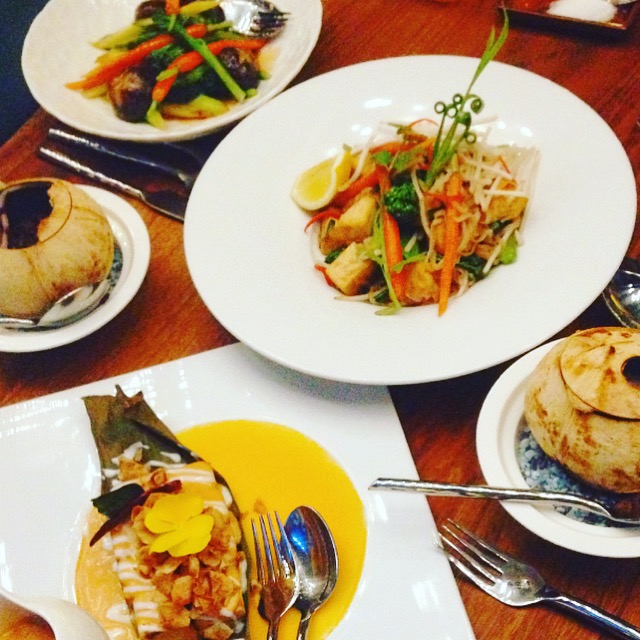 The green curry was filled with aubergine, bamboo shoots and mixed vegetables served in a green chilli sauce that had a creamy texture that left me feeling as though I had suddenly been transported to Thailand. The Pad Thai noodles were so sweet and sticky that I couldn't stop myself devouring the entire plate. Made with Chinese chives, sweet turnips and beansprouts the dish was so more-ish and created the perfect gentle contrast from the other spicy mains.
Despite being vegan, looking across at other diners who do eat meat made me have a tiny pang of jealously. But only for a split second… I was told by Patara's main chef that highlights for the set menu for meat eaters include a seared Wagyu beef salad, Chor Muang, dumplings filled with caramelised chicken with sweet turnip and peanut finished with coconut cream and Gai Gor Lae Chicken supreme in a traditional southern Thai curry sauce.
MORE: 4 healthy restaurants in London we're loving right now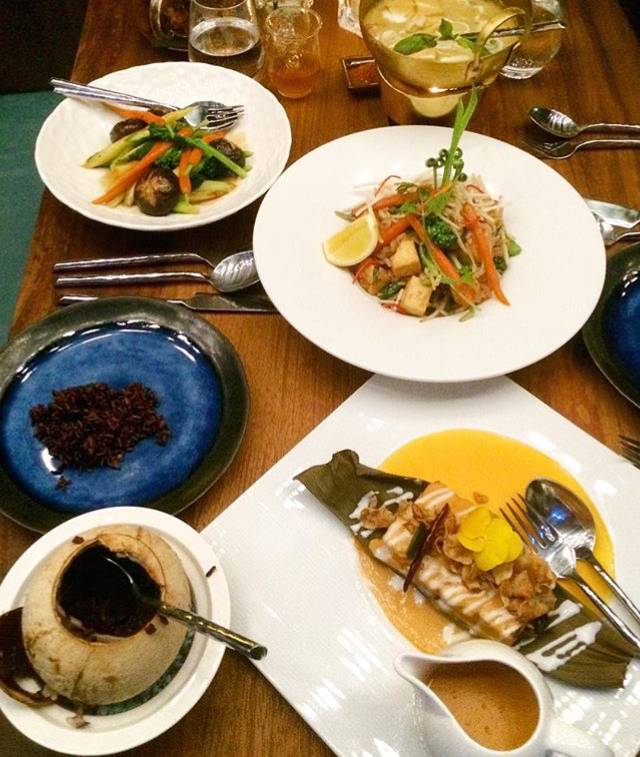 I don't quite know how two small girls managed to devour that much food, but we did. And… we still ate dessert. Named the 'sweet finale' a black slate platter was presented hosting a mango sorbet encaged in a golden glitter bowl made fresh by Patara's chef's from a sugar cane. The sorbet had a tropical zingy taste that cleansed the pallet and left us sighing with happiness. Two little mango cheesecakes offered a soft and sweet blend to the zingy sorbet creating the perfect mix to finish the meal. For vegetarians the sorbet can be made using milk and dairy products to create a sweeter and creamier taste.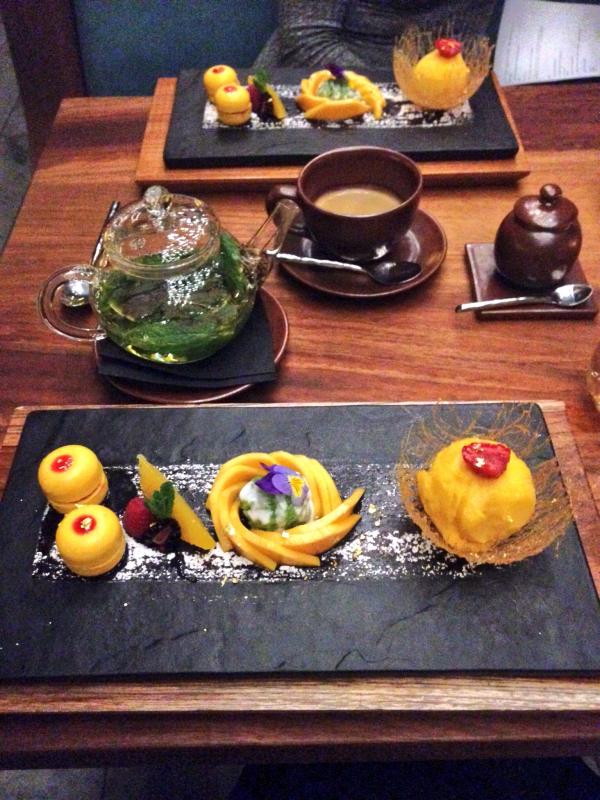 By the end of the meal I honestly do not know how I consumed so much food, but can safely say it was probably one of the best meals of my life. Two workouts later I think I've finally burnt off the calories but after my bikini competition I will definitely be returning for more.
The set vegan menu is available for £40.00 per person.
Patara London is located in South Kensington, Hampstead and Berner's Street.
Like this article? Sign up to our newsletter to get more articles like this delivered straight to your inbox.