Want to look your absolute, most gorgeous best on your holiday this year? Here are all the treatments to have and when to have them

Even if you're one of those well-groomed women, who rarely has a chipped nail or split-end, when it comes to holiday prep there's just so much to cram in. It's all too easy to find yourself rushing around, in a last-minute beauty tizz, the day before your holiday.
Who hasn't booked a last minute wax, only to end up with a horrible bumpy rash in the heat, on the beach?  Not the look we were after.
So, whether your next holiday is a few months away or next week, we have a fail-safe countdown to the beach, to ensure you've got your beauty prep down locked down. No more dashing to the airport  wearing flip flops in the rain, because your nail polish is still drying after a last minute pedi.
One week before:
Whiten your teeth
Get your smile camera-ready in time for those holiday snaps. The Perfect White 2-in-1 Whitening Kit from Beverly Hills Formula, £19.99, includes 28 whitening strips and a whitening pen for a complete at-home whitening routine.  Use a week before your holiday and continue using the 28 strips included in the kit to keeps those pearly whites bright and beautiful throughout your trip.
Once you've completed the whitening kit, use Beverly Hills Formula's whitening toothpastes, £5.99, as your daily toothpaste, to keep your teeth lovely and bright.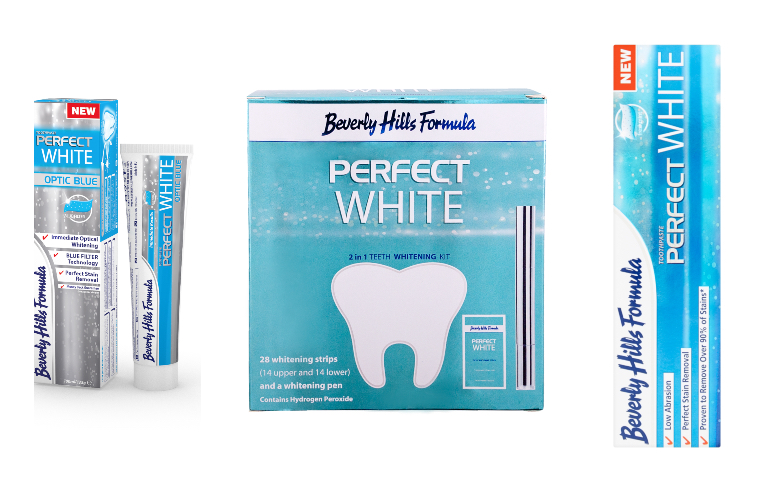 Go for a pedicure
Out of sight out of mind, never was a saying more apt for our poor feet. We shove them into shoes, pound the pavements and rarely give them a second thought, until it's sandal time.
It's no wonder the pioneer of the medical pedicure, Margaret Dabbs, says that our feet are 'the most abused body part of our body'. Dabbs recommends a salon pedicure at least a week before your trip and suggests investing in a hydrating lotion, to stop heels cracking in the heat.
'Bear in mind that the skin of the feet is twelve times thicker than the skin on the rest of the body, so a body lotion just will not work,' says Dabbs, explaining why she developed her Intensive Hydrating Foot Lotion,£25, which absorbs and moisturises immediately.
Get a hair cut
Super stylist Mathew Alexander, founder of Mathew Alexander Hairdressing and Make up, suggests a pre-holiday haircut, even if it's only for a trim. 'This will ensure that any dry or split ends, which are especially prone to damage, are removed before you spend time in the sun,' he says.
Alexander also recommends keeping your hair covered as much as possible, when you are out in the sun, ideally with a scarf or hat. 'The sun's UV rays can damage your hair as well as your skin,' explains Alexander, 'especially if it is coloured or highlighted.'
Three days to go:
Remove facial hairs
When you're on holiday, you're likely to be wearing less or no makeup, so facial hair is more visible.  Use Jolen Crème Bleach  to lighten dark facial hair that is usually covered with foundation.
Jolen Crème Bleach, £4.50, can be used almost anywhere but is particularly great on the face, for sideburns and upper lip.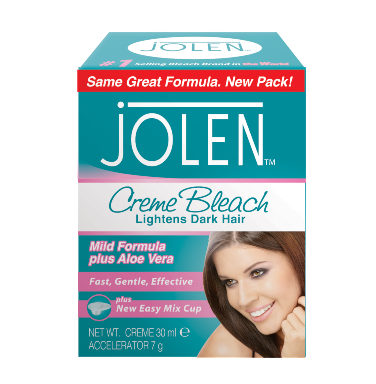 Danielle Hudson, Celebrity Makeup Artist and Jolen expert suggests using Jolen three days before going away on holiday, which leaves enough time to apply again if the hair is especially coarse (leaving 24 hours between application). Results last up to two weeks and the mild formula works for all hair types.
Two days to go
Book your manicure
If you have time to head to the nail salon, consider SNS nails, a dip powder that is hailed the healthy manicure: stronger than gel and kinder than acrylic. The finish is long-lasting and ultra-glossy with a growing choice of colours.
Treatwell is a perfect time saver, allowing you to browse over 10,000 salons and spas and find one that's close to home or work.
The day before
Fake Tan
Using a gradual self tan like St. Moriz Advanced Pro Formula Insta-Grad, £5.99, the day before your holiday, will ensure you arrive with a beautiful golden glow that can gently fade as you catch the sun naturally.
Jordan Cook, expert tanner at St. Moriz suggests tanning the night before you go away, which is a great way to let your tan develop fully overnight, without it being spoilt when you are dashing around or  washing your hands.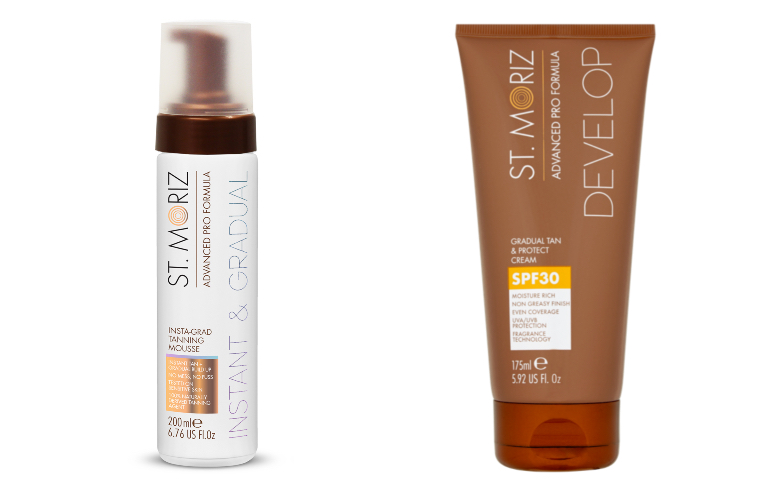 Cook suggests applying your tan after showering, to clean, dry and unfragranced skin.   'Avoid moisturisers or fragrances as these can form a barrier to the spray tan solution and reduce your chances of getting a nice even colour all over,' says Cook. 'However after you've washed the fake tan off, moisturising is essential as will prolong the length of your tan. St. Moriz even offers a tanning lotion with SPF 30 St. Moriz Gradual Tan with SPF Protection £9.99, so you can protect and glow at the same time.'
On the plane
Go make up free
When you get onto the plane, especially on a long haul flights, going makeup free is the best solution for healthy, happy skin as makeup can clog your pores.
Hydrate
Drink water. In the airport, on the plane and when you land. High altitudes and low cabin humidity can lead to dehydratiion and lower your resistance to cold and flu germs.
Drinking water is not only important for hydration but will also help protect you from bugs.
Bring your own bottle and don't be afraid to ask flight attendants for refills
Chilly's Bottles stay cold for up to 24 hours , £25.
Hydrate your skin too
The Garnier Moisture Bomb Pomegranate Hydrating Face Sheet Mask is a bargain at £2.99
It is a super-hydrating revitalising mask for dehydrated skin which rehydrates skin, reduces the look of fine lines, and revives radiance. Enriched with pomegranate extract, hyaluronic acid, and plant serum, this mask can also be used the day before or after flying for additional benefits.
Or for something that guarantees no mess, the Charlotte Tilbury Revolutionary Instant Magic Facial Dry Sheet Mask, £18, is a brilliant option. Perfect for short haul flights, it assures "expert facialist results in just 15 minutes." The mask is infused with vitamins and peptides that gradually get released into the skin.
Prep to start now for your NEXT holiday:
2 months prior
Tone your midriff
Top up your ab work out with a helping hand from Silk'n Lipo, the figure shaping device, combines Low Level Laser Therapy (LLLT) and Electric Muscle Stimulation (EMS) to deliverinmg a double whammy, shrink fat cells cells and toning underlying muscle.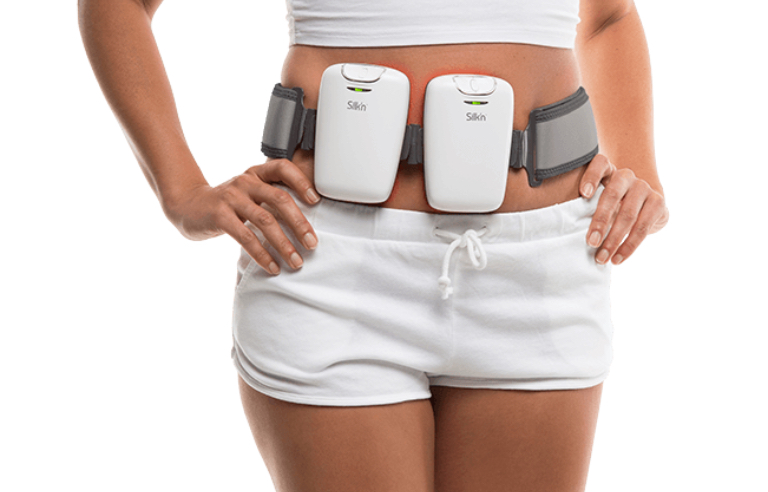 It's designed for those hard to shift pockets of fat, promising results in as little as eight weeks.
So how does it work? Simply strap on the belt on the area you want to target, whether that's your stomach, flank, thighs, bottom or upper arms.
Treat each section for 15 mins and use up to three times a week. When on, the device gives a tingling sensation, which is not painful. Results show in just eight weeks.
Silk'n Lipo, £449, at Current Body.
1 month prior
Start a hair removal treatment
Rather than shaving, tweezing or waxing, a month ahead of your trip is a great time to invest in an at-home hair removal device like Silk'n Infinity. This device uses eHPLTM  modern laser technology to create pulses of light, which permanently zap hairs. Say goodbye to stubble, ingrown hairs, redness and irritation. And nope it doesn't hurt either.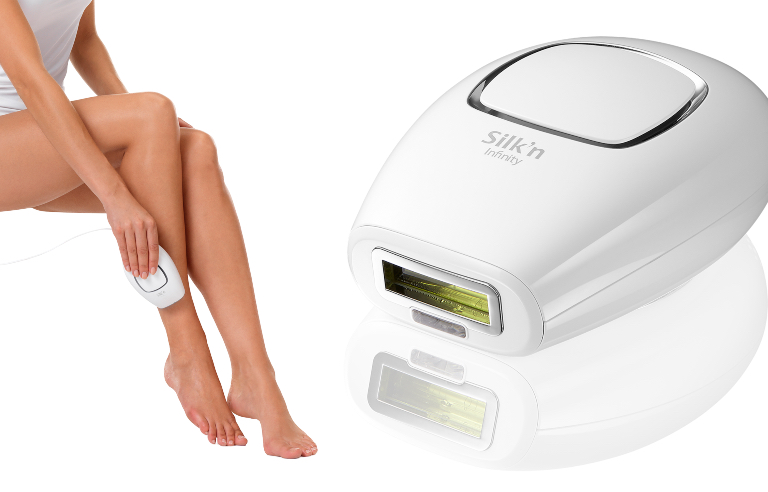 The device connects to your mobile phone via the Silk'n Infinity App, keeping track of your treatments and letting you know when it's time for your next session.
A full body treatment takes just 20 mins.
Hair will fall out naturally after multiple uses, leaving you hair free for holiday.
Silk'n Infinity, £229.
Vaguely Relevant Healthista Content:
Can't lose weight? You might be missing this crucial metabolism mineral
WIN £300 worth of Benefit cosmetics
WIN a fat loss Silk'n Lipo slimming device worth £449
Healthista Content you might also like:
I did a body transformation and lost 11 inches – this is what REALLY works for fat loss
'The new anti-ageing beauty jab that transformed my tired skin'