Brand new juice detox and diet delivery brand, Nurture,  recently landed here at Healthista Towers so we made a Friday haul video about it – verdict: they taste incredible and are proper 'elfy
Nurture offer three main programs delivered to your door, the 5:2 diet, the Nutrition for Fitness programme and three day RawJuice Cleanse programme. All options are also customizable with pre- and probiotic vitamin sachets and optional protein sachets for fitness junkies like us.  The juices are raw and unpasteurized with nothing but the vegetable and fruit ingredients added. Once delivered, they have a 30-day shelf life in the refrigerator and all programs start at £129.99.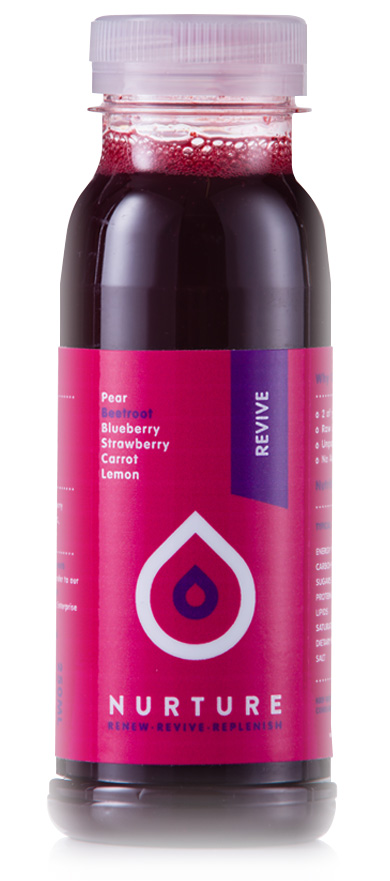 The juice choices include:
Rehydrate: Pink grapefruit, grapefruit pulp, coconut water, and himalayan crystal salt which claims to replenish electrolytes and provide immune support
Refresh: Apple, watercress, cucumber, kiwi, ginger, and a pinch of mint which claims to support a healthy heart and help anti-ageing
Revive: Pear, beetroot, blueberry, strawberry, carrot, and lemon which claims to control blood sugar and as an anti-inflammatory
Replenish: Spinach, Kale, celery, parsnip, cucumber, apple, and orange, which claims to awaken the metabolism, provide digestive support and renew the skin
Re-Energise: Apple, mango, passion fruit, pomegranate, lemon and kale, which claims to provide support for healthy kidneys and antioxidant
Rebuild: Cashew milk and mineral water, which claims to provide protein and support to the nervous system
We tasted the Refresh, Revive and Rebuild options and found them to be energizing and smooth.
Editor, Anna Magee said of Refresh. ;It might be natural sugar but I feel full of energy after just a small taste'.
Our intern Moraima Capellán Pichardo found that Revive was an immediate gratification.  'It's strong but it feels like I'm drinking health in a bottle, and I don't want to put it down.'
For our intern Chloe Nichols, Rebuild – made from pure cashew milk – was not your standard juice. 'I'm not sure I like it because it tastes like a nut milkshake, it's an acquired taste, but it must be great if you're lactose intolerant. Tastes like liquid cashews.' Well, because that's all that's in it.
Tweet or FB this story to be in with a chance to win a nurture juice delivery box worth £129.99. Find our more about Nurture at wearenurture.com
Like this article? Sign up to our newsletter to get more articles like this delivered straight to your inbox.