It's Salt Awareness Week, so we asked spokesperson for the British Dietetic Association Azmina Govindji whether sea salt is any better than table salt 
Salt is salt, regardless of where it comes from and what it's called. Yet, it's often assumed that sea salt and rock salt are better for you than table salt. The chemical name for all types of salt is sodium chloride, and it is the sodium part that can be a major cause of high blood pressure, which is responsible for around 50 per cent heart disease and 60 per cent of stroke. (World Health Report 2002. Reducing risks, promoting healthy life. World Health Organisation, 2002).
Blood pressure tends to rise with age. Eating too much salt, whichever type, can make you more prone to hypertension, and a high salt diet is also linked to conditions such as osteoporosis, stomach cancer, and kidney disease.
Sea salt is usually unprocessed, hence extra the appeal.
Some celebrity chefs prefer sea salt or rock salt because of its flavour and crunchy texture. Sea salt is usually unprocessed, hence extra the appeal. Although it has trace levels of nutrients like magnesium, potassium and calcium, they aren't present in significant amounts and so won't make a difference to your overall nutrient intake. Salt is simply not a nutrient-rich food and we get enough even if we don't use any in cooking or at the table.
How much is too much when it comes to salt?
We need less than one gram a day to survive and the current maximum recommendation in the UK is to eat a maximum of six grams a day, which is equivalent to about one teaspoon of salt.
Both sea salt and table salt have around 40 per cent sodium  – the sad news is that if people think it's better for them, they might use more sea salt than they would normally use, and this gives a false perception of benefit.
We've heard that it takes 30 days to lose your 'salt tooth' – true?
As babies, we are born with a liking for sweet tastes but the liking for salt seems to happen once we are exposed to salty foods in childhood. So this 'learned behaviour' can be unlearned. They key is to reduce your intake of salty foods gradually and accept that it takes time to wean yourself off salt, especially since everyday foods like bread and cereal contain salt.
Everyone is different so there are no hard and fast rules on how long it takes to retrain your palate, but keep it up for a few weeks and you will soon find that very salty foods taste unappealing.
If I'm not using salt, what can I use to season my food?
In cooking, try herbs and spices such as cumin, smoked paprika, oregano, basil, turmeric and soumac (a Turkish herb that is great on vegetables, fish, lamb or rice and has a lemony kick) along with lemon and lime to add flavour in place of salt. At the table you could try a lower sodium salt alternative. Check labels and look for brands that are lower in salt or sodium. Choose reduced-salt stock and soy sauce, and be aware of salty seasoning mixes.
The NHS guidelines on salt recommend using nutrition labels on food packaging to help you cut down on salt with the following guidelines:
Too high is more than 1.5g salt per 100g (or 0.6g sodium)
Too low is 0.3g salt or less per 100g (or 0.1g sodium)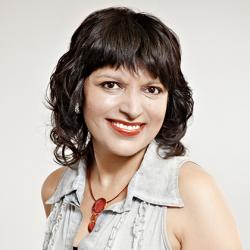 Azmina Govindji is a spokesperson for the British Dietetic Association (BDA) Read the salt and health fact sheet from the BDA
More Healthista Content:
Running for fitness – 5 tips these running experts want you to know
This woman has had binge eating disorder since she was 9 – here's how she beat it
Suffering from a headache? This foot reflexology massage could help
How can vegans get enough calcium?
WIN an overnight spa stay worth £279 by taking our 5-minute survey
Do you want to experience ultimate relaxation? To be in with a chance to win an overnight spa stay for two including treatments and meals, complete our five minute survey about how your gut health affects your relationships
Like this article? Sign up to our newsletter to get more articles like this delivered straight to your inbox.