The government recently announced a new system of colour-coded labelling that will be used to highlight how much sugar, fat, salt and calories are in each product on the front of product packaging.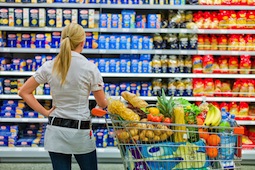 It's a voluntary scheme that supermarkets and food brands can choose to sign up to as mandatory food regulations would require agreement on a Europe-wide level – which hasn't happened.
Good news is, all major supermarkets have signed up including Tesco, Sainsbury's, Asda, Morrisons, M&S, the Co-Operative and Waitrose as well as manufacturers Mars, Nestle, PepsiCo and Premier Foods.
Those that haven't signed up include Coca Cola and Cadbury and both released statements yesterday days they believed that the guideline daily amount was a better system.
So what does all this mean for you pushing a trolley in your local supermarket?  Healthista caught up with Sian Porter, registered dietician and spokesperson for the British Dietetic Association to find out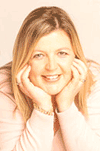 What will the new traffic light labelling do? It will give people at-a-glance information on the front of a label about whether a food is high medium or low in sugar, salt, fat and saturated fat.   This will also colour code the amounts – red for high, amber for medium or green for low – and will also give them a percentage it will provide of their daily intake.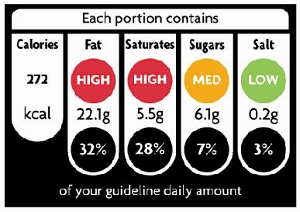 How should we interpret the new labels?  Most of the foods you're eating should be either green or amber for things like sugar, salt, fat and saturated fat.  But there will be some foods that are high in fat by nature such as butter, spreads or cheese.  That doesn't mean don't eat it, it just means watch your portion size and don't eat them too often.  If you are trying to choose say, a ready meal and you're looking at three different ones, put them side by side and pick one that has most green on the front label.
What if high for sugar and green for the rest?  Think about where the sugar is coming from – you could be buying something like a yoghurt that might be labelled as high in sugar but that could be natural milk sugar (called lactose on a label) which is fine.  The same with something like fruit juices (which you need to limit to a glass a day) and look for whether it has added sugar or if that sugar is naturally occurring.
In this case look at the ingredients on the back.  Usually the higher up the sugar in the ingredients list, the higher in sugar it is but some manufacturers get around that by using different names for sugar throughout the ingredients list.  For example, sucrose, sucralose, fructose, glucose, honey, agave, corn syrup – they're all sugar.
What's the bottom line?  In an ideal world try and make most of your choices in green, a small amount in amber and only occasionally or in small portions, red foods.
Anything to add?  Being label literate is one of the best things you can do to eat healthily but be aware of how much of that food you're eating – portion sizes.
Watch the new Healthista video on the 'Portion Hand Jive' the easiest way ever to know if you're eating the right portion sizes
Like this article? Sign up to our newsletter to get more articles like this delivered straight to your inbox.