Lois Craig was the fat, funny friend, then she discovered a new weight loss app that changed everything

Lois Craig remembers always having been the fat, funny friend, always making jokes and using her bright, bubbly personality to ensure she never had to reveal her true feelings. Underneath the smiles and ever-present self-deprecating humour, says Lois, lay a scared girl who hated her body size.
'I had been conscious about my weight for a long time,' says Lois, 23, an account manager from Bristol. 'I would eat and eat and eat, obsessed when the next meal would be coming. I could be going on a two hour train journey and would pack a full picnic as I was so terrified about being hungry,' she says.  'I'd always been 'the bigger girl' but university is when the weight really piled on. It gave me the freedom to eat what I wanted, whenever I wanted it.
Eating for four
'Before that, I used to eat what my parents had made me and then after dinner that would be it, but at university everything changed, after dinner if I was still hungry, I could just have another dinner. I used to eat a meal with a serving size recommended for four people to myself,' Lois says.
At a size 20 and 15 stone nine, Lois was morbidly obese and constantly tired
Lois' binge-eating only worsened when she started working. 'I used to go home, sit on the sofa watch TV and eat. By the time my boyfriend got home I would have eaten three packets of biscuits', she says.  At a size 20 and 15 stone nine, not only did Lois know she was morbidly obese but she was also finding herself constantly tired and breaking a sweat doing even the simplest tasks.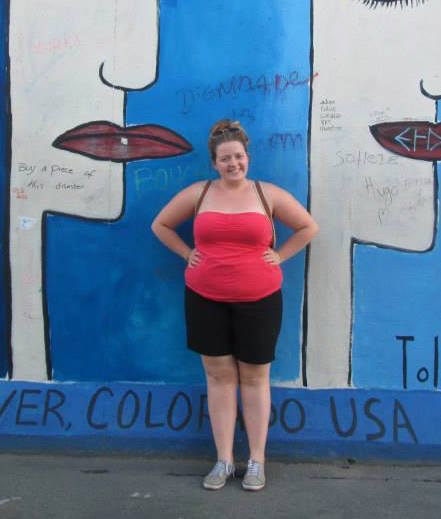 'Going shopping was the worst, my friends would try clothes on but nothing would ever fit over my hips, it was mortifying,' she reveals.  'The moment I realised that I really had to do something was when one of the girls at my office got married. I was a guest at the wedding and when the photographs came out I looked hideous, I was completely bulging out of my dress,' Lois divulges.
We were planning a trip to Australia and I didn't want to be that fat girl from England
'My boyfriend and I were planning on going travelling to visit family in Australia and New Zealand but I was so paranoid,' Lois says. 'I would have hated their first opinions of me to be that fat girl from England who is too lazy to do anything. I was worried about the beach photographs in a bikini. I know I would have been too fat to enjoy my holiday', she says.
Afraid of dieting
Lois had always been afraid of trying to diet as the idea of giving up food and following rules made her feel scared. 'I used to imagine sitting eating a lettuce leaf and feeling miserable', she says. 'So when I discovered EasyLoss on the app store and it proved it was more about focusing on what I could have than what I couldn't I thought it was worth trying', Lois says.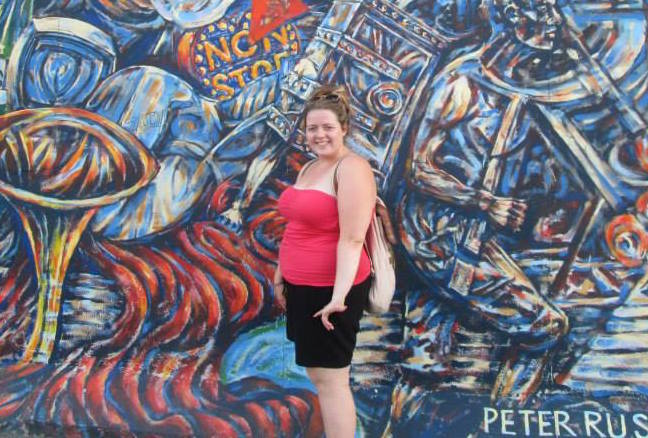 Lois had tried hypnosis for anxiety in the past and had found it effective. Struggling with the idea of following rules and diets Lois hunted for a flexible weight loss programme. Lois discovered EasyLoss' Virtual Gastric Band Hypnosis App on the 27th January 2015 and weighing 15 stone 9 she downloaded it.  Lois lost five pounds in the first week and kept losing an average of one pound a week from then onwards; Lois has since lost 72Ibs in weight.
Learning to think of food as fuel
'The app teaches you to go back to basics and listen to your body', Lois says. It allowed me to start to recognise my hunger signals, I found I could stop eating when I was no longer hungry,' says Lois. 'The biggest change for me what that I started thinking of food as fuel, not as a reward', Lois reveals. 'Sometimes I don't even eat breakfast until 12pm because I'm just not hungry, I don't think about the routine anymore, I eat when I'm actually hungry', says Lois.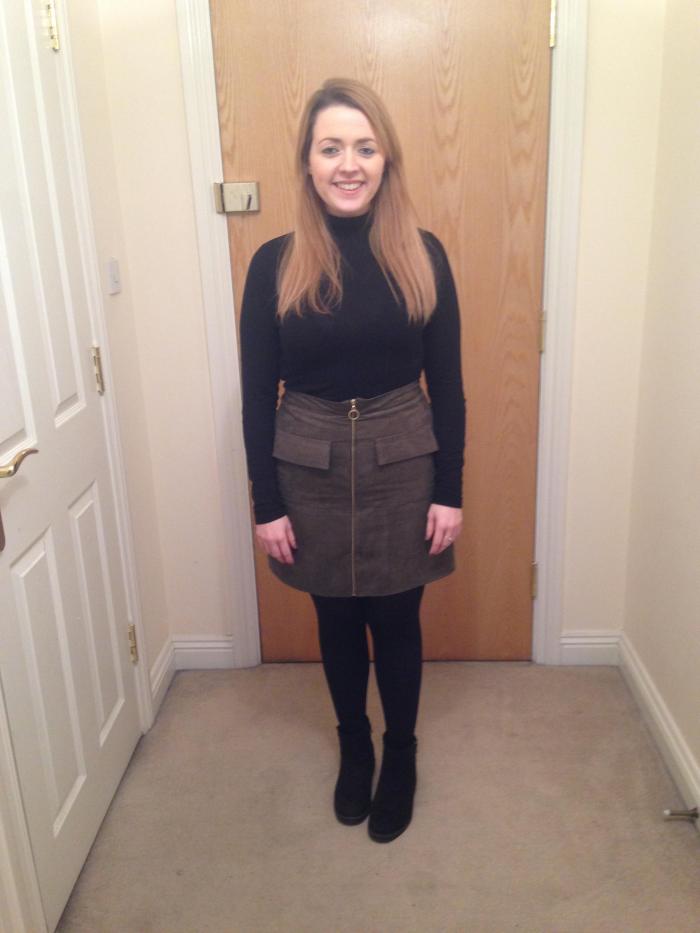 'I found I could follow Easyloss' weight loss programme because it didn't focus on what I couldn't have, it made me focus on what I could enjoy,' Lois says. 'I'm slimmer now than I have ever been. I'm now down to a size 12 and my goal is to reach a size ten', she says.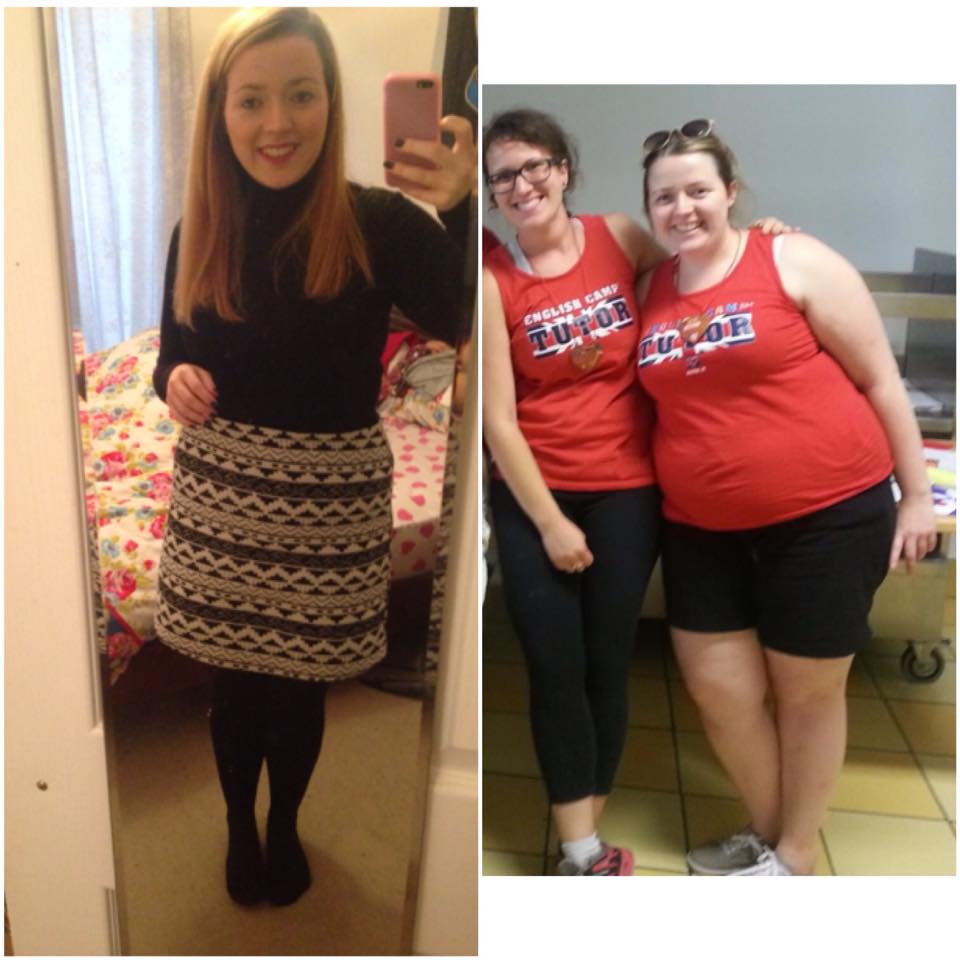 How the app works
Easy Loss is based on hypnotherapy and uses a combination of six different hypnotherapy sessions, a food photo diary option and water tracker, before and after photo record and an e-Book filled with weight loss tips.  Although it can be used for dramatic weight loss, Like Lois's it is also suitable for those needing to lose small amounts of weight as it uses a range of methods to help change the user's relationship with food and eating habits allowing them to lose and keep weight off long term.
I kept losing one pound per week and now instead of sitting on the sofa I have the energy and motivation to go to the gym in the evenings
'EasyLoss was so sustainable I kept losing one pound per week and now instead of sitting on the sofa I have the energy and motivation to go to the gym in the evenings. Sometimes I get a craving and want to pig out or stuff my face and sometimes I don't follow the guidelines perfectly, but I don't worry anymore,' Lois reveals.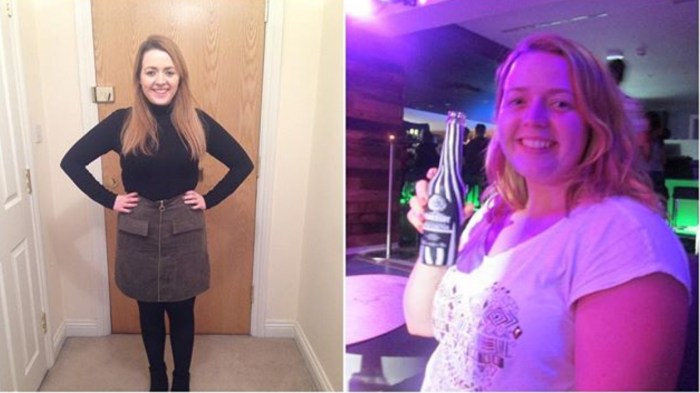 'I look at my weight loss on a bigger scale, my measurements and body shape are changing and I finally see food as fuel rather than a prize'. Lois' boyfriend is so impressed with Lois' achievement that he has since downloaded the EasyLoss app and has lost one stone on it so far.
EasyLoss' Virtual Gastric Band Hypnosis App, £4.99 has had over a million downloads and helped thousands of people lose weight by training their subconscious mind to recognise when it is no longer hungry.
Like this article? Sign up to our newsletter to get more articles like this delivered straight to your inbox.