Not sure what to do with healthy superfoods like quinoa and beetroot? Food Fixer Rob Hobson brings you  simple, quick recipes you need this weekend
So, we're well into the New Year, and respect to those of you who have vigilantly stuck by those resolutions to get yourself fit and healthy after the Christmas splurge! I want to be virtuous and join the gang but unfortunately all good intentions to make better use of that Virgin Gym membership kind of failed after week one (although I did make use of the gym during my Christmas break in the sun!). Diet I can do, but getting up at 6am to sweat it out in a pumping spin class is still a big challenge and one often beaten by the seduction of a comfy duvet and extra hour in bed!
One thing that usually accompanies a health kick at any time of the year is the 'all good intentions' cupboard fill.  You browse the aisles of your local supermarket and scour specialist shops for the latest superfood, trendy vegetable or obscure grain only to get home with a random cupboard full of food and no idea how to combine these ingredients to make a dish that's not only healthy but tastes great.
  Barley is a good source of B vitamins, iron, magnesium and zinc
Most of the foods I find lurking in the back of clients cupboards and fridge freezers are not that unusual, and can be found on the menus of most high street food outlets and supermarket shelves but often they're bought for one-off recipes and then left to gather dust.
I've listed my top five most commonly 'orphaned' healthy superfoods below that you might find in the back of your food cupboards with quick ideas that I guarantee you will use time and time again.
QUINOA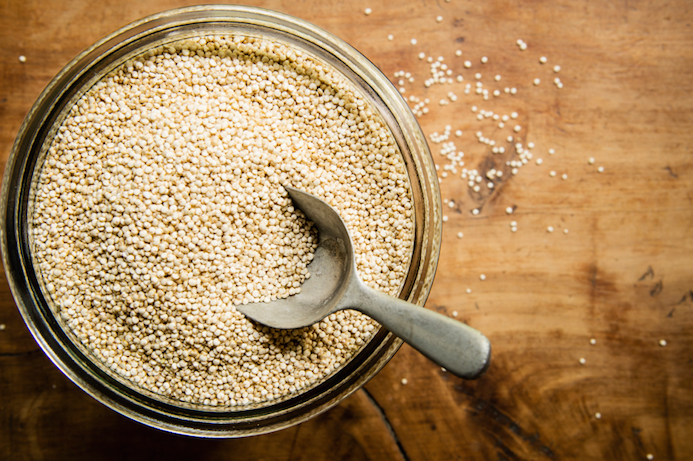 Still thought of as the king of grains (although strictly speaking it's actually a seed), this ingredient is now available from most of the high street supermarkets. Whilst health aficionados and foodies now consider quinoa to be 'old hat', many people are still not quite sure how to turn this grain into an interesting meal option as it simply becomes an alternative side dish to replace rice.
The most important thing is not to overcook your quinoa.  My lovely friend, Lily Simpson of The Detox Kitchen recommends adding quinoa to a pan with three times its volume of cold water, bringing to the boil, simmering for 6-8 minutes then rinsing in a sieve until completely cool.
A basic quinoa salad is a weekly staple for me.  This salad will keep in the fridge for 3-4 days and can be served with different proteins as a main meal or you can serve little portions as a nutritious snack.
Quinoa salad (Serves 4)
200g quinoa
2 stick celery, sliced
100g pomegranate seeds or dried apricots (chopped)
100g sugar snap peas, finely sliced
1 yellow pepper, finely diced
Chives, finely chopped (about 5)
1 handful coriander, finely chopped
Extra virgin olive oil
1 lemon, juiced
Salt
Black pepper
---
1. Cook the quinoa, drain and rinse under cool water then allow to dry
2. Combine all ingredients in a large bowl and mix well
BARLEY
Pearled barley is another ingredient that is often forgotten about.  It's a brilliant addition to soups, stews and makes a great alternative for rice in dishes such as risotto.  This grain also works well served cold as a salad.  Barley is high in fibre which helps maintain steady blood glucose levels and adds bulk to your diet which helps to keep you feeling full all of which makes it a good weight loss food. Barley is also a good source of B vitamins, iron, magnesium and zinc.
This barley dish below is a basic tomato risotto that works well either on its own or as an accompaniment to fish and poultry (I really like it with cod).
Barley risotto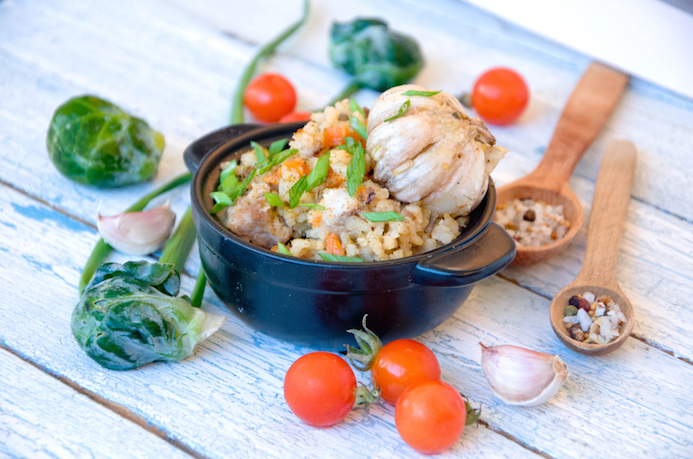 200g pearled barley
2 tbsp extra virgin olive oil
3 celery sticks, finely sliced
1 onion, finely diced
4 garlic cloves, finely chopped
1 tsp smoked paprika
1/2 lemon, zested
1 chilli, chopped
400g tin chopped tomatoes
600ml vegetable stock
300ml passata
Salt
Pepper
2 tbsp toasted caraway seeds
---
1. Give the barley a good rinse with cold water and leave to one side
2. Heat the oil in a large, deep frying pan
3. Add the celery, onion and garlic to the pan and cook on a medium heat for 5-10 minutes until soft
4. Add the barley, paprika, lemon zest, chilli, tomatoes, stock and passata to the pan, season then bring to the boil
5. Reduce the heat and simmer gently until the barley is cooked (it should still have a bite to it)
6. Heat a small frying pan and dry fry the caraway seeds for a few minutes before adding to the risotto
SPICES
Dried herbs and spices always get forgotten about as often they're only bought to create a few dishes.  It's a good idea to go through your spice jars to check the use by dates as I often come across random dusty jars that are well beyond good use. Dried herbs and spices not only add flavour to dishes but are a concentrated powerhouse of nutrients, particularly minerals such as iron which makes them a very helpful addition to the diets of people experiencing the tiredness and fatigue associated with a lack of this nutrients in the diet. Many are also rich in antioxidants and have been studied for their potential to reduce the risk of disease.
Cooking from fresh mean you can include plenty of spices in your food and there is no better way than preparing a lovely curry.
Chicken curry (Serves 4)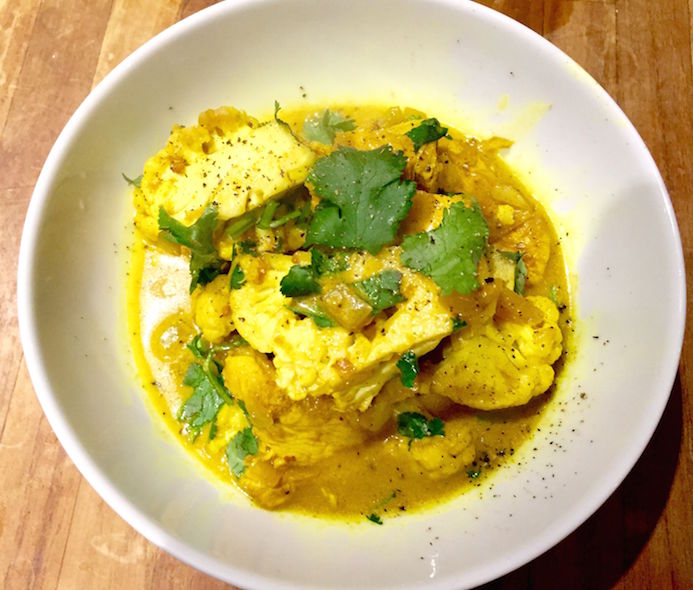 2 tbsp groundnut oil
3 large skinless chicken breast, sliced into chunks
2 onions, finely chopped
1 inch piece of ginger, grated
3 garlic cloves, finely chopped
1/2 tsp ground cardamom
1/4 tsp ground cloves
1 heaped tbsp medium curry powder
1 tbsp turmeric
1 tsp cumin
1 tsp ground coriander
1 handful sultanas
1/2 cauliflower, cut into small florets
450ml chicken stock
100g greek yoghurt
Salt
Pepper
---
1. Heat the oil in a deep, non-stick frying pan until smoking hot then add the chicken, browning quickly until sealed
2. Remove the chicken from the pan using a slotted spoon and set aside
3. Add the onions to the pan and turn down the heat, frying for 10 minutes until soft
4. Turn up the heat and add the ginger and garlic cooking for 1 minute before adding the spices and frying for a few more minutes until they become fragrant, add the stock and bring to the boil simmering for a few minutes
5. Add the chicken to the pan along with the sultanas and cauliflower , season and simmer on low for 5-10 minutes
6. Turn the curry off the heat and stir through the yoghurt
7. Serve with quinoa or brown rice
BEETROOT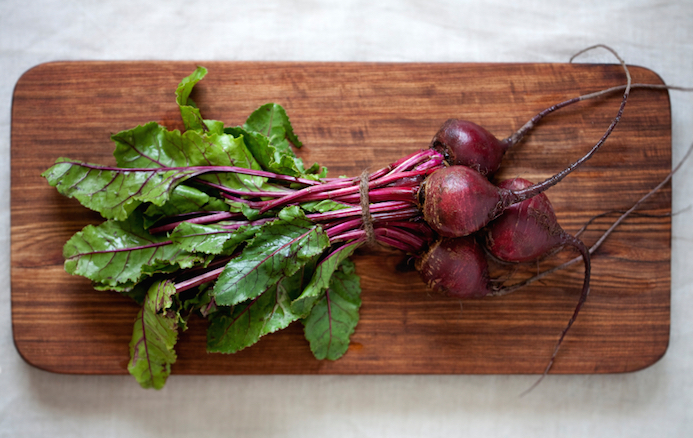 This is my only fresh ingredient on the list because I always come across people who buy beetroot in the supermarket knowing it"s good for them but then struggling to know what to do with it when they get home so it's often found abandoned in the vegetable compartment. Beetroot is in my top five list of super nutritious vegetables.  The beet itself is high in fibre, folic acid potassium and manganese whilst the greens (which can be cooked in the same way as spinach) are rich in calcium, iron and vitamins A and C.
Try roasting (below), juicing or grating raw into salads.
Roasted beetroot with lemon, orange and coriander (Serves 4)
6 large beetroot
Extra virgin olive oil
1/2 small orange, juiced
1/2 lemon, juiced
Handful of coriander, finely chopped
---
1. Pre-heat the oven to 180C
2. Scrub the beetroot clean and remove the tops and tails then cut each into six pieces
3. Place the beetroot into a large roasting tin, season and add a little extra virgin olive oil
4. Bake for 25 minutes until tender (should still have a nice bite to it)
5. Mix the juices together and combine with beetroot then sprinkle over the coriander
LENTILS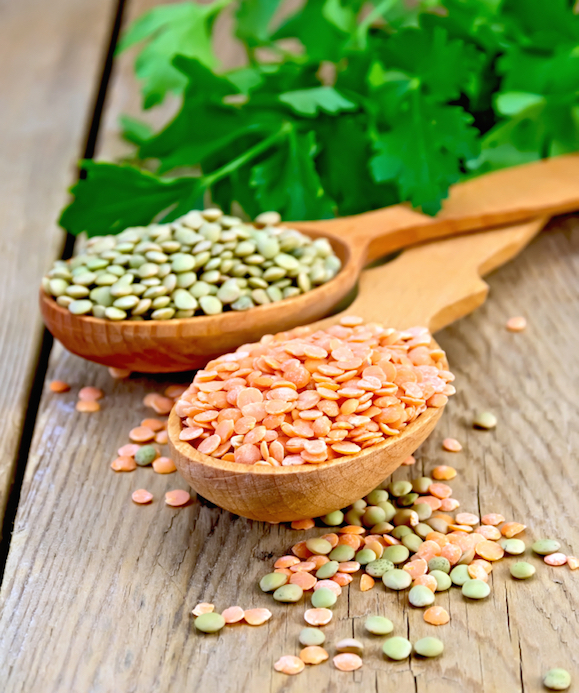 Like barley, lentils are another ingredient often bought to make that one-off dish but then left to gather dust.  Lentils are a fantastic source of fibre and low fat source of protein (although they should be combined in the diet with wholegrains to glean all the essential amino acids).  They also provide a rich source of B vitamins (especially folate) and are a good source of iron.
I think the easiest lentils to start cooking with are red as they take little time to cook and can also be thrown into soups and stews to boost the nutritional profile. This simple Dahl below can be served as a soup or goes really well with a piece of grilled salmon.
Cherry tomato and fennel seed Dahl (Serves 2)
1 tbsp extra virgin olive oil
1 tbsp fennel seeds
1 tsp cumin seeds
1 onion, finely diced
3 garlic cloves, finely chopped
1 inch piece of ginger, finely chopped
1 tsp ground coriander
200g cherry tomatoes, halved
150g red lentils
500ml stock (either vegetable or chicken)
1/2 lemon, zested
---
1. Add the oil into a non-stick pan and add the fennel and cumin seeds cooking for 1 minute
2. Add the onions, garlic and ginger cooking for five minutes until soft
3. Add the ground coriander and stir for 1 minute then add tomatoes, lemon zest and lentils stirring for a further minute
4. Pour in the stock and simmer for 15 minutes until the lentils are tender stirring occasionally
5. Season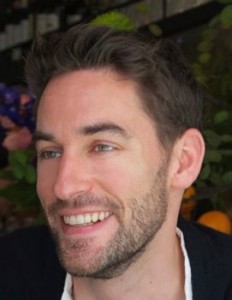 Nutritionist Rob Hobson runs consultancies RHNutrition and HOPE (Helping Older People to Eat Well) and has built a reputation as a trustworthy and inspirational source of information working for the NHS, private clients and leading food and nutrition companies including supplements provider Healthspan. An obsessed foodie and skilled cook, Rob regularly cooks for celebrity clients and contributes to national press including Stella, Daily Mail, Grazia, Harpers Bazaar, Runners Fitness, Healthy magazine and Women's Health
Like this article? Sign up to our newsletter to get more articles like this delivered straight to your inbox.