Garlic – a foodie favourite and aromatic vegetable that can also improve immunity. We officially have an excuse to eat nothing but garlic bread as a way to protect ourselves from that virus
Garlic flavoured anything is an all time foodie favourite. Type garlic bread into Instagram and you'll be inundated with pictures of golden, crispy, cheesy garlic bread – #foodporn alert.
But garlic isn't just a delicious flavouring, it's also pretty good at improving our immunity – which at the moment is pretty important, wouldn't you agree?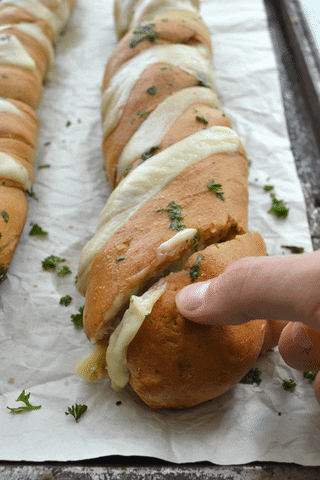 We are all aware that social distance, frequent hand washing and wearing a face covering are all ways we can help protect ourselves from contracting Covid-19.
But thinking long-term, boosting our immunity should be one of our priorities as it can help to prevent and reverse chronic diseases.
One natural remedy and way to boost our immunity is through the small but powerful vegetable, the garlic bulb. Despite it being a kitchen staple for a majority of culinary cuisines, it works wonders for your immune system too.
Yes, it can leave you with a deadly stench in your mouth (not pleasant, I know) but the benefits are far greater and quite frankly worth the smelly breath.
And better yet, for those of you who aren't exactly garlic lovers, we're not saying to force an entire garlic clove into your mouth.
Instead add some crushed up pieces of garlic to your food and you're good to go – or make your own garlic bread – a simple and scrummy preventative measure which your immune system will thank you for.
So, what really is garlic?
Garlic, also known as Allium Sativum, is part of the onion family which includes chives, shallots, leeks and scallions. The sections of garlic (called the cloves), are peeled, and either cut or crushed giving raw garlic that pungent odour.
So what causes that smell you ask? Well apparently it's due to the compound called sulfur which also possesses anti-cancer properties.
Besides the various sulfur compounds that garlic is made up of, garlic also interestingly contains around 0.2 grams of protein, 0.01 grams of fat, 0.05 grams of fibre, 1 gram of carbohydrates as well as the essential vitamins A, B and C. Who would of thought huh?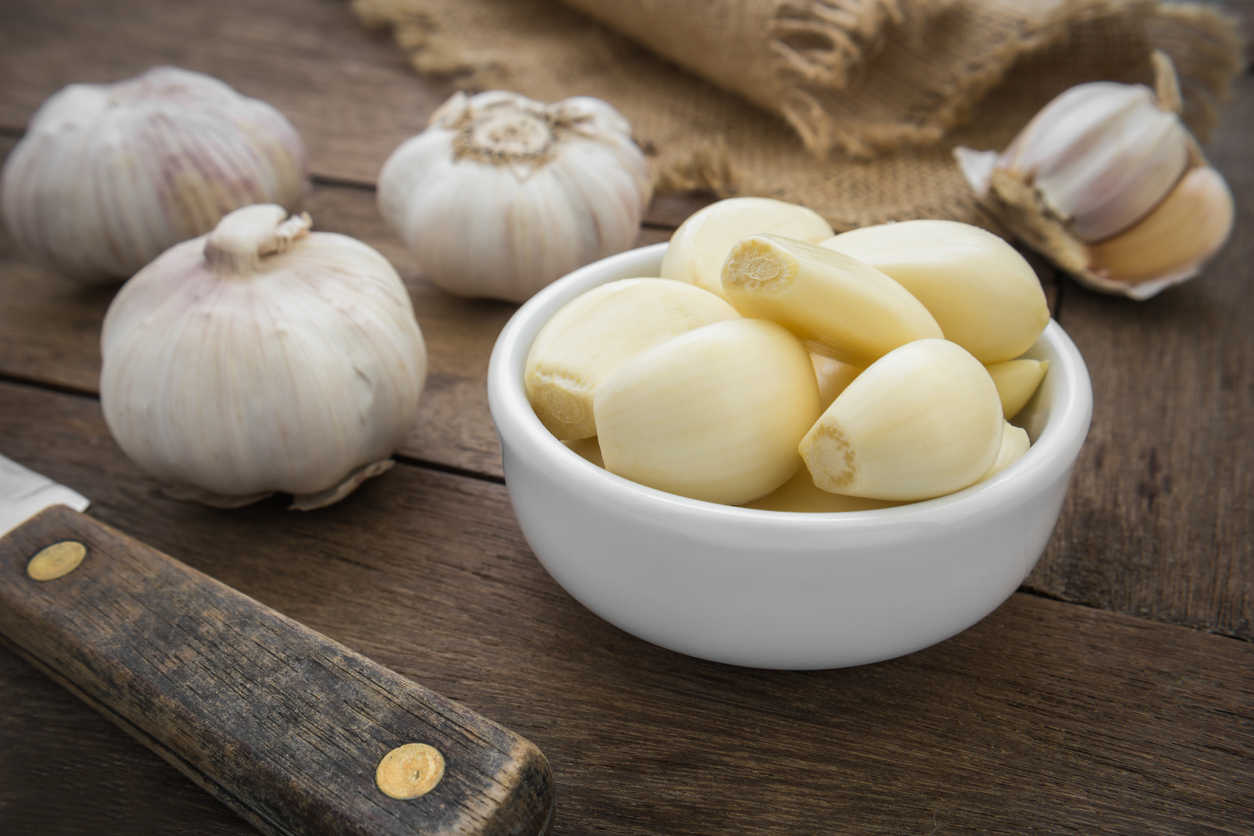 Does garlic have a place of origin?
Like with many things, garlic also has some sort of origin which traces as far back as Ancient Egypt and Ancient Greek times.
An extract published in the Journal of Nutrition, highlights how the Egyptians implemented garlic into the diet of labourers to increase their strength when building the Great Pyramid of Giza.
Likewise, the Ancient Greek also included garlic in their diet, particularly of the original Olympic athletes as a 'performance enhancing' agent.
Also, the Ancient Greek physician, Hippocrates used garlic as a form of medication and prescribed it to people who were suffering from various illnesses and diseases such as respiratory conditions (e.g. pneumonia), poor digestion and parasites.
So now modern science has caught up with this popular food additive, sighting garlic as the golden egg for survival and immunity.
What makes garlic so powerful?
Those delicious bulbs of heaven contain a compound called allicin that has been well studied for its antibacterial, anti-inflammatory and antimicrobial effects.
Allicin can easily absorb through membranes in your body, making it highly permeable, allowing this active ingredient to reach vital cells in your immune system and interact with them in a positive way to enhance immune activity.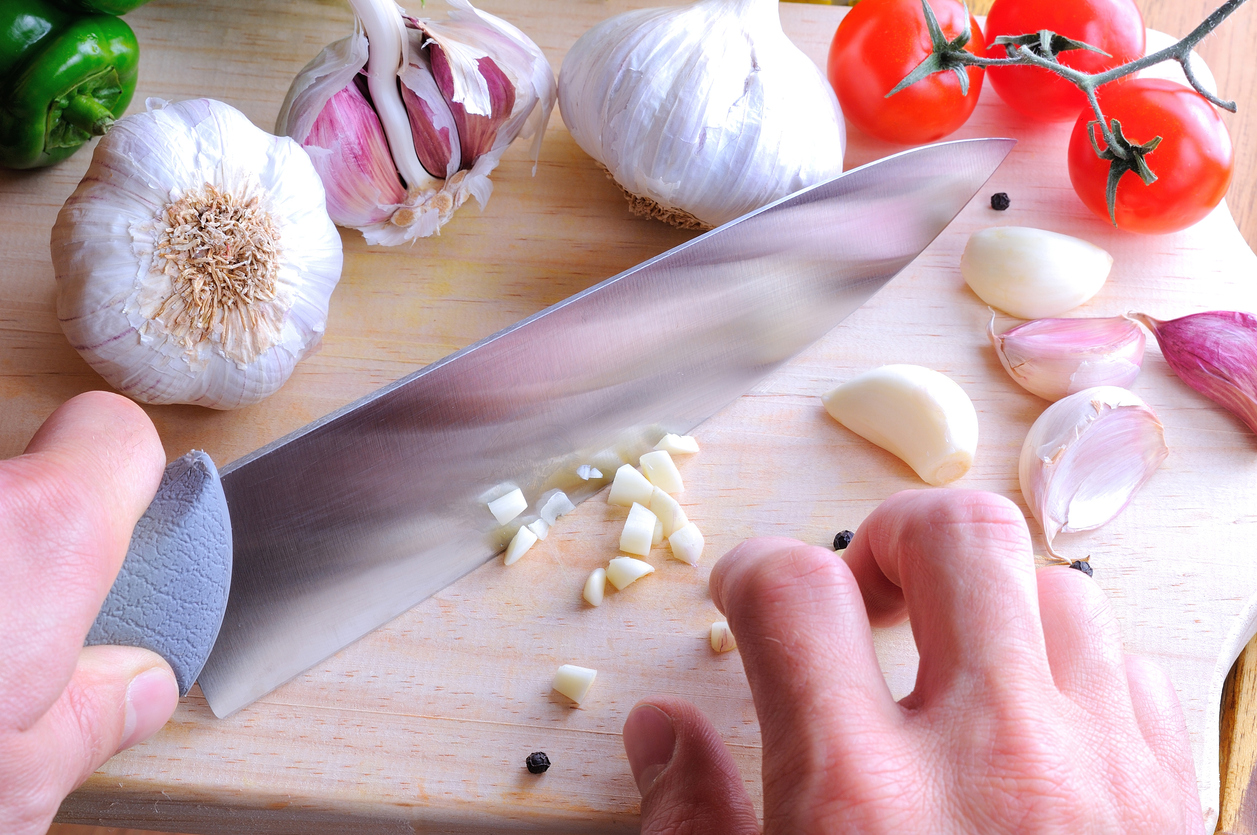 How does garlic improve your immune system?
One study published in Malaria Journal, demonstrates how allicin partially aids the immune response in mice infected with malaria. Mice treated with allicin showed a greater production of pro-inflammatory mediators (cells that help fight infection and inflammation) compared to those treated without allicin.
Another study published in the Journal of Nutrition in 2016, showed just how effective garlic is in minimising cold and flu symptoms.
Indeed, 120 healthy participants between the ages of 21 and 50 were given either 2.5 grams of aged garlic extract (AGE) or a placebo. This was carried out for 90 days during the cold and flu season.
Those who consumed garlic for 45 days showed that their immune cells (e.g. natural killer cells and T cells) responsible for fighting pathogens (aka the bad guys) were increased and more activated than those who didn't consume garlic.
After 90 days, although there was no significant difference, participants who consumed garlic also noticed a reduction in the severity of their cold and flu symptoms and a reduction in the number of days missed for school or work.
The benefits of garlic therefore show that it can aid in combating immune related diseases or illnesses by working alongside immune fighting cells to boost the health of your immune system and reduce inflammation.
How to choose the best ones?
Look for those that are plump and have tight skin, rather than those that look messy with skin already peeling.
It's best to buy them fresh and consume within a week to get most of the benefits this beautiful bulb has to offer, but you can also store them for a couple of months in a cool dry place away from sunlight but with a good supply of ventilation.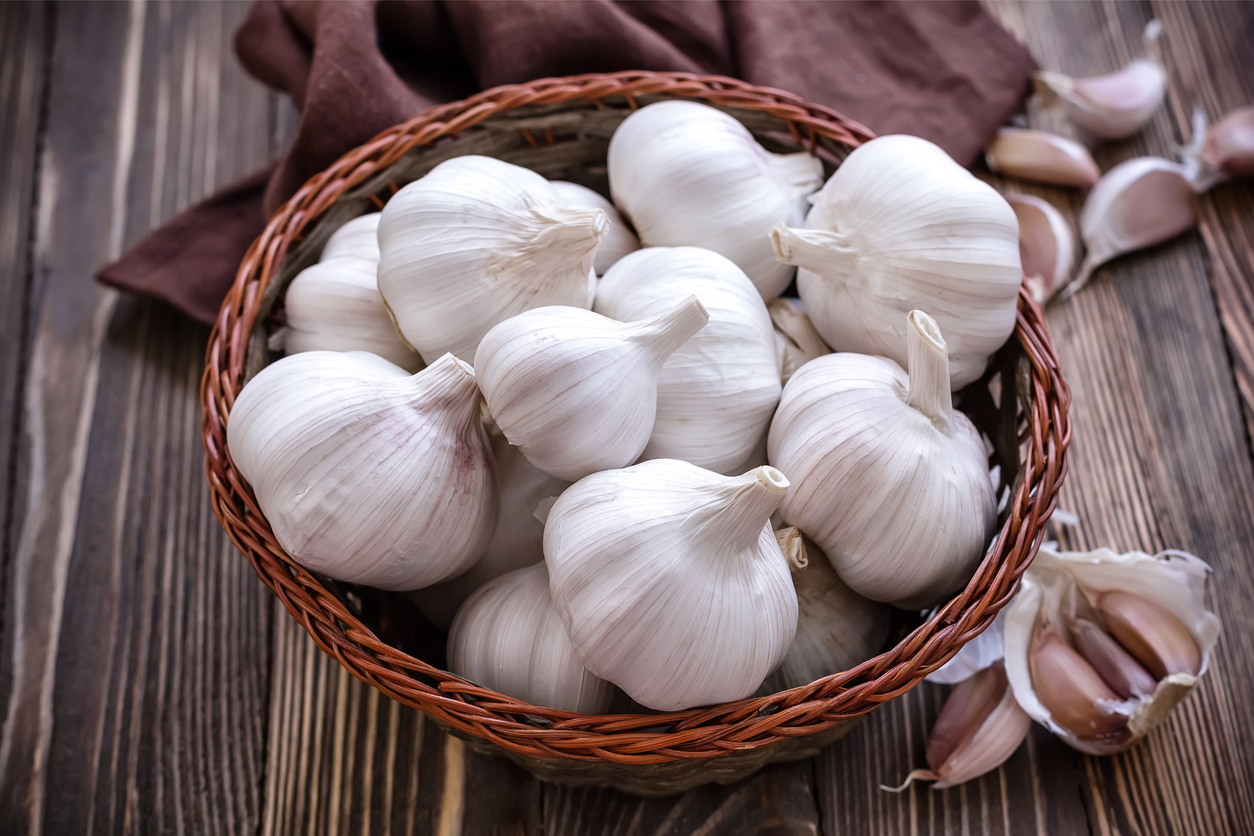 Is there a garlic supplement?
Some studies have tried to take this active ingredient out of garlic and make it into a supplement, but they haven't been shown to be effective.
However, one study did prove to be effective over a 12 week period where 146 participants given a daily supplement containing allicin reported significantly lower cases of cold symptoms by 63 per cent compared to the placebo group.
Participants were also noted to have quicker recovery periods from the cold virus compared to those who didn't consume allicin containing supplements.
Another study published in Clinical Nutrition also demonstrates aged garlic extract supplements to prove beneficial. Participants reported a reduction in the severity of their cold symptoms by 21 per cent and noted a 61 per cent reduction in the duration of their symptoms than compared with the placebo group.
For best results, fresh garlic reaps all the benefits for a healthier immune system
As with everything however, more research needs to be carried out to determine the effectiveness of garlic supplements.
There are also powdered and dried forms of garlic. Powdered garlic is prepared from the bulbs which are cut, freeze-dried or dried at a maximum temperature of 65 °C and contains around 1 per cent alliin – which is the original sulfur compound before being converted by enzymes into allicin when garlic is cut or crushed.
Garlic oil, steam-distilled garlic and aged garlic extract are also available but they don't have quite the same benefits as raw or powdered garlic form.
For best results, fresh garlic reaps all the benefits for a healthier immune system.
Need some garlic recipes?
Other than gorging on garlic bread – and we totally wouldn't blame you after reading about all its wonderful benefits – why not try a few of these simple recipes which involve crushed garlic to boost your immune health in no time. Bon appetite.
Garlic recipe #1 Garlicky kale and and mushroom one-pan eggs
This is a breakfast choice option created by Sarah Malcolm who is a London based yoga teacher, content creator, recipe developer and blogger.
'This is my go-to for anything quick and easy during the week when I need to teach and make a quick breakfast, but it's also perfect for a lazy weekend brunch,' says Sarah Malcolm.
Ingredients:
Serves 2
1 tbsp butter or olive oil
3 garlic cloves, crushed
Handful of fresh parsley, stems roughly chopped and leaves saved for topping
250g mushrooms, roughly chopped
1 tsp apple cider vinegar
Squeeze of lemon
Pinch of sea salt
2 handfuls of kale / Cavolo Nero, roughly torn
4 British Lion Eggs
1 tsp chilli flakes
Sprinkling of feta
Method:
1. In a large wide frying pan, heat 1 tbsp butter, then gently soften the garlic with the chopped parsley stalks before adding the mushrooms.
2. Add the splash of apple cider vinegar, pinch of salt and let that fry for about 5 minutes on a high heat.
3. Add the kale and let soften for a few more minutes.
4. Give everything a good stir, then make 4 gaps and craxk the eggs into each dip.
5. Sprinkle over more salt then put the lid on for about 5 minutes, until the whites have set but the yolks are still runny.
6. Sprinkle with chilli flakes and feta cheese.
7. Serve with some warmed sourdough bread.
Garlic recipe #2 No fuss feast – Cheat's paella
Charlie Watson's latest book Cook Eat Run (available to buy on Amazon US and UK), is the ultimate beginner runner's guide, featuring recipes, meal ideas and nutritional advice.
This is one of those dishes where you can use up whatever veg, meat or fish you have in the refrigerator or freezer and it tastes great.
I think it's excellent with leftover roast chicken and king prawns (jumbo shrimp), but it also works with squid, roast pork, chorizo, white fish, or even just packed full of vegetables, as here.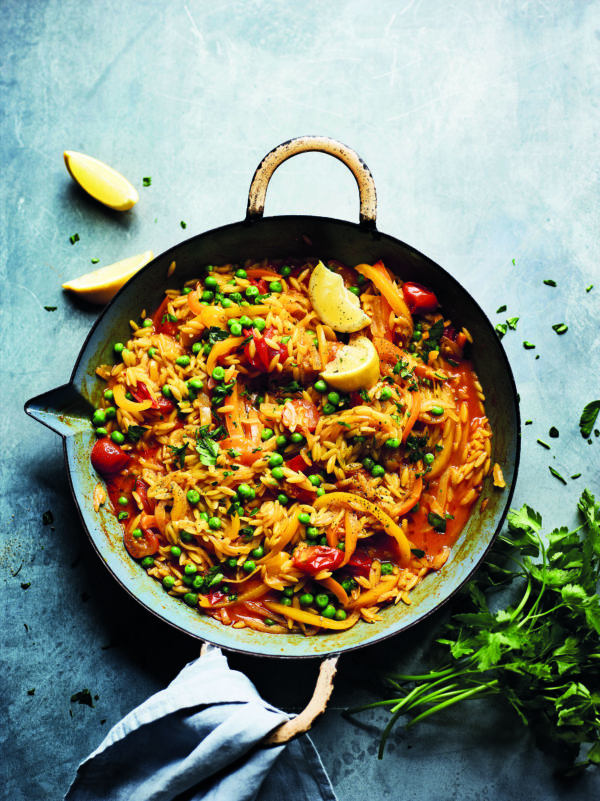 Ingredients:
Serves 4
1 tsp olive oil
1 onion, finely sliced
2 red, orange or yellow (bell) peppers, deseeded and finely sliced
1 clove garlic, crushed
2 tsp smoked paprika
pinch saffron
150g (5½oz/1 cup) cherry tomatoes, halved
300g (10½oz/1½ cups) orzo pasta
750ml (25fl oz/3¼ cups) vegetable (or chicken or fish stock) (bouillon)
100g (3½oz/¾ cup) frozen peas
large handful fresh flat-leaf parsley, roughly chopped
salt and freshly ground black pepper, to taste
lemon wedges, to serve
Method:
1. Heat the oil in a large frying pan (skillet) or paella pan (with a lid) over a medium heat, add the onion and peppers and gently fry for 8 minutes, until softened.
2. Add the garlic, paprika, saffron and tomatoes and cook for 1 minute, then add the orzo pasta, stock (bouillon) and peas.
3. Bring to the boil, then reduce to a simmer, cover with the lid, and cook for 10 minutes, stirring occasionally.
4. Season to taste, then stir through the parsley. Serve with lemon wedges.
Garlic recipe #3 Spicy red lentil and quinoa pot
Bettina Campolucci Bordi's new book 7 Day Vegan Challenge (available to buy on Amazon US and UK), combines budget friendly ingredients with big flavours so you won't feel left out.
This recipe is a  protein boost in the form of a deliciously quick, one-pot fix. Easy to make and even easier to eat.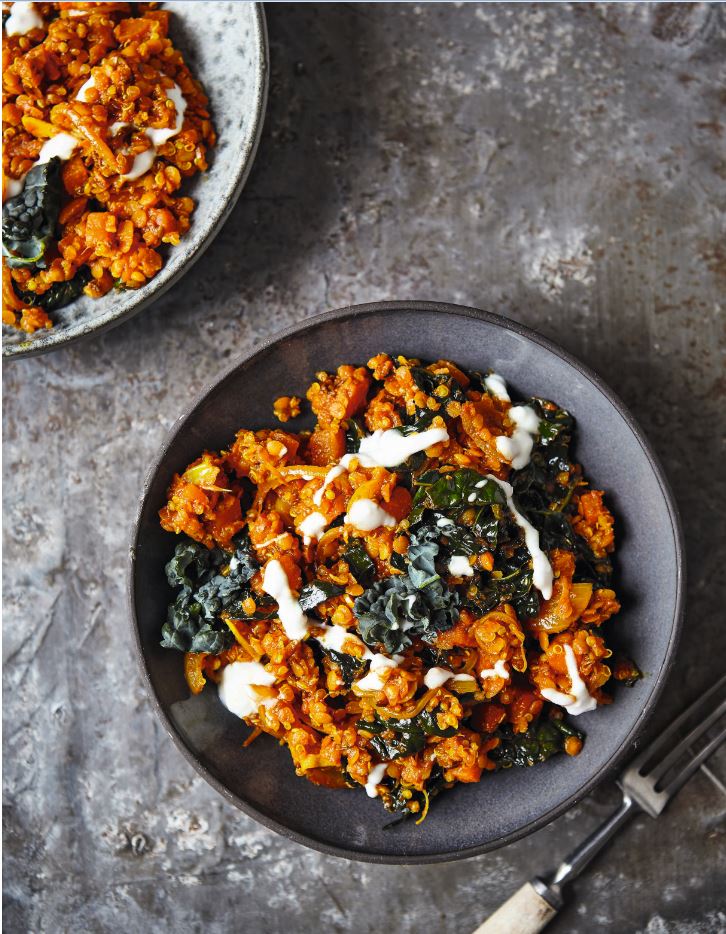 Ingredients:
Serves 2
Olive oil, for frying
½ onion, sliced
2 garlic cloves, sliced
2 carrots, diced
1 tablespoon ground cumin
½ teaspoon cayenne
1 tablespoon turmeric
1 large handful of chopped cavolo nero or kale
80 g (3 oz/1/3 cup) red lentils
100 g (3. oz/. cup) dry quinoa
400 g (14 oz) passata (sieved tomatoes) or tinned chopped tomatoes
Salt
Freshly cracked black pepper
Dollop of coconut yoghurt, to serve
Boosters:
Black sesame seeds
Hemp hearts
Toasted nuts
Method:
1. Heat a little olive oil in a large frying pan (skillet) and fry the onion, garlic, carrot and spices for 5 minutes until the onion is brown and the carrot soft.
2. Add the chopped cavolo nero, the red lentils and quinoa, cover with the passata and bring to a simmer.
3. Season with salt and pepper to taste and leave to simmer under a lid for about 10–15 minutes until the quinoa and lentils are tender.
Tip: Serve with a dollop of yoghurt to take the edge off the spice.
Garlic recipe #4 Garlic Mushroom Lentils and Fried Eggs with Parmesan and Rosemary
Tin Can Magic, by Jessica Elliott Dennison has conveniently created a cookbook dedicated to the mighty power of our beloved tinned food. She has unleashed her magic to create the latest delicious recipes to keep you ready and more prepared than ever to fight this apocalypse (I mean pandemic).
(Tin Can Magic is available to buy on Amazon US and UK)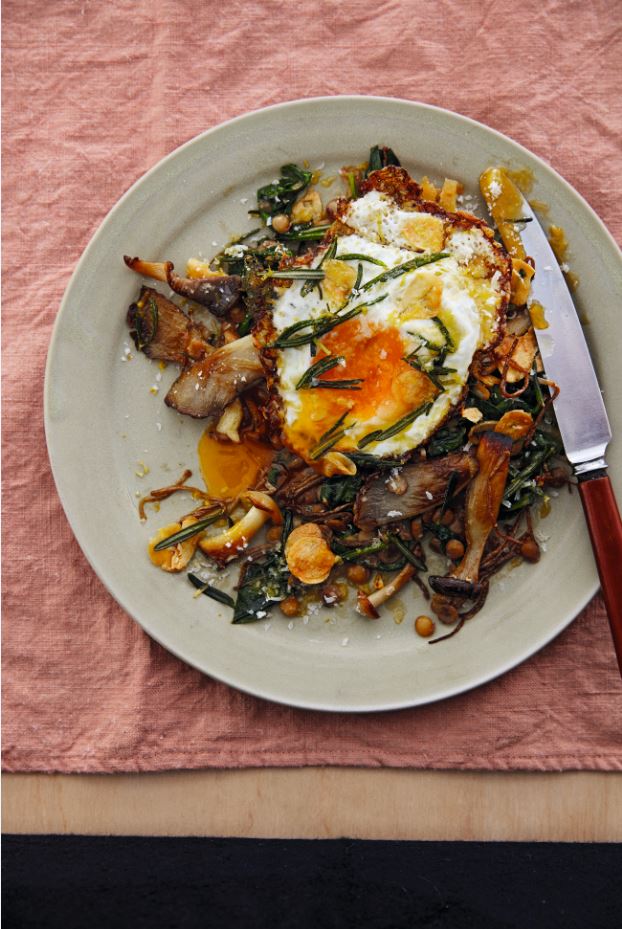 Serves 2 
Time: 20 mins 
Ingredients:
4 tablespoons rapeseed (canola), vegetable or light olive oil
3 garlic cloves, peeled and finely sliced
200 g (7 oz) mushrooms, dirt brushed off, roughly torn (ideally a mix of wild, chestnut and button)
2 sprigs of rosemary, leaves only, roughly chopped
1 x 390 g (13 3/4 oz) tin of green lentils in water, drained and rinsed
1/2 lemon, zest and juice
1 teaspoon salt
100 g (3 1/2 oz) spinach, washed and drained
2 eggs
4 tablespoons finely grated Parmesan
Substitutes
–Rosemary – sage, tarragon, thyme
–Green lentils – cooked puy lentils, cooked pearl barley, cooked spelt, cooked brown rice
–Parmesan – pecorino, feta, goat's cheese, mature Cheddar, halloumi
–Walnuts – almonds, hazelnuts, pecans
Method:
1. First, heat two tablespoons of oil in a large non-stick frying pan (skillet) over a medium heat. Add the garlic and, stirring regularly, fry for one to two minutes until golden and fragrant. Take care not to burn the garlic or it will become overly bitter. Transfer the garlic to a small bowl and set aside.
2. Next, increase the heat to high and add one tablespoon more oil. Add the mushrooms and cook for four minutes, or until browning and catching at the edges. Stir in the rosemary, fry for one to two minutes until crisp and fragrant. Stir in the lentils, lemon juice, salt and spinach until wilted. Add a few splashes of water if the pan contents look a bit dry.
3. Heat one tablespoon of oil in another non-stick frying pan over a high heat. Crack in the eggs and fry for one to two minutes until crisp on the base but still with a runny yolk, or to your liking.
4. Divide the mushroomy-lentils between two plates. Top with a fried egg and the reserved crispy garlic. Sprinkle over the Parmesan and the zest of the remaining lemon half.
More Healthista Content:
Can't lose belly fat? This trainer says your hormones could be to blame
Self-isolation – 7 steps to make your home a feel good space
50 supplements these health experts take themselves
30 day fat-burning home workout challenge
Like this article? Sign up to our newsletter to get more articles like this delivered straight to your inbox.