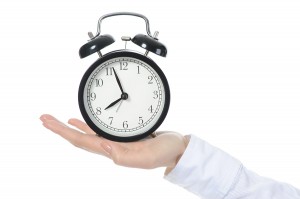 Dreaming of a 28 hour day?  Here are the best new time-stretching secrets even we'd never heard of
We spend 14 hours a day sleeping, working, watching telly and doing housework.  That doesn't leave much for that crucial glass of chardonnay or all-important pedicure.   But there's good news, says Ian Sanders, author of Juggle! (Capstone £9.99).  'The things that are sucking up your time now – internet, email, cleaning, work  – are also the areas where you can save you time using the right shortcuts'.
Make a not to-do list 'We spend 80 per cent of our work time on the 20 per cent of unnecessary tasks we have to do,' says Harvard business consultant Tim Ferriss, author of The 4-Hour Work Week (Ebury £11.99).  'Keep a time log to identify what unnecessary tasks are eating up your time using a free tool such as rescuetime.com,' he suggests.  'Then write down four things that you don't need to do and review them each morning'.
Put email in its place 'Don't check email until 11am,' advises Ferriss.  'Focus on completing your most uncomfortable to-do item before then.'  Not sure?  According to Ferriss the most uncomfortable or difficult task is usually the most important. hours
Stand 'More and more US companies are using the Stand-Up meeting, sometimes called a Scrum' says Ian Sanders.  'Only invite who needs to be there and try and keep the session to 15 minutes,' he says.  'Most people won't want to stand for long, so will keep points succinct.'  You could even set a timer – meetings at Google feature a 4-foot ticking clock projected onto a wall!
Make your own ready meals No time to cook? A study at the University at California found that putting together a home-cooked dinner takes only ten minutes more of hands-on time than using mainly pre-packaged dishes.   'Always keep a few bunches of green vegetables in the fridge along with some cooked brown rice', suggests Dr Mark Hyman, author of Ultrametabolism, (Atria books £9.99).   'That way, you only need warm the rice, steam the greens for two minutes and add a tin of Atlantic salmon for a perfectly balanced meal made from scratch in ten minutes.' 
Take a tech shortcut 50 per cent of people surveyed by Yahoo! last month said using the internet effectively gave them more time to take part in hobbies and seeing friends.  'Buy groceries and pay bills on line,' suggests Sanders.  'If social networking is sucking up your time, try tweetdeck.com, which delivers relevant updates from Facebook, Twitter and your favourite news sites on one page.' Similar services include Google Reader and Friendfeed.com. 
Power-watch television Sky Plus, boxed sets and the AmAHzing Netflix now mean you can watch your favourite programs, when you're ready, and without the ads.  More of us are now 'Binge-chilling' at weekends, watching our favourites back-to-back instead of numbing out with rubbish every weeknight.  Great news peeps: As of may 26th 2013, Arrested Development's fourth season is now back on Netflix after a seven-year hiatus (why oh why Mr Murdoch did you axe this piece of TV genius in 2008?) – and joy of slothful joy! – you can watch all the episodes at once.
Slow time Time flies when you're enjoying yourself and slows when we're not.  So far, so obvious.  But Steve Taylor, psychologist and author of Making Time (Icon Books £8.99)  says we can make the fun times seem to go slower by doing more new, unfamiliar tasks.  'If you want to make time go slower when you're on a beach break, schedule more new tasks'. Try water-skiing or attempting a few words in the native language. Comprende?
Make any decision faster  If you waste valuable downtime worrying, there's a simple new antidote. According to Suzy Welch, author of 10-10-10 (Simon & Schuster £8.99 out this month) when you're facing a dilemma, get closer to a resolution by asking yourself: 'What will be the consequences of my decision in 10 minutes?  In 10 months? And in 10 years?'   Suddenly puts it all in perspective doesn't it?
The new total to-do list Overwhelmed by demands in your head?  Write them all down, advises David Allen time management guru and author of Getting Things Done (£11.99 Piatkus).  'Be specific and list everything, from buying cat food to returning calls to clients,' he says.  'Once all the nagging things in your head are on paper, your focus increases.'  Secondly, group the list into different areas, depending on where they can be done – phone, computer, kitchen, spare room – and keep it with you.  'While you're waiting to pick up your child, work through the phone section,' suggests Allen.  While food is simmering, tick off something in the kitchen, and so on.  'It optimises the secret pockets of time in everyone's day.'
Like this article? Sign up to our newsletter to get more articles like this delivered straight to your inbox.