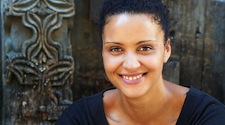 Emma Grazette is the spice expert that graced our screens with chef Stevie Parle in More 4's travel and cookery series Spice Trip last winter and she has done a series of healthy, spicy and totally lush recipes for Healthista TV
Emma spent three years as Head Development Chef at The Spicery in Bath where she researched authentic recipes involving spices, tested and developed her own recipes. In doing so has built up an extensive and unique knowledge of spices – their uses in food and elsewhere and the social history attached to them. The Spicery supplies top restaurants and chefs including The Fat Duck, Rick Stein, Hibiscus, Ottolenghi, Moro, Atul Kochar, Sat Bains, as well as thousands of home cooks.
Emma believes believes in a new approach to food through spices; where spices can be tied into all aspects of life and health: culture, history, travel and society. A major part of this, of course, is raising awareness of spiced foods, and their nutritional benefits, demystifying spices and continuing to push the ways in which this exciting world of flavour can be made accessible to everyone. Emma's aim is simple, using spice to facillitate better health through exciting and vibrant food.
She lives in Bath with her son, where she writes, blogs, cooks and organises pop up dinners which she views as a modern and exciting means of widening awareness and enjoyment of ethnic foods.
Emma's Spice Trip series was accompanied by Emma and Stevie's book 
Spice Trip (Square Peg £20 from Amazon)
which includes more than 100 recipes, tips and alternative remedies.
Watch Healthista.com's #FoodieFriday films featuring healthy recipes and remedies.
Like this article? Sign up to our newsletter to get more articles like this delivered straight to your inbox.