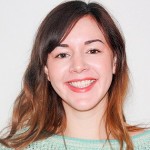 Six hours of exercise and 1200 calories a day – Eva Caiden tried out the new retreat that promises to kickstart your fitness and diet in gorgeous surroundings. Here's what happened

I first realised I needed to shake up my exercise routine when I found myself tackling my tax return rather than going to Spin class. The week before I'd ordered a takeaway pizza instead of hitting Body Pump. I'd even convinced myself I DESERVED it. As I devoured the cheesy crust, instead of enjoying it, I felt awful: I've spent the last two years getting into a healthy and challenging regime. And here I was sabotaging it. Why couldn't I just GO to the gym?
The answer was obvious: I was bored. Stuck in a dreary rut of the same old classes on the same old days. I was barely breaking a sweat in Body Pump, I knew the playlist from my Spin classes off by heart, and my running wasn't getting any faster OR further.
Add to that the chaos of the impending Christmas party season (where my diet tends to consist mainly of sausage rolls and booze) plus the looming threat of the big 3-0, and I felt that some damage limitation (read: serious toning) was well overdue. I didn't have the time – or inclination – to do a quick-fix diet. I love food (especially a Sunday roast – lamb, since you ask) and eating out with mates is one of my favourite hobbies. I also didn't have the motivation to revamp my exercise routine on my own. That's the thing about being stuck in a rut: you just can't see a way out.
So Ultimate Fitness Bootcamp came along at the right time for me. I wanted to tone up the flab in time to look fabulous for festive fun, as well as sort out my exercise routine with some new challenges and activities. And if I lost a little weight along the way – well, that'd be a bonus.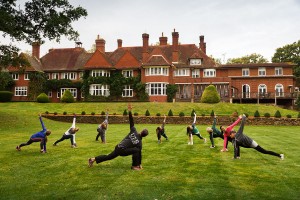 Countdown to camp
I'd never attended bootcamp before and didn't have loads of confidence in my mental or physical strength. If things got too hard in a gym class, instead of pushing on I'd take a break. That's not really an option when you've got Harvey from Celebrity Fit Club (my only bootcamp comparison) screaming at you to get down and give him 20. I spent the nights before bootcamp worrying that I'd be THAT person. The one who throws up. The one who cries. The one who's last at everything. It wasn't a nice feeling.
The gargantuan kit list read more like a stock take for Sports Direct than a weekend at bootcamp. It included full waterproofs, walking boots and two pairs of trainers. I rang up my friend Gemma, who was coming with me, stressing. I haven't even GOT half the stuff on the list. We debated the merits of bringing Converse as a second pair of trainers and a leftover poncho from Bestival in place of waterproofs. We were clearly not bootcamp material.
As Gemma and I got the train to Horsham, our kit bags bulging, our nerves growing, we had a joke about getting Dominos on speed dial 'just in case'. Gemma even scoffed a sticky bun. Hey, it's not like we won't burn it off!
We were picked up at the station by taxi and spent the 15-minute drive getting increasingly nervous. As we whizzed through the countryside, we came to an imposing driveway with electric gates. We'd reached our final destination. At the end of the driveway, with its own mini roundabout, sat a beautiful turn-of-last-century country mansion. This popstar's palace (it was in fact once owned by Adele) is huge – 20,000 square feet to be exact – and is set among rolling fields. Stepping through a grand pillared porch, we found ourselves in a high-ceilinged hallway, complete with Downton-style sweeping staircase. An open fire flickered away and placed next to it were two ornate chairs. A number of doors ran off the hallway, and one opened and out stepped Suzie Turner, the small but indefatigable brains behind the UFB.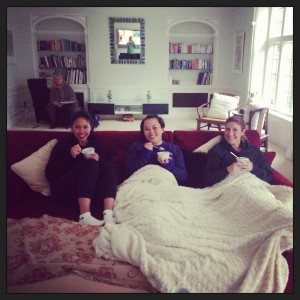 The owner of an eponymous couture label sold in Harrods, this gregarious lady doesn't mess about: she had the idea for the UFB at the start of 2013 and it was up and running by the beginning of summer. A self-confessed bootcamp convert, Turner wanted to revitalize the old model of bootcamp by combining the perfect location, team and facilities. 'The UFB is made up of the best experts,' says Turner. 'Trainers, nutritionists, chefs, therapists and house staff all share our belief of 'mind fit, body fit' to create ultimate results.'
Turner created the camp to make it possible for everyone to achieve their fitness goals. 'Workouts are designed with all levels in mind,' she says. 'Our aim to to encourage everyone to push themselves to the best of their ability, not to keep up with the crowd. A lot of exercises are based on time goals rather than numbers. Guests see how many of each exercise they can do in a minute and aim to build on that.' Her enthusiasm buoyed us – she didn't shy away from letting us know we'd be in pain, but she promised us we'd walk away from the UFB fitter and firmer than ever before. The lure of that promise stuck with us.
Day One
Suzie welcomed us and led us upstairs to our room. It's bright, airy and painted duck egg blue. The leaded windows and odd nooks and crannies in the room added to the English country cottage feel. With garden views and calming paintings on the wall, it's like a guest bedroom in a grand house rather than a faceless hotel. There were three single beds in it, although it was just the two of us. The bathroom was huge and luxury with a capital 'l'. Think marble floor, stylish glass sink, large rain shower and sumptuous Baylis & Harding products. There was no full length mirror anywhere in our room though – which seemed strange considering the vanity behind our visit.
After unpacking we headed to the thoroughly modern kitchen. One side was all glass with views over the garden and we spotted some pheasants wandering by. At the back, there was a large island behind which stood award-winning vegetarian chef Sean Paul Redding. Little did he know, but he would also double up as counselor/pep-talker/all-round-good-guy when any of us had a wobble.
He handed us a luminous green smooth and we sat down at one of the two long tables. It smelt zingy and fresh. When he told me it contained kale and spinach, I baulked. But when I took a sip, it was delicious: frothy on top and appley. He'd added the apple to mask everything else.
Then we headed into a wood paneled room to get weighed and measured. It was like being in the nurse's room at an old fashioned boarding school – it felt very formal and I felt myself getting a knot in my stomach. Suzie recorded our weight plus waist, hip, arm and thigh measurements. Interestingly, Gemma and I were pretty much the same weight but our measurements were strikingly different. My BMI was fine and I wasn't too fussed about losing weight but I really wanted to see difference in my waist measurement by the end of the weekend.
Next up we met our torturer –sorry, trainer – for the weekend: Andy Morton. This ex-para's approach to exercise can be summed up as: go hard or go home. Which is pretty much my approach to partying. Maybe this will be helpful, I tried to kid myself.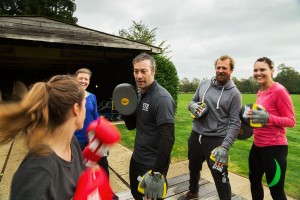 He asked about my exercise regime and nodded intently when I told him I'm looking to get out of a rut and tone up. I debated whether to tell him that I need to push myself more in the gym. Would it backfire massively if I admitted I gave up too easily? I decided to make the most of the experience and confessed to being a bit lazy. Then I spent the rest of the day worrying that he'd go extra hard on me as a result.
We met the rest of the gang in a freezing, wood paneled room for our fitness test. It was all girls, mainly in our 20s but some older. We were all shapes and sizes, but most people were here to lose weight. Everyone admitted to having the same fears about being THAT woman. Phew. Before there was time to chat any more, we found ourselves huffing and puffing our way through a series of drills. Burpees, squat thrusts, sit ups. My chest was burning after five minutes – I started to worry I wouldn't be able to do it. But I was secretly pleased to see I was doing better than the others, some of whom had already given up and were panting on the floor.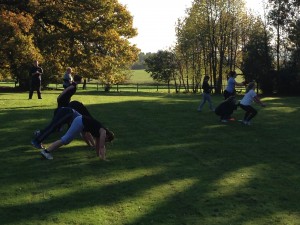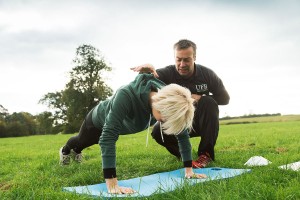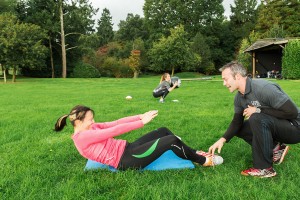 One hour later and we were done for the day. We headed to the indoor heated pool, but it was freezing thanks to the broken heating, so we all bunked in to the compact sauna, next door, which fitted six of us comfortably. As it heated up, everyone started to relax, and we joked about what tomorrow would bring. We spent the rest of the evening huddled on the squishy red sofas in the elegant living room, swaddled in one of the many blankets dotted around. The coffee table was piled high with magazines and Sunday papers and underneath it, a stack of board games peeked out. There were no snacks or tea and coffee allowed, so our savior became the herbal tea selection in the camper's kitchen, a separate, galley-style room with a kettle and a fridge containing absolutely no milk (we weren't allowed any). We took it in turns to make cups for everyone and relished the hot liquid trickling down our throats.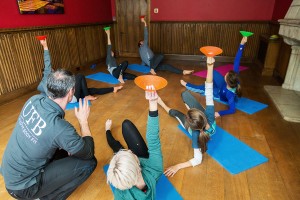 Day 2
The alarm went off at 6.15am. It was still pitch black outside and I was tempted to just turn over and go back to sleep. But I pulled on my gym kit and met the others downstairs for mobilization at 6.55am sharp (late arrivers were rewarded with burpees.) We started off with tabata, a type of high intensity interval training (HIIT) that is supposed to keep burning calories for the next 12 hours. It was 20 seconds of sprinting as hard as you can followed by 10 seconds of rest, repeated eight times. It made my lungs feel like they were about to explode, and, combined with a series of plans and sit ups, it was an exhausting hour. Already we were looking at each other with knackered, what-are-we-doing-here eyes, and breakfast was a somber affair. The lone poached egg on a grilled mushroom with a few cherry tomatoes wasn't enough to fill me up and builder's tea wasn't allowed,  so I headed the camper's kitchen for an unlikely treat: an Earl Grey.
At 9am we put on some layers and headed outdoors to the hanger, a make shift gym with views over the fields. It was time for boxing. Cue: cheesy 80s music! We lined up and tried different punching combos. I've never tried boxing before, but it was really, well, fun. And that's something that has been missing from my routine for a while. Looking around, I realised I wasn't the only one enjoying it, one girl was pummeling so hard her partner had to keep taking steps back.
Our arms burning, we moved to the wooden slate, outside. Split into pairs, one person had to do 100 jumps onto the slate while the other person went on the rowing machine, then we swapped. This was repeated with 80, 60, 40 and 20 hops. We were all incredulous – how the hell are we going to do 300 bunny hops onto that thing? It's too high, it's too slippy, we cried. The first few jumps were scary – it really did feel like I was going to slip up and dislocate my knee. But once I knew that I could do it, I let my mind switch off and just got on with it. I had to keep stopping every now and then, but I did it feeling surprisingly comfortable: there was no point where I thought I'd have to give up and my confidence felt boosted.
The low point
It was 10am and we'd been exercising since 7am. Now we were outside, lying in the muddy field, our hands covered in grass and leaves, attempting the ascender circuit. The circuit comprised 20 press ups, 30 squat thrusts, 40 sit ups and 50 mountain climbers (plank position, running your legs back and forth). On each repetition of the circuit, the number of reps increased by 10, until you were doing 50 reps of everything.
My limbs were uncontrollably shaking. My clothes were soaked through. I smelt REALLY bad. We called out at each other to keep going and when someone struggled, someone would stay back with them for company. But on the third round of 50 rep mountain climbers, I gave up. I just wanted to lie on the floor and cry. Andy shouted at me to keep going. I told him to shut up, like a petulant teenager. He kept on at me, with words of encouragement, but there was no breaking me out of this tantrum: I was done. Looking around me, it was a similar picture. Realising we were beaten, Andy adapted the circuit for us, making us do one more round of 10 reps each. And just when I thought I couldn't go on, I realized that 10 isn't so bad. Especially compared to 50. I completed the final circuit without stopping, and thought to myself: I can do more than I think.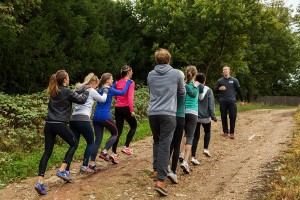 As we headed inside, the horror of the ascender circuit was already forgotten and I was feeling exhausted but euphoric. As a group, we had bonded and everyone helped everyone else out, with words of encouragement and (literal) pats on the back. 'Remember why you're here' became our mantra, and I focused on this when times got hard.
To balance out the tough session, we had a less intense one inside, in the form of toe-ga, which aims to restore strength and balance to our feet (which are weakened by over-protective shoes and our sedentary lifestyle) by separating your big toe from the rest and performing a variety of stretches and balances. Then we tackled our core with an exercise called the Turkish Get Up. The ultimate total-body exercise: it builds strength, but also develops stability, flexibility, balance and co-ordination. It can be completed using kettle bells, but as beginners, we used a token cup instead. We started off lying on our backs, holding the cup in our left arm, 90' above the shoulder. The right arm is placed on the floor. Then using our core, we come up on to our right elbow, pushed up to lean on our hand, before extending our legs through into a split squat position, and finishing in a standing position. At all times your left hand must remain straight and raised. The process is reversed just as carefully and then repeated. It's a range of subtle movements that really works your core and my abs were aching by the end of it.
After a mini salmon lunch (I could have eaten double) it was time to begin again. My legs were already seizing up, but I threw myself into the 15-minute hill sprints. As a regular runner, I struggle to improve my pace and I'm useless without the distraction of music. Seeing myself run past others, high-fiveing Andy on the way, gave me so much more confidence in my own ability to just keep going. It's definitely something I'll incorporate at home to increase my PB and my stamina. We finish with some running technique, where I learn to jog on my toes at a much faster pace, instead of taking longer strides and landing on my heel. Unknowingly, my poor technique has been putting my joints at risk: the impact of landing on your heel (what I've been doing) is far greater than the ball of your foot, while my long strides have been causing me to land heavily, increasing the shock to my body and slowing my pace.
At 3pm it's time to get into the (freezing due to the broken heating) pool. We jumped in together holding hands and the temperature took my breath away. Focusing on how good I'll feel in my Christmas party dress, I started swimming. Relays at first, then lengths with legs but no arms and vice versa. Yet again, I'm blown away by how much more I can do if I just put my head down and get on with it. Skipping out half a track on Body Pump seems inconceivable when you've done six hours of exercise in one day.
At 4.30pm we were finished. My entire body was already aching. I was walking like I'd been riding a horse for six hours. I hobbled off to get into a deliciously hot shower and changed into something with absolutely no lycra content. Already I felt proud of what my body achieved: it took me through six hours of exercise which is more than I thought possible.
At dinner, no longer strangers, the group chatted like we were old friends, comparing notes over who found what difficult and what we enjoyed the most. Boxing was by far the most popular, I'm the only one who enjoyed the hill sprints. The crunchy Asian salad and Thai green curry chicken (no rice) is nourishing and tasty, but the portion size is small. When I finished, I nipped to the camper's kitchen for my now much-longed-for Earl Grey. We all dived into the living room with our respective teas and tuned into some well-earned X Factor. By 8.30pm I'm in bed, dreaming about a Dominos Mighty Meaty.
Day 3
We were warned that day three is headache day: the caffeine withdrawal symptoms kick in. I woke up with a banging headache – not only do I drink tea but I'm a total Diet Coke fiend, snaffling up to three cans at work. The pain in my head was offset by the throbbing in my entire body though. Bending over to get dressed, I resembled an OAP, and walking down the stairs involved holding onto the bannister and going down one step at a time.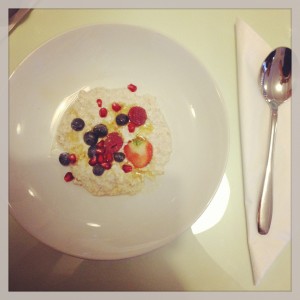 On the plus side, my stomach was flatter, harder and more toned than it had been in ages. My arms were definitely more defined too. It felt good to know that the exercise hadn't been for nothing and it spurred me on to do my best that day.
We started off with SFP: Stubborn Fat Protocol. It's a mix of tabata (HIIT training) before we launch into a 25-minute run, this time with the luxury of iPods. I plug in and plod on: I've run for longer than this plenty of times, so psychologically it's a lot easier.
Breakfast is birch porridge with berries and honey and my body instantly perks up with the carbs. Then it's back to the station for an 11-station circuit in 30 and 60 second rep. There was a definite shift today – we all knew we could do it. It would be painful, but it would be worth it. A real atmosphere of focus and determination washed over the group, and we gave it our all. My muscles were still burning, but I could see an improvement already. On Day 2, mountain climbers were my Everest. I was useless at them. On Day 3, I could do them for longer and longer and I could feel a new strength in my core. Even stranger, I was enjoying this circuit. I'd never included circuits in my routine before, but the benefits were clear (the pain in my stomach, arms and legs was proof enough). By the end, I was happily knackered.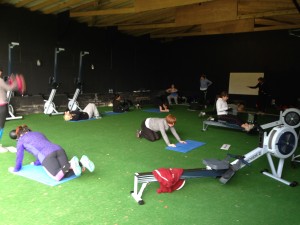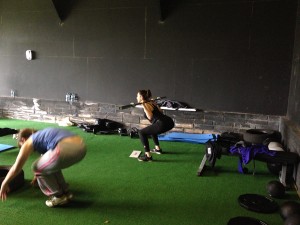 After a snack of salmon and poached egg, it was hats and gloves on to head outside for Andy's self-named 'resurrection'. It turns out this involves walking across the lawn like a duck (in a squat position), crawling across the lawn like a monkey (knees off the ground) and backwards lunges across the lawn plus jogging. All I could think about was the pain in my body. The rest of the group felt the same, which made me try less hard: it was clear that as well as lifting each other up, we could also bring each other down.
Lunch was heaven on a plate, a fake roast dinner (chicken, carrots, parsnips, gravy) and then we were outdoors again, this time for some cricket, rounders and a variation of netball. It was tons of fun working together, and we got ultra competitive, all ganging up on Andy when he was batting, and whooping like demented children when we caught him out. Best of all: despite all the running around, it didn't feel like exercise.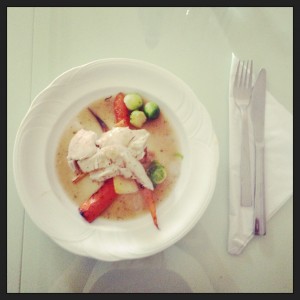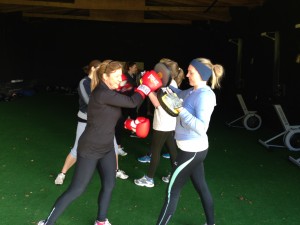 Food for thought
That afternoon we were visited by UFB nutritionist Karl. After a slightly rambling speech, he gave us some brilliant, practical tips to take home with our new bods:
Forget olive oil: coconut oil is the best oil to cook with, due to the fact it's already saturated and won't change composition during cooking
Super supplement: linseed oil is an excellent supplement to take because it's rich in Omega 3
Processed carbs = sugar: White processed carbs like bread and rice turn straight into fat in your body
Say hi to rye: if you can't bear to say bye to bread, pick rye bread instead. It's 100% wheat-free (wave goodbye to bloating) plus it's a nutritional powerhouse, containing high levels of iron, calcium, potassium and zinc
Dairy difficulties: dairy can be problematic because it often contains antibiotics and growth hormones given to cows that are passed on in their milk. Rice milk or almond milk is a good alternative.
The take home
Three days. Six hours of exercise a day. 1200 calories a day. Approximately 18 cups of Earl Grey. One tough, muddy, at times grumpy, journey. I've pushed my body to its limits and become stronger both physically and mentally in the process. After failing to climb my own personal mountain (ironically, those pesky mountain climbers) on day 2, instead staging a tantrum of teenage proportions to avoid them, I took them in my stride the following day during the 11 station circuit. I'd worked out the difference between physical and mental pain. When my body told me to give up, I had a choice: I chose not to. It sound cheesy, but if it helps me get better results, what's the problem?
I lost 1.3lbs over the weekend, which I felt disappointed about considering the 13 hours of exercise I've put my body through. Some women lost 6lbs though – an amazing feat for 3 days work. While I wasn't especially in this for the weight loss – my BMI is 22 and I'm happy with my weight, I was impressed with the inch loss  – and my entire body feels firmer and tighter and just more toned than usual. Putting on my skinny jeans, there's not even a hint of overspill. I immediately call my friends and plan a night out – when I've worked this hard, I want to show off the results! Best of all, one month on, I've lost another two pounds- and kept them off.
To keep seeing the results, Andy told me to switch my routine around every few months: if my body gets used to it, it won't work as hard, which means I won't get the results I want. He also advised me to bring HIIT into my routine – whether it's via running (hill sprints) or in the gym (circuits) it's an effective way to maximize my exercise time. I've taken his advice and have added a PUMA HIIT class (a circuits class) into my routine every week and am breaking up my running with bouts of sprinting too.
Diet-wise I've also made some changes. I liked how unbloated I felt on the UFB diet, and decided to cut milk from my morning porridge. Instead I tried almond milk. It was gross: bland and watery. I tweeted my fellow boot campers for ideas, and someone suggested rice milk, which I am now hooked on. It tastes creamy and not dissimilar to cow's milk. I realised I do need to devote a bit more time to what I put in my body; I spend the time on exercise but often when I get in late, I just shovel in a shop-bought soup which is full of sugar – completely ruining my efforts.
The results
Before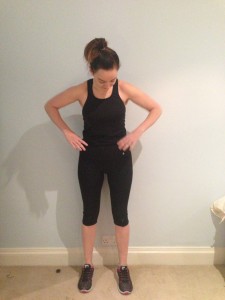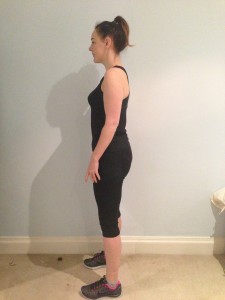 Weight: 145.3lbs
Waist: 77.5cm
After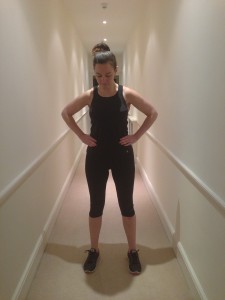 Weight: 144lbs
Waist: 73.75cm
Packages at The Ultimate Fitness Bootcamp start from £405 for three nights in a single bed sharing with up to 3 others or £425 for three nights in a private room.  Go to www.theufb.com for more information.
Trainers, worn throughout: www.nike.com. Clothes worn throughout: Freya Active Black Sports Top with Inbuilt Bra, £56 & Freya Active Black Sports Pant, £42, www.freyalingerie.com
Words: Eva Caiden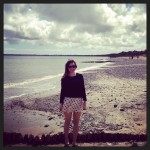 Eva is a freelance journalist with a special interest in health and well-being and (we may as well be honest about it) G&T. You can follow Eva on Twitter:
@evacaiden
Like this article? Sign up to our newsletter to get more articles like this delivered straight to your inbox.