Fearne Cotton, the television and radio presenter we all know and love, has released her first cookery book featuring healthy recipes perfect for any occasion. We have picked three of our favourites, ideal for a healthy dinner party
Fearne Cotton first rose to fame as a TV presenter in 1996 aged just 15. Now, 20 years on and many broadcast jobs later, she has released her first cookery book jam packed with clean-eating recipes, which boosts the question: why now?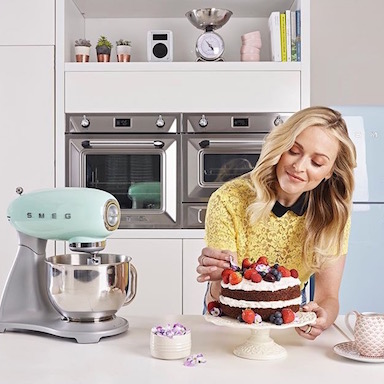 Cotton is a great fan of music, and admits that in her twenties she used to go to gigs most nights and 'skip dinner altogether for a few gin and tonics'. Now 34, she's getting stuck in to the family lifestyle. She has two children Rex, three and Honey Krissy, nine months and lives in London with her husband Jesse Wood, a guitarist and bass player (and son of Ronnie Wood). She understands how important healthy eating is, stating that keeping herself, friends and family fed and happy is of paramount importance to her.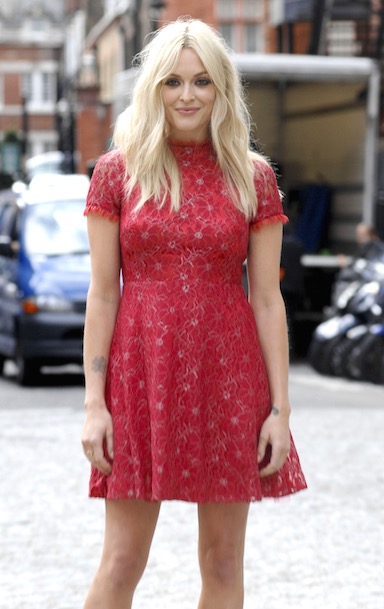 In her teens, the only incentive to get her through the walk home from school was the idea of picking up some chocolate or sweets from the local newsagents, Fearne admits. Now she tries to keep away from refined sugars as much as possible by using natural sweeteners instead of the 'devilish white stuff'. She believes that what you eat really does affect your life in a number of ways – if you eat badly, you won't feel as energised or look as glowing.
In the 80s when Cotton was growing up, sugary cereals and toast and jam seemed to be the go-to breakfast, but now she prefers anything that is packed with slow-burning energy and nutrients such as fruit and coconut yogurt, and strongly believes that 'processed foods can DO ONE'.
In her twenties, Cotton was a self proclaimed night owl who could simply get through her hangover the next day on a caffeine buzz from all the coffee. Now she gets energy from fresh juices and tries to be in bed by 10:30.
Cotton used to depend on coffee to get her through the day. Now she gets energy from fresh juices and tries to be in bed by 10:30.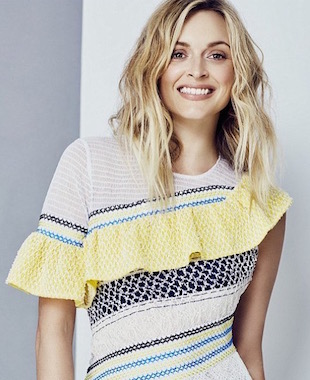 She follows a pescetarian diet and hasn't eaten meat since she was 11, but Cotton, now married and a mother of two states in her book: 'I cook meat for the kids because I want them to decide for themselves when they're older how they choose to eat'. Her new book, Cook Happy, Cook Healthy caters for all dietary requirements from vegan to carnivore.
Cotton moved out of home aged 19 and took baking up as an after work hobby: 'For me, baking is a form of meditation. I couldn't be happier than when I'm in cake mode', Fearne reveals. She has now found a way of baking without all the refined sugars, and spoils all of her friends with deliciously sweet yet healthy snacks when they come over for tea.
Cotton understands first hand that cooking isn't always easy when you lead a busy life, so has included tips for leftovers and making dishes in freezable batches.
For me, baking is a form of meditation
Here are three recipes from Fearne's new book that can be served alone or as part of a healthy dinner party menu.
QUINOA SUMMER SALAD
'Quinoa is a great way of beefing up a leafy salad and adding protein', says Fearne.  'This dish is a favourite of mine during the summer and I make it most weekends when we have family or friends over. It's simple to make, and the textures are crisp and the flavours refreshing. It has a wonderful texture and looks so colourful and pretty'.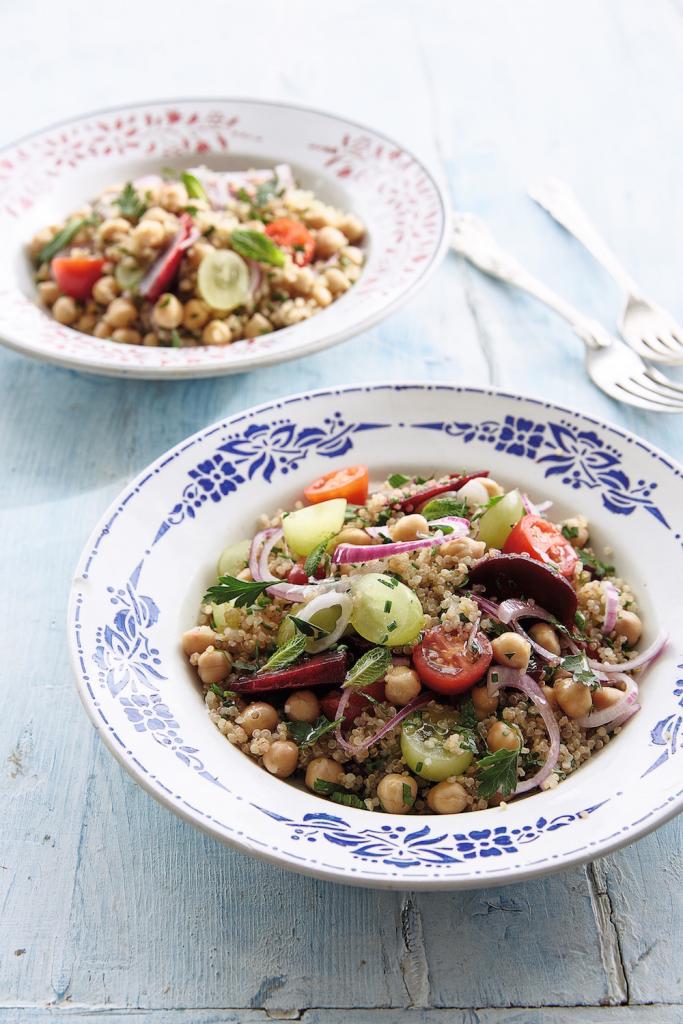 S E R V E S  4
150g quinoa, rinsed

2 cooked beetroot, sliced
into wedges

200g canned or jarred
chickpeas, drained

12 cherry tomatoes, halved

½ red onion, halved and
finely sliced
50g mixed salad leaves
20g fresh chives, finely chopped
Handful of white grapes, halved
Small handful of fresh flat-leaf
parsley leaves, roughly chopped
Small handful of fresh mint
leaves, roughly chopped
2½ tbsp extra virgin olive oil
1 tbsp balsamic vinegar
Sea salt and freshly ground black pepper
D I R E C T I O N S
1. In a saucepan (with a lid), bring the quinoa to the boil in double its quantity of salted water. Once the water has come to the boil, reduce the heat to low, cover and simmer gently for about 12 minutes, until the water has been absorbed.
2. Remove the lid and let it cool, then mix in the remaining ingredients, retaining some of the herbs to garnish. Season with salt and pepper to taste, transfer to a serving dish and scatter over the remaining herbs.
SRI LANKAN VEGETABLE CURRY

WITH BROWN RICE
'Many moons ago, before Rex and Honey came along, Jesse and I went on a far-flung adventure to Sri Lanka,' remembers Fearne. 'It is such a vibrant country where the people smile from the heart and the food is made with love. On the entire trip, there wasn't a dish I didn't love. This curry is inspired by the flavours we encountered and the warmth their food provides. I love adding fish to this as it adds an extra boost of protein and makes it even more hearty'.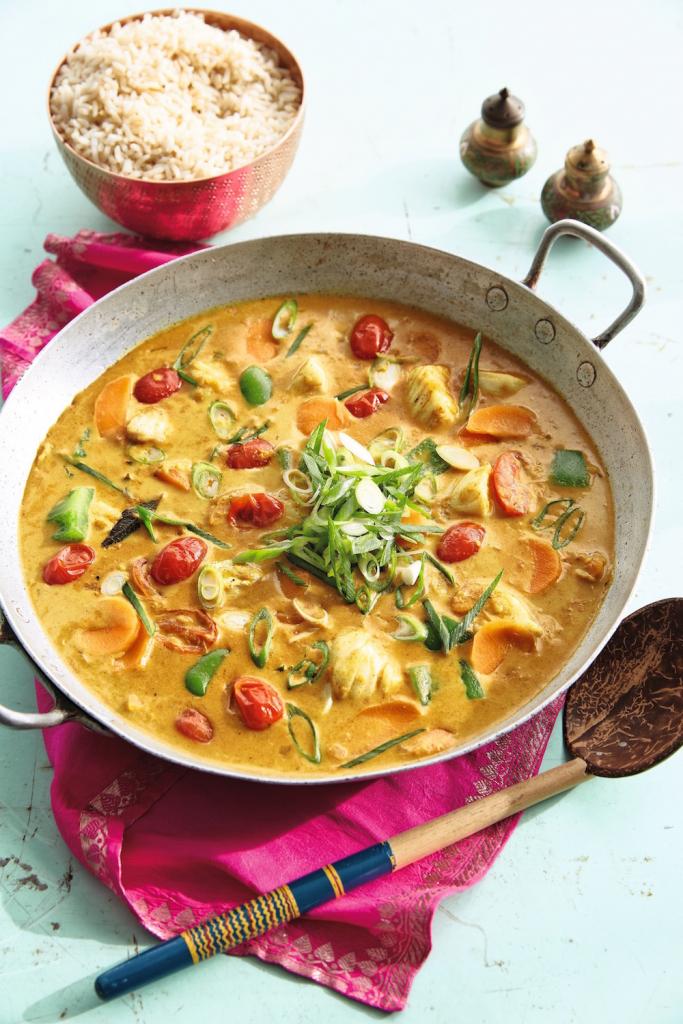 SERVES 4-6
1½ tbsp coconut or sunflower oil

10 fresh curry leaves (optional)

1 onion, finely chopped

5cm piece of root ginger, peeled and finely grated

5 cloves garlic, crushed

½ tsp ground turmeric

½ tsp ground cinnamon

1½ tbsp mild curry powder

½ tsp chilli powder (optional)

1 tsp garam masala

1 tsp sweet smoked paprika

16 cherry tomatoes, halved

2 x 400ml cans full-fat coconut milk

2 carrots, thinly sliced

1 green pepper, deseeded and cut into bite-sized chunks

200g skinless and boneless cod or sea bass fillets, cut into bite-sized pieces (optional)

Sea salt and freshly ground black pepper

1 spring onion, finely sliced, to serve

Cooked brown rice, to serve
D I R E C T I O N S
1. Heat the oil in a frying pan over a medium heat.
2. Add the curry leaves (if using) and fry for 2–3 minutes until the leaves begin to crisp up and brown.
3. Add the onion and ginger and sauté gently for 5 minutes, until the onion has softened, then add the garlic and fry for a further minute until aromatic.
4. Add the spices, tomatoes, half a teaspoon of salt and a good grind of black pepper.
5. Fry for a further 2 minutes until aromatic, then add the coconut milk, carrots and green pepper.
6. Bring to the boil, then reduce the heat and simmer gently, stirring occasionally, for 20–25 minutes until the vegetables are cooked through and the sauce has reduced down a little.
7. If you are using fish, add it to the curry for the last 5 minutes of cooking time, until just cooked through.
8. Serve with the spring onion scattered over the top and rice alongside.
MINI COCONUT & CHERRY TARTS
'These would be my desert island dessert essential,' Fearne admits. 'They look divine, taste so naughty but are pure goodness, and are fun to make too. They make the perfect tea party centrepiece, and your friends won't believe they are good for you!'
MAKES 6 MINI TARTS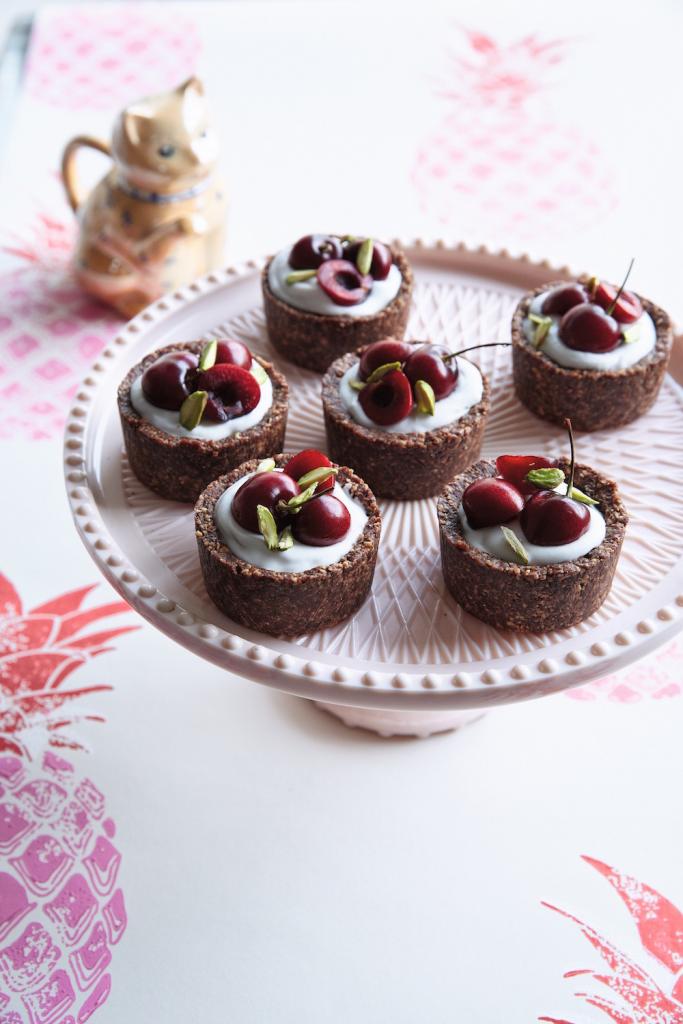 For the base:
100g raw unsalted almonds

90g plain oatcakes

90g dried dates, pitted

1 tbsp coconut oil

4 tsp unsweetened cocoa powder

2 tsp maple syrup

Pinch of sea salt
For the filling:
2 x 400ml cans full-fat coconut milk, chilled

3 tbsp set honey

½ tsp vanilla extract

Pinch of sea salt

18 fresh cherries, halved and pitted

50g raw unsalted pistachio nuts, cut into slivers
D I R E C T I O N S
1. Preheat the oven to 200°C/180°C fan/400°F/Gas mark 6 and line the holes of a 6-hole muffin tray with cling film.
2. To make the base, place the almonds in a roasting tray and roast for 5–6 minutes, or until a shade darker and aromatic, taking care not to let them burn. Remove from the oven and leave to cool.
3. Place all the ingredients for the base, including the roasted almonds, in the bowl of a food processor and blitz until the mixture forms a paste that sticks together when you press it between your fingers.
4. Divide the base mixture between the 6 lined muffin holes, pressing it firmly into the base and sides. Place in the freezer for 20 minutes, to set firm. Once firm, remove the tray and carefully lift up the overhanging cling film from each hole to release the mini tart cases. Place the tart cases on a plate, cover and chill.
5. Remove the cans of coconut milk from the fridge without shaking. Remove the lids and carefully scoop out the very firm, set coconut cream at the top, leaving the coconut water in the cans (don't throw the water away – use it to make soups, curries, porridge or smoothies).
6. Add the thick coconut cream to the cleaned-out bowl of the food processor together with the honey, vanilla extract and salt and blitz until completely smooth.
7. Remove the tart cases from the fridge and evenly divide the coconut cream between them.
8. Add three cherry halves to the top of each mini tart and scatter over the slivered pistachio nuts.
9. Serve immediately or chill, covered, for up to 3 days (or until ready to serve).

Fearne Cotton has presented live TV since aged 15. She has featured in many shows over the years and will be returning to her role as team captain for the 15th season of Celebrity Juice this year. Fearne has also been a big voice on the radio – she worked as a presenter on Radio 1 from 2005 for 10 years. She is also extremely creative which is shown through her designs for her home wear range for very.co.uk and her fabulous foodie creations found in her new cookbook.
Get your copy of Fearne Cotton's, Cook Happy, Cook Healthy
published by Orion June 2016, in hardback & e Book £9.99.
Like this article? Sign up to our newsletter to get more articles like this delivered straight to your inbox.