Have you still not got to grips with your lockdown snacking habit? F45 Nutritionist Kim Bowman reveals how we can snack smarter and cut our cravings
Avoiding processed snacks is key when it comes to cutting down on cravings.
We all experience cravings for sugary or salty snacks, but prepping your own high-protein, fiber-rich snacks is a great way to curb these cravings and stick to a healthy eating routine.
processed foods often leave us feeling more hungry in the long run
Processed snacks that are high in refined carbohydrates (i.e. potato chips, pretzels, and crackers) lack significant nutritional value and can lead to blood sugar imbalance.
Instead of satisfying hunger, these processed foods often leave us feeling more hungry in the long run, which can  lead to increased intake of these empty-calorie foods.
F45 Nutritionist Kim Bowman has some tips to help curb those cravings and snack smarter so you can maintain a healthy eating routine.
#1 Add protein and fibre to your breakfast or morning snack
Balancing blood sugar first thing in the morning is essential to keeping sugar cravings at bay throughout the day.
Both protein and fibre increase satiety by adding nutrient density to a morning meal or snack.
This means that any sweet snacks you might indulge in later on won't send your blood sugar skyrocketing, instead allowing you to enjoy them in moderation.
Kim recommends scrambled egg whites with some sauteed spinach and sweet potato or rolled oats with a dollop of plain Greek yogurt topped with berries, nuts, or seeds.
Balancing blood sugar first thing in the morning is essential
Consuming sweets first thing in the morning without any added protein or fibre is problematic due to the fact that sugar is high-glycemic.
Foods lacking protein and fibre such as, cookies, cakes, and pastries are rapidly digested within the body, inducing a peak in both blood glucose and insulin.
This not only triggers sweet cravings, but makes it extremely difficult to resist temptation and cravings, plus we start to feel hungry shortly after consumption.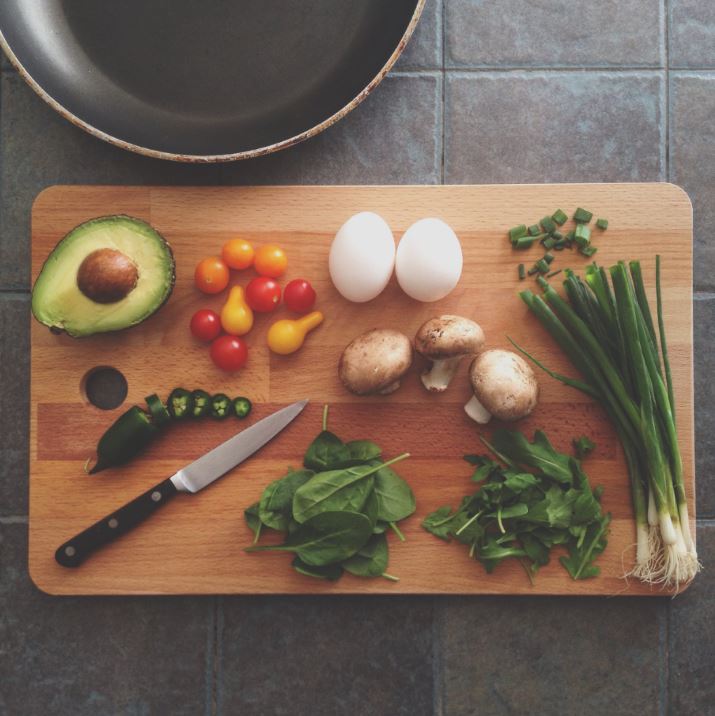 #2 Daily active movement and regular water intake
Active movement is a key component to staying accountable. Even just 15 to 20 minutes of daily exercise can help boost metabolism and lessen the temptation to continuously snack on sugary foods and snacks.
Kim also recommends staying on top of hydration throughout the day with at least 2 to 3 litres of water in addition to your daily movement, as this will prevent dehydration.
When we're thirsty, we've already reached a state of dehydration, which is a common trigger for sugar cravings.
#3 Prepare your own baked goods
To avoid store-bought sweet snacks, Kim recommends preparing a few homemade sweets, as this will allow you to select quality, non-processed ingredients while avoiding excess added sugar and hidden additives.
When it comes to choosing quality ingredients for your baked goods, be sure to use a natural source of sugar, such as raw manuka honey, dates, or fruit (bananas, applesauce, strawberries, raspberries).
it's best to avoid enriched wheat flour (white flour)
For chocolate lovers, it's best to go with a quality dark chocolate, as it's a richer source of cocoa and antioxidants than milk chocolate.
When it comes to choosing a flour, it's best to avoid enriched wheat flour (white flour), as it's heavily processed. Instead, opt for a more nutrient-dense alternative such as almond, coconut, or buckwheat flour.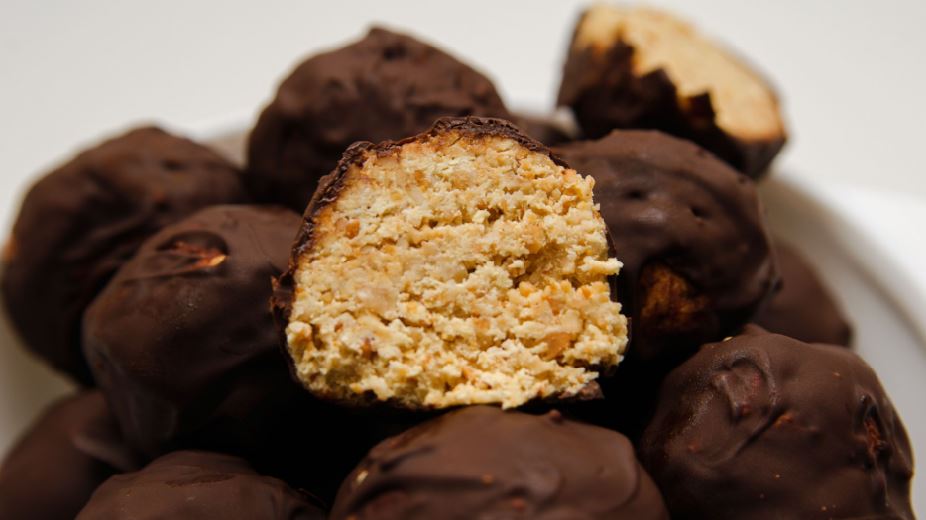 Try these easy Chocolate Covered Peanut Butter Balls
Makes 4 servings
261 calories/serving
Ingredients:
60g rolled oats
70g peanut butter
20ml rice malt syrup (or raw manuka honey)
Chocolate coating:
20ml melted coconut oil
5g cacao powder
20ml rice malt syrup (or raw manuka honey)
3 Tbsp hot water
Method:
1. In a food processor add rolled oats, peanut butter, rice malt syrup (honey), and hot water and blend until well combined.
2. Roll the mixture into 4 balls. Place the balls in the freezer for 15 minutes.
3. While the balls are cooling, prepare the chocolate coating by mixing together the cacao powder, rice malt syrup (or honey), and melted coconut oil in a small bowl.
4. Carefully, dip the peanut butter balls in the chocolate coating and transfer them to a plate. Repeat the process until all peanut butter balls are coated with chocolate.
5. Put them back in the fridge for at least one hour to allow them to set.
More Healthista Content:
9 top tips for optimum gut health from this award-winning nutritionist
9 natural insomnia remedies to help you sleep better tonight
3 ways yoga will change your body
Masturbation – 8 health benefits from Channel 4's The Sex Clinic expert Sarah Mulindwa
Like this article? Sign up to our newsletter to get more articles like this delivered straight to your inbox.