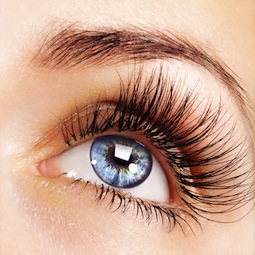 They make your eyes look divine but lash extension treatments used back-to-back can weaken natural lashes and lead infections, irritation and lashes falling out, a report by the magazine Consumer Reports has found.  
In fact, the Royal College of Opthalmologists has said that 'repeated use of eyelash extensions can cause traction alopecia, where the lash hair falls out due to excessive tention placed on the hair shaft,  This can damage the hair follicale which can slow down or cease production of the hair.'
This helps explain why they're so addictive.  The lashes cause hair loss, resulting in lashes so thin we feel we've no choice but to keep getting them done, further pressurizing our poor old hair follicles.
Plus, 'As surgical-grade glue is used on the natural lashes, the danger is that an inexperienced practitioner can theoretically glue your eyelids together,' says Angela Bartlett, Director of the British Association of Beauty Therapy and Cosmetology (BABTAC).
According to Jinny Coffey, founder of Jinny Lash, many under-qualified therapists now use glue that is too strong which can damage or weaken the natural eyelashes and irritate the eye and heavy lash extensions can pull at the natural hair and damage the follicle.
How to have you lashes and your safety too
Make sure your therapist is using an established and well-known brand.
Have a patch test done by getting the therapist to apply a single lash to the eyes (they should be doing this anyway) and if any irritation occurs, opt for a good mascara instead.
Make sure the lashes are applied one by one
See your falsies as a treat, not a permanent thing you top up like false nails.
Check your therapist is a member of the Beauty Guild or British Association of Beauty Therapy and Cosmetology
What about alternatives?
Try a hair thickening supplement such as biotin (300mg a day – try Holland & Barrett Biotin Tablets £4.69 300mg) which could also work to thicken the natural lashes.
If you're opting for falsies using strip lashes from the chemist try this trick from make-up pro Nadira V Persaud. 'Cut them in half and apply them only to the outer edges of the lashes,' she suggests.  'This makes them look more natural and they're more likely to stay on.'
Even easier, apply a waterproof black or brown liner right in between the lashes at their root to make the lashline appear dense and thick, suggests Persaud.  Here's an exclusive HTV video of Nadira showing you how
Like this article? Sign up to our newsletter to get more articles like this delivered straight to your inbox.