It's the tastiest tweak of the month. To celebrate soup's fat-fighting power Healthista are running a Soups Week recipe video special
Eating soup can help aid weight loss by keeping you fuller for longer than other meals, a study has found. Scientists at Nottingham University gave two groups an identical meal of chicken and vegetables with a glass of water.  Both teams were given an identical meal of chicken and vegetables with a glass of water. The only difference was that one team drank the water before they ate, and the other had the water blended with the meal to make a soup.  The group who ate the chicken and vegetable soup were satiated for 60 minutes more when compared to the group who drank the water before the chicken and vegetable meal who got hungry sooner after eating than the soup group.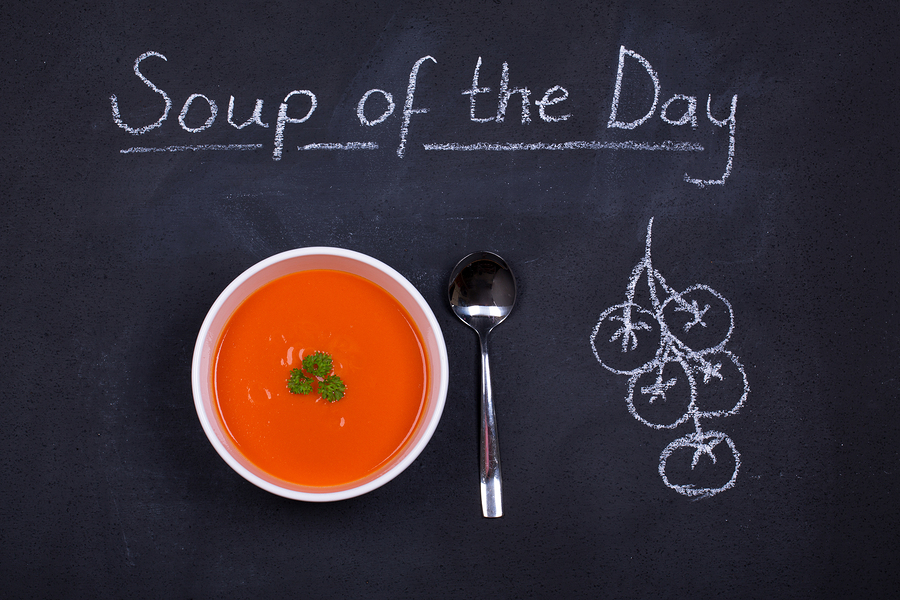 The combination of the food and water means the contents enter the intestines at the same time, rather than separately.  This increased volume stays in our stomach for longer, activating your fullness signals and making your think you're more satisfied.
For a filling low-calorie soup chop up any vegetables you have hanging around the larder and add the dieter's dream, a whole sweet potato.  Not only is the latter filling, its got a  low GI so keeps blood sugar balanced for longer, lowering your chances of getting hungry for hours afterwards.  Add a litre of vegetable stock, four cloves garlic, cumin, tumeric and black pepper, bring to the boil and simmer for 25 minutes.  Take off the heat, blend the contents, add a pat of butter (this helps you feel satisfied, see tomorrow's tweak) and consume.
Soup recipe videos
Roasted Red Pepper Soup from Alli Godbold
Dale Pinnock's flu-fighting soup
Simple lentil soup from Emma Grazette
Got a favourite diet tweak you wouldn't be without? Tell us in the comments
JUST JOINED THE HEALTHISTA JANUARY TWEAK DIET? here are some guidelines to get you started
What is the Tweak diet? Designed for anyone who doesn't want to go on a big starv-y diet during January, we deliver you one new small change to make to your diet or lifestyle on each day in January. You continue each change throughout the month and come February, be on your way to weight loss and new healthy habits you can keep all year. You in?
1. Start anytime. Some of you will be starting on January 1st, but that's not compulsory. If you're joining us after January 1st, simply go back to Day 1 and start from there.
Like this article? Sign up to our newsletter to get more articles like this delivered straight to your inbox.