Dark circles under eyes are a common complaint and not much can help, except for an innovative new treatment by Dr Preema from the Dr Preema Clinic 
I have had dark circles under my eyes ever since I was a child.
I have tried every topical cream and have even gone as far as fillers to try and hide their shadowy appearance but nothing has ever worked.
Even drinking two litres of water a day, getting eight hours of sleep every night and drinking plenty of herbal vitamin solutions, came to no avail.
I've always been told that dark circles are hereditary and that some people just have thinner skin under their eyes. Aka learn to live with it and place all hope on the worlds best concealer.
I've always been told that dark circles are hereditary
But I decided I wouldn't settle for that answer. I began research into the latest technology, light therapy, lasers, dermabrasion and injectables to see if anything out there would help.
After reading multiple articles and calling every fancy London clinic find, (all of which tried to sell me various under eye treatments, non of which were specific to solve the dark circles issue), I found Dr Preema and her 'Light Eyes Ultra' treatment.
Finally something specific to target my life long dilemma!
The ultimate guru of facial and body rejuvenation – Dr Preema is an Advanced Aesthetic Doctor and former General Practitioner specialising in Non-Surgical Facial Rejuvenation.
She is renowned for her numerous accolades in prestigious publications and an extensive celebrity clientele, making her the cream of the crop.
The ultimate innovative mesotherapy cocktail, containing a unique blend of hyaluronic acid, ruscosides, vitamin C and antioxidants; rosemary extract, superoksid dismutase, blueberry, argireline, fermented papaya, chamoline extract.
All of these unique ingredients help to rejuvenate and refresh sagging, puffy eye bags, as well as improving lines and wrinkles, the loss of skin elasticity and of course lessening the appearance of dark circles around the eyes.
READ MORE: Exactly what happens during colonic irrigation plus 3 myths to ignore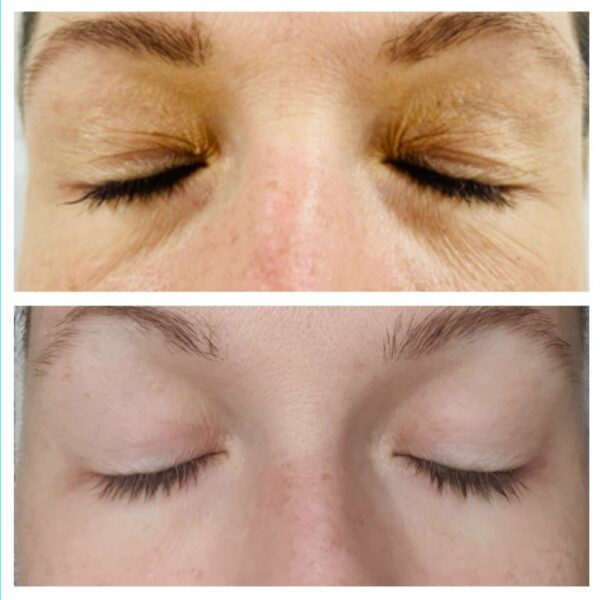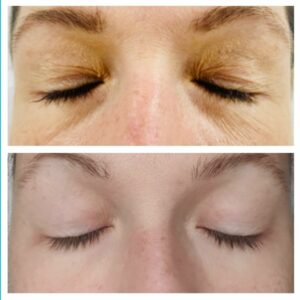 'The procedure was over before it even began'
Meeting Dr Preema is like visiting your old friend. She is warm, tentative, contagiously sweet and oh so sincere – I instantly knew I was in trustworthy hands.
After your consultation with Dr Preema, she will always be honest and advise what you should do, with your best interest in mind.
That does mean that if you are looking for an unnatural look she is not afraid to turn patients away if she feels the treatment is un-necessary – so you will never walk out with the 'pillow face' or the 'trout pout' look even if you wanted to.
I was still quite nervous for this treatment
I must admit even though I have been poked and prodded via many previous procedures, including needles, lasers and radio frequencies, I was still quite nervous for this treatment.
As Dr Preema is known for not using anaesthetic due to her 'quick and light hand work' with injectables, and with this treatment in particular it is performed with no anaesthetic.
I sat in the chair and braved myself, after my eye area was cleansed and prepped, the needles first went in all around the top of the eyes; below the brow and then all around the underneath, with multiple incisions one after the other.
Dr Preema is known for not using anaesthetic due to her 'quick and light hand work' with injectables
I'm not going to lie it does bring out a tear, but with Dr Preema's skilled hands and light touch the procedure was over before it even began.
In fact I have never experienced messo or fillers around the eye area to be performed so effortlessly and quickly.
The sensation is bearable and worth it, it is the combination of vitamin C that gives that extra little sting but it's over before you know it. You will require two to four treatments spaced out two weeks apart.
READ MORE: 10 things you need to know about SPF – plus 5 sun protection products we love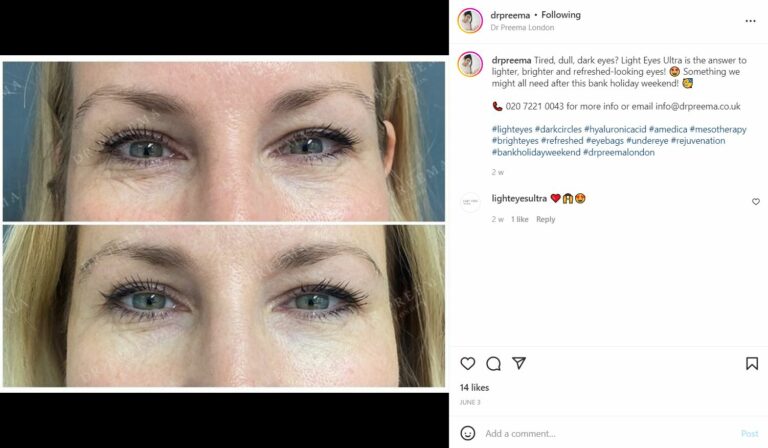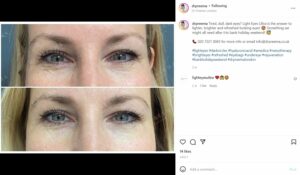 'I can be comfortable with no make up again'
I was warned that there may be some major bruising but I was one of the lucky ones as there was only a few minor dots with one slightly larger one that faded within a few days and with the help of arnica gel.
Some slight puffiness occurred, but after a quick text to Dr Preema I was advised to take some antihistamine which took it right down. That same evening after washing my face I already noticed a difference.
this procedure has truly boosted my confidence
A week later, the little bruising I had had almost faded and I can see a visible difference already, not only did my skin around the eyes feel and look tighter but also I could see the dark circles have brightened – to the point where I thought I can be comfortable with no make up again!
I always actually felt comfortable with no make-up but the darkness of the under eye circles had gotten worse over time to the point where it dampened my confidence of my over all appearance but this procedure has truly boosted my confidence.
It may not be the most comfortable procedure as you can feel the pinch and sting from the needle but Dr Preema's light hand work and quick incisions make it go in a flash and the results are worth it!
Recommended radio frequency therapies tried and tested:
Venus Legacy ™ – around the eyes, using heat to naturally boost collagen production, reducing fine lines and wrinkles, leaving you with smoother, younger-looking skin.
EndyMed 3DEEP® – around the eyes, to tighten and lift sagging skin, offering superior results, targeted to your individual needs.
And the essential eye maintenance skincare:
IS Clinical Youth Eye Complex – a breakthrough best selling formula that at a cellular level, utilises clinically proven intelligent proteins, peptides, key growth factors and potent antioxidants to target the eye area with immediate and long term results.
Like this article? Sign up to our newsletter to get more articles like this delivered straight to your inbox.