Last Monday Blake Lively's website, Preserve was launched. The Gossip Girl star is the latest celeb to have her own lifestyle website. As this is OUR patch, Healthista looked at it and other celeb lifestyle websites to find out exactly how threatened we should feel!
BLAKE LIVELY'S Preserve
This bohemian website, two years in the making, is based on the idea that everyone has a story to tell, celebrating artisans. Preserve is part monthly magazine, part e-commerce hub and part philanthropy. Blake writes that Preserve is 'a place to showcase the power of imagination, ingenuity, quality, and above all, people.'
PROs: The summer issue focuses on New Orleans. In the culture section, you'll find The Community We Keep, about the creativity that rose after Hurricane Katrina. The people wanted to preserve the culture of the city they love, and now there is an industry of creating products with scrap materials.
CONs: It's hard to follow Blake's vision, as the layout is confusing and hard to follow. It would be nice to have a system to better organise articles, so the reader can follow the direction of the site and find the content they want.
ZOOEY DESCHANEL's Hello Giggles
Hello Giggles covers culture, food, friends, love, style and work. Zooey's voice shows through the quirky, well-informed best friend vibe of the site. Hello Giggles is cutesy and fun with articles and videos of animals and pop culture, but also has original content talking about more serious topics like LGTB rights and street harassment.
PROs: Hello Giggles excels in talking about real people and their experiences. Their Social Studies, Friends and Work sections are great. This site doesn't have any expectations for its readers and encourages a mix of 'Do Nothing Days' as well as 'Get Your Life Together Days.'
CONs: Content is probably a bit too cutesy for anyone over 35.
Lauren Conrad's Lauren Conrad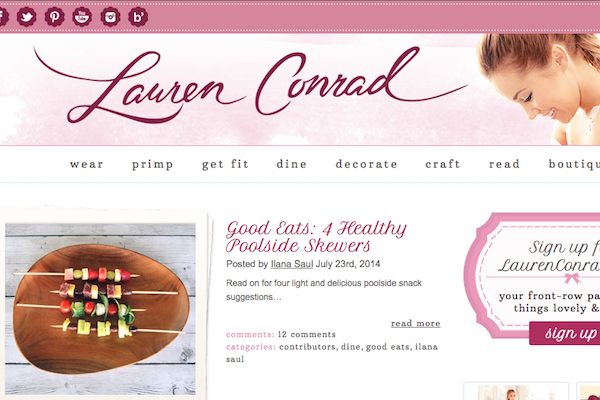 Style icon Lauren Conrad is taking over the celeb lifestyle industry. In addition to LaurenConrad.com also has an artisan e-commerce site, contributes to a beauty tutorial site and has two books on style and beauty. LaurenConrad.com is self-described as being 'your front-row pass to all things lovely and chic.' Readers come for the style and beauty tips but get a little extra with her fitness and decorating articles.
PROS: The Tuesday Ten and Fit Tip articles within the Get Fit section are worth checking out. The articles break down a topic in an easy to read style.
CONs: Not many – probably just us, but the weird running writing headlines are hard to read.
JESSICA ALBA's Honestly
The main part of Jessica's Honest.com is for shopping products without chemical nasties, but in the Honestly blog section, readers can find articles on family, home, food, health and style. The website, in its second year of production, has a community vibe and feels like real people sharing their tips on what works for them.
PROs: The recipe section is a winner, with simple foods that people would actually want to eat such as popsicles, bread pudding and turkey burgers. It's kid-friendly with plenty of eco-friendly ideas for kids' food and toys.
CONs: Could be just us but the design is kind of cumbersome and the pale grey font  hard to read. In fact, the whole look could be a bit of a problem is you don't like blue.
Gwyneth Paltrow's Goop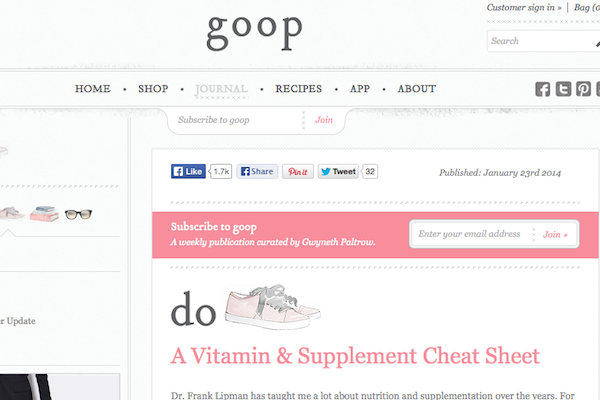 Goop is the blog that started the celeb trend, all about looking and feeling good in all aspects of life. The site is updated every Thursday, corresponding with their weekly newsletter.
PROs: The city guides are a nice touch if you want off the beaten track ideas of things to do and see, or ideas for a special occasion.  The features on diet and health can be quite informative, grown-up and detailed, which we love.
CONs: Some of the tips are a bit well, Gwyneth (as in, probably the last thing any ordinary woman could – or would – do). At times, it feels sterile and impersonal, encouraging women to strive for a perfect, Stepford life.
Like this article? Sign up to our newsletter to get more articles like this delivered straight to your inbox.