Remember fat farms with their army posturing and dormitory living? Now there's a new kind of health holiday on the horizon that not only gets you bikini-ready, it does it in relative luxury.  Sharon Walker reviews The Body Retreat, one of the new breed of luxe fat camps
I remember the first spa I went to, circa 1989, at the confused beginnings of the health and fitness revolution.  My overriding memory is of a country house hotel stuffed full of women cocooned in thick, towelling bathrobes and my girlfriend smoking out of the bathroom window.  We weren't offered much in the way of health or fitness advice, beyond a traffic light system at the all-you-could-eat buffet. There was a gym, of sorts, but that was for the one gentleman who lived there full-time (mainly to hang up his bathrobe on the exercise bike, while he lounged in the Jacuzzi).  Fast forward fifteen years and bootcamps had stepped into the fray, stamping out the competition with their army posturing, dormitory living and muddy assault courses.  They worked, that's for sure, but they didn't appeal to me.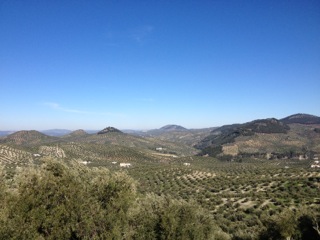 How times – or should I say spas – have changed. Now there's a totally new kind of health holiday on the horizon and can I just pause there to say: "Yippee!" because these new retreats not only get you bikini-ready, they do so in relative luxury.  Luxury AND proper fitness? It hardly seems possible, but it's true.  One of the new breed of luxe fitness escapes, The Body Retreat, is held in a beautiful Spanish finca on an Andalucian estate and I'm told their UK locations are equally lovely.
Set up by personal trainer Julie Brealy and hypnotherapist and uber-cook, Juls Abernethy, their week-long escapes literally transform participants both inside and out because, squeezed between the fitness classes and the eight-mile hikes, there are sessions in hypnotherapy to reprogramme unhelpful habits and mindful eating (top tip: put down your knife and fork between every mouthful). They even fly in a nutritionist from the UK, so clients go home with no doubt as to how to continue the lifestyle for life.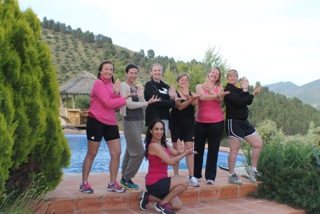 The eight recruits on my holiday – all women as The Body Retreat is a women-only camp – come from all walks of life and are of varying fitness levels. It is Jean's sixth camp with Julie. In the last four years she has lost six stone and as many dress sizes. Others are at the beginning of their fitness journey; one woman suffered from a form of Chronic Fatigue Syndrome, the rest of us are here to get off the treadmill of city living and primarily to lose weight.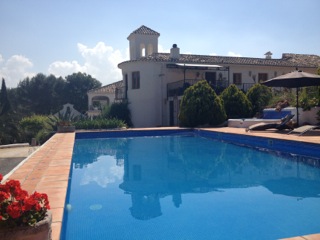 The holiday begins with a weights and measures session, with every circumference measured from biceps to hips, along with body fat percentages. It seems exhaustive, but on the last day of the trip every mm lost is a cause for celebration. Day one finds me lying on my back gazing up at the blue sky watching the odd fluffy cloud dance across the sky, but instead of working on my tan, I'm working on my abs. Boy am I working on my abs. But in truth, the whole thing isn't too bad, mainly because Julie seems to know just how hard she can push you.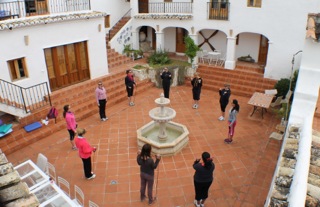 So a typical day goes something like this: after a miniscule cup of coffee –  strictly no top ups, it's all part of the mindful eating programme –  it's straight down to business, with  the first exercise class of the day. And when I say FIRST, I mean first, because there are MANY. I couldn't tell you how many as it all blurs into one, somewhere between five and eight. Though I will say this, the classes are mercifully short, 20-40 minutes, and highly varied. They switchblade between abs and bums, rolling around on large blue fitness balls, Zumba, a South American kind of dance, yoga, stretching and Tabata training (four minutes of high intensity torture). It all happens at such a rate, your body barely has time to kick-up a fuss before you're targeting the next set of muscles and you've been hoodwinked into carrying on… and on, when by according to the laws of science and gravity, you really should have stopped.
Every morning we set off as a group through the Andalucian hills, all gorgeous views and wild flowers and even the odd market. The fittest striding ahead, then doubling back; the nicest thing about the trip is the sense of camaraderie and support from eight like-minded women. It's as if we can push ourselves that bit harder, lifted by the energy of the group.  There's an awful lot of support, focusing on technique and individual attention, so that every one of us is catered to, whatever our level.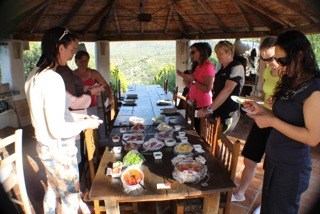 We're eating around 1700 calories a day, which sounds like a lot, until you take into account just how much we're moving.  The food is the highlight of the holiday. Lovely dinners on shady terraces; fresh ingredients plucked straight from the local markets, all bursting with sunshine and goodness. Julie packs us a snack to eat at 11am and by 10.30 on day one I'm counting the minutes, though by the end of the week I've adapted to the smaller portions and despite walking past a bar and several shops, I'm not tempted to cheat; apart from picking mulberries growing at the side of the road (wild foods contain zero calories).
Day three is tough. I don't exactly hit a wall, but still I feel like I'm dragging my limbs through concrete. But the next day I'm up again and by day seven, I'm bouncing with energy. Absolutely bouncing. And what's more it doesn't wear off.  I'm not the only one. Everyone is high. Certainly the weight loss: an average of ten pounds in a week, adds to the excitement. Two women have lost a stone. I lost seven pounds and three percent body fat.  And is that the beginnings of a six-pack? Actual muscles in my stomach? Miraculous.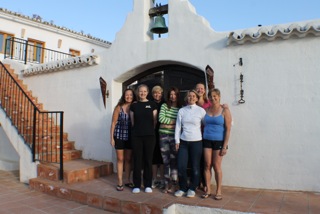 We are sent home with a fitness and food plan, recipes and a group of supportive Facebook friends.  The aftercare is top notch: Julie checks on you, via email, to make sure you're keeping it all up. So far – several months later – I've kept up the exercise and I've stopped my life long habit of eating on the run. I'm going to book in for a top up trip next spring. I can't imagine going back to a fly-and-flop holidays, not when you can book the Body Retreat and come home feeling like you can conquer the world (in a bikini).
From £75 for a Bootcamp Day – £850 for a week Weight Loss Retreat Find out more on their website.