Learning a new language may help slow down cognitive decline, a new study has found. We tested language learning software and found four of the best
From the practical benefits of living in an increasingly connected world to helping brain development we've all heard the benefits of speaking more than one language. Now, new research has found bilingualism has a positive effect on cognition in later life and that it's not too late for grown up to get in on the action.
The American Neurological Association and Child Neurology Society published findings in the June 2nd issue of the Annals of Neurology showing that individuals who speak two or more languages may slow down cognitive decline from aging. This is also the case for those who learned the second language in adulthood. The research found that those who spoke two or more languages had better cognitive abilities and strong effects in general intelligence and reading.
It is now easier than ever to learn a new language without needing to leave your house (actually you can learn them anywhere as so many can be done on your tablet or phone). Online Language learning platforms and apps are on the rise with a few offering their services for free.
I tested the first few lessons a number of language learning platforms.  I am a native Spanish speaker so had a bit of head start but in testing the platforms I set out to learn Portuguese which I don't speak at all. Here are my picks: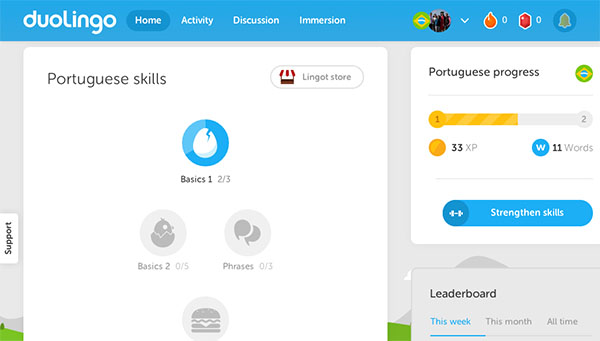 Dualingo
Dualingo is by far the best completely free language platform we could find. There are no ads, hidden fees or annoying pop ups begging you to subscribe. The way it works is that as you are learning the language of your choice you are helping to translate webpages around the world eliminating the need for payment and creating a mutually beneficial relationship. It is really genius.
Dualingo offers courses in Spanish, French, Italian, German and Portuguese. I tested the first lesson of the Portuguese course and found it to be really interactive and engaging. The courses are guided with pictures and audio and everything is taken slowly. The modules throw you into conversations early on so it might work best for someone who may have already been exposed to the language they are learning. You can add friends, learn more than one language at a time and practice your own pronunciation. Dualingo can also be downloaded for free on the App Store and Google Play for learning on the go.
Pros: Trouble-free courses with audio and visual guides.
Cons: Not a lot of language options
Best for visual learners.
Cost: Free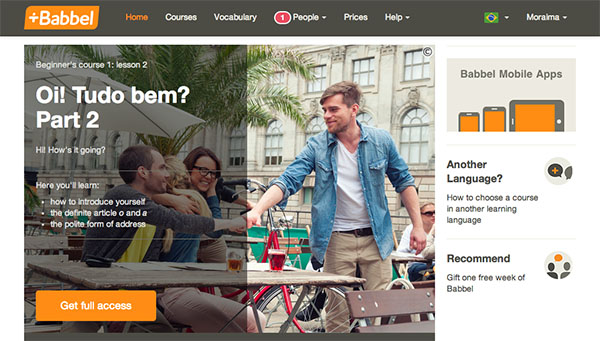 Babbel
Babbel is similar to Dualingo in the structure of the courses. It is easy to follow due to the use of audio, pictures and scenarios in which you would use the language. In the first Portuguese lesson the only difference I found is that for certain words it explains the way it is used in Portugal and Brazil since sometimes usage can differ between the two countries. The courses also start at random places such as the numbers lesson which can make it easy to forget.
Developed by linguists, authors and native speakers Babbel offers courses in 13 different languages including Norwegian, Turkish, Italian, Indonesian and German.  The first lesson of every course in every language is free but there is a charge for full access. Babbel is also offered on the App Store, Google Play and Windows Store.
Pros: 13 language options, visual and audio guides
Cons: Lessons are forgettable
Best for someone with a better budget and more time to practice
Cost: Full access start at £8.95 a month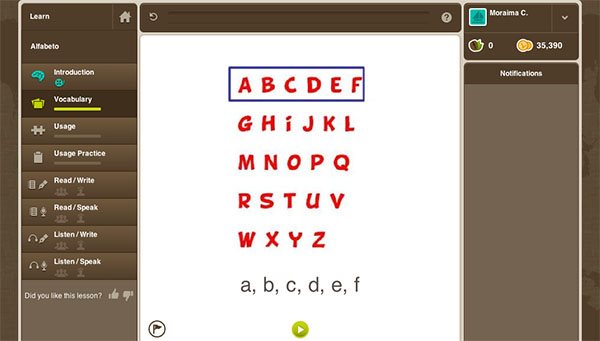 Livemocha
Livemocha is based on a community-learning environment. The lessons and activities are essentially free but they must be earned. When you join you are given a number of points, which give you access to the content. By completing learning activities and helping others you can earn more points and unlock more content. You can also buy 'beans' if you want immediate access.
Livemocha offers courses in over 20 languages including Hindi, Mandarin, and Hebrew and as you learn you can connect with native speakers worldwide.
With the Portuguese language you have the choice of choosing the Portuguese or Brazilian version and the teaching method resembles a classroom environment. It starts right away with the alphabet and vocabulary. This method might be a bit dull but it takes you through everything from the very beginning.
Pros: Classroom environment with detailed lessons
Cons: Moves slowly
Best for traditional learners
Cost: Free with option to buy for faster advancement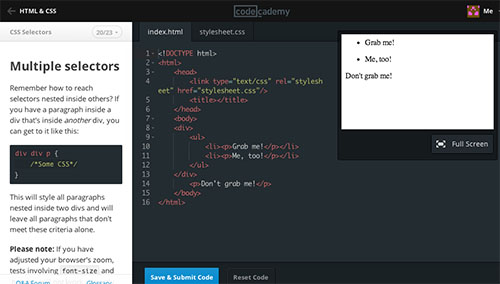 Codecademy
Okay, so coding is not your traditional language but with the never ending expansion of the internet and the opportunities available we figured learning to code should be up here. Have you seen what html looks like? Yeah that is definitely a new language.
Codecademy offers free courses in CSS, Javascript and PHP (whatever that means) among others. The lessons are user friendly and assistance is always available. Everything is lay out with detail so that if you pay attention going along is easy. It's rewarding to see the results of what you are learning as you go along and you suddenly become all adventurous with font sizes and colors.
Pros: Extremely user friendly and fun
Cons: Sometimes it leaves it up to you to figure out a mistake
Best for web aspiring designers
Cost: Free
Are there any platforms you would add to this list?
Tchau!
Like this article? Sign up to our newsletter to get more articles like this delivered straight to your inbox.