The health benefits of green tea are limitless, but the taste can be a little – hmmm, understatement alert – bitter? That's why we've searched high and low for some that actually taste good
Here at Healthista HQ we realise that not everyone is as green tea crazed as we are (our go-to is Pukka's Mint Green Tea).
So we set ourselves a challenge to find the best tasting green teas for those who don't normally like green tea, so that you can start loving it the way we do and soaking up all the rewards.
First let's look at the benefits.
Green Tea Benefit #1 Cancer Protection
Cancer is one of the world's most fatal diseases; caused by the uncontrolled growth of cells.
Oxidative damage is widely known to contribute to the development of cancer, however antioxidants can have a protective effect.
Green tea is packed with antioxidants.
Green tea is packed with antioxidants, which is why consumption of it has been linked to the reduction of cancer risk.
Read More: My bloating turned out to be ovarian cancer – I was 30
Green Tea Benefit #2 Weight loss
Green tea can boost your metabolic rate.
According to Authority Nutrition, several studies have been carried out that show that green tea leads to decreases in body fat, especially in the abdominal area.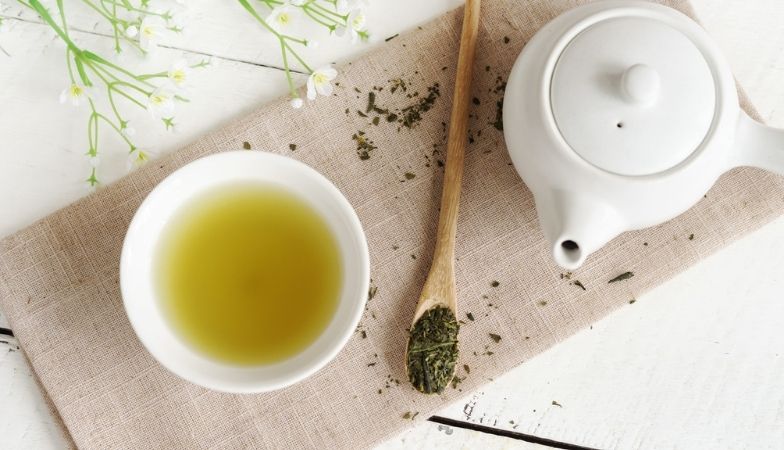 Green Tea Benefit #3 Brain function
Caffeine is the key active component of green tea and it is a known stimulant.
The good thing is the caffeine level in green tea is much lower than coffee, but there is enough to produce a response without leaving you all twitchy and on edge.
Green tea also contains the amino acid L-theanine, which is able to cross the blood-brain barrier. L-theanine has an anti-anxiety effect.
the caffeine level in green tea is much lower than coffee
It also increases dopamine (a neurotransmitter in the brain linked to pleasure) and the production of alpha waves in the brain which help alertness. Studies have shown that the combination of caffeine and L-theanine is impactful at improving brain function.
Green Tea Benefit #4 Anti-ageing
Green tea has been a secret beauty weapon consumed in parts of Asia for centuries because of its many health benefits.
It contains high levels of Oligomeric Proanthocyanidins, a powerful antioxidant that could contribute to its anti-ageing effects.
9 best tasting green teas
#1 Best for: not tasting anything like green tea

This tea could almost be the long lost, piping hot sister of Piña Colada. One thing we hear people complaining about when it comes to herbal teas, is that the smell doesn't match the taste.
Particularly with berry teas, you can have a sniff of it and think it's going to taste like hot Ribena but in reality is more like over-diluted hot squash.
Gladly Heath & Heather got the memo and their Green Tea with Coconut tastes just as good as it smells with super strong hints of coconut.
#2 Best for:  having cold
We must admit we were skeptical when we first saw Aspire's range of Green Tea drinks  (cans always seem to scream PRESERVATIVES).
However, when we finally got hold of them we were converted. The sweet yet mildly sour tang of the apple flavour combined with the acai berry makes it a refreshing drink, great for mornings, afternoon pick me ups (and even a mixer with alcohol).
It also contains guarana, a stimulant to give you an added mild kick and has zero sugar.
#3 Best for: after eating
If you want to feel like you have been teleported to a warm Arabian country this is a must try.
The mint taste is strong, and overpowers the taste of the green tea, making it bitterness-free. It's great to aid digestion after eating.
#4 Best for: handbag supply
We always have a couple of green tea teabags in our handbags for when there are no healthy hot drinks on the menu.
You can just ask for hot water and reach for one of your trusted bags.
The first thing that struck us about this tea was how regal the packaging is; each silk teabag comes in beautiful blue and silver patterned pouch. That means they stay fresh and they won't rip open in your bag.
The tea itself is so rich, the jasmine taste is not too strong, so if you don't normally like fragrant teas – you might just find that you like this one.
#5 Best for: antioxidants
When you think of Tetley, you probably think of a warm cup of English Breakfast and Digestives. But this is a far cry from our past entanglements with Tetley.
Matcha, quite literally means 'powdered tea' and it has steadily become a hot new global tea trend in the past few years.
The great thing about Tetley's take on matcha  is that if you are a milk fiend, it has slightly thicker consistency than other green teas – so you might just find that you don't miss the milk.
#6 Best for: a sweet tooth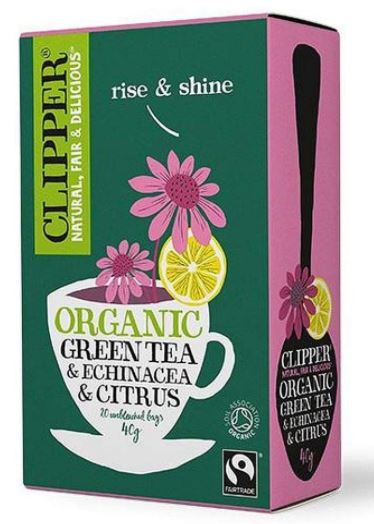 If you can't stand the taste of green teas and you like something a little sweeter this might be the solution.
It's light and that typical green tea taste that so many people can't stand is so faint, you're left with only notes of citrus.
Clipper have also released a range of decaf green teas to have before bed, containing herbs for helping you nod off and unwind. We knew they were geniuses over at Clipper HQ. Well done guys.
#7 Best for: subtle taste
The lemon flavour in this tea is strong enough to take the edge off the green tea, but at the same time you won't be wincing every time you take a sip.
You can use the bags twice, as they're really quite strong.
#8 Best for: balanced flavour
This tea has found the perfect balance between mint and the green tea flavor.
The mint is prominent enough to offer you a cool taste while also receiving that little caffeine kick green tea is best for. It's refreshing, but a strong taste.
If you're looking for something more mild, try steeping this a little shorter than the suggested time.
This article was last updated 3rd September 2020
Relevant Healthista Content:
7 science-backed reasons to drink matcha green tea
Can green coffee bean help you lose weight?
30 Weight loss tips in 30 days – #23 Drink green tea
Healthista Content you may also like:
5 self care tips you can do tonight to reduce stress
5 protein-packed vegan recipes we're loving from Gaz Oakley's new cookbook
11 no-nonsense fitness facts PT James Smith wants you to know
Like this article? Sign up to our newsletter to get more articles like this delivered straight to your inbox.