Healthista tests out the latest delivery diets to find out if they can really deliver on taste, time and more importantly, nutrition…
After a long day at the office, it's all too easy to reach for the ready meals when you step through the front door. But a new range of freshly prepared food companies are offering an alternative option to the microwave – and the best bit is they deliver right to your doorstep. Healthista tested out three different companies, each with a very different offering:
1, BEST FOR DIY HEALTHY Hello Fresh
The concept: Each week, the lovely peeps at Hello Fresh deliver five days' of food (dinner only) to your door. All the ingredients are delivered together in one go – but come packaged pre-weighed out and labelled so they are easy to unpack and store in the fridge. All of the prep is done for you – so if you need breadcrumbs in your recipe, they'll come prepped. Inside the box are smart recipe cards, which tell you what you'll be eating each day, along with step by step instructions and nutritional info. The premise is that you can cook simple, fresh food from the fridge to your table in around 40 minutes. You can choose from a veggie, non veggie or family box.
The food: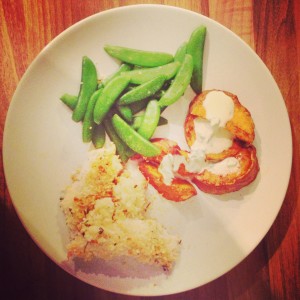 Dinner: Crispy cod goujons with sweet potato wedges and minted snap peas
It took me just 40 minutes to whip up this tasty dinner and it was a complete hit with my flatmate. The cod – a reasonable portion size – was melt-in-the-mouth delicious and it was totally no-fuss: the breadcrumbs came in a little sachet so it was just a case of sprinkling them over and adding a little lemon juice.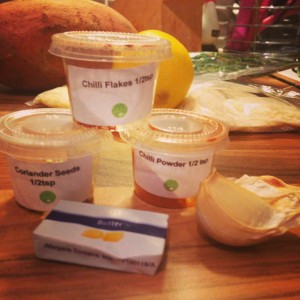 The thing I really liked about Hello Fresh was no-one had messed with the ingredients or added anything nasty. I didn't feel guilty about using pre prepped food as there were no added preservatives – it felt like clean eating. The sweet potato wedges were a great alternative to chips for anyone needing their carb fix (although I did struggle to cut up the sweet potato – at one point I thought I was going to lose a finger!) All in all this was a great mid-week treat.
The feedback: Hello Fresh totally won me over: I love cooking but tend to stick to the same recipes. It pushed me out of a rut and has added a number of new recipes to my weekly dinners. I cooked exciting but simple new recipes that were really tasty and filling – and the process wasn't at all intimidating. I loved the fact I didn't have to trek to the supermarket to buy all the ingredients (and there were a lot), nothing went to waste as it was all correctly portioned, and I learnt how much spices and seasoning can bring a meal to life. I didn't lose any weight on this plan, but then, that's not really the point. I did eat really well though.
Who this will work best for: People who want to expand their culinary repertoire with a little effort. You need to have the time to prepare the food – but even the most hardened microwaver will come away with a sense of achievement. And a full tummy.
Cost: a 5-meal box for two is £49
For more information go to: hellofresh.co.uk
2. BEST FOR TIME-SQUEEZED LUXE Pure Package
The concept: With celebrity fans including model Erin O'Connor, Pure Package is building itself a reputation as the company to turn to for restaurant-standard, nutritious food for the time-poor. This gourmet (and we mean gourmet!) food delivery company prides itself on a range of healthy eating menus, tailored for everything from weight loss to detox. My food was delivered every morning in a swish black coolbag, that was waiting for me when I got into work. One point worth mentioning is that the coolbags are delivered very early in the morning and are left in a safe place – which might prove tricky if you live in an apartment without concierge. Pure Package provides all your food for the day and most meals just need a few minutes in the microwave.
The food:
Breakfast: scrambled eggs and organic rice bread with roasted tomatoes and chives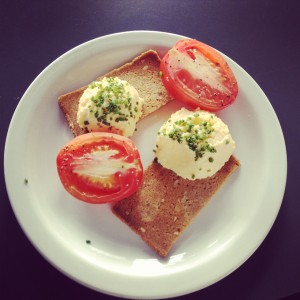 I admit I was a little worried when I saw this on the menu. Thoughts of the rubbery creations served up on airplanes filled my head. And it looked a tad solid on the plate. But in reality it was creamy, light and really, really filling. The flavour of the chives really came through and I've been converted to rice bread (this is from someone who thinks white bread and butter is a gift from God).
Lunch: Rose spiced butternut squash and chickpea salad with raspberry vinaigrette on a bed of fresh leaves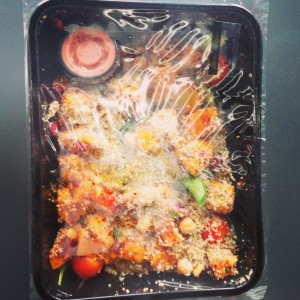 The portion for this was hefty – I couldn't finish it! The vinaigrette added a punch and the seasoning on the butternut squash really came through. Just. Delicious.
Dinner: Tandoori salmon with Bombay potatoes, baby spinach, fine green beans and mint and coriander raita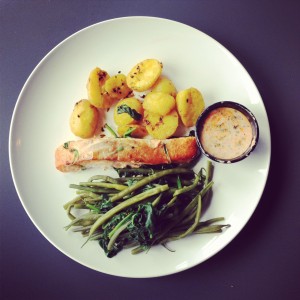 By now I couldn't really believe I was on a diet. Bombay potatoes? On a diet? Ok then! The salmon fell apart in my mouth and the veg tasted unbelievably fresh. The raita was a nice touch too. One of the best dinners I've eaten in ages.
Snacks: Tangerine and sunflower seeds plus Mediterranean bean dip and crudites
The dip was a great mid-afternoon pick-me-up and staved off the usual 3pm slump.
The feedback: By the end of the three day trial I felt crazily good. I actually ate more than normal on this plan – but absolutely every meal had been planned to give me the most nutrients possible without compromising on taste. I had so much more energy, it really brought home to me that I need to put more time into planning my meals. Meal times were exciting too: I never felt like I was on a diet (I got chocolate mousse for desert one day), and I had many a jealous comment from colleagues. Although I was only one the plan for 3 days, I was 1.5lbs lighter by the end. If I could live on this plan, I would.
Who this will work best for: It doesn't come cheap, but Pure Package is the real deal for time-poor people who value high quality, nutritious food and are willing to pay for it.
Cost: From £399.50 for ten days (three meals a day plus snacks).
For more information go to purepackage.com
3. BEST FOR WEIGHT LOSS Jane Plan
The concept: Jane Plan is an affordable, calorie controlled, preservative free diet service which provides you with three meals a day plus snacks. After an initial telephone consultation, which finds out your goals and food preferences, you receive a box with your food for the week and a tailored plan. You still have to add your own fruit and veg to most lunch and dinners but everything else is provided. You don't even have to keep food in the fridge – meals are individually sealed in a plastic sachet so you can just heat and eat. You also receive a mini folder which contains a weight-loss tracker, food diary and clear instructions.
The food:
Breakfast: Pure porridge oats
This comes in a tiny sachet and I'm concerned I'll still be hungry but it's really filling. I realise at the end that I'm supposed to have added in two handfuls of berries to it though which I hadn't pre-bought, so I feel a tad guilty.
Lunch: Carrot and coriander soup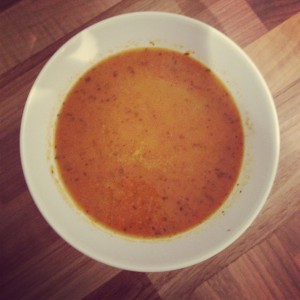 I can't believe how few calories this has – and how good (and homemade) it tastes. I'm supposed to have it with some fruit and two handfuls of raw veggies or mixed leaves. I nip out to the supermarket and grab some raspberries, but the thought of having raw veg with my soup doesn't really appeal – I think it would go better with their salad pots which are the other lunch option.
Dinner: Chilli con carne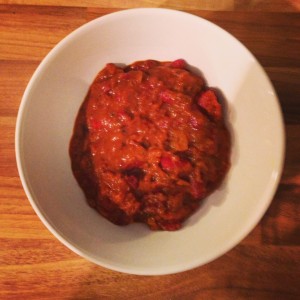 The dinners taste really fresh and homemade and the chilli is no exception. The meat is unctuous, the sauce is thick and gloopy. The quality of the ingredients really shines through here. The portion is surprisingly big too. You'd never guess this was diet food. I add in two handfuls of broccoli and carrots as per the guidelines.
Snack: Gluten free chocolate chip cookie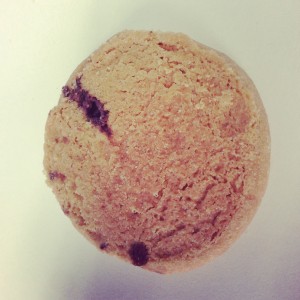 Yes, the portion is pretty teeny. But the taste is rich and buttery – and I'd rather have a little of the real deal than a larger version that tastes bland.
The feedback: Jane Plan was a huge surprise. The quality of the ingredients is really high and the food tastes great. I love their no-nonsense approach to food: home cooking, no preservatives, local producers. In a diet world awash with quick fixes and cheap shortcuts, Jane Plan is a great find. And I lost 3lbs in one week on it. My one caution is that you need to ensure you've coordinated your meals with your fruit and veg intake. As a perpetually disorganised person, I fell down sometimes on this.
Who this works best for: People who need an affordable kick-start on their weight-loss journey.
Cost: £139 for two weeks but lots of different options for plans to buy and there's a five day taster for £49.99.
For more information go to janeplan.com
Words: Eva Caiden. Follow Eva @evacaiden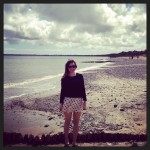 Like this article? Sign up to our newsletter to get more articles like this delivered straight to your inbox.