We've experimented with endless product at HQ to find you the ultimate party beauty bag with options for the minted and the skinted.  Best news, there's little difference between the two looks as our picture proves…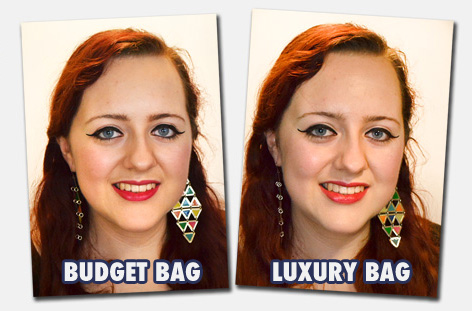 BODY OILS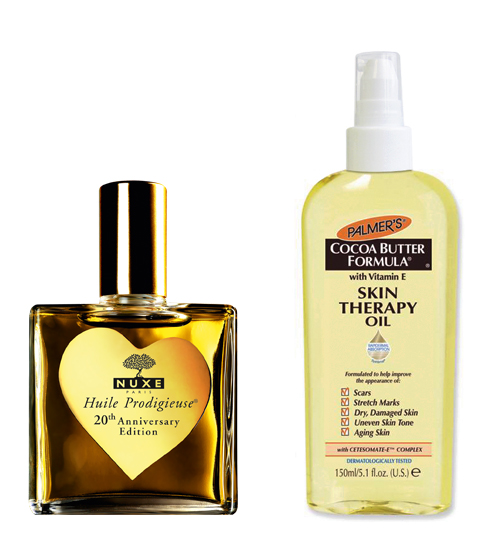 Paris Nux Huile Prodigiuese, £28
I was bought a bottle of Huile Prodigiuese oil by a friend, who must obviously like me very much. This gorgeous product is one of those that'll you'll want to leave out on the side, just to show off when you have visitors. This oil is part of the Huile Prodigiuese range and is made with 98.1% plant oils including sweet almond, hazelnut and macadamia. It's slightly perfumed, with a subtly sweet and fresh scent. You can use it on your face, body and hair – A top Healthista tip is to apply it to your barnet before going to sleep, if you know you're going to wash it when you get up. It won the best overall product at the Tatler Beauty Awards this year, and it's clear to see why.
Palmer's Skin Therapy Oil, £9.99
Palmer's have to be one of the best budget ranges out there. Their body butters and creams smell SO good, and this Skin Therapy Oil is no exception. Cocoa-y and warm, you'll want to rub it all over. Whenever I come out of the bathroom having just applied it, my boyfriend always sticks his nose in the air and asks, 'Have you been eating chocolate?'   It's infused with Vitamin E and Cetesomate-E Complex, and helps improve the appearance of scars, stretch marks, dry or damaged skin, uneven skin tones and aging skin. Slightly more watery in texture to the Paris Nux oil, it stretches that little bit further.
FOUNDATIONS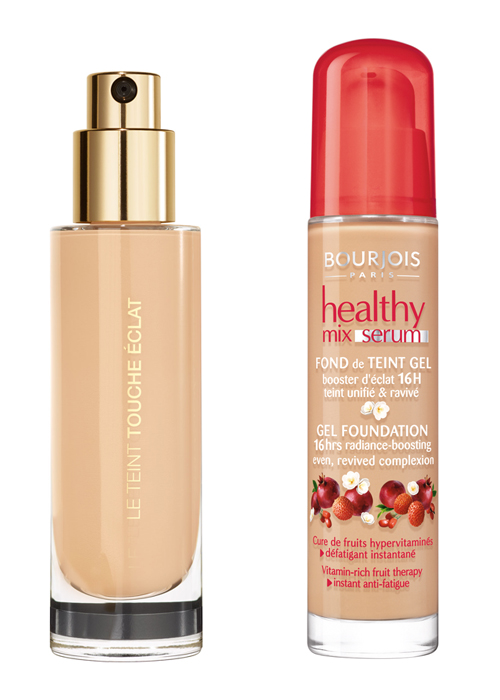 Yves Saint Laurent Le Teint Touche Eclat Foundation, £29
Winner of Marie Claire's 2013 Best Splurge Beauty Product, this foundation evens complexion, conceals imperfections and highlights the contours of the face. Its texture's light and won't cake and we love that it can be layered and re-applied at the end of the day for going out, without looking caked.  It feels moisturising on the face and it doesn't dry in fine lines, the formulation was first recommended to us by top beauty editor Suzanne Wangmann who said it was the best foundation she had ever tried.
Bourjois Radiance Reveal Healthy Mix Foundation, £9.99
How can a foundation be healthy, you ask? Well, Bourjois have enhanced this product with actual FRUIT! Apricot (for radiance), melon (for hydration) and apple, (protect your youth) – I know, leave it to the salad bowl guys. Still, that doesn't stop us loving the effects. The foundation comes in eight shades, and according to their own survey, 89 per cent of people tested agreed that it perfectly evened out their complexion. The brilliant thing about this – it feels moisturising and non-drying and it stays on plus the colours aren't as pink as some cheap foundation can be. Brilliant budget buy.
EYEBROW PENCILS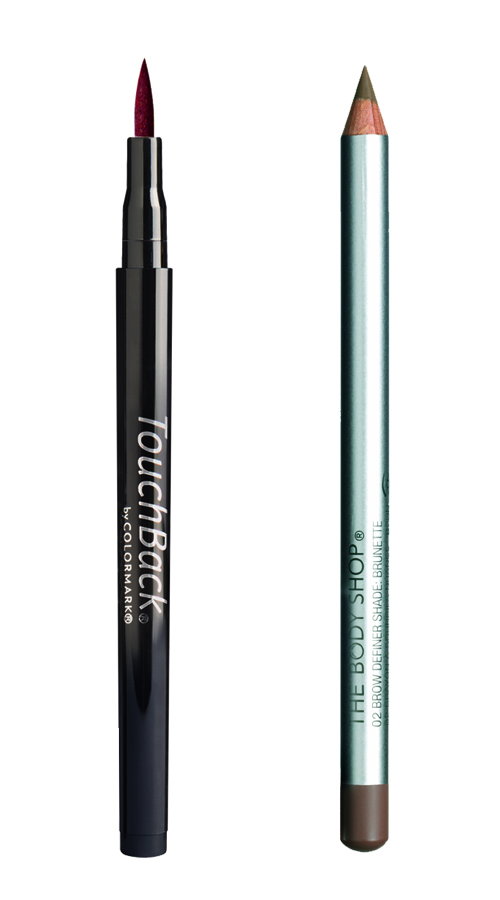 TouchBack Eyebrow Marker, £14.95
Eyebrows are big at the moment. Literally. If you want your own pair of Caras, try the TouchBack Eyebrow Marker. Looks like a marker, even smells a bit like a marker, you may feel a bit silly the first time you use it (as if you're colouring in with a felt-tip pen) but once you get over that, the results are brilliant. It's easy to apply, and their five shades give for a really natural look.
BodyShop Brow Definer, £8
For a more traditional brow liner, give the BodyShop Brow Definer pencils a go. The pencil is nice and slim, soft, and had been dermatologically and ophthalmologically tested too (that means it's safe for use near the eyes). It glides on and can be built up but tends to have a light, natural effect (Scouse-brow free zone).
EYE PENCILS
Dior Crayon Waterproof Long Wear Eyeliner Pencil, £18
When Healthista make-up artist Nadira V Persaud used this on an eyeliner video for us, editor Anna Magee was tempted to try it and ended up buying one in every colour. It glides on with no pull and – joy – it stays on through tears and rain. Plus, it sharpens without breaking, even during the summer months when the ink gets soft. An incredible buy.
Butterflies Eyecare Eye Pencils, £6.50
Butterflies Eyecare sell products for eye care and eye health. As well as supplements drops and such like, they have recently branched out into beauty too. We were so pleased to be introduced to their eye pencils, which are hypoallergenic and contain Shea butter and Jojoba oil. They're soft to apply, but have good staying qualities. You can also use them to get a great smudged, smokey-eye effect. Healthista HQ's colour picks are black and mauve. Classics.
LIQUID LINERS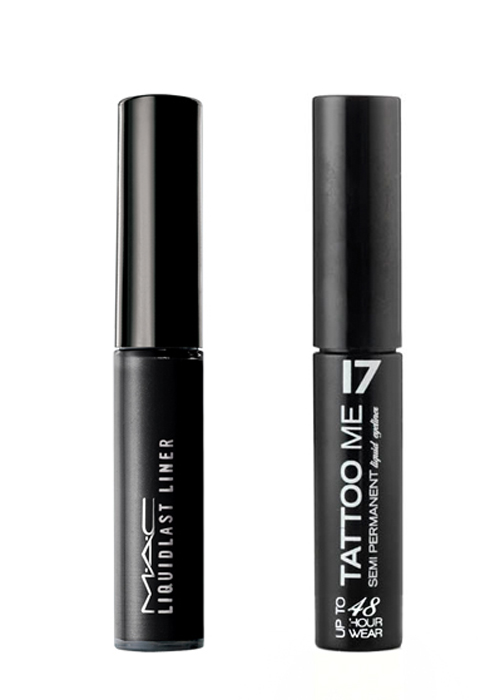 MAC LiquidLast Liner, £15
I've been a fan of MAC's LiquidLast since I started wearing feline flicks on my eyes. If you're going for a 1940s pin up look, this is the perfect tool. People can be picky when it comes to what type of nib they have for their liquid liner but personally, I prefer a small brush. LiquidLast gives great definition and, as the name would suggest, lasts and lasts and lasts. I once fell asleep with it on (whoops, having too much fun again!), and the next morning it was still absolutely perfect. With a brand like MAC, you know you're going to get a good quality product.
Seventeen Semi-Permanent Liquid Tattoo Me Eyeliner, £4.99
If MAC's £15 is a bit pricey, go straight to Seventeen for your liquid liner. A recently new find, I have to admit that with my wallet currently a bit moth-ridden, I've done the switch. In a blind test (though not recommended when applying eyeliner!) it's hard to tell the difference. Same size, same shape, same brush-end… Same results. Although it stays just as well, I've found Seventeen's Tattoo Me to be a little more forgiving when it comes to mistakes, and easier to take off at the end of the day. This is my top pick for a budget beauty bag must-have.
MASCARAS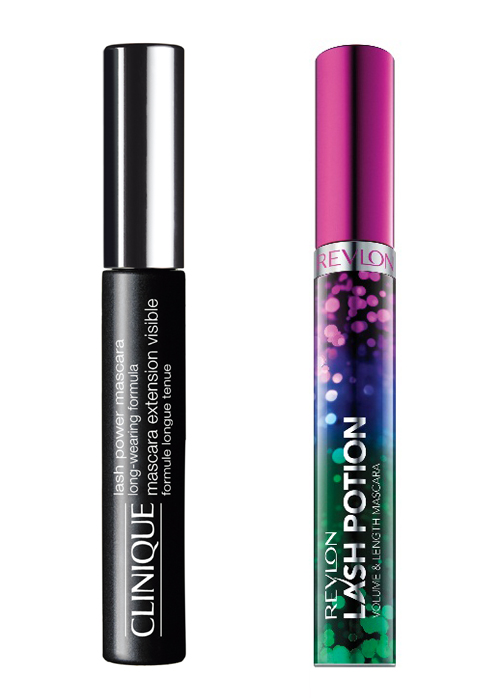 Clinique Lash Power Long-Wearing Mascara, £17
Clinique have put this mascara thoroughly through its paces, and it has absolutely come out on top. Lash Power was initial developed for the humid Asian environments, designed to last all day and stay where you want it – on your lashes, not round your eyes in true panda fashion. Its advanced thermal sensitive technology resists all types of water (rain, pool water, tears, sweat, you name it). And when it's time to take it off, there's no need to scrub, just loosen with very warm water on a cotton pad and wash your face as usual. All that in just a little bottle – amazing.
Revlon Lash Potion Mascara, £9.99
For great lashes that you can pick up the high street, we'd suggest Revlon's brand new Lash Potion mascara. Not only has it got the prettiest of packaging (making it easy to grab from the bottom of your bag), but it lengthens and strengthens. This mascara is protein rich, for strong and volumized lashes, but the triple groove fibres of the wand make for a clump-free, super natural look. Available in black, blackest black and blackened brown.
CHEEKS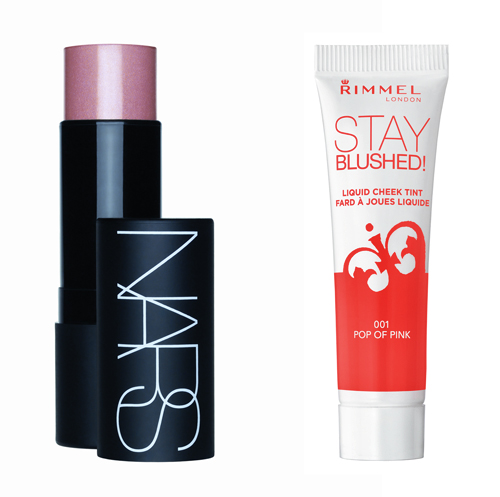 Nars Orgasm Multiple Stick , £21.50
We've actually cheated a bit with this product, because it's not just a blusher – it actually does pretty much everything. The Multiple stick has been designed for use on the eyes, cheeks, lips and body. It's enriched with Vitamin E and acai oil for antioxidant and comes in fifteen shades. Our pick is 'Orgasm' named so because it's supposed to make you look like you've just had a … well, yes. If that's a bit too risqué for you, you could always go for 'G Spot' or 'Undress Me' instead! This multi-use stick should be applied with the fingers, as the skin's warmth allows for perfect blending.
Rimmel Stay Blushed Liquid Cheek Tint, £4.49
This tint is half way between a cream blush and a stain. It comes in a tiny, pocket friendly bottle, but you only need the smallest of dots to give a healthy, natural-looking cheek flush. It's light, but  has been designed to stay put for 24 hours. Having only been on the market for a few months, it's perfectly timed as a winter beauty bag essential. Available in two colours, Pop of Pink and Sunkissed Cherry.
LIP STAINS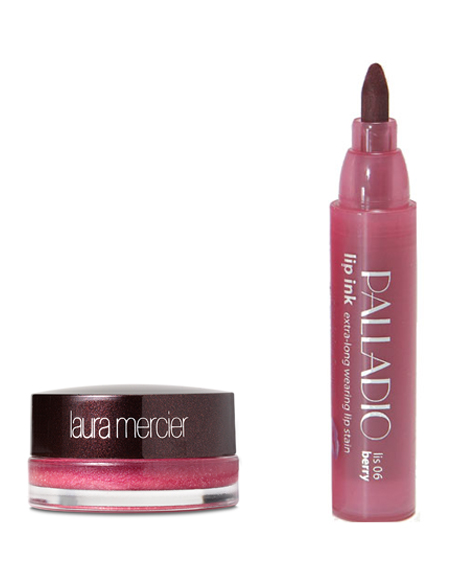 Laura Mercier Lip Stain, £16.50
This product has the look of a stain but the feel of a gloss. It's available in six shades and has been designed for long-term wear and colour that won't fade. Ingredients include Vitamins E and C, to reduce signs of age, and yarrow extract as a smoothing action. best bit, it never looks caked and can be layered for a hint of colour or a bold effect.
Another new brand find for Healthista, Palladio is an American range of herbal and vitamin enriched cosmetics. Their lip stain pens are absolutely great – easy and smooth application, with no bleeding or fading. There are six natural tones to choose from, but as Palladio suggests, you can also apply one on top of another to give a more unique colour. Available in this country from the Beauty Naturals website.
LIP CRAYONS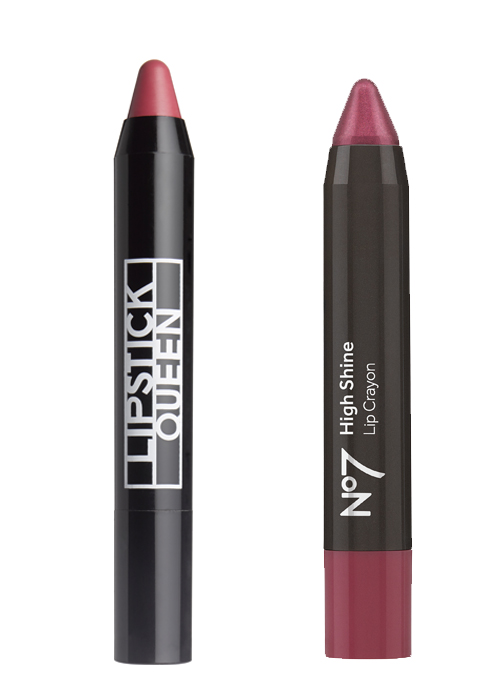 Lipstick Queen Chinatown Lipgloss Pencil, £22
Lipglosses are great, but with high winds and long locks, the sticky, gloomy finish often makes them a no go, especially during the winter months. Poppy King, the genius behind Lipstick Queen has answered our prayers with the new range of Chinatown Lipgloss pencils, which are full of shine, but have a silky smooth texture. The name is inspired by the location of the Lipstick Queen offices in New York, located on the border of Chinatown and Tribeca. It's also the LAPD slang of 'chaos' (who said make-up couldn't be educational?) The eight glossy pencils are made with hydrating and soothing ingredients like Shea Butter, Vitamin E, Sunflower Oil, and Avaocado and Mango Butter, and come with a its own jumbo-sized sharpener. A real treat of a product.
No 7's Lip Crayons also have a lovely easy glide-on texture that won't flake and feels comfortable on the lips. They're lightweight but give a great glossy look, whilst moisturising the lips. There are five shades ranging from the softest Delicate Pink to the deeper and bolder (our favourite) Berry. if you love the texture of a gloss but want sheer colour that stays on this is great. It's quite good over the top of a stain too.
NON-CHIP NAIL VARNISHES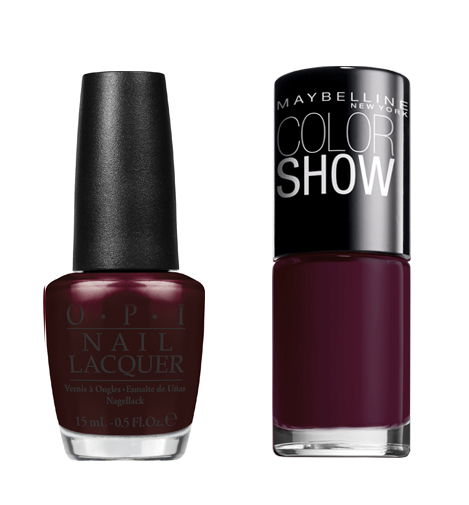 OPI Nail Lacquer, £11.50
OPI has grown to become one of the biggest names in nail varnish. When you hear OPI, you know it will be good quality and long lasting. Their Nail Lacquer is available in over 200 shades, would you believe, and every bottle comes with OPI's exclusive ProWide brush for the best application. We adore the 'Visions of Love' shade, which is part of Mariah Carey's  Christmas range (y'know, just in case we had forgotten about her at this time of year…).
Maybelline Color Show Nail Polish, £2.99
A good nail varnish really has to tick a lot of boxes. Easy to apply. Not streaky or gloopy. Nice shade. Colour that doesn't fade. Good finish. Not too many coats needed. Quick drying. Smudge proof. Dent proof. Chip proof – That's one requirement for every nail. Luckily, Maybelline's new ColorShow range looks quite promising on all these levels. There are 41 shades to choose from (We love Burgundy Kiss and Candy Apple), all of which have been formulated with a gel base so that the colour will stay put. The varnish went on smoothly, and only needed two coats for full coverage. About half an hour after applying, I absent-mindedly peeled an orange. Usually, this would be a major smudge fest, forcing me to wipe it all off and start again, but on close inspection, no damage was done. That plus a couple of quid a bottle equals super impressed.
COMPLETE LUXURY BAG TOTAL : £193.45
COMPLETE BUDGET BAG TOTAL : £72.94
Like this article? Sign up to our newsletter to get more articles like this delivered straight to your inbox.