Pomegranates really are a superfood your body and skin will thank you for. Una Jefford is back with another anti-ageing skin recipe – how to make a pomegranate face mask
It's the last week of Anti-Ageing April and the next two recipes will focus on how we can use the natural superfood pomegranate to make a face mask and improve our skin.
From shampoo, body wash and toothpaste to deodorant, face creams and hair products – every day we expose ourselves to around 126 different chemicals through grooming products.
These chemicals are able enter our bodies and bloodstream through our skin.
Harley street resident skin expert, Una Jefford from Dermal Health, has been directing your attention to more natural, inexpensive ingredients which are food-based beauty superstars that you can probably find in your cupboards.
Refine: Pomegranate Face Mask
We would love you all to create these homemade products yourself and let us know how you got on by tagging #antiageingapril #HealthistaTV #dermalhealth on Instagram.
All you need is three tablespoons of yoghurt and half cup of pomegranate seeds blended into a paste
This is a beautiful face pack to make at home, apply it for 20 minutes or until it dries out and wash off.  You can apply it twice a week.
This easy face pack will not only make your skin firmer and softer it will also reduce marks and blemishes. It's great for all skin types and is especially beneficial for fine lines, blemishes and dull complexions.
So why are pomegranates so great for our skin?
The use of pomegranate for our skin, is not a new concept. In fact, it has been used since ancient times, in Persia (now Iran) and Greece.
The pomegranate was brought to Egypt in 1600 BC where it was a required fruit in the pharaoh's palace, showing how important a food source it was.
It is depicted in many Egyptian paintings looking almost jewel-like. However, this delicious red fruit was also used extensively for its medicinal purposes, and here's why.
pomegranates are known to promote smooth, firm skin by boosting collagen
Pomegranate is a powerful fruit rich in polyphenols like anthocyanins, ellagic acid, and many other plant polyphenols. Not only that but it also contains vitamin A, C, E, folic acid, minerals, and fibres.
These ingredients are the reason why pomegranate is so effective and considered a true superfood.
In general pomegranates are known to promote smooth, firm skin by boosting collagen and elastin production.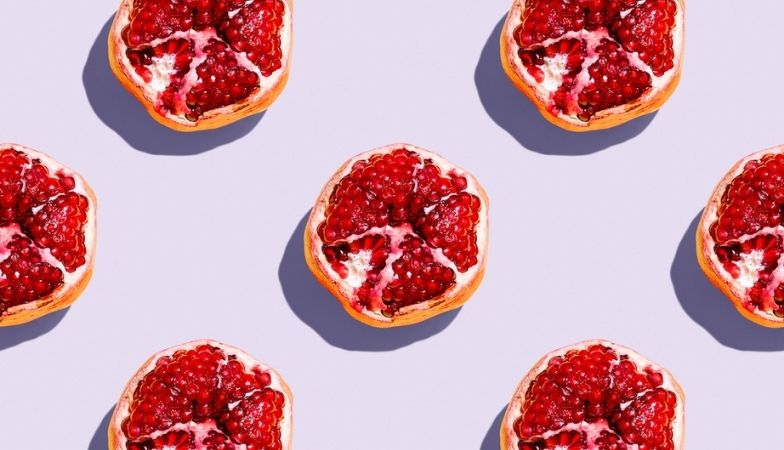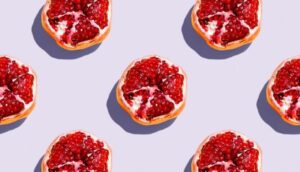 When it comes to Vitamin C, pomegranates actually contain half of our daily vitamin C needs which is great news for our skin as vitamin C aids collagen production – hello younger-looking skin.
Vitamin C can also help to detox the skin of any free radicals and repair skin that has been damaged from environmental factors such as UV radiation.
This also helps to prevents premature ageing as it protects against sun damage which causes fine lines and wrinkles. Not only that, pomegranates may also help prevent hyperpigmentation, age spots and acne scars, while also assisting with wound healing, tissue repair and cell regeneration.
Is there anything pomegranates can't do?
Able to penetrate deeply into the skin, pomegranate works for most skin types, and does not cause irritation – unless you are allergic to it. It is especially beneficial for those with dry skin and also for those who suffer from cracked heels.
pomegranates may also help prevent hyperpigmentation, age spots and acne scars
High in fibre, pomegranate also assists with regularity (going to the toilet). A lack of regularity leads to compromised digestive and liver function which results in the skin being used as a vehicle for the elimination of toxins which can lead to spots and dull-looking skin.
Pomegranate seeds contain ellagic acid and punicalagin which has been shown to preserve collagen and protect against free radical damage.
A study published in the Evidence-Based Complementary and Alternative Medicine journal found that pomegranate skin preparations hold promise in increasing the rate of wound healing.
Applying an ointment prepared from pomegranate peel to guinea pig wounds enhanced wound healing by increasing collagen, DNA and protein synthesis.
What's more, pomegranate seed oil may even work to protect against skin cancer due to ellagic acid, a polyphenol antioxidant found in large quantities in pomegranates, which researchers have found inhibits the growth of skin tumours.
More From Anti-Ageing April:
Anti-Ageing April Recipe #1: Green Tea Facial Toner with Apple Cider Vinegar
Anti-Ageing April Recipe #2: Himalayan Salt Exfoliator Scrub with Apple Cider Vinegar
Anti-Ageing April Recipe #3: Restore & Repair Hand Cream with Vaseline
Anti-Ageing April Recipe #4: Protect and Plumping Lip Balm with Vaseline & Coconut Oil
Anti-Ageing April Recipe #5: Foaming Cleanser with Honey
Anti-Ageing April Recipe #6: Honey and Coconut Body Butter
More Healthista Content:
How to transform your diet in 5 easy steps
4 signs your low mood shouldn't be ignored plus what may help
Best diet for menopause – an interview with Dr Clare Bailey
From better sex to blissful sleep – 3 reasons you NEED to try CBD
3 healthy breakfast recipes that will keep you full till lunch
Like this article? Sign up to our newsletter to get more articles like this delivered straight to your inbox.