Did you know that honey can help to fight off skin infections? Harley Street Skin Expert Una Jefford is back with another all natural skincare recipe – how to make a foaming cleanser with honey
From shampoo, body wash and toothpaste to deodorant, face creams and hair products – every day we expose ourselves to around 126 different chemicals through grooming products.
These chemicals are able enter our bodies and bloodstream through our skin.
this week we're focussing on the popular condiment honey
That's why Healthista is dedicating its full attention to Anti-Ageing April – a time to focus and provide some TLC to our much loved skin through the use of beauty products created with all natural ingredients.
Harley street resident skin expert, Una Jefford from Dermal Health, will be directing your attention to more natural, inexpensive ingredients, of which some are food-based beauty superstars that you can probably find in your cupboards. And this week we're focussing on the popular condiment honey.
Cleanse: Foaming Honey Cleanser
We would love you all to create these homemade products yourself and let us know how you got on by tagging #antiageingapril #HealthistaTV #dermalhealth on Instagram.
What are the benefits of honey for your skin?
Moisturises the skin deeply

Acts as a Pore Cleanser

Gentle Exfoliator

Lightens Scars

Useful in Sunburn

Fights Acne & Pimples

Reverses Age

Adds a Natural Glow

Hydrates the Skin

Helps Reduces Wrinkles

Brightens Skin Complexion
Honey has several potential uses on the skin, including:
part of daily washing of the face
help with eczema
moisturising effects
help with healing small cuts or abrasions
help skin look more youthful
Before using honey on the skin, it is important to do a patch test first. A person should apply a tiny amount of honey to a small area of the skin and wait for at least 20 minutes. If the skin becomes irritated, they should not use the honey.
People allergic to honey should not use honey on their skin. People with allergies to pollen or bees should also avoid applying honey topically.
For centuries, Honey has remained an integral part of our lifestyle that dates back to more than 4000 years.
Honey is particularly suitable as a dressing for wounds and burns
It's a rich source of antioxidants and flavonoids and also has potent antibacterial properties help keep bacterial and fungal infections at bay.
Honey is particularly suitable as a dressing for wounds and burns and has also been included in treatments against pityriasis, tinea, seborrhea, dandruff, diaper dermatitis, psoriasis, hemorrhoids, and anal fissure.
In cosmetic formulations, it exerts emollient, humectant, soothing, and hair conditioning effects, keeps the skin juvenile and retards wrinkle formation, regulates pH and prevents pathogen infections.
Honey-based cosmetic products include lip ointments, cleansing milks, hydrating creams, after sun, tonic lotions, shampoos, and conditioners.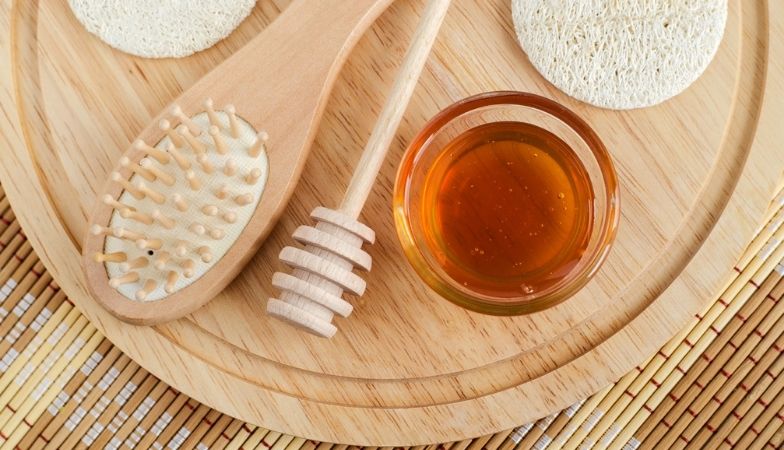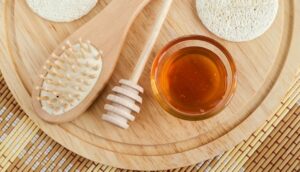 Honey doesn't spoil. If stored well, it can last way past its expiry date.
Mixed with natural ingredients, found in your kitchen, honey makes for an effective and inexpensive beauty treatment. Indeed, applying honey to your skin regularly, can give you results beyond your imagination and can go a long way in giving you healthy, younger looking and glowing skin.
An increasing amount of evidence supports the use of honey as a remedy for many skin conditions.
One of the most widely recognised properties of honey is its ability to help fight against skin infections. According to one review, many in vitro studies support the idea that honey has antimicrobial properties.
Honey is a humectant which means it draws water into your skin
Some people argue that raw honey is best for the skin, which a few small studies support. Raw honey contains pollen and bee propolis.
According to a 2015 review, bee pollen has several helpful properties. For instance, it can have pain-relieving, anti-inflammatory, and antibacterial effects.
You may think that honey will clog your pores as it is sticky, but actually it doesn't at all. Honey is a humectant which means it draws water into your skin when applied and raw honey can help to reduce skin bacteria.
According to an older study, honey can help with improving the skin's appearance. The authors state that it can help stop wrinkles from forming, keep the skin looking young, and prevent infections on the skin that can accelerate ageing.
More From Anti-Ageing April:
Anti-Ageing April Recipe #1: Green Tea Facial Toner with Apple Cider Vinegar
Anti-Ageing April Recipe #2: Himalayan Salt Exfoliator Scrub with Apple Cider Vinegar
Anti-Ageing April Recipe #3: Restore & Repair Hand Cream with Vaseline
Anti-Ageing April Recipe #4: Protect and Plumping Lip Balm with Vaseline & Coconut Oil
More Healthista Content:
How to transform your diet in 5 easy steps
4 signs your low mood shouldn't be ignored plus what may help
Best diet for menopause – an interview with Dr Clare Bailey
From better sex to blissful sleep – 3 reasons you NEED to try CBD
3 healthy breakfast recipes that will keep you full till lunch
Like this article? Sign up to our newsletter to get more articles like this delivered straight to your inbox.