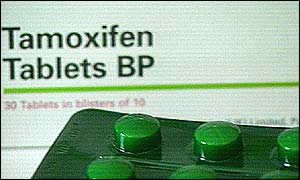 Half a million women at high risk of breast cancer should be offered a course of drugs for five years to lower their risk, according to new NHS guidelines. 
The National Institute of Clinical Excellence (NICE) – the body that makes drugs recommendations to the NHS – has today said that women who are considered at high  or moderate risk of breast cancer should be offered the breast cancer drug tamoxifen.
Research has found a five year course of the drug could lower a woman's chances of developing breast cancer by 30-40 per cent.
Licensed as a treatment for breast cancer, the new NICE guidelines state that women at risk should be offered the option of taking the drugs preventatively on a one-pill-a-day basis for five years.
Dr Caitlin Palframan, from the charity Breakthrough Breast Cancer called it '…a game changer…these new guidelines are a fantastic leap forward in the way we prevent breast cancer developing in those at highest risk.'
Around 50,000 women and 400 men are diagnosed with breast cancer in the UK and some 12,000 still die of the disease annually.
The new guidelines aim to give women at a higher risk the option to take the drug and lower their chances of developing breast cancer.
But tamoxifen can come with side effects.  A study published in The Journal of Cancer in March this year found that at least half of women who were prescribed a five year course of either stopped taking it or took markedly less than their prescribed doses from the third year onwards.
Healthista asked Katherine Woods, Research Information Manager with the charity Breast Cancer Campaign what the new guidelines mean for women in the UK and who should consider it
Who should be taking the drug tamoxifen preventatively?  The NICE guidelines recommend women with a moderate risk (one in six chance) consider the treatment and those at high risk (one in three chance) be offered it routinely.
What's the minimum age a woman can take it?  There's no minimum age for women to be eligible for these drugs.
It's being reported that only women over 35 will be offered the drug – why? NICE have said that three per cent of women aged 35 or older fit into moderate or high risk but anyone of any age that is deemed at risk by their doctors is eligible.
How do I know my risk?  One in five women who develop breast cancer have a family history.  If anyone has any concerns about having a family history of breast or other cancers, go to your GP with as much info as you can find about your family history. Your risk relies on your own age, the number of relatives you have had that developed breast cancer, the age at which they developed it and – if they died – the age at which they died.  As a general guide if you have a close relative – mother, daughter or sister on your paternal or maternal side – diagnosed with breast cancer under 40 or two close relatives diagnosed with breast cancer at any age talk to your doctor will refer you on for considering this treatment or having a genetic test.
What else increases my risk?   Relatives with breast and ovarian cancer on the same side of the family, Jewish ancestry, a history of rare or childhood cancers on the same side of the family, a paternal history of breast cancer (two or more relatives on the father's side of the family) along with other cancers in the family such as ovarian, prostate and pancreatic.
Is it a five year course and that's it?  Yes, you would take one pill a day for five years.  Research has shown this can lower risk by around 35 per cent.
How does tamoxifen work?  It blocks the effects of the female hormone estrogen.  About 80 per cent of breast cancers are driven to grow by estrogen so if you're taking tamoxifen for five years, you're suppressing the effects of estrogen in the body for that period of time.  This means those cells are less exposed to estrogen and therefore your risk is lowered from then on.
What are the side effects?  Common side effects include menopausal symptoms which in some women can be severe. These commonly include hot flushes, joint pain, increased vaginal dryness and lowered libido, night sweats, mood swings, nausea and fatigue. Research funded by Breast Cancer Campaign released in March this year (see above) showed that women struggle to take which may be because they are experiencing side effects. More serious but rare side effects are blood clots and an increased risk of developing endometrial cancer.  But it must be said that the number of women who might go on to develop these complications is extremely rare and far outweighed by the number of lives that would be saved by taking the drug preventatively.
Menopausal symptoms?  Does that mean anyone taking it before menopause goes into an early menopause?  This can be confusing because women on tamoxifen can as a side effect, experience the symptoms of menopause but without actually having an early menopause.  The side effects can subside within six months.
How does it affect fertility?  Tamoxifen can boost fertility when women first start taking the drug but they should stay on their contraceptive because while it's possible to become pregnant while taking Tamoxifen, it's not recommended.  Women who want to conceive should stop taking tamoxifen two months before conceiving and avoid becoming pregnant whilst on it as it can damage fertilised eggs.
Is taking tamoxifen an alternative to a preventative mastectomy if I am at high risk?  It depends on your risk. A preventative mastectomy reduces your risk of developing breast cancer by 90 per cent which lowers your risk to below that of an average woman (which is one in eight).  But a preventative mastectomy is a big move to make and only really offered to women who are at a high risk (one in three or more) of developing breast cancer.  What a woman chooses depends on how high her risk is in the first place. For example it might make more sense for someone with a moderate risk (see above) who doesn't feel a mastectomy is called for to take a course of tamoxifen to lower her risk by 30-40 per cent.  But this is a personal decision and one you have to make with all the knowledge available to you and your doctor.
When will it be available from my GP?  It should be available from today in England and Wales and rolled out shortly in Scotland and Northern Ireland.
How will this work?   It's up to a woman who thinks she is at risk to make the first step which is going to see her GP.  If the family history they talk through is strong enough she would then be referred to a specialist.  This might include genetic counselling and testing and / or an offer of treatment with Tamoxifen or a preventative mastectomy, depending on the outcome of tests. Your GP is your first port of call.
Like this article? Sign up to our newsletter to get more articles like this delivered straight to your inbox.