Looking for healthy Christmas recipes for people with IBS? Executive chef Josh Posner was inspired to create these for his food-loving girlfriend who has digestive issues – good news is, they're no less indulgent  
When executive chef Josh Posner met his girlfriend Natasha Kolia just over two years ago, he did what any new doting boyfriend who could cook would do, and created lavish dishes to impress his new woman's tastebuds. Food is love, after all right? Natasha, however hadn't told him about the digestive issues she'd suffered with for years, since moving to London from the Greek Island of Mykonos where she grew up.
'Natasha didn't pre-warn me about her digestive issues,' remembers Josh.  'So I just went along cooking like I had always cooked, which was with lots of onion and garlic and chilli, bold strong and spicy flavours. The about six months into the relationship she told me what was going on; about the abdominal cramping and bloating she would get after eating strong, processed or spicy foods and how so much of it would repeat on her and sit in her stomach for hours, causing more stomach pain.' Having grown up on a small holding farm in Mykonos, Natasha had grown up eating a largely simple Mediterranean diet of fish and meat with freshly picked herbs, vegetables, lemon, olive oils, Natasha, though a food lover herself, couldn't digest all the new flavours and spices.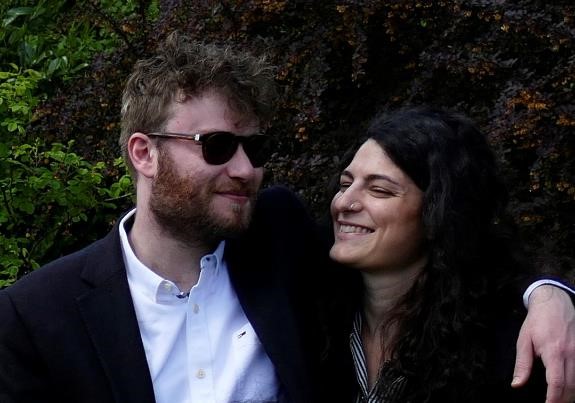 Through a process of trial and error, Josh developed a way of cooking that worked not only for Natasha's foodie tastebuds and her sensitive tummy, but also for friends and relatives with similar digestive issues. 'I started to work out recipes that could really make people feel good but also taste amazing,' Josh remembers. 'I like to cook with real food. I don't like using any processed foods and have learned now that the simplest three recipes such as fresh tomatoes, herbs and olive oil could beat anything from a jar and not risk upsetting anyone's digestion.' Preferring butter over margarine, small amounts of real sugar over artificial sweeteners, Josh's key cooking rule of thumb when it comes to ingredients to help people with digestive problems and Irritable Bowel Syndrome (IBS) is 'no fakes or pretenders.'  However, he has also discovered three principles that help to keep in mind when you're cooking with people with digestive issues:
Keep it simple
Some dietitians and nutritionists recommended an elimination diet for people with digestive problems or IBS. 'From a cooking perspective, this means that you pare your diet back to the least allergenic foods  such as white fish, lamb, cabbage, leafy green vegetables and then reintroduce one new food at a time to find out which could make someone's gut health worse,' suggests Josh. 'When you're re-introducing foods, steer clear of highly processed foods and stick to whole grains, beans, oats, nuts, fruits and plenty of vegetables to supplement the main course.'
Get to know FODMAP foods
Some dietitians recommend a low FODMAP diet for people with digestive issues, especially those with IBS. The acronym stands for Fermentable Oligosaccharides Disaccarides Monosaccharides and Polyols (Phew!). 'I'm not a scientist and can't go into the exact mechanics of what the diet offers, but we have found that avoiding high FODMAP foods can be more gentle on digestions.' Josh suggests seeing a dietitian to find out about the diet as it is structured and complicated. However, some high FODMAP foods that he finds might upset people's tummies include: onions, garlics, leeks, animal milks, dairy desserts, mushrooms and raw cauliflower and broccoli. Find a FODMAP food list here and a registered dietitian here.
Use prebiotic foods
Most of us know about probiotic foods such as live yoghurts and fermented foods such as sauerkraut (see below) that help proliferate the gut with beneficial bacteria. But what many people don't understand is the importance of prebiotic foods, which are a family of foods that help feed the good bacteria, Josh says. 'Prebiotics act as the 'fertiliser' for the good bacteria and encourage it to proliferate and in time counter the effects of more harmful bacteria in the gut [that can be caused by stress, highly processed foods, and taking lots of antibiotics]. Good prebiotics include Jerusalem artichokes and chicory.
Stock up on fermented foods
Like prebiotics, naturally fermented foods are a great addition to your fridge or store cupboard as they can help with your digestive health, says Josh. This is because they're super-rich in the healthy gut bacteria that your body needs for good digestive health. 'So long as you are not lactose intolerant, natural yoghurt is great as a dessert, a topping or in dressings.' He also suggests using miso, a paste made from fermented soya beans and popular in Japanese cuisines. 'It can be used as drink [diluted in boiling water, as marinade for fish or meat, or even as a dressing. Try buying an unpasteurised version if you can.' Josh recommends Miso Tasty organic Unpastuerised Red Miso £4.74 from Planet Organic.  'You might also want to consider using a raw organic unpasteurised apple cider vinegar in salad dressing as it too is fermented. Josh recommends Aspall's Raw Organic Unpasteurised Apple Cyder Vinegar £3.44 from Healthista Shop.  Other fermented foods to consider are kimchi, fermented vegetables originating in Korea, kombucha, a fermented tea drink and sauerkraut, fermented cabbage.
Speaking of probiotics, Natasha's gut health has improved, Josh says, since she started taking a probiotic supplement called Alflorex, which has been proven to help those with digestive issues, in just four weeks.  'Natasha has seen a marked reduction in the pain, discomfort and general digestive symptoms since taking it,' says Josh.
'She certainly knows Alflorex made the difference because when she forgot to take it,  her symptoms returned quite quickly after eating something that doesn't agree with her.'  Alflorex is a probiotic supplement that contains a natural live culture called  B. infantis 35624, scientifically proven to work against the symptoms of IBS. It has 2 clinical trials and over 75 scientific papers proving its effectiveness against digestive issues.'
9 healthy Christmas recipes for people with digestive issues
So impressed was Josh with Natasha's improvement, he teamed up with Alflorex to create a series of Christmas recipes for people with digestive issues that is is exclusively sharing with Healthista readers.
Cured salmon
'I love cured fish, and this recipe works amazingly with any firm fleshed fish. It will last for a few days, so you can make it in advance and get ahead of the game. It's amazing diced up and folded through scrambled eggs on Boxing Day morning as well.'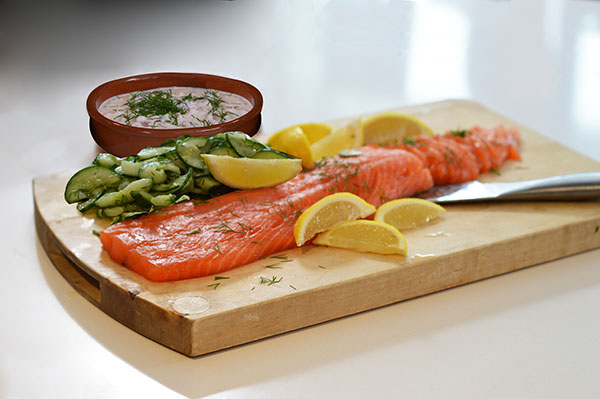 Ingredients
100g skinned salmon per person – best to get a whole fillet
1 lemon
1 lime
150g sugar
150g salt
100ml gin
First, make the cure mix. Zest and juice the citrus fruits and mix into the salt, sugar and gin. Rub it all over the salmon and leave it in the fridge for a good three hours or so. If you like it well cured and firm, then leave it longer, if you want it softer and more delicate, then remove the cure sooner.
Gently rinse off the mix, and pat it dry, before slicing. I don't like to slice it too thin, as I like the bite and texture you get from a fresh, home cured fish.
Suitable for:  Pescataraians (people who prefer to avoid meat) and those with a lactose or gluten intolerance
To see recipes for Josh's cucumber and dill dressing and lemon yoghurt, go to precisionbiotics.com
Roast festive bird
'I know the typical choice is turkey for a festive celebration, but there is nothing wrong with chicken if there are fewer of you. I really recommend going for a goose or a duck to make the occasion really special, but if you have a crowded table then stick with tradition and go for the big bird!
'The most important thing to remember is to rest your bird for a good three quarters of an hour. This is handy, it'll mean you have a free oven to finish all the other bits, which you can get ready whilst the bird is cooking. Just leave it covered loosely with a bit of foil, and make sure your gravy is hot!'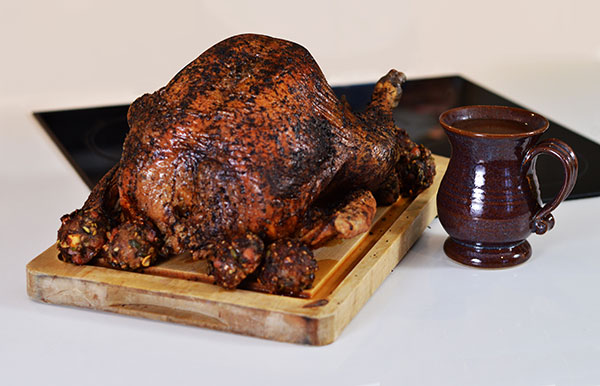 Ingredients:
1 turkey, chicken, goose or duck
1 onion
1 carrot
1 leek
Any giblets that come with the bird
Spices; star anise, mace or cloves
Herbs; parsley, thyme and bay leaves
Fruits; lemons, oranges
Cold pressed rapeseed oil
50g rice flour
A glass of wine (for the gravy) white for turkey or chicken, red for goose or duck
1 litre chicken stock
Salt and pepper
First off, for chicken or turkey, I like to use classic herbs and spices like parsley, thyme and bay leaves. I like citrus fruits with all of the birds, lemons I find best with the lighter meats, oranges with the darker. To add wintery spice, star anise, mace or cloves are great. Just be careful, they're strong, so don't throw in too many. Blitz up any spices in a spice grinder or bash them up in a pestle and mortar. Rub a bit of rapeseed oil into the skin and cover with a chopped herb and spice mix and a good bit of salt and pepper.
I recommend you use a roasting dish that you can put on the hob later, it will make your life much easier, especially if it has deep sides to hold all that delicious gravy. Wash the veg and cut them into big old chunks. Place the bird on top and get it into a preheated oven at 180°. The cooking time will vary massively depending on which bird you chose and the size. The best thing for peace of mind when cooking a whole bird is a meat thermometer. Stick it in the thickest part of the meat, and check it has reached 75° (if you don't have one of these, make a small cut into the thickest thigh area and check the juice which runs off is clear).
Once the bird is cooked, remove it from the roasting tray and onto another roasting tray or large plate to rest. Place the original tray with all the sticky vegetables and roasting juices onto the hob, and stir in the rice flour, cooking it like a roux (until it thickens). Pour in the wine, and cook it out for a minute or so, before adding the stock and reducing it down until you have a delicious, rich and thick gravy. Pour it through a fine sieve, and over the carved up bird!
Suitable for:     Those with a lactose or gluten intolerance
Pancetta, oat and pumpkin seed stuffing
'I have to say, I really love using oats in this instead of breadcrumbs, they add a depth of flavour that really makes for an earthy, wintery taste.  Make these stuffing balls as large or small as you like or even spoon the whole mixture into a baking dish for a more traditional way of cooking the stuffing. Just remember to cook the mix for a little bit longer, the larger the size you go.'
500g pork mince
150g diced pancetta or smoky bacon
50g porridge oats
1 bunch chopped sage
1 finely chopped shallot
Dried fruits and nuts of your choice, also chopped
1 glass of port
This is an easy recipe. Sweat the shallots in a little rapeseed oil and add the port to deglaze the pan, reducing it by half. Mix in all the rest of the ingredients, once you have done your chopping, then get a small bowl of water and wet your hands slightly before rolling the balls (I like them around golf ball sized) and dropping onto a baking tray lined with greaseproof paper. Pop them into the oven at 180° until they are cooked through and going golden and sticky on the outside.
Suitable for:  Those with a lactose or gluten intolerance.  Leave out the nuts if you have an allergy to them. 
Sticky vegan spiced chocolate, date and linseed cake with kombucha poached pears and whipped coconut cream
This cake is ridiculously good. Utterly delicious, dairy free and you could almost say it was good for you. It's certainly good for the soul, and this one feeds a crowd.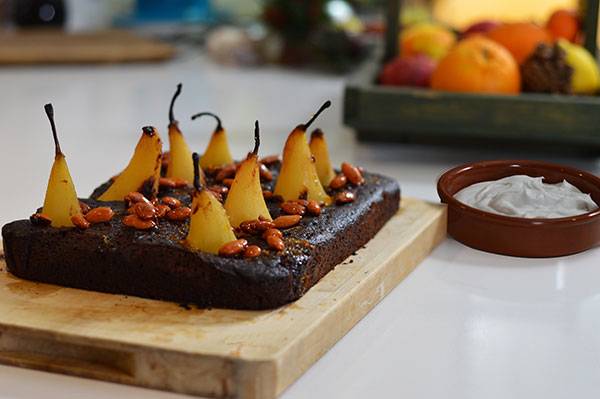 Ingredients:
Preheat the oven to 180°. Prepare the pears by cutting off the bottom (and retain) so they will sit flat in the pan, remove the pips (I find an apple corer or melon baller works well) then gently poach the whole pears first, in a syrup made from the caster sugar, cinnamon, star anise, cloves and citrus zest. Top up the poaching syrup with the kobucha, a complex Asian fermented tea available in supermarkets, and cover the pears for another 15 minutes. Meanwhile chop the flesh from pear bottoms you have removed, and put them to the side for now.
The cake sponge is not quite traditional.  Start by cooking the dates and linseeds in almond milk for a few minutes until the dates have softened. Chuck in a blender and blitz it until it's smooth and creamy, then add the oil and blend again
Now, combine all the remaining dry ingredients together in a bowl and fold in the almond milk, linseed and date puree. Throw in the chopped up pear bottoms.
Place the whole poached pears along the bottom of a baking tin lined with greaseproof paper. You want the tin to be around 25cm square. Pour the mixture evenly around the pears and get it in the oven for about half an hour to 40 minutes. Use a cake tester or a skewer to check if it's cooked – it should come out clean when you poke it into the middle of the sponge mixture.
Whilst it's in the oven, reduce the pear syrup down until it's sticky and pour it all over the cooked cake when it comes out the oven.
If Christmas is all about indulgence, this cake is certainly it. It's a bit more work to get it made, but if there is any time to do so, this is it.
Suitable for:  Vegetarians, vegans and those with a lactose.  Replace spelt flour with a gluten free alternative if gluten intolerant. Replace almond milk with soya milk if you have a nut allergy
Honey and cinnamon candied almonds
'I love these either as they are here, served with fruit as part of a dessert, or with a cold beer or a glass of red. They really are addictive.'
Ingredients:
255g honey
1/2 teaspoon cinnamon
1/4 teaspoon ground ginger
350g almonds
2 tablespoons of muscavado sugar
11/2 teaspoons salt
Warm everything except the almonds in a pan, on a low heat, then add the almonds and give them a good stir to coat them before pouring onto a greaseproof lined baking tray. Cook at 180° for about 12-15 minutes. Give them a stir as they cool to stop them sticking together.
Suitable for:  Vegetarians, vegans and those with a lactose or gluten intolerance.  Avoid if you have a nut allergy
Whipped coconut cream
Too simple to be true, a creamy, coconutty concoction that hits the spot when whipped cream just isn't right for you.
1 tin coconut cream
50g caster sugar
Simply chill the tin of coconut cream in the fridge before opening, then drain off the liquid and place the coconut solids into a mixing bowl. Start to whip it gently before speeding up to incorporate more air. Add the sugar, though you may want to taste it first as coconut is naturally sweet.     A dollop on the side to go with cake makes it the perfect accompaniment.
Suitable for:  Vegetarians, vegans and those with a lactose or gluten intolerance
Healthista readers can purchase Alflorex Probiotic at 20% discount off the marked price from precisionbiotics.com by using the code: HEALTHISTA. Click here to buy. Watch videos of Josh cooking the recipes above by clicking here.
To see more IBS-friendly recipes from Josh Posner, go to precisonbiotics.com
Like this article? Sign up to our newsletter to get more articles like this delivered straight to your inbox.