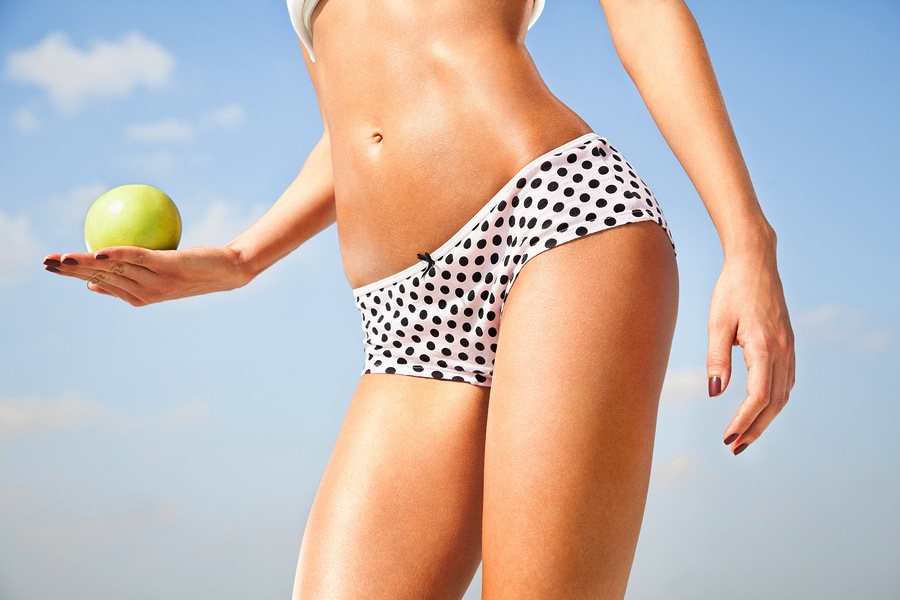 These women  maintain their slim shapes in a fat world by working at it – here's one tiny thing each one does everyday
LITTLE AND OFTEN 'I do 15 minutes of yoga sun salutations most mornings.  It doesn't take long but I've found in the intensely busy times when I can't go the gym or do anything else it helps keep me toned (and sane!).  It works for me because it's only 15 minutes and I can always squeeze it in.  I've been doing it in the morning like this for a year or so and have seen a real difference in the length and tone of my muscles. It's a great way to give myself a pat on the back for at least doing something each day'.  Kate Nibbles, 35, Creative Executive, TV Drama, Islington (size 6)
LOSING FAT PHOBIA 'I make sure I eat the right fats which might be high in calories but are super nourishing. In the past, when I have cut out fat from my diet to lose weight it has led to sugar cravings, dry skin, unbalanced hormones and a lack of energy.  So now I invest in high quality oils– instead of butter I eat virgin coconut butter, I make fresh salad dressings using crushed garlic, mustard, extra virgin olive oil, pinch of sea salt and ground flaxseeds. I am also a huge fan of smoothies –they are easy for the body to digest and a meal in themselves – I always add two table spoons of my favourite Viridians Ultimate beauty oil
(also from health food stores) to my smoothies each morning. It's a high quality blend of cold pressed Omega 3-6-9 oils which really limits my sugar cravings and stops me wanting to binge on chocolate.'  Georgia Price, 35, marketing exec, Primrose Hill, (size 8)
LISTEN TO HUNGER 'The one thing I do is eat when I'm hungry and stop when I'm  full.  Which is more difficult than it sounds.  I am very aware of eating when I'm bored or because I don't notice what I'm doing.  If you use this one rule, nothing is ever 'off  limits'. That's easier if you know that if you're properly hungry and you really want to eat an entire family bar of Green & Blacks it's not forbdidden (and I have, many many times).  I started this 20 years ago when I first read Fat is a Feminist Issue
by Susie Orbach.  Sometimes I stray or forget but I always come back to it eventually. And I teach this to my children. They will often refuse food saying, No I'm not hungry and I think, Well done.  I've taught them well'.  Delphine Marks, 47, Nurse and mother-of-two, Stoke Newington (size 12)
HOT WATER AND LEMON (X 5) 'I drink five glasses of boiling hot water with a slice of fresh lemon in, topped with a slug of diet lemonade.  The lemonade fizzes on to the fresh lemon, which makes it taste delicious and makes the drink really palatable. I drink this out in restaurants all the time instead of the usual soft drink choices or alcohol.  It's a great alternative to tea which I would normally take sugar in.  My skin is really clear and I have retained my slim figure which I believe is down to this tiny change in my diet!'  Claire Barber, 40, Entrepreneur and mother-of-two, Northumberland (size 12).
HALF IT 'I eat only half of what my fiancé eats.  We started dating a year and a half ago and after the initial honeymoon period of not feeling hungry because you're in love, I started putting on weight because he loves cooking so we would eat together and he would serve the same portions to both of us.  Only I weigh 20 kilograms less than him and he goes to the gym everyday.  Since I started eating only half the amount he has three months ago and sharing occasional puddings – as well as running at the weekends for half an hour – I've gone back to my ideal shape.'  Martina Truvant, 35, Marketing Manager, Shepherd's Bush (size 10)
INTERVAL TRAINING 'I do high intensity training three times a week which keeps my metabolism in overdrive.  I don't have time to do conventional exercise in the gym so this often means pushing the buggy plus my five year old on his bike (who often needs a push up the odd hill too).  20 minutes is my usual, though longer is better.  I build up gradually with ten minutes of gentle brisk walking, then do run/walk/run/walk intervals.  If I don't get time to stretch straight away I will do it later at night after a bath when the children are in bed, it's incredibly important for preventing injury and keeping my stress levels low too.'  Jane Wake, 41, fitness presenter for ITV's Daybreak and HTV, creator of baby-a-wake antenatal and postnatal wellness programme and mother of two, London (size 10).  Watch Jane's HTV How-To video about interval training
OIL SPRAYS 'I use a oil sprays for cooking. It's the easiest way to cut calories I know.  I always choose the ones with the pump spray rather than an aerosol so I know the oil isn't adulterated with water or propellants. I have two in my kitchen at all times – a mild olive oil for frying and an extra virgin olive oil for spraying onto  salads (with a drizzle of balsamic makes a dressed salad in seconds).  Anna Richardson 39, TV presenter and author Body Blitz Diet (Orion £14.99 from Amazon)
, London
Like this article? Sign up to our newsletter to get more articles like this delivered straight to your inbox.