Looking for no sugar dessert recipes for your health kick? With these six creative options from leading nutritionist Sarah Flower you won't even miss the white stuff. She also brings you advice on which sweeteners are best
We are all consuming too much sugar.  The World Health Organisation (WHO) recommend 25g a day (there is 4g per teaspoon), yet the average Brit consumes 40 teaspoons per day!  It is not just refined sugar we need to watch.  Because of the increased awareness of sugar, food manufacturers are now, more than ever, going to wave the 'sugar free' banner but beware, hidden sugars and high fructose can be lurking in your food so always read the label noting the sugar content in the nutritional values.  A small bottle of orange juice can contain over seven teaspoons of natural sugar (fructose, which can cause obesity and fatty liver disease).
the average Brit consumes 40 teaspoons per day
Sugar comes in many guises.  Maple syrup has been promoted as sugar free but it is very high in fructose so should be avoided.  Honey, again marketed as healthy, is also higher in fructose and reacts in the same way as sugar once digested.  Agave syrup contains 70-90% fructose, so again, should be avoided.
Sugar comes in many guises. Maple syrup has been promoted as sugar free but it is very high in fructose so should be avoided.
I would avoid artificial sweeteners, as these have detrimental health effects plus perpetuate sugar cravings.  Try if you can to wean yourself off sugar and sugar alternatives.
I occasionally use stevia, xylitol, erythritol and rice malt syrup but found the more I avoided sugar, the less I relied on these as my palate changed
I occasionally use Stevia, Xylitol, Erythritol and Rice Malt Syrup (see below)  but found the more I avoided sugar, the less I relied on these as my palate changed.  It is also worth noting that in order to wean yourself off of sugar, you really need to start embracing fats.  Fats don't make you fat, but fill you up and keep hunger and cravings at bay.  Start opting for full fat yoghurt, milk and cream and fill yourself up with healthy fats such as avocado, coconut oil, oily fish, lean meats, eggs and butter.
4 best dessert sweeteners
Stevia – this is very very sweet.  Made from stevia plant it is natural, however, if you use too much you will find it has a strange, almost chemical aftertaste so go easy on this.  Also be aware when buying as some sugar manufacturers offer stevia blends (sugar and stevia combined) and you should opt of pure stevia granules or drops.
Xylitol – again more natural and does not raise your blood sugars.  I like xylitol as you use it in exactly the same way as sugar, unlike stevia, so there's no need to change your favourite recipes.  However, too much can loosen the bowels.  It is also very toxic to dogs.
Rice Malt Syrup – this is one of the only syrups that is fructose free but does contain glucose so use sparingly to keep within the 25g WHO recommendation.
Erythritol – is a sugar alcohol.  It is low GI so does not raise your blood sugar and is virtually calorie free.  Studies have shown it is easier to digest than xylitol and does not result in loose bowels.
---
THE RECIPES
Sugar Free, Gluten Free, Chocolate Roulade Recipe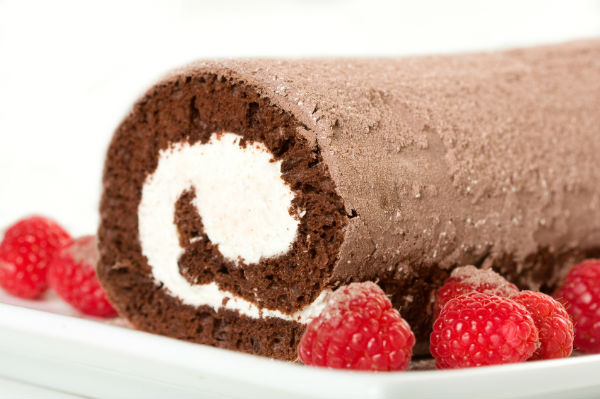 This is a rich dessert-style roulade but the sponge, which is fatless, is light and fluffy. If you are not used to dark chocolate, you may find this a little bit bitter as it is very rich cocoa flavour. A little goes a long way; I managed to get 12 (approximately 1.5cm thick) slices out of this so comes in at around 78 calories per slice.
6 medium eggs, separated
50g Cocoa or Cacao powder
60g xylitol
15g rice malt syrup
1 tsp vanilla extract
100g low fat cream cheese
50g quark
150g fresh raspberries
Preheat the oven to 180c
Place the egg whites in a clean bowl and beat until they form soft peaks.
In another bowl, mix the egg yolks with the xylitol, agave and vanilla until it becomes thick and doubles its size. It is important to spend some time mixing this well. It will have a mousse like texture. Sift in the cocoa and beat again.
Take 1 spoon of the egg white and add to the cocoa mixture. This helps loosen the mix. Add the remaining egg whites and very carefully fold in until combined. Don't over mix as you will take the air out.
Line a Swiss roll tin with greaseproof paper, making sure the paper hangs a little over the edge of the tin as you will need to hold onto this later. Pour the mixture in the tin and place in the oven for 20 minutes.
Remove from the oven and lift the cake off the tray holding onto the greaseproof paper. Do not remove the greaseproof paper! Place on the worktop and carefully start rolling from one end until you have a roll. Leave to cool.
While the cake is cooling, mix the cream cheese, quark and half the raspberries together. Add the remaining raspberries and fold carefully – you want some raspberries crushed and some whole.
Carefully fold out the sponge. Don't press down on it or it may split. Carefully add the cream cheese filling before re-rolling. Place on a plate ready to serve
Due to the filling, this will have to be refrigerated, however if you opt for a different filling, it should keep well in an airtight container. You can also freeze this sponge.
Lemon and Raspberry Layer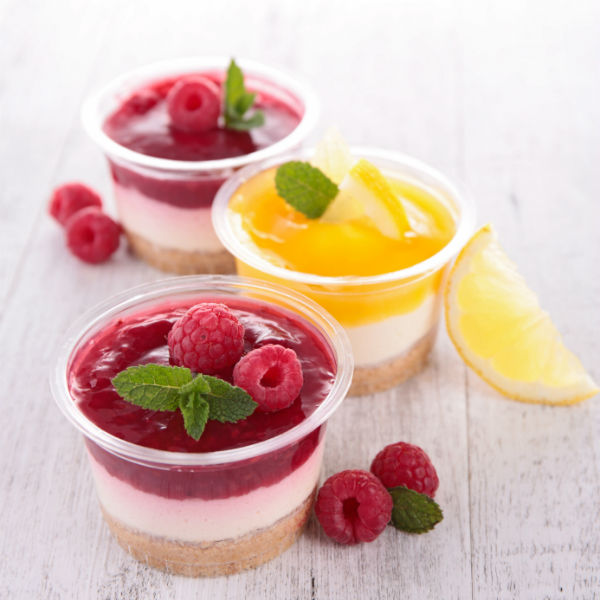 This is another family favourite.  I don't use any sugar replacement in this, but if you have a very sweet tooth, you could add a little rice malt syrup to the crushed raspberries.
Serves 4-6
200g Cream cheese
150ml extra thick double cream
2 lemons, juice and zest
200g frozen raspberries, defrosted
50g chopped hazelnuts
Mix the cream cheese, cream and lemon juice and zest together and leave to one side.
Roughly crush the raspberries – add rice malt syrup to taste if you prefer additional sweetness.
Place a little of the cream cheese mixture into your serving glasses, follow with a little raspberry crush. Continue this until you finish with a cream cheese layer.
Sprinkle with the chopped hazelnuts and place in the fridge for at least 30 minutes.
Healthy Summer Pudding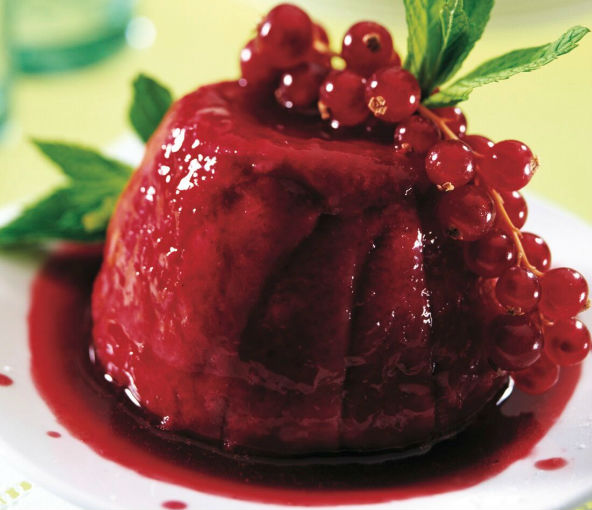 This summer pudding has been given a healthy twist – supplementing sugar for Xylitol or Stevia reduces the raise blood sugar. I have swapped white bread for gluten free – purely as I can't tolerate white bread. I have tried this using wholemeal bread but gluten free bread gives better results – far more like the original recipe we all adore.
Serves 4
800g mixed berries (can use fresh or frozen)
50g Xylitol or 15g Stevia (taste stevia as you go as too much can be very sweet and overpowering)
4-6 slices of gluten free bread
Place the berries in a saucepan and heat gently for 3-4 minutes.  Add a little of the xylitol or stevia at a time and taste – if you can use less than that is great – be especially careful with Stevia as it is very very sweet so you only need to use a little compared to xylitol.  I find I can almost go without adding any sweetener as I like it quite tart in taste – I also serve it with some Greek yoghurt which I find balances the sharpness of the fruit.
Line a basin with Clingfilm (this helps you remove the pudding without too many problems – make sure the Clingfilm overlaps the bowl).
Line the bowl with the bread slices, overlapping them to prevent leakage.
Once lined, place the berries in the basin. Top with slices of bread and bring the excess Clingfilm over the top to secure.
Press down gently. If the basin is not overfill, you can weigh it down by placing a plate that fits inside the top of the basin and add some cans for weight.
Leave in the fridge overnight or for at least 4-5 hours.
To serve, carefully peel back the Clingfilm. Place a serving place on the top of the basin – serving side down, then carefully flip – allowing the pudding to drop onto the place.
You can add more berries before serving.
Sugar Free Raspberry Sorbet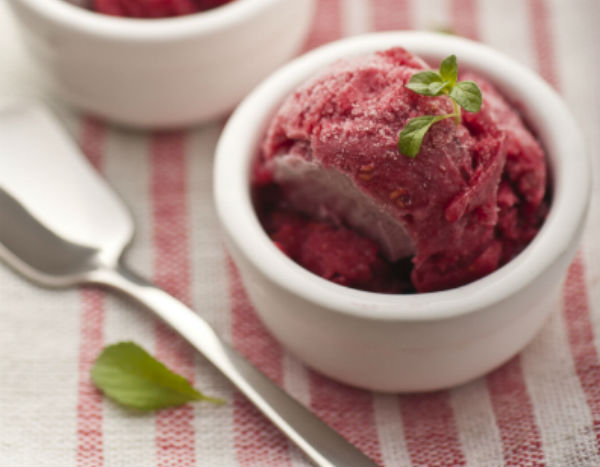 This is traditionally made with caster sugar and glucose syrup but as I don't want raised blood sugars, I have supplemented with xylitol or stevia.  Xylitol will be favourite if you are like me and don't want an overpowering sweetness, but for those who love sugar, you may prefer Stevia, but please, taste the water as you add the stevia, as it is very sweet and a little goes a long way. You will need to make this in an ice-cream maker.
Serves 4-6
100g xylitol or 40g Stevia
1-2 tsp Rice malt syrup
200ml water
500g raspberries
In a saucepan add the water and add the syrup and either the xylitol or stevia – add a little at a time and taste the water once dissolved if you want to control the sweetness.
Simmer gently until dissolved and it starts to thicken slightly. Remove and allow to cool completely.
Whizz your raspberries in a food processor. Using a sieve, push throw the raspberries if you want a smoother sorbet.
When the syrup is cool, blend with the raspberries.
Pour into the ice-cream maker and follow manufacturers instructions for sorbet.
Serve with a selection of berries or for an extra treat, a low GI biscuit.
Sugar Free Berry Meringues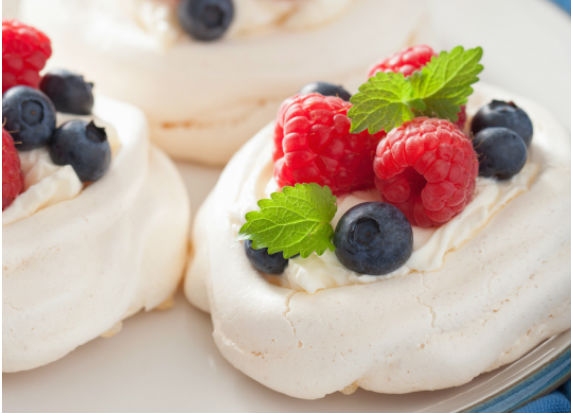 Serves 4
2 egg whites
80g xylitol
½ tsp white wine vinegar
½ tsp cornflour
200ml Greek yoghurt
1 tsp vanilla extract
200g mixed berries
Preheat the oven to 200˚c
Place the egg whites in a clean bowl and whisk until glossy and forming soft peaks.
Add the xylitol a little at a time and beat until it forms firm peaks
Mix in the cornflour and vinegar.
Line a baking tray with baking parchment (you can stick this to the tray using a small dollop of the egg white mixture)
Pipe or spoon mixture to form 4-8 small rounds of meringue
Place in the oven and immediately turn down to 150˚c
Cook for 1 hour and turn the oven off, leaving the meringues inside to cool. Store in an airtight container until needed.
In a bowl mix the yoghurt with the vanilla extract.
Place a meringue on a serving plate, add a dollop of the yoghurt mixture and cover with berries.
Sprinkle with icing sugar and serve.
Chocolate Mousse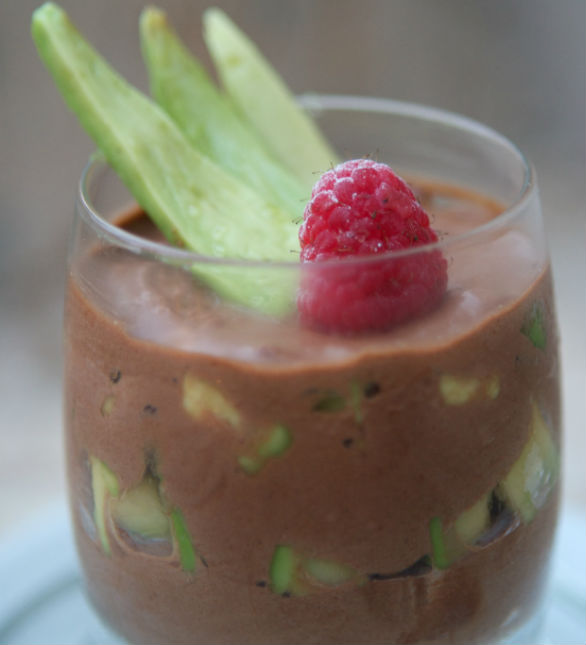 1 ripe avocado
2tbsp sugar-free cocoa or cacao
75-125ml milk
1-2 tsp. Rice malt syrup
Optional extras (Choose from any of these)
A few drops to taste of either vanilla, orange or mint extract
1-2 tsp. sugar-free peanut butter
1 banana
4 hazelnuts
4 Mejool dates
Place all the ingredients into a blender and blend until smooth.  Add more milk until you get your desired consistency.
Chill and serve with some fresh berries.
---
Sarah Flower is a nutritionist and author of 15 recipe and health books. Sarah is also ambassador for Jamie Oliver Food Revolution and campaigner for healthy eating; teaching  healthy eating education and cookery in schools as well as corporate businesses.  For more information visit sarahflower.co.uk  or Twitter @MsSarahFlower
Like this article? Sign up to our newsletter to get more articles like this delivered straight to your inbox.