It's National Vegetarian Week and what better way to celebrate than trying out some gorgeous new recipes? Writer and chef Mira Manek gives us five Indian inspired healthy vegetarian recipes to try. 
1. Turmeric Tofu and Wild Rice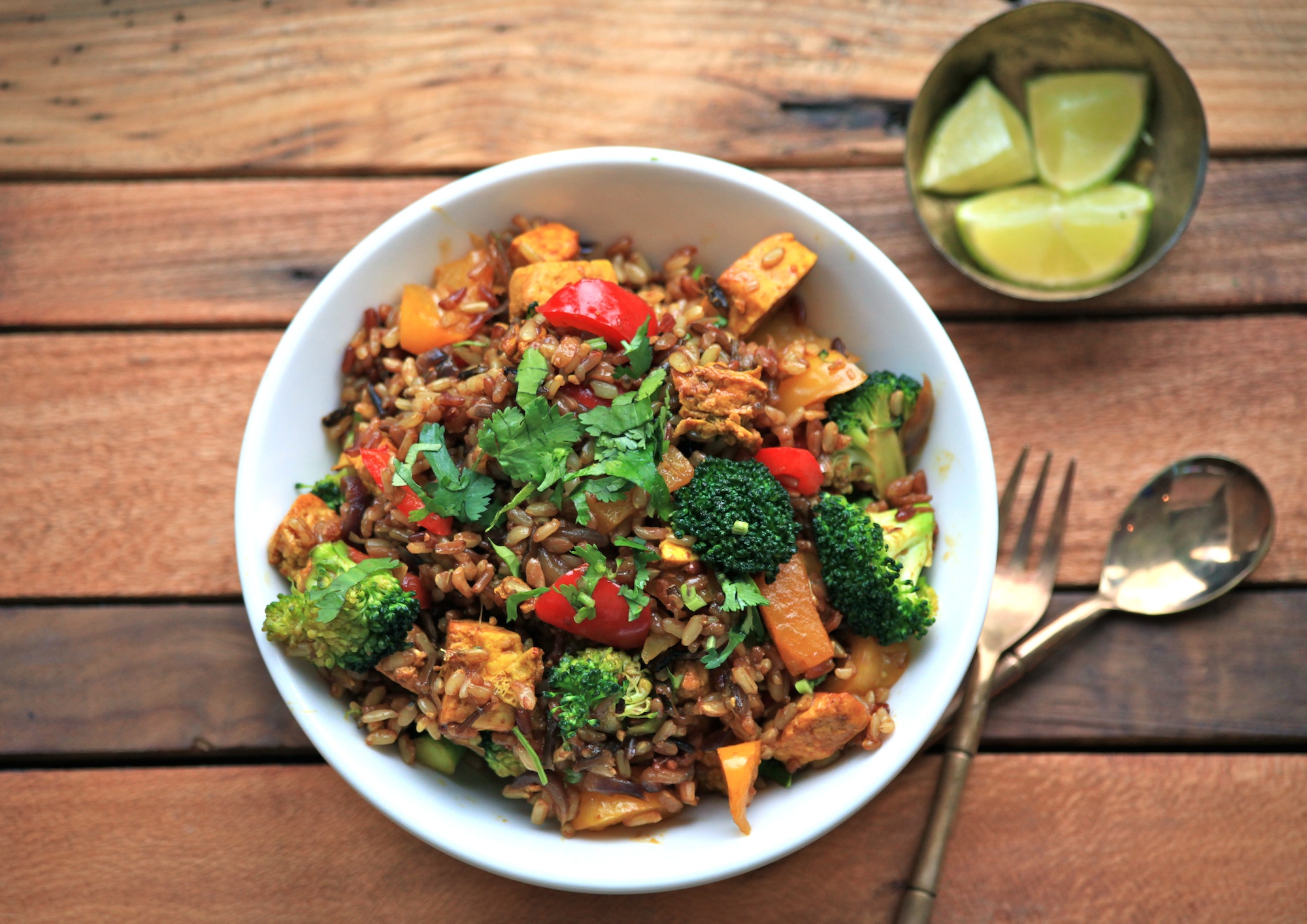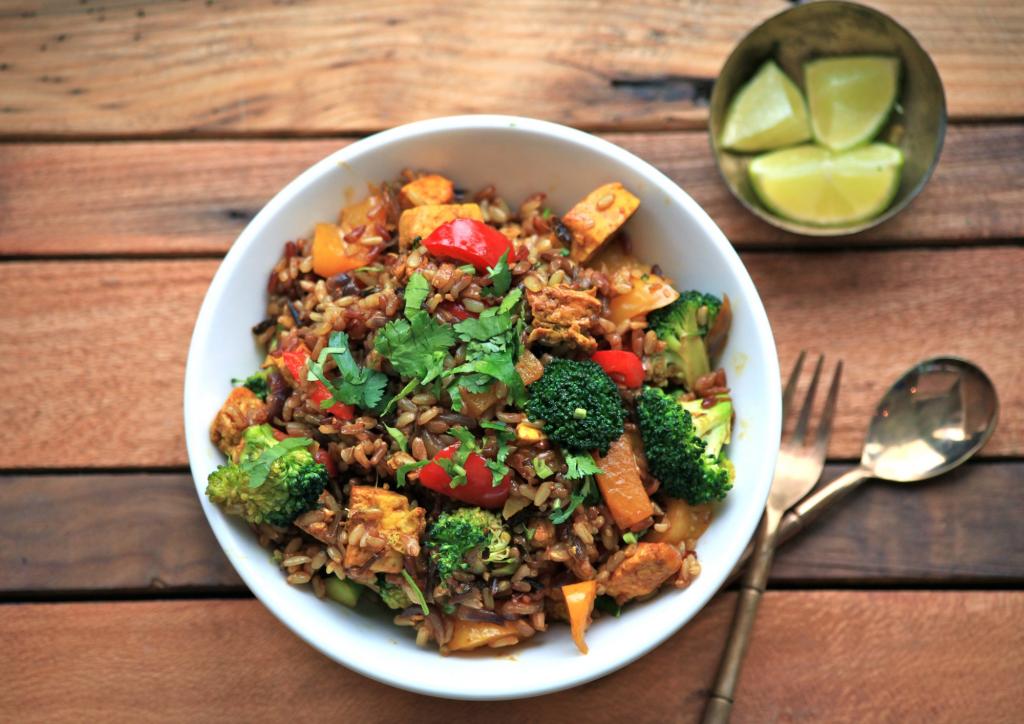 A little carbs with some protein makes for a perfectly balanced meal, providing necessary fuel for the body. Wild rice is higher in fibre and protein and lower in calories than white rice, add to that protein-rich tofu, some healing turmeric and all else that is tasty, and you have a winning meal. This is a perfect post-yoga meal, or is great to have a couple of hours before a high energy workout- the inspiration for this dish did in fact come from a tofu and rice dish at Yoga House in Mumbai.
Serves 2
Ingredients:
Rice
120g wild rice
350ml water
Tofu
280g tofu (1 block), medium to firm
¼ teaspoon turmeric
1 teaspoon soy sauce
Vegetable stir-fry
1 teaspoon coconut oil
1 small onion, long thin slices
½ clove garlic
¼ teaspoon himalayan salt
150g red and yellow peppers, chopped
80g broccoli, chopped
2 tablespoons soy sauce
Garnishing
Coriander
Lime
Black pepper
Method:
Place the tofu on a kitchen towel to soak up excess water for 5-10 minutes.
To cook the wild rice, boil the rice and water in a pan on low heat for around 40 minutes until the rice grains are soft and cooked.
While the rice is cooking, chop the tofu in small cubes and place in a separate pan on low heat so that they become slightly brown.
Add the turmeric and soy sauce to the tofu after 5-10 minutes, sprinkling over all the tofu pieces, and turn the tofu so that all the sides become brown. Be careful not to break them.
You can start the vegetable stir-fry while the tofu is still cooking. Place the coconut oil and onion slices in a large pan and let this cook on low heat for a few minutes before adding the chopped or grated garlic.
Once cooked, add the peppers and broccoli and stir. Let this cook for 7-10 minutes before adding the cooked rice. You can now stir in the soy sauce and add the tofu.
Serve with a slice of lime and a sprinkle of coriander and black pepper.
Tips
Soaking the rice in water for an hour will reduce the cooking time for the rice.
 2. Spicy kale and bean burgers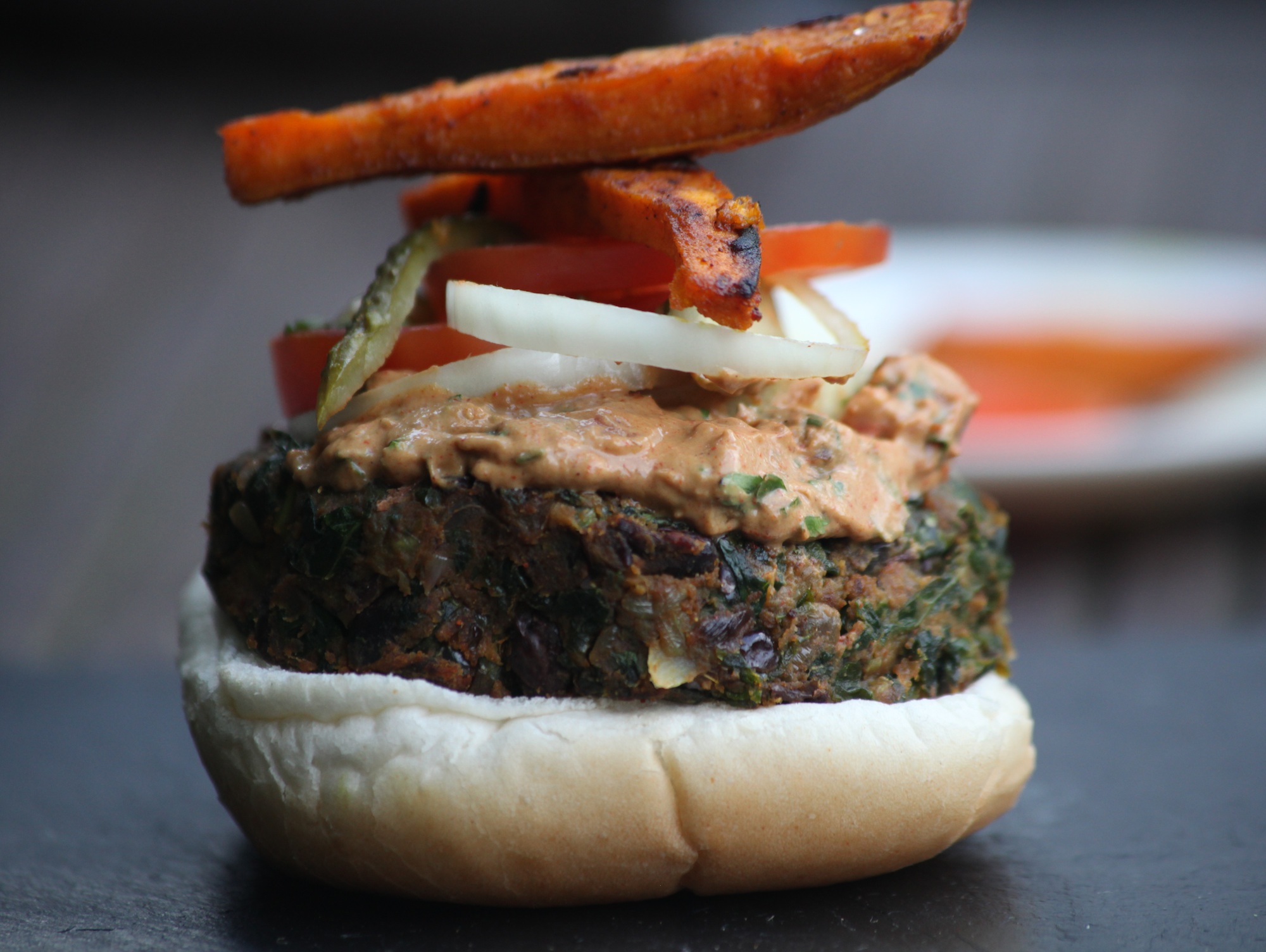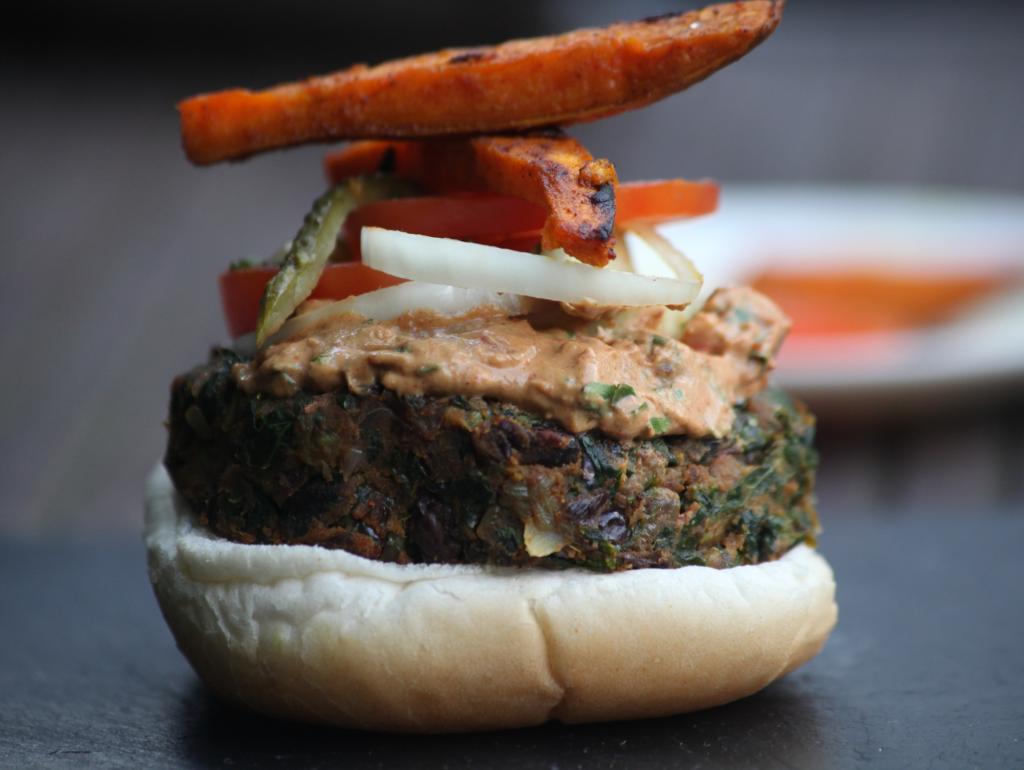 I've been making these hearty and healthy burgers for a few years now, but this time, I decided to add a little sweet potato in to the mixture, and they were even better, adding that slight sweetness and fullness of texture. The topping or side of sweet potato wedges adds that extra something to make it more of a meal. It is really the sauce which brings these burger patties to life. I kept tasting and adding various ingredients until the sauce had enough tanginess and a little sweetness, and it actually turned out a little like Chipotle sauce. So when making these burgers, the sauce really is a must.
Makes 3-4 burger patties
Ingredients:
Burger patties
2 tablespoons oil
2 onions
2 cloves garlic
¼ teaspoon turmeric
60g kale, very finely chopped
230g black beans/ kidney beans, 1 tin
130g sweet potato
½ teaspoon salt
½ teaspoon paprika
½ curry powder
½ teaspoon black pepper
1 tablespoon corn flour
Side of Sweet potato wedges
1 large sweet potato, 200g
2 tablespoons coconut or rapeseed oil
¼ teaspoon paprika
¼ teaspoon turmeric
¼ teaspoon salt
Homemade healthy chipotle sauce
1 tablespoon tahini
5 tablespoons yoghurt
2 tablespoons balsamic vinegar
¼ teaspoon salt
2 teaspoons paprika
½ teaspoon mustard
handful chopped coriander leaves
1 teaspoon tomato puree
squeeze of lime
Method:
Start by removing the skin of the sweet potato and steaming the sweet potato for 10-15 minutes.
While this is steaming, chop the onions. Warm the oil in a medium to large pan on low heat and add the onions. Let the onions cook for a few minutes until slightly brown, add the grated or chopped garlic, then stir in the turmeric.
You can now add the kale, stir together for a couple of minutes before adding the black beans, using a fork to mash them a little before placing in the pan.
The sweet potato should now be steamed. If not completely cooked and soft, leave for longer. Now mash the sweet potato flesh before placing into the pan and mixing in. Now add the salt, curry powder, paprika and black pepper and stir thoroughly. Let the mixture cool a little for a few minutes so you can form the patties with your hands.
Heat 1 teaspoon of oil on a flat-based pan on low heat, sprinkle a little cornflour on both sides of the burger patties and place the patties on the pan. Let these cook for 5-7 minutes, turning the patties every 30 seconds or so. If the pan is small cook two patties together so there is enough space to flip them.
For the wedges, slice the sweet potato into wedges without removing the skin. Mix all the ingredients for the sweet potato together in a mixing bowl and place under the grill for around 10-15 minutes, checking and turning the wedges every few minutes, careful they don't burn.
Mix together all the ingredients for the sauce and serve the patties with the sauce and sweet potatoes.
Notes
If you don't have curry powder, try using cumin powder instead
The kale must be chopped very finely – if there are large pieces it is difficult to chew
Try to use a thick balsamic vinegar for the sauce as this will give it the right sweetness
3. Curried Courgetti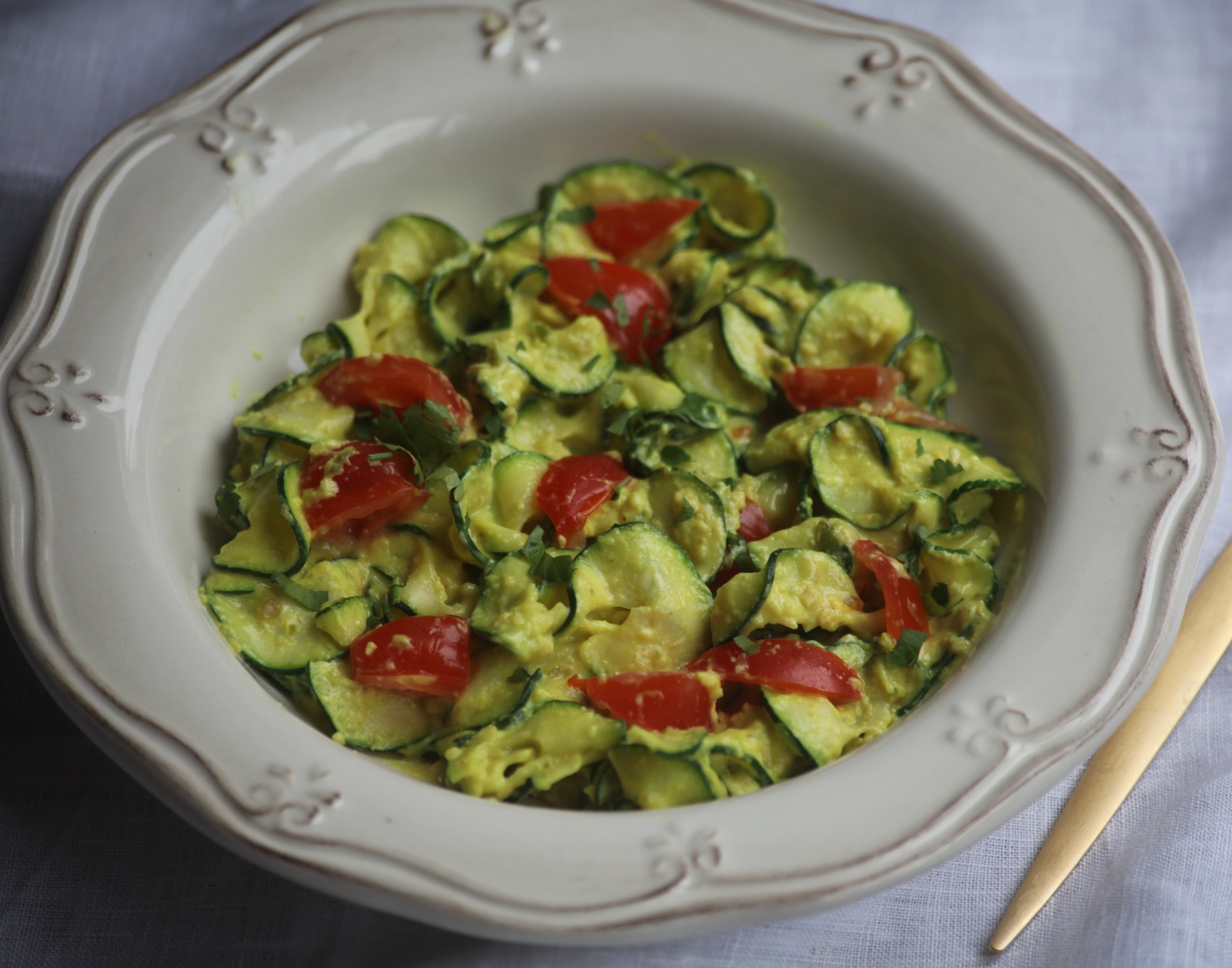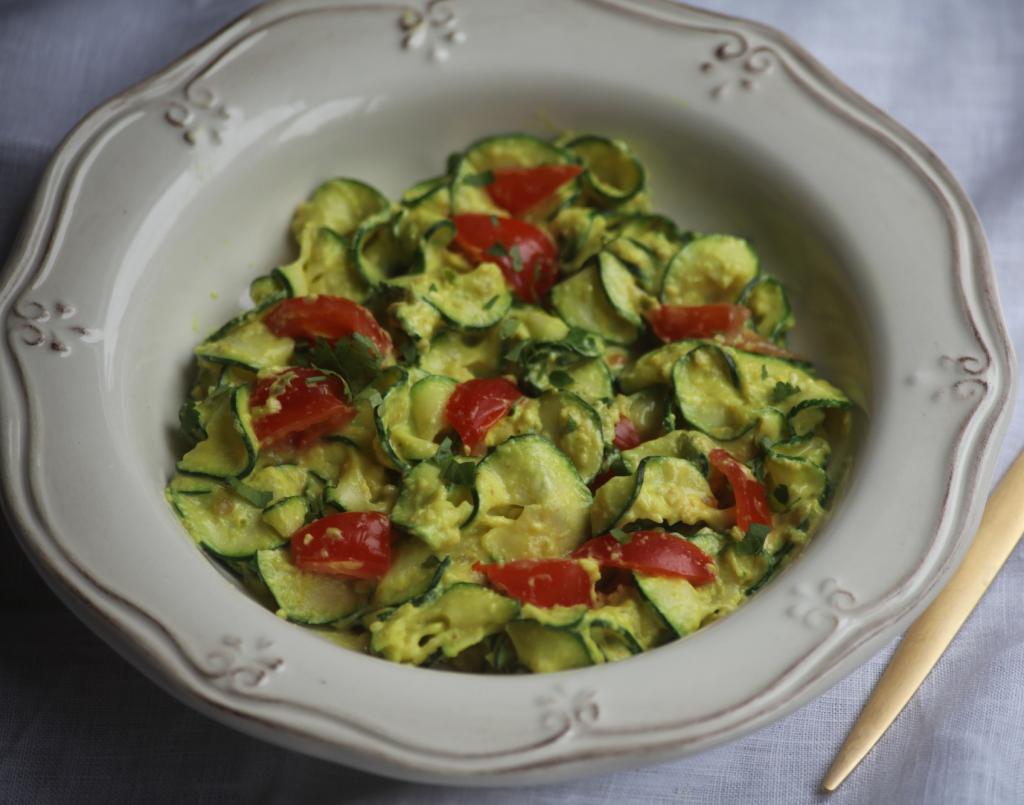 This curried courgetti makes for the perfect light lunch, with a rich sauce that allows this crunchy vegetable to work well as a meal on its own. It can be eaten hot, once it's been stir-fried, or even served cold as a salad.
Serves 2
Ingredients:
1 courgette, spiralised
1 teaspoon coconut oil oil
1 teaspoon chopped/ blended green chilies
1Ž4 teaspoon turmeric
4-5 cherry tomatoes
Coriander for garnishing, optional
Sauce
Handful, 40g cashews
3 tablespoons, 60g natural yoghurt
2 tablespoons, 50ml coconut milk
1Ž4 teaspoon salt
1Ž4 teaspoon cumin
Squeeze of lemon
Method:
Start by placing all the ingredients for the sauce in the blender or in a bowl, to allow the cashews to soak for 20 minutes or longer (you can even soak overnight in the fridge).
Now place the courgette in a spiraliser to make the courgettini.
Blend together the ingredients for the sauce and keep on one side.
Heat the oil and chopped green chilies or green chili paste in a pan on low heat for a minute or less before adding the turmeric powder. Stir this for a few seconds, then pour the sauce into the pan and add the courgettini. Stir the sauce and courgettini lightly for just a few minutes.
Taste the sauce and add more salt if needed. Add the chopped cherry tomatoes in the mixture and serve with a garnishing of coriander.
4. Cauliflower Rice with Coconut and Cumin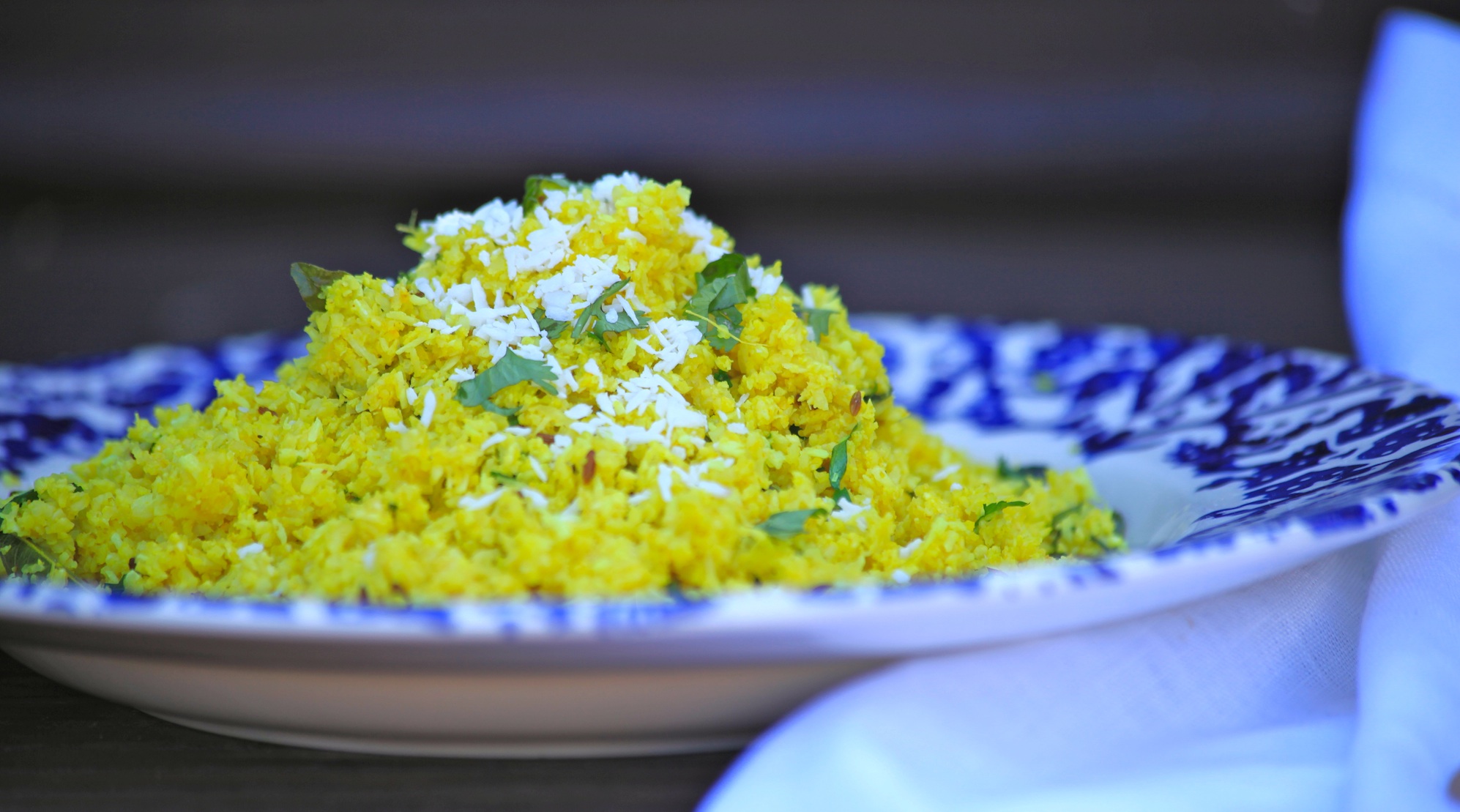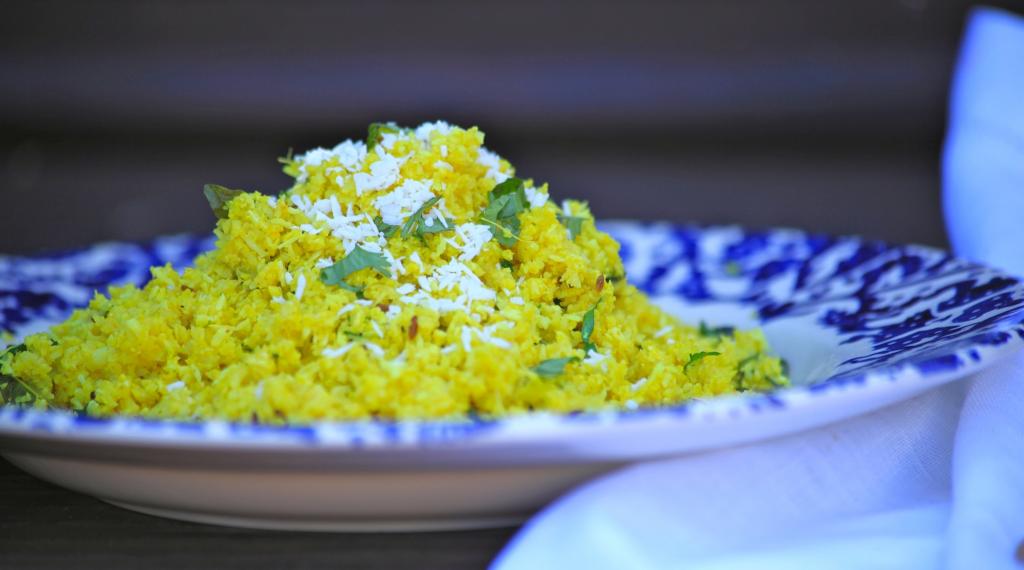 I am constantly on the look out for new and exciting ways to reinvent and interpret classic dishes but with my own healthy and Indian touch. This dish is exactly that, taking a classic favourite, being rice and substituting it for the paleo diet inspired method of using shredded cauliflower to make the rice. This is a great alternative to rice as it still retains a similar taste and texture. It is the fragrant and nourishing blend of herbs and spices coupled with the coconut flakes that gives this dish an Indian touch.
Ingredients:
1 cauliflower, shredded/ very finely chopped
1 tablespoon coconut oil
1 teaspoon cumin seeds
1 tablespoon ginger, garlic, chilli paste or just freshly chopped ginger
10 curry leaves
½ teaspoon turmeric
½ teaspoon coriander powder, optional
½ teaspoon cumin powder, optional
2-3 tablespoons coconut flakes
handful coriander
Method:
Start by finely grating the cauliflower or using a food processor to evenly and finely chop.
Place the oil and cumin seeds in a pan on low heat and wait until the cumin is brown.
Now add the ginger, garlic and chilli paste. You can alternatively grate some fresh ginger – without garlic and chilli – if you prefer. Add the curry leaves and then the chopped cauliflower.
Stir for a minute before adding the turmeric, coriander and cumin powders as well as the coconut flakes.
Add the coriander leaves, mix thoroughly for another minute and serve with a sprinkle of coconut flakes.
5. The Radiance Bowl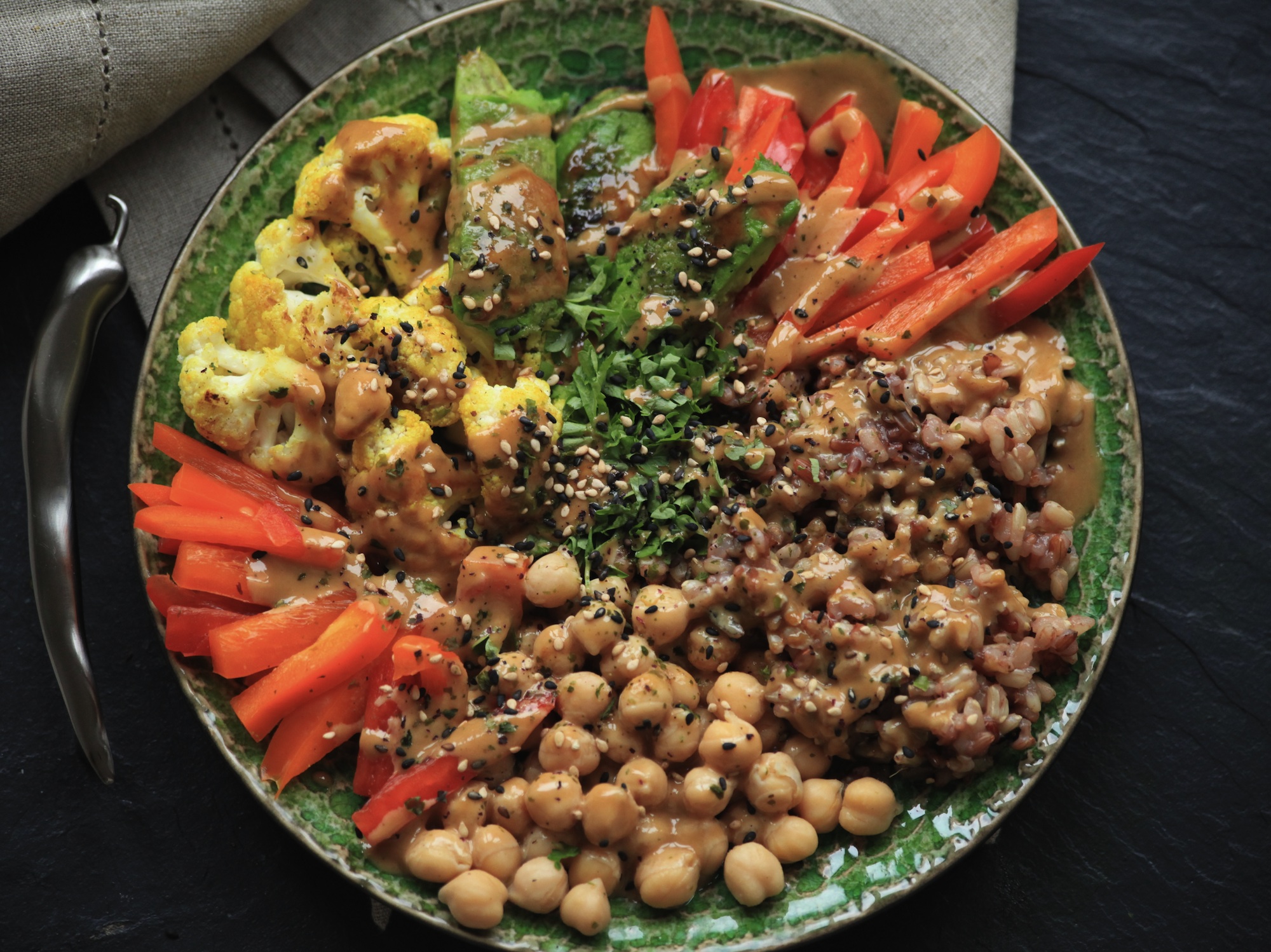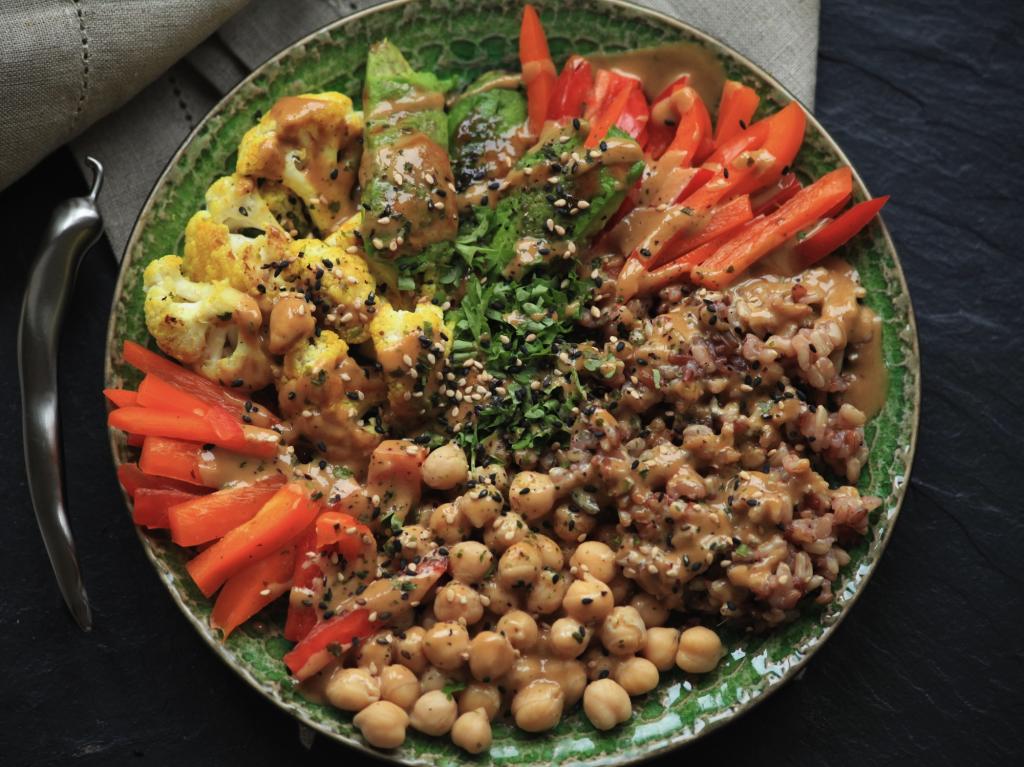 The fabulous thing about this bowl is – it looks so impressive, it is just as delicious, and it is in fact so simple to make. What I love about goodness bowls is that you can be so creative with them, swapping and changing with whatever you have in the fridge. They look so colourful, vibrant and full of, nothing but, goodness. Hearty, filling and tasty
What makes this particular assembly different is the turmeric cauliflower, the chargrilled avocado and the lightly sweetened dressing, made of tahini, maple syrup, soy sauce and yoghurt. And it is this dressing that brings all the vegetables and all that is in this bowl to life. A lively balance of vegetables, proteins (chickpeas) and good fats (avocado) that makes for the perfect lunch.
1 bowl 
Ingredients:
The bowl
½ teaspoon rice bran oil
½ orange pepper, thinly sliced
½ red pepper, thinly sliced
70g cooked wild or brown rice
½ avocado
70g chickpeas
handful coriander
Furikake mix or sprinkle of black and white sesame seeds
For the cauliflower
100g cauliflower pieces
2 teaspoons coconut oil
¼ teaspoon turmeric
pinch coriander powder, optional
pinch cumin powder, optional
¼ teaspoon salt
For the dressing
1 teaspoon sesame paste
1 teaspoon maple syrup
2 teaspoons soy sauce
1 tablespoon yoghurt
2 teaspoons rice bran oil
Method:
Start by cooking the wild rice in water.
Chop all the vegetables and keep aside.
Make a few cuts along the avocado and leave on a mesh pan so that it becomes slightly chargrilled.
To cook the cauliflower, place oil in a small pan, add the cauliflower pieces, then the turmeric, coriander and cumin powders, and the salt, and stir well. Keep stirring until some of the cauliflower pieces turn a little brown.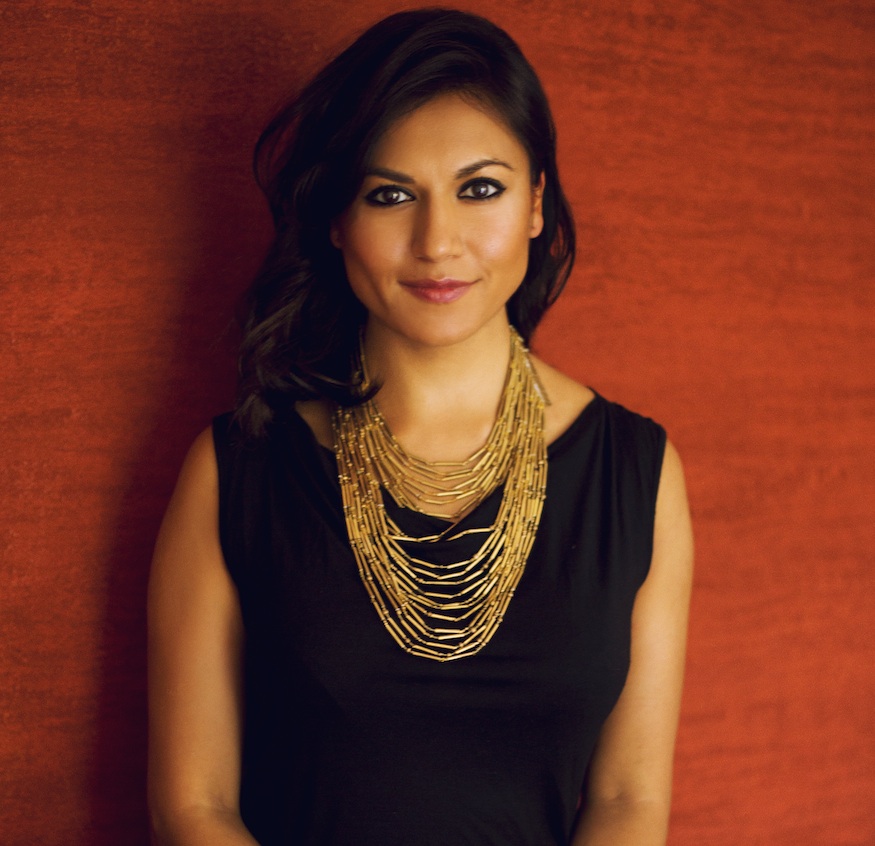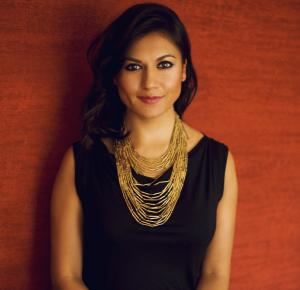 Mīra Manek is a writer and healthy Indian cook with a passion for health and wellbeing. Fast becoming hot property in the food industry, Mira has launched a range of Indian-inspired products and is bringing a new healthy concept of Indian food to the table. On her popular blog, Mira shares her easy-to-make, step by step healthy Indian-inspired recipes, making Indian flavours accessible and uncomplicated.
Ahead of her book release, Mira continues to innovate with grains, lentils and spices introducing a new experimental Indian cuisine, healthy, not heavy, and retaining all the richness of flavour and spice.
For more recipes, info on the release of Mira's book and upcoming events and product news go to: miramanek.com or Tweet @miramanek
Like this article? Sign up to our newsletter to get more articles like this delivered straight to your inbox.