Conventional room sprays contain nasty chemicals so we've hand-picked the 5 best organic room sprays to make your home smell absolutely divine  
When it comes to room sprays most of us don't want to spray nasty chemical-laden concoctions into the air. We have tested a number of room sprays which don't contain any harmful ingredients and are 100 percent natural and organic. We know that smell is subjective so we have selected different scents which are all unique in their own way.
1. PURIFYING AND FRESH
Puressentiel Purifying Air Spray with 41 Essential Oils 200ml, £14.03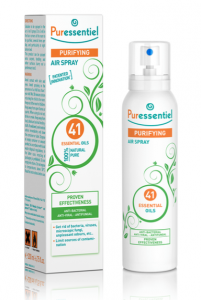 The Puressentiel Purifying Air Spray is not like any ordinary room spray, it was developed in cooperation with doctors, researchers and pharmacists. Puressential is Europe's leading brand when it comes to aromatherapy and now it's available in the UK. All Puressentiel products are sustainably-sourced and contain 100 percent natural ingredients. This particular spray is made from 41 essential oils and is dye-free, preservative-free and synthetic perfume-free. Moreover, studies conducted by the company have shown that allergic asthma patients showed tolerance towards the spray. But there is more, you can use this 'purifyer' as a room spray but also on your clothes, carpets, upholstery and car.
'it's made from 41 essential oils and is dye-free, preservative-free and synthetic perfume-free
If you like the smell of clean and fresh air, this room spray will do that for you. The Puressentiel purifying air spray is perfect for crowded rooms to stop bacteria from spreading. The smell seems to almost clear one's airways which is a rather unique property to find in a room spray. The eucalyptus oil dominates the scent and gives it that pharmaceutical touch which leaves the air around you virus and bacteria-free.
2. SWEET AND HOMEY
Organic Trevarno Cinnamon, Sweet Orange and Nutmeg Room Mist, £15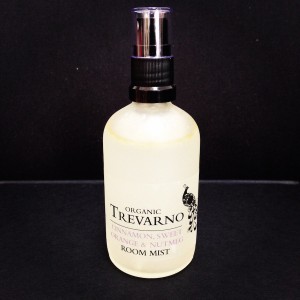 Organic Trevarno prides itself on the use of organic ingredients gained from plants, herbs, flowers and fruits. The scent we tested included six essential oils and none of the chemicals you often get with some other scented room sprays.
Cinnamon, nutmeg and orange elicit a scent of freshly baked goodness
Within seconds of spraying the smell gives any room a cosy feel. Cinnamon, nutmeg and orange elicit a scent of freshly baked goodness so even you're not the most talented baker out there this room mist you can make your guests believe you are. The orange smell gives this scent a sweet note.
3. RELAXING AND FLORAL 
Bamford Incense, Rock Rose and Amber, £25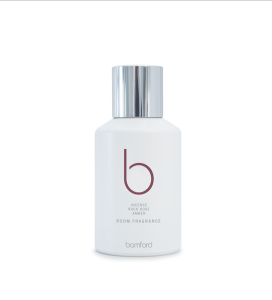 Carole Bamford, the founder of the brand is passionate about sustainable and holistic living and this is certainly reflected in her products. Bamford's products are organic and inspired by simplicity and quality. The room fragrance range contains 100 percent organic alcohol which is made from wheat. All the packaging and the actual glass bottle are recyclable which is a big plus considering that so many companies provide packaging that is harmful to the environment. The bottle itself is stylish too.
It made our tester feel like she was in place that was both a rose garden and a spa in Thailand
This fragrance made our tester feel like she was in place that was both a rose garden and a spa in Thailand. I know this might sound like an odd combination but this is the only way we can describe it. The incense combined with rose and amber gives this room spray a soothing, relaxing edge.
4. CITRUSSY AND CRISP
Neom Organics (White Neroli, Mimosa & Lemon), £18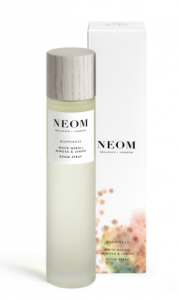 Neom Organics uses only 100 percent natural and ethically-sourced ingredients. Most importantly, it doesn't contain petrochemical paraffin or mineral wax, which are often used in room sprays as well as gasoline, floor wax or motor oil (and let's be honest, you wouldn't want to spray these things around in your room, would you?).
The essential oils used to make this room spray are supposed to have true therapeutic effects on the mind and the body, lifting one's mood. The lemon makes this scent crisp and refreshing, like freshly mowed lawn. The combination of fresh cut grass, neroli and mimosa means that this spray will leave your room smelling fresh and sweet. In fact, this blend of first-pressed oils has been used since the 17th century, say the makers.
5. RICH AND FLORAL
Willow Organic Beauty Jasmine & Geranium, £25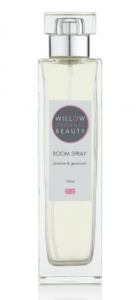 Willow Organic Beauty is an organic and luxurious brand founded by Sue Stowell. The Jasmine & Geranium room spray is not only a treat for your nose but also absolutely gorgeous to look at.The brand is driven by the idea to make products which are not harmful to neither our bodies or the environment.
This scent is designed to help you relax and unwind. All you geranium-fans out there will love this room fragrance  because the smell of geranium really comes through. At £25 per bottle this is certainly at the higher end of the market but you get value for money, because the scent is so powerful that you only have to spray it once and it will spread nicely throughout the entire room.
Like this article? Sign up to our newsletter to get more articles like this delivered straight to your inbox.