What's with the new plethora of athlete-branded apps? Whether you want to work out or waste time, a top sports person probably has an app for that.  From personal training with elite athletes, to running from pirates with the world's fastest man in the world, I've worked my thumbs tirelessly trialing five of the biggest athlete branded apps

Great for WORKING OUT  Nike Training Club with Serena Williams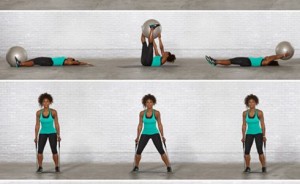 By far my favourite of the athlete branded applications, this app is fantastic value for money – ultimately because it is free, not to mention its endless content.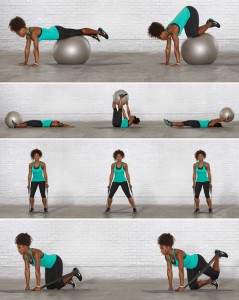 Literally a workout in your pocket, choose from a series of workouts with simple to understand step-by-step narration, images and videos.  With optional levels of fitness from beginner to pro, the app offers an endless list of programmes so you can choose to focus on working the area that most suits your goal.  Unlock exclusive extra workouts with personal training from Serena Williams, Hope Solo and Paula Radcliffe. If this isn't motivation enough, you can set your workout to your own music.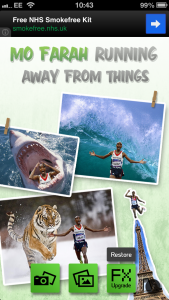 Great for WASTING TIME Mo Farah Photo FX They say simple things please, and this app is no exception.  With this free app you can run with the Olympic champion Mo Farah without even breaking a sweat. Simply take your favourite photo and paste in the most appropriate 'Mo' silhouette. You can edit and resize for the best effect and save it to your photo stream ready to share with the world.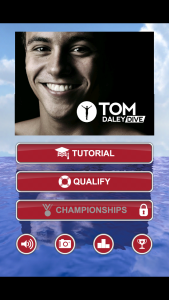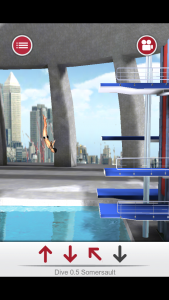 Great for EYE CANDY – sorry, DIVE HANDY HINTS  Tom Daley Dive Developed by the London-based Chelsea Apps Factory who have previously focused on enterprise applications sees this game come from a unique angle with distinctive presentation and several components including detailed training and competition options to explore. Gesture controlled, you simply stroke your touch screen to equate segments of a dive, get the timing wrong and poor Tom will belly flop the water, get it right and you'll be applauded, scored and a new dive will be unlocked. It's free to download, though not all the dives are available in this version, to access them you'll have to pay 69p.  And, (not that it's a selling point or anything), completing different achievements will also unlock photos of Tom Daley…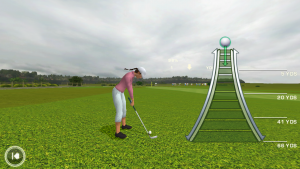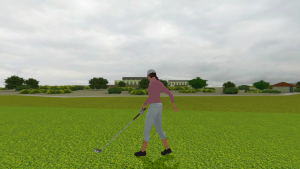 Great for GOLF ANORAKS Tiger Woods PGA Tour 12 At 69p this app is one of the few athlete branded games I came across which cost to install. That aside the app, born of the popular series of video games which first appeared in 1999, offers seemingly endless game play and attention to detail.  Developer EA Sports have ensured the app offers all of the main features enjoyed in the full console release, including experiencing the PGA Tour like Woods himself, the Tiger challenge and a 'closest to the pin challenge'.   Earn rewards and share your success on social networks. You can even create your own female or male golfer, complete with optional outfits.  The game is certainly efficient and sure to offer hours of entertainment to the golf enthusiast, but is in danger of becoming tedious for others.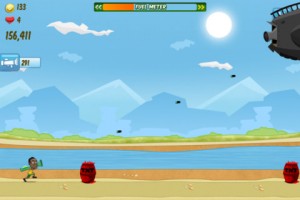 Great for KEEPING THE KIDS QUIET Bolt!  This free app has been downloaded over three million times since it became available to the market before last year's London Olympic Games. Developed by RockLive, the name suggests good entertainment value; the company have produced a few athlete branded applications to date including 'Mike Tyson: Main Event' and 'Heads Up with Christiano Ronaldo'.
Playing as the Jamaican triple Olympic champion you must outrun a gang of Caribbean pirates who are after your gold medals. Using the touch screen control you swipe your way to jump, slide and bolt, avoiding bombs and collecting vital gold coins which will improve your speed (or rather, make the game harder I found) and stock up on energy.
The sound track is catchy, though I'd suggest keeping the volume down if, like me, you collide with every other explosive barrel on route – Bolt's groan when he meets his death is enough to make you, and everyone else around, grimace. The course's rolling background is repetitive but if you can make it further than a few hundred yards to the increasingly difficult levels beating your high score – and your friend's with the optional social network sharing button – could be addictive.
Like this article? Sign up to our newsletter to get more articles like this delivered straight to your inbox.