Exhausted by dinner-time but still want a healthy meal? Our blogger, Carole Beck, is sharing her favourite healthy 30-minute meals every fortnight. This week's culinary adventure: pan-fried prawns with mango salsa from Waitrose Cookery School.
On scorching hot evenings, the last thing you feel like doing is dragging yourself around a broiling kitchen.
So this dish of pan-fried prawns with mango salsa is a bit of a find. It's perfect for the hottest of hot days – light and refreshing, with flavours that hark of exotic seaside holidays.
Plus it's really healthy too: packed with vitamin C-rich mango and prawns, a low-fat protein source. There's only a dash of oil and sugar in the recipe, and plenty of iron from the rocket and dark green salad leaves.
And it doesn't take long to prepare – just 15 minutes start to finish.
But you could save even more time by chopping your mango salsa ingredients in the morning. All you have to do in the evening is toss the ingredients together for the marinade – a mere five minutes before you want to eat. But don't put the ingredients together that morning as the sugar will counteract the lime and fish sauce.
While the flavours of the marinade are infusing, pan-fry the prawns. Job's done.
This was one of the meals that I cooked on a recent Quick & Simple Suppers course at Waitrose Cookery School.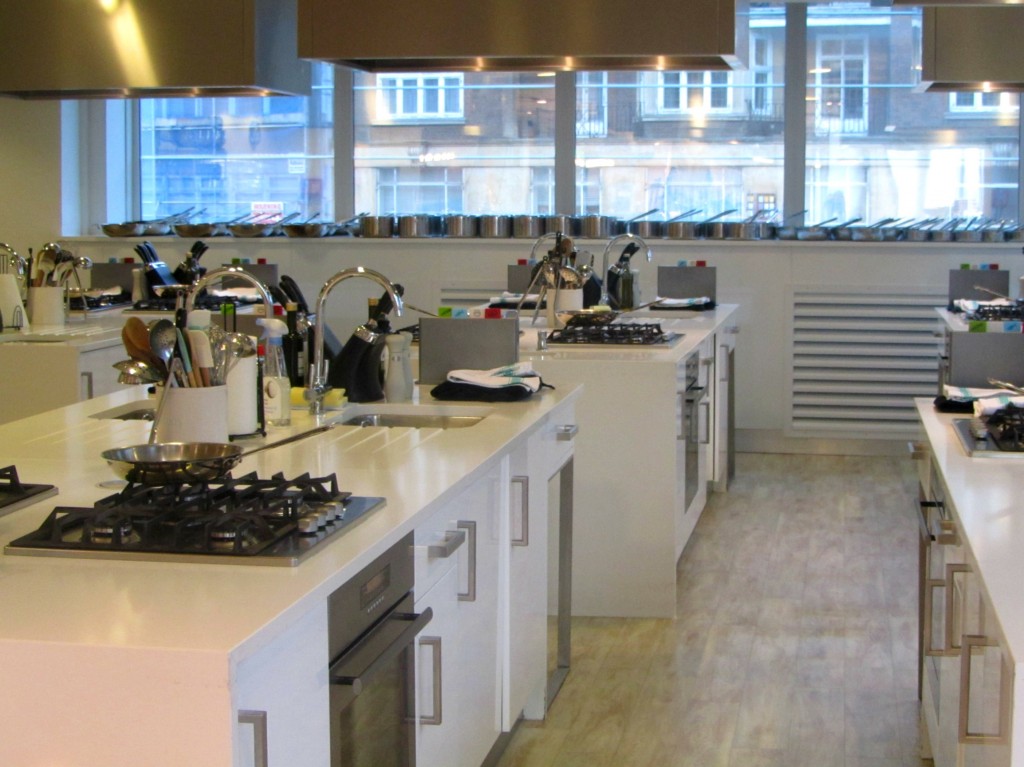 Set in Finchley Road in north London, I was taken by how this cookery school makes a great treat destination. You're greeted with a glass of Prosecco and nibbles, the space is light and airy, plus you go into a separate auditorium (with lovely comfy chairs) to watch a demonstration of each dish before you cook it.
As a result, each student was able to have a taster of the meal before we were let loose on the ingredients. Unsurprisingly, it's really very helpful to know how a dish is supposed to taste at the hands of a professional chef. And it meant that we amateurs could adjust seasoning and flavouring accordingly.
Out of the three suppers we prepared, this pan-fried prawn and mango salsa was the speediest.
I found it an intriguing recipe because it involved stir-frying salad and rocket leaves, something I would never have thought of doing.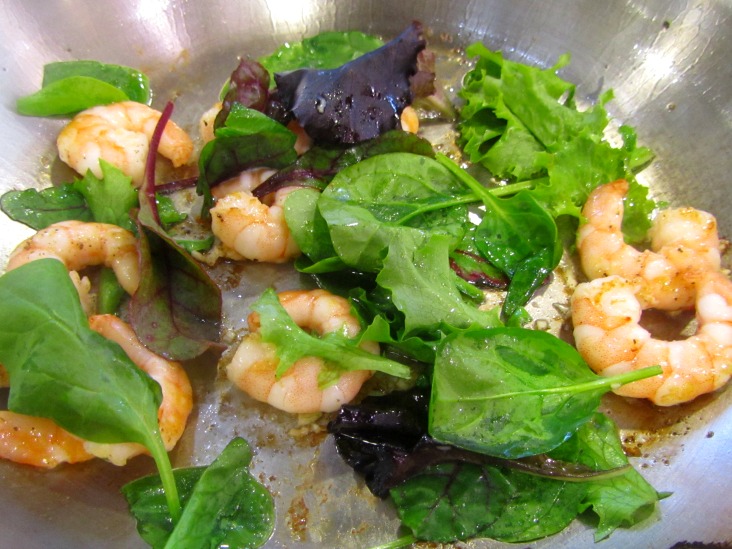 This dish makes a great starter, light lunch or supper. But if you want to turn it into a more substantial meal, our chef tutor suggested tossing in mussels as well as the prawns, and serving it with jasmine rice.
Pan-fried prawns with mango salsa
Recipe courtesy of Waitrose Cookery School
Serves 2
Preparation time: 10 mins plus marinating
Cooking time: 5 mins
1 ripe mango, peeled, stoned and roughly chopped
1 red chilli, deseeded and finely chopped
2 tsp chopped mint
2 salad onions, finely sliced
1 lime, juiced
½ teaspoon caster sugar
½ teaspoon to 1 tbsp Thai fish sauce, according to taste
1 clove garlic, finely chopped
200g peeled raw tiger prawns
130g mixed baby leaf and rocket leaves
Method
To make the salsa, place the mango in a bowl together with the chilli, mint, salad onions, lime juice, sugar and fish sauce. Season to taste, then cover and set aside for 5 minutes, to allow the flavours to infuse.
Season the prawns. Heat the oil in a frying pan, and add the prawns and cook for two to three minutes, turning occasionally until pink and cooked through. Add the garlic and cook.
Take the pan off the heat. Add the salad to the pan and let it wilt. Add another dash of oil. Toss the mixture through.
Divide the mango salsa between two plates and serve with the prawn and salad mix on top.
Carole was given a free cooking course with Waitrose Cookery School for review purposes. Carole did a four-hour evening course normally costing £100 (prices for two hour courses start at £50). To find out more about classes at Waitrose Cookery School, click on the link.
Read more from The 30-Minute Cook:
Posh (and paleo) duck breast recipe to serve to friends
5 healthy kitchen gadgets to save you time this summer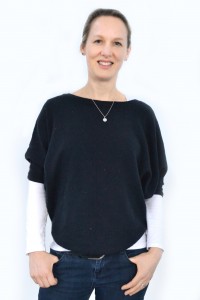 Carole is a health, parenting and food journalist, and has three children, aged eight, five and three. She lives in London, and writes a blog at Healthier Mummy about trying to lead a healthier family life. Follow her on Twitter at @healthiermummy.
Like this article? Sign up to our newsletter to get more articles like this delivered straight to your inbox.