Social media superstar Joe Wicks – aka the Body Coach – has some new healthy recipes that are easy and quick to kickstart weight-loss 
With over 300,000 Instagram followers, and success from transforming the bodies of over 10,000 clients with his 90 day Shape, Shred & Sustain plan, you can be assured these new recipes from Joe Wicks can help you get lean for summer. The recipes, taken from Beach Lean in 15 –Joe's new free digital download – are tasty, nutritious, and contain ingredients found in anyone's kitchen cupboards.
1. BEEF AND UDON STIR-FRY
If you love a quick stir-fry, this recipe is perfect for you. It's full of flavour and even tastes great cold, so you can box half up and take it to work. If you're not a fan of beef, just use chicken or tofu instead – it will still taste awesome and be a great post-workout refuel meal.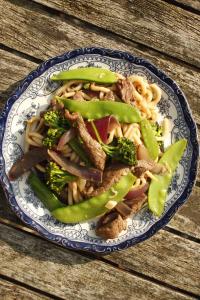 Serves 2
Ingredients
2 cloves garlic, finely chopped
2 tbsp light soy sauce
300g sirloin steak, trimmed of visible fat and cut into ½ cm slices
1 tbsp coconut oil
1 red onion, cut into wedges
handful of mangetout
handful of tenderstem broccoli (or chopped-down midget trees, as I like to call them!)
450g wok-ready udon noodles
2 tsp toasted sesame oil
Method
Put the garlic, half the soy sauce and the beef into a bowl and mix together. Leave to marinate for 2 minutes.
Heat up the coconut oil in a wok over a medium–high heat. Add the onion and stir-fry for a minute. Throw in the marinated beef, along with all the saucy stuff from the bowl, and stir-fry for another minute.
Throw in the mangetout and broccoli, then pour in a little splash of water – this will steam up and help to cook the veg.
Throw in the udon, tossing them around to separate the noodles. As soon as they are warmed through, remove the wok from the heat.
Pour over the remaining soy sauce and the sesame oil – and bosh, it's good to go!
2. PROTEIN PANCAKES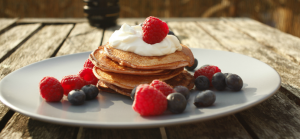 Oooh, I can eat pancakes and get lean? Yes please – sold! These may look naughty but they're actually the perfect post-workout treat, so stack 'em up and enjoy. You've earned them!
Serves 1
Ingredients
1 banana, roughly chopped
1 scoop vanilla protein powder
1 egg
25g rolled oats
1 tbsp coconut oil
Greek yoghurt, blueberries and raspberries, to serve
Method
Whizz up the banana, protein powder, egg and oats in a blender to make your batter.
Heat up half the coconut oil in a non-stick frying pan over a medium heat. Pour little puddles of batter into the pan – I usually get 3 pancakes, with about half the batter in the pan at once. Cook for about 1 minute on each side.
Remove and repeat the process with the rest of the batter. Serve with a dollop of yoghurt and a few fresh berries.
3. THAI GREEN CURRY
I'm a massive fan of Asian food and this is, without a doubt, my favourite Thai meal. It's one of those dishes that never gets boring, and this recipe really does give you that authentic Thai-restaurant taste. It's worth making enough for 4, as any leftovers are great for taking to work for lunch or freezing for later. For a change, replace the prawns with chicken, beef or tofu.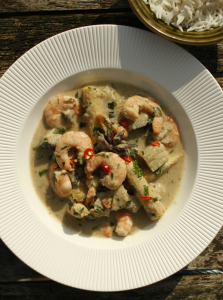 Serves 4
Ingredients
2 tbsp coconut oil
2 star anise
1 aubergine, cut into small chunks
2 tbsp Thai green curry paste
1 x 400ml tin full-fat coconut milk
handful of baby corn
450g raw king prawns, peeled
1–2 tbsp fish sauce
juice of 2 limes
½ bunch basil, roughly chopped
½ bunch coriander, roughly chopped
1 red chilli, roughly chopped
microwave rice, to serve
Method
Heat up the coconut oil in a large pan over a medium–high heat. Add the star anise and aubergine and fry for 1 minute. Add the curry paste and half the coconut milk. Stir to melt the paste into the coconut milk, then increase the heat to high.
Pour in the rest of the coconut milk, toss in the baby corn, and bring to the boil. Simmer for 3 minutes, then drop in the prawns and simmer for 2 minutes until they turn pink and are fully cooked.
Take the pan off the heat and chuck in fish sauce to taste, along with the lime juice and herbs. Top your curry with the red chilli.
Ping your rice in the microwave for 2 minutes and serve.
Recipe taken from Beach Lean in 15 by Joe Wicks (Bluebird), a free digital download is now available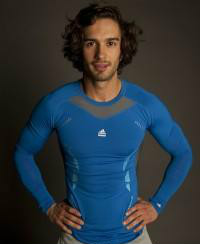 Joe Wicks is a health and fitness professional with a strong background in sports science, nutrition and personal training. Joe is particularly well known via the popular social media website Instagram as 'The Body Coach' for his 90 day shift, shape and sustain plans as well as his 'lean in 15' video meals. Specifically, Joe focuses on weight loss, building muscle tone and training for endurance events by providing boot camps, personal training, diet plans and personal workouts whilst providing motivation and enjoyment in clients ranging from professional athletes to complete beginners.
Follow Joe on Instagram and Twitter: @thebodycoach
Like this article? Sign up to our newsletter to get more articles like this delivered straight to your inbox.