The latest vegan protein powders no longer taste like dust. We tried these 10 dairy and whey-free protein shakes and they passed the taste test at Healthista HQ
This article was last updated 10th September 2020
Protein powder is the talk of the town with new products constantly cropping up left, right and centre and with the surge of demand we understand why.
No longer limited to fit-stagrammers, gym-goers, body builders and personal trainers, protein powder is quickly becoming an asset to any health lover.
Protein powder isn't just about bulking up and weight gain though, as traditionally used. Choose one with the right booster ingredients, such as inulin, and it can even help you reach your weight loss goals – read Healthista's post about 6 best ingredients to look for in a protein powder to find out more about this.
With so many to choose from how do you know where to begin and which is right for you? Luckily Vicky Hadley aka @vickyhadley_fit has sought out 10 of the BEST vegan protein powders that taste amazing:
#1 Musclemary, not just protein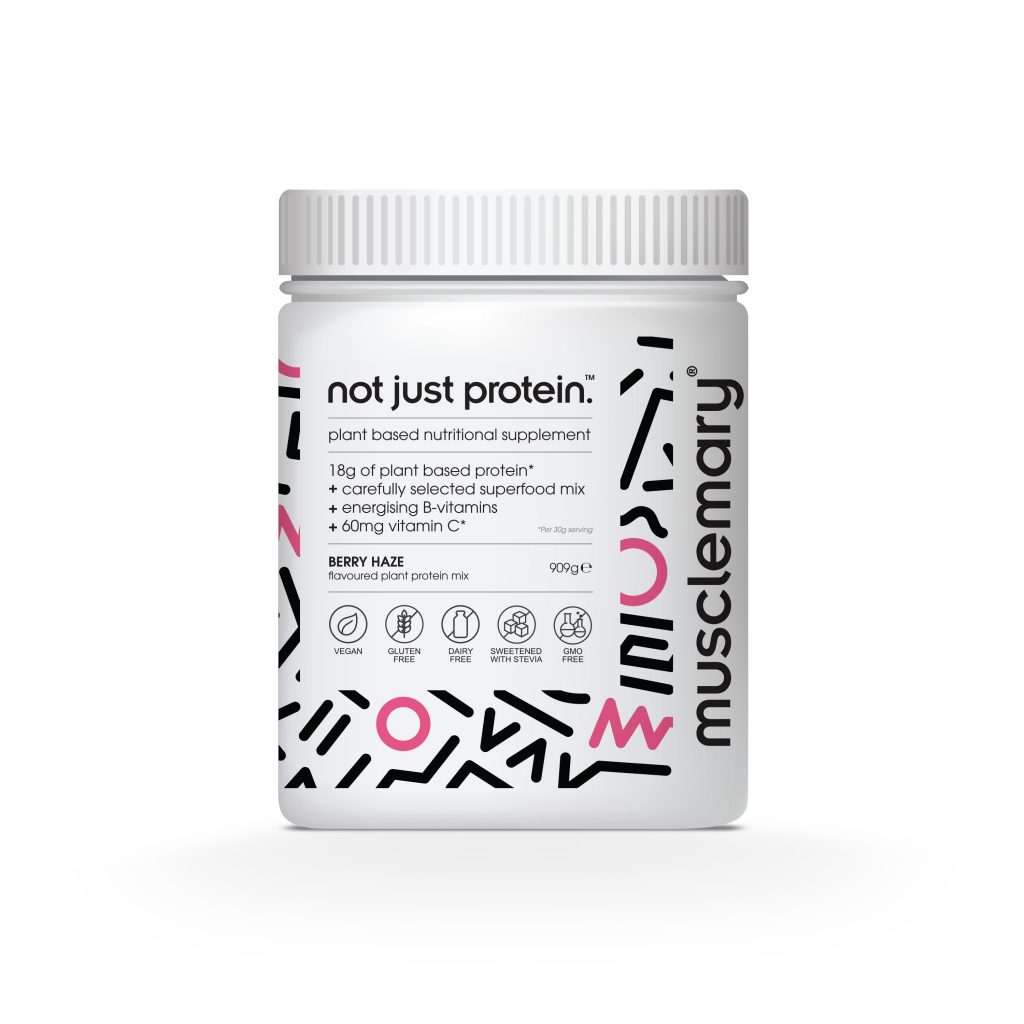 Why we love it? Musclemary 'not just protein' is definitely up there in one of our favourite vegan protein powders list.
It's large list of superfood ingredients explains the 'not just protein' name which includes ingredients such as maca, baobab, flaxseed, acai and more. Musclemary also has natural, ethical fat burners from CLA (Conjugated Linoleic Acid) and glucommann that keeps you feeling fuller for longer.
Best flavour? Our favourite flavour has to be the berry haze however the chocolate crush came in a close second. Berry Haze, £37.50 – buy now.
What's the taste like? Berry haze tastes delicious when microwaved with oats and water. It is extremely sweet and moreish, almost like a healthy strawberry dessert.
How many grams of protein per serve? There is 18 grams of protein per 30 gram serving.
#2 STRIPPD, Vegan Lean Protein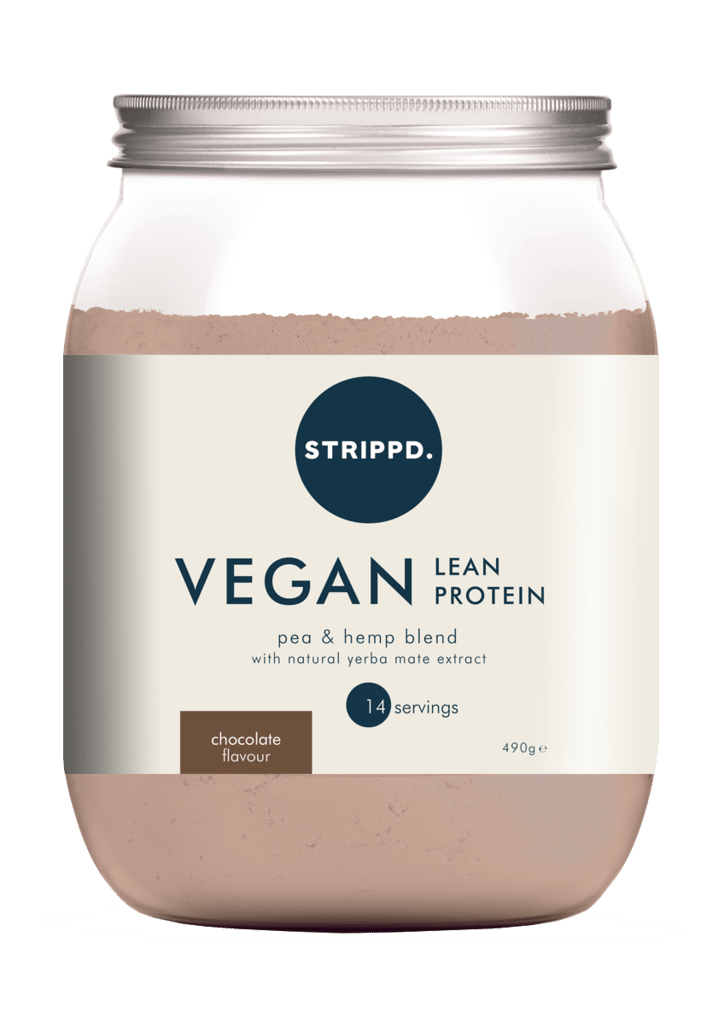 Why we love it? STRIPPD have been a favourite of Healthista for a while.
Their vegan protein powders are derived from a blend of whole pea and hemp and infused with metabolism boosting yerba mate to help tone and develop lean muscle.  The pea and hemp blend contains all of the essential amino acids for building long, lean muscles.
What's the taste like? A rich chocolate brownie. The chocolate flavour has a sticky texture that reminds me of a chocolate brownie mix. I recommend taking it with a small amount of hot water to turn it into a chocolate mousse.
How many grams of protein per recommended serving (35grams)? 20 grams
Best flavour? Chocolate
#3 MyProtein, Vegan Protein Blend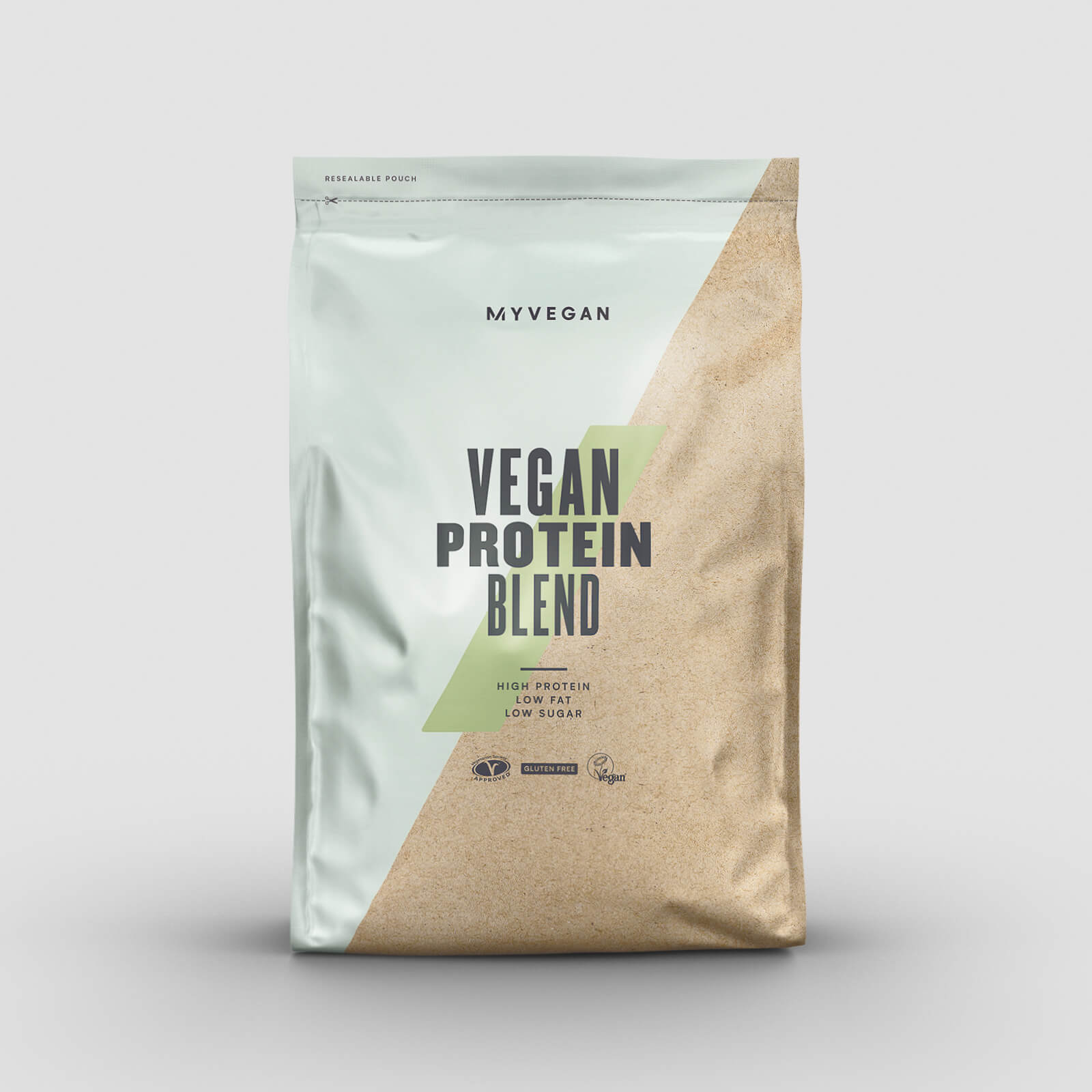 MyProtein's Vegan Protein Blend is another love of ours. It's completely gluten free and made with completely natural ingredients with an added boost of enzymes, green tea and folic acid.
Best flavour? Strawberry.
What's the taste like? The strawberry flavour tastes incredible mixed with Alpro Soya yoghurt. It has a strong strawberry milkshake taste – a healthy McDonalds milkshake!
How many grams of protein – each serving delivers 16g of protein
Available to buy on Amazon.
#4 Missfits, Vegan Protein Powder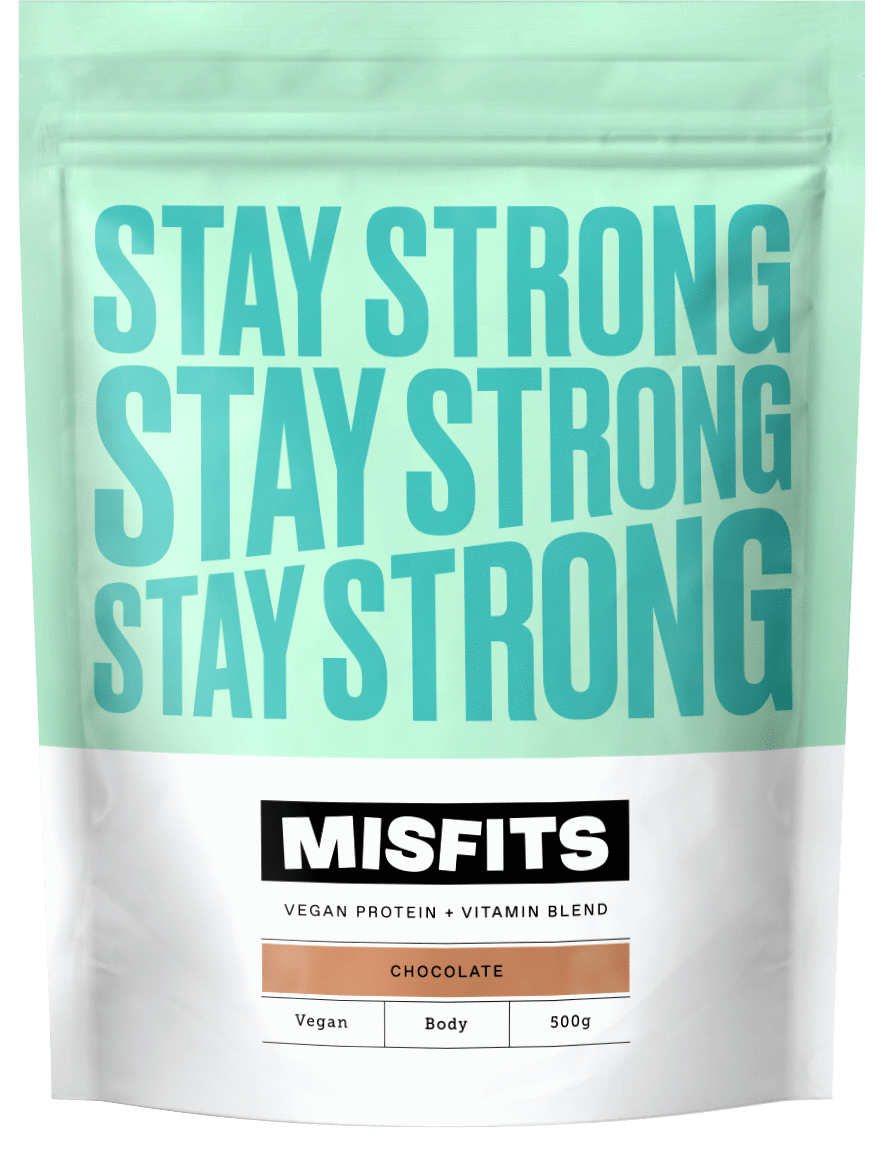 Why we love it? Missfits is another fairly new name in the protein industry but is already a must-have for many fitness bloggers and instagrammers.
It's crammed with all of the essential nutrients we need for our body to function properly and unlike the others it is only stocked in sachets meaning it's a portable option to keep in your gym bag without weighing you down.
Best flavour? My favourite flavour was chocolate which I mix into my morning porridge oats as it definitely wakes you up first thing in the morning. It's also a great one to have before and after your gym session as a pre or post-workout snack.
What's the taste like? Missfits chocolate flavour has a yummy taste that is ideal for those non-sweet tooth lovers. It mixes with water well and gives you a powered up workout.
Grams of protein? Missfits has 15 grams of protein per 25 gram serving.
Available to buy on Amazon.
#5 Innermost, The Health Protein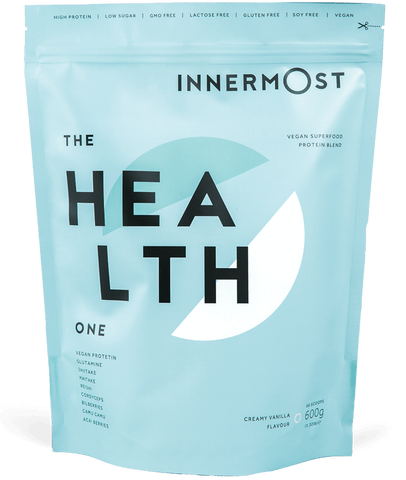 Why we love it? Innermost's protein blends contain unique blend of ingredients such as Japanese medicinal mushrooms, pink Himalayan sea salt, bilberries, Montmorency cherries, cocomineral, turmeric and matcha green tea.
The protein powder helps to reduce fatigue, increase recovery time, burn fat  as well as build lean muscle mass. I tried 'The Health One' of the innermost blends as this is a vegan protein powder.

Best flavour? The Health One comes in a sweet chocolate flavour that tastes delicious and light alone or amazing mixed with yoghurt for a creamy dessert.
What's the taste like? This protein powder is very sweet and blends perfectly when shaken with milk or mixed with water. There is no dust-like taste at all.
Grams of protein? 30 grams of protein per 40 gram serving.
Available to buy on Amazon.
#6 Protein World, The Slender Blend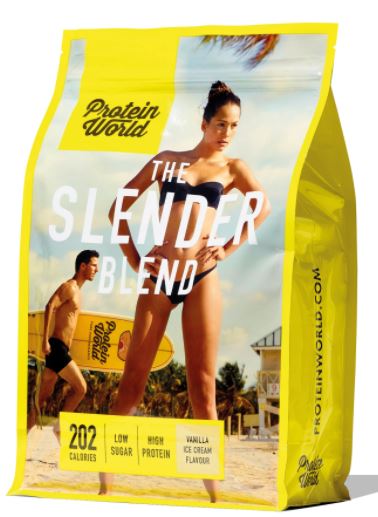 Why we love it? Protein World is a fantastic option for those with allergies or choosing to avoid soy as well as dairy.
Made from pea protein and a vitamin and mineral blend. It is a thick, smooth consistency when mixed with plant based milk or water and has a sweet, more-ish taste that you can't help but love.
Best flavour? Vanilla is our favourite flavour – sweet and smooth, I simply mixed it with water after my workout and felt full and satisfied until dinner.
What's the taste like? Really sweet without being sickly and no 'dusty' or grainy aftertaste.
How many grams of protein per serving? 30 grams of protein per 40 gram serving
Available to buy on Amazon.
#7 Free Soul, Vegan Protein Blend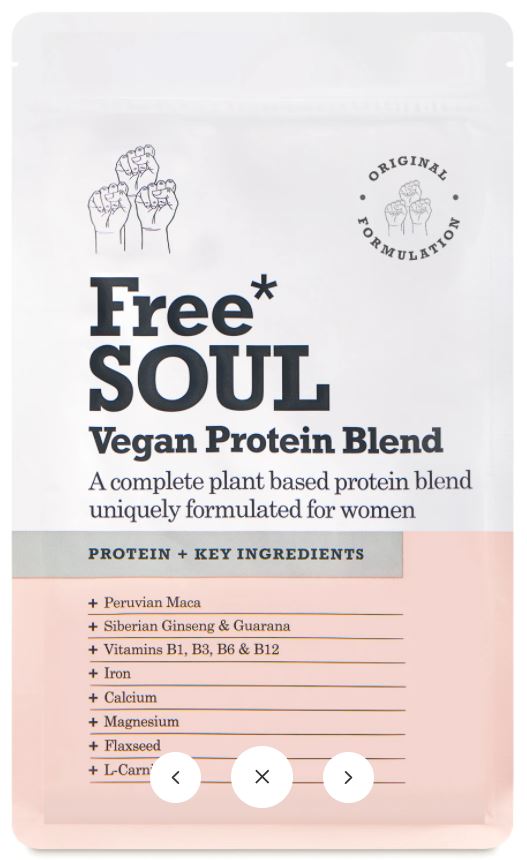 Why we love it? Free Soul is a complete lean, plant based protein blend made from pea protein isolate and white hemp protein which has been blended with vitamins and minerals to help support hormone balance, mood and energy.
The sachets are slightly smaller than the others making it ideal to pop in your gym bag post-workout thanks to it's resealable top.
Best flavour? Berry
What's the taste like? The berry protein isn't too sickly sweet and tastes amazing blended into a smoothie with almond milk and frozen berries as a great post workout treat.
How many protein grams per serving? There are 20 grams of protein per serving.
Available to buy on Amazon.
#8 Scitec Nutrition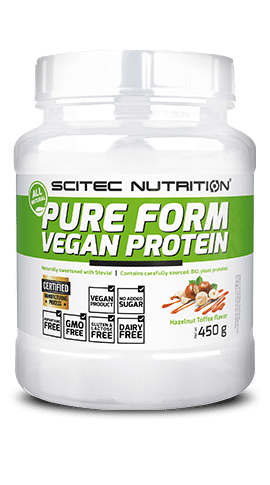 Why we love it? Scitec Nutrition's Pure Form Vegan Protein is a vegan protein mix, naturally sweetened with stevia.
The Organic Vegan Protein Blend is made from pea protein isolate, rice protein, coconut protein, pomegranate protein, and pumpkin protein providing a great mix of amino acid for vegans and with only 84 calories per serving, it's a great weight loss option too.
Best flavour? Toffee
How many grams of protein per 30 gram serving? 20 grams
What's the taste like? This protein powder tastes like a dessert! It is sweet and has the melt in your mouth texture that makes you sigh in happiness.
Thanks to the stevia extract it needs no extra sweetener, if you are looking for a post-dinner treat, try a tablespoon mixed into some soya or coconut yogurt.
Available to buy here.
#9 33Fuel Premium Protein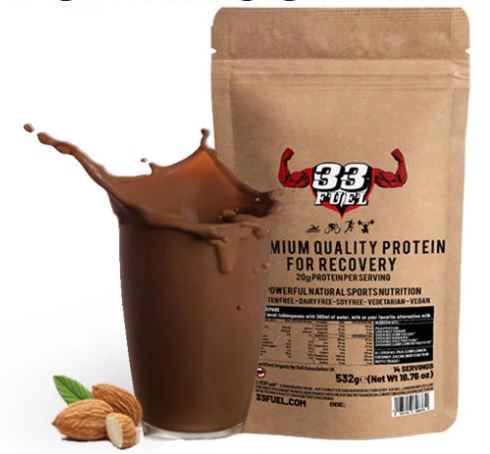 Why we love it? 33Fuel premium protein is packed with 33 potent superfoods for endurance performance, all dedicated to boosting power, energy and recovery.
The Pre and Post Workout Shakes are the ultimate workout fuel for any athlete whose goals are to push harder. They are formulated for triathletes, runners, cyclists and swimmers tackling distance events anywhere from two hours to two weeks and beyond.
Best flavour? Cacao flavour
What's the taste like? It tastes natural and is an excellent option if you are trying to curb sweet cravings. You can really taste the addition of the dates making it seem as though you whipped it up yourself.
If you are not a fan of stevia then this is definitely the one to go for as its not as sweet as the others.
Available to buy here.
#10 Healthspan Elite Complete Vegan Protein & Protein Flavour Drops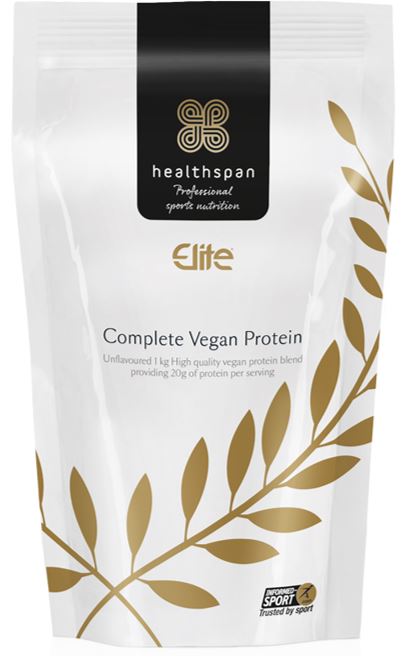 Why we love it? This is a new protein powder product launched by Healthspan, a supplement brand we highly rate at Healthista HQ which combines three different vegan protein sources (pea, pumpkin and brown rice) with an A-Z of added vitamins and provides 20g of protein per 27g serving.
It mixes very easily – no need for a blender – and we love the affordably priced 1kg pouch.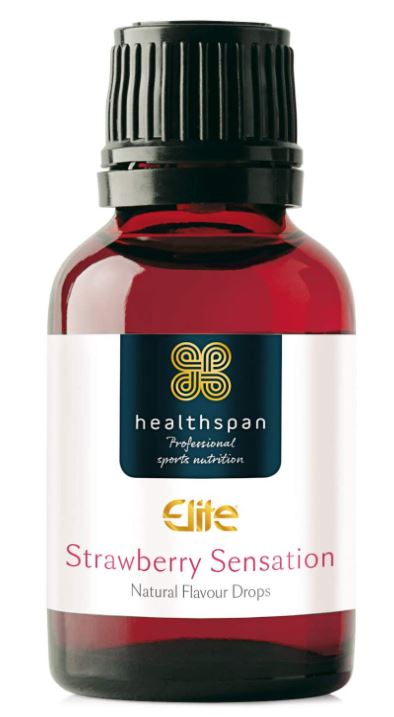 Best flavour? The protein powder itself has been designed without flavour giving you more flexibility in how to use it (great if you're experimenting with making protein balls and protein cakes).
But the star of the show is the new protein flavour drops (strawberry is our favourite) which you add to flavour your shake.
What's the taste like? You can easily tweak the flavour intensity of your shake by adjusting the amount of flavour drops you use, ranging from 5-10 drops depending on how strong and sweet you'd like it.
Having this control over flavour is something we really loved about this product.
Available to buy on Amazon.
More Healthista Content:
8 healthy food essentials from the UK's hottest vegan couple
My healthy food essentials for weight training – Instagram star reveals
9 healthy eating essentials athlete Rebecca Adlington loves
8 healthy foods this nutritionist always keeps in his kitchen
Like this article? Sign up to our newsletter to get more articles like this delivered straight to your inbox.