Jasmine and Melissa Hemsley are the clean eating sisters that brought us bone broth and one of the most lusciously photographed blogs ever hemsleyandhemsley.com.  So if you're wondering with they really eat, here are their week-long food diaries 
Jasmine and Melissa Hemsley are the sisters that made healthy eating glamourous but what do they actually eat? We asked them to keep food and exercise diaries for a week and found wine, cocktails, cheese and butter on the menu, as well of course as bone broth, kale smoothies and mushroom tea!
MORE: 3 healthy recipes from the Hemsley sisters you won't notice are good for you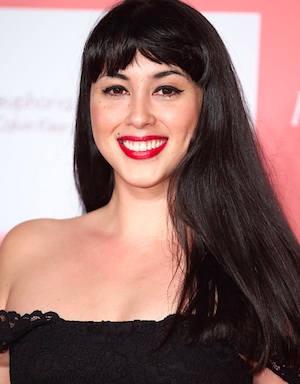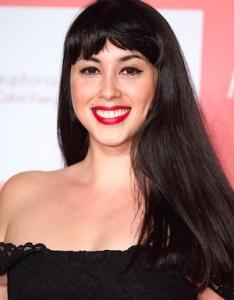 Melissa Hemsley 30 lives in South London with her partner Henry Relph, 32, a JJ and art consultant
Day 1 – Monday
Morning: A cup of Pep-Up Tea – I make a concentrate a couple of times a week – turmeric, ginger, cayenne and then add fresh lemon juice, it's lovely hot or cold and it has a real kick to it!
The buckwheat noodles take just 5 mins to boil and used unpasteurised and organic miso
Breakfast: A green smoothie made with sun warrior vegan protein powder, spinach, avocado, a little frozen banana, coconut oil – to take on the go in my Klean Kanteen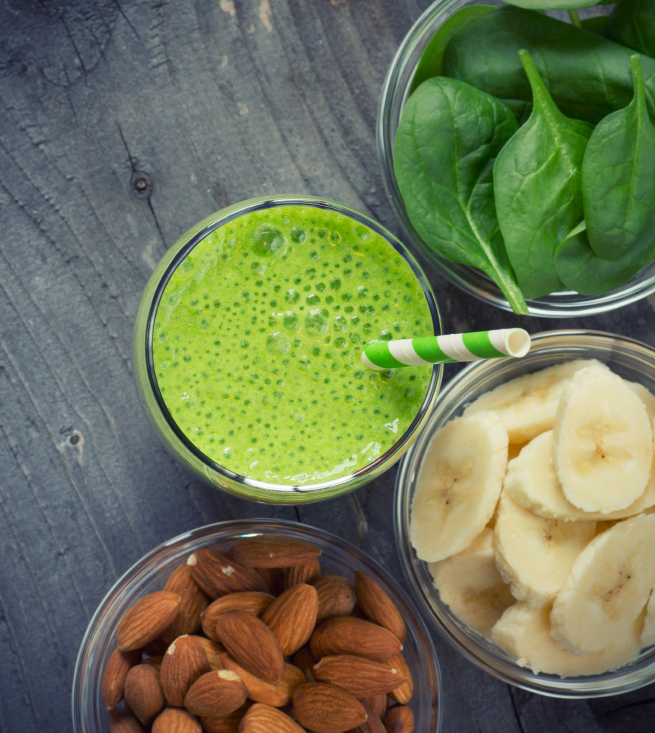 Midmorning: A small handful of brazil nuts and a couple of dates
Lunch: Worked from Modern Pantry and had a prawn omelette and greens for lunch
Exercise: Barry's Bootcamp class with the incredible Faisal playing old skool garage – a great way to kick start the week!
Evening: Buckwheat noodles in a miso chicken bone broth with leftover veg from the fridge (broccoli, red pepper, onion, cabbage). Had the broth ready in the freezer, the buckwheat noodles take just 5 mins to boil and used unpasteurised and organic miso. Took 15 mins to make altogether, just threw the veg in the hot broth to simmer for 6 mins. Listened to a Ted talk while that cooked. Had a Rooibos tea to finish.
COMPETITION: click here to take our reader survey and win £350 worth of health products 
Day 2 – Tuesday
Morning: A cup of green tea to wake up
Breakfast: Muffin frittatas on the go (I baked a batch on Sunday during my Sunday cook-off. Filled with lots of grated carrot, leftover pepper and leftover herbs!)
Exercise: Early evening run round Brockwell Park with Nelly my staffie. When she was a puppy I used to be able to squat holding her – but not anymore!
Lunch: Broccoli soup from the freezer (made with bone broth) and buttered flaxseed bread (toasted) while working from home.
Mid-afternoon: Raw dark chocolate – Raw Halo do a great minty one.
Evening: Made a huge batch of quinoa, roasted veg and brazil nut basil pesto so had a bowl of that with a big watercress salad
Drink: Caught up with two friends at home for supper and I made some lemongrass iced tea (we ended up adding some vodka and turned them into very nice mocktails!)
Day 3 – Wednesday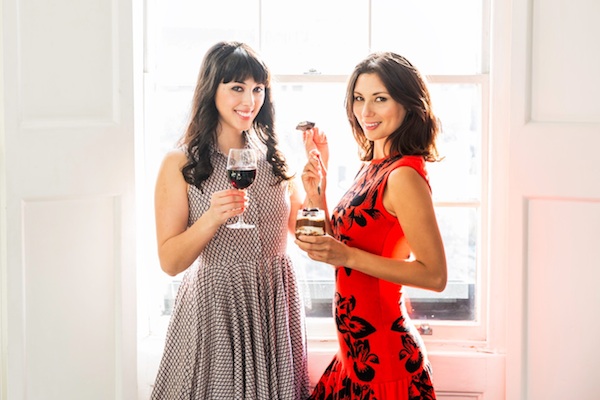 Morning: A mug of Pep-Up Tea
Breakfast: Quinoa Kettle Porridge with grated apple on top and some coconut yoghurt
Exercise: Early morning dynamic yoga class at FRAME
Lunch: Had a packed lunch of leftover supper from last night with some crumbled feta on top
Mid-afternoon: Snacked on a Paradise Bar (our dark chocolate and coconut bars) They have just a hint of sweetness from the raw honey and lots of good fats from the coconut oil. I love making these in bulk and keeping them in the freezer for a quick snack!
Evening: Made a big pot of Mung Dahl (saved the rest for later in the week) with a side of red cabbage slaw – I have this at least once a week!
Drink – A cup of Yogi bedtime tea
Day 4 – Thursday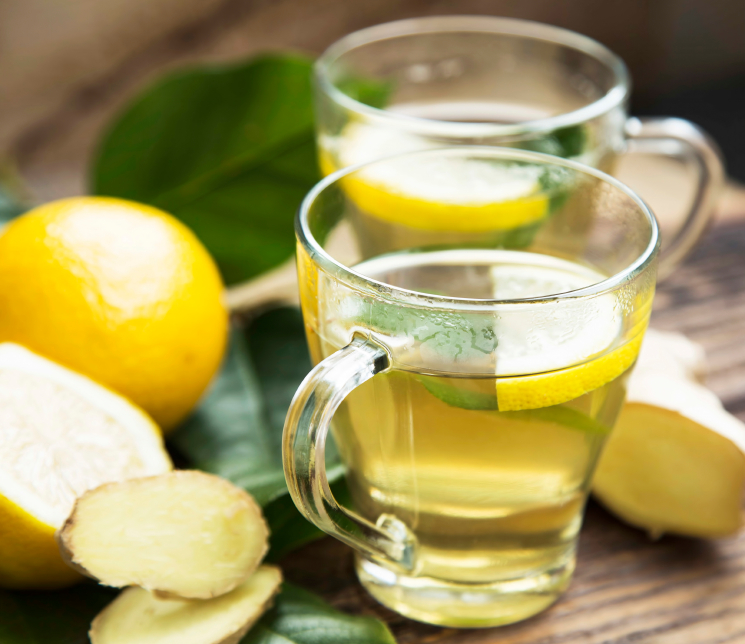 Drink –  Warm water with Lemon
Breakfast – 2 soft boiled eggs and broccoli for dipping
Midmorning: Mexican hot chocolate with coconut milk
Exercise: Early evening reformer pilates at FRAME
Lunch: My go-to packed lunch of smoked mackerel, avocado, watercress and leftover roasted veg
Mid afternoon: Juice from Raw Press Chelsea. I had my usual, the 'super green' cold pressed green juice, all veg.
Evening: Veg stew with lots of lovely spices, squash, red lentils and greens (made a huge batch and froze the rest)
Drink: Rooibos tea before bed
Day 5 – Friday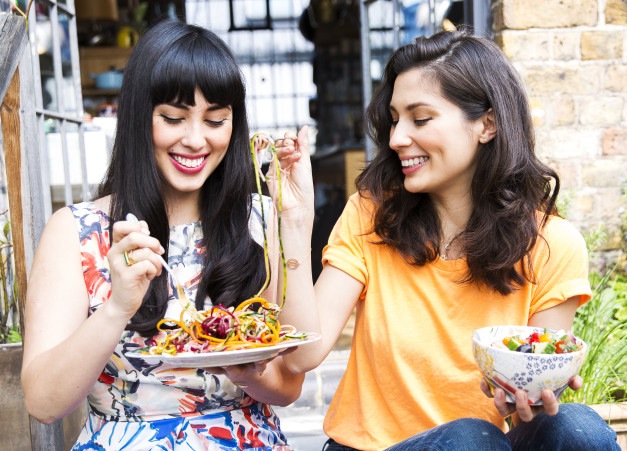 Drink: A mug of Four Sigma Foods Chaga because I have a day of meetings and need the extra energy and focus!
Breakfast: Meeting at 45 Jermyn St. I had fried eggs in butter, spinach with tomato relish.
Exercise: Pre-breakfast popped to Psycle (Mortimer street) for a sweaty spin class with my colleague Eva
Lunch: Sandwich of Flaxseed Buns with yummy avocado, hummus, watercress and grated carrot.
Mid-afternoon: A handful of homemade Spiced Nuts
Evening: Early dinner at my local The Canton Arms with my boyfriend and friends – we shared slow-roasted lamb, lots of greens and roasted veg, enjoyed with 2 glasses of red wine.
Day 6 – Saturday
Morning: Chicory latte with almond milk to wake up!
Breakfast: Fancied something sweet for a change so made some banana bread – smells amazing in the kitchen.
Exercise: Did some online yoga videos, love Tara Stiles
Lunch: My boyfriend made us lunch at home – his speciality that made it into our new book! – an onglet steak (winning cheaper cut) and kale avocado salad
Mid-afternoon: A paradise bar
Evening: Super quick fish curry with some cauliflower rice before a night out
Drink: Went for cocktails for a friend's birthday at Dandelyan in The Mondrian – my favourite is the 'Sea Mountain Spritz' – an amazing blend of Galician Cider, Vodka, Apple Brandy and Elderflower. Couldn't resist ordering some bar snacks too – lettuce cups filled with a quinoa and pomegranate salad.
Day 7 – Sunday
Morning: Beetroot Bloody Marys all round! Made with Chase Vodka, just one of these is a great pick-me-up after the night before.
Breakfast: Huevos Rancheros (below) topped with guacamole, enjoyed with hungover friends! Find the recipe here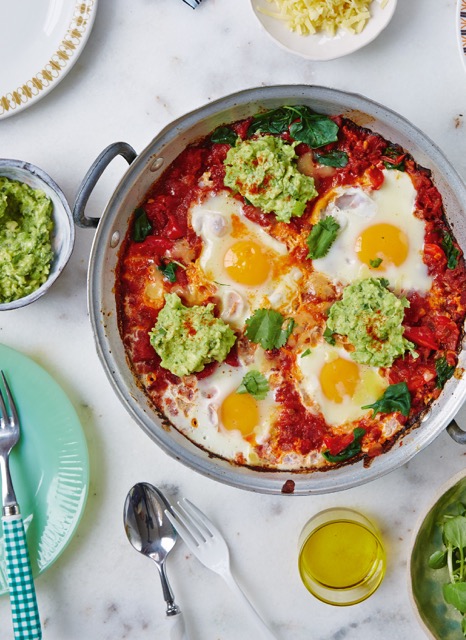 Exercise: A long walk with everyone along the canal and then to the pub for lunch
Lunch: Sunday roast at my old place of work – Paradise by way of Kensal Green. Had rib of beef, tons of vegetables and cheese-board with two small glasses of red wine and followed by a fresh mint tea
Evening: Mung Dahl (I had some leftover from Tuesday, so simply stirred in fresh spinach when I heated it up) This is a perfect meal for a cosy and comforting Sunday night in.
I had a smoked paprika veggie soup straight away followed by some Tahini Date Fudge straight from the freezer.
Night: A cup of YOGI Bedtime Tea before hitting the hay
Jasmine Hemsley, 36, lives in South London with her partner Nick Hopper, 40, a photographer and creative director at Hemsley & Hemsley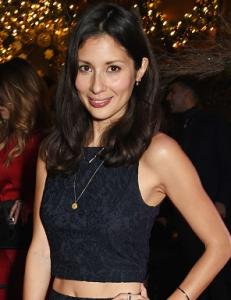 Day 1 – Tuesday
Morning: Early morning flight back to London from a long weekend food recce in Dubai – we had blueberries and raspberries with us so Mel and I ate a packet each for breakfast before the flight landed and we'd have to declare them! Drank a cup of chaga and later a green tea – brought our own teabags and just got cups of hot water from the flight attendant.
Lunch: Picked up some eggs and watercress on the way home, pulled some soups from the freezer and a chicken carcass which I popped into the pressure cooker. Nick had been on a stag weekend and I had been away too so there wasn't much in the fridge. I had a smoked paprika veggie soup straight away followed by some Tahini Date Fudge (recipe here) straight from the freezer. Normally I crave tonnes of greens after being away but we ate really well at friends' cafés in Dubai.
The Sum of Us was a gorgeous café underneath the apartment we were staying in so Mel and I had breakfast there every morning. The first morning we had sunny side up eggs, with avocado and roasted tomatoes and greens, then next morning I had a refreshing coconut chia bowl beautiful decorated with berries and edible flowers.
The other café was called Tom & Serg where we had a big lunch with friends; Mel had a deliciously soba noodle soup bowl and I had slow-cooked beef ribs and slaw – we also got to taste test with them the new organic beef burgers that they were trying to choose between.
For dinner we went to a Pakistani restaurant where all the locals go and sipped tea while eating a delicious mutton peshwari, aloo and paneer, fresh veggies, raita and rotis.
Got tired really early with the jet lag so after getting through emails, worked on a new cake recipe and handed in a new recipe for brown sauce! I called it a day early, did about an hour of yoga online – 3 Tara Stiles 7-10 min videos and then a 30 mins relaxations one.
Evening: After tasting lots of different things I wanted something light and easy to digest, so I made Drop-Egg Soup (made with ginger, eggs, watercress, dash of tamari and – of course – bone broth).
This was followed by a salt bath; the age-old remedy of epsom salts is fantastic for easing sore muscles, drawing toxins from the body and just helping you to relax after a long day, like this one. After this I fell straight to sleep!
Day 3 – Wednesday
Morning: Woke up very hungry and very early so made some soft boiled eggs for me, Nick and our pup Julie (all our favourites!) then had some pep-up tea to counteract the jet-lag, and some Tahini Date Fudge (below – get the recipe here) because I felt like something a bit sweet! Had morning meetings in North London so afterwards went to a 11am drop-in Ashtanga class at TriYoga Camden.
Breakfast: I stayed in TriYoga to work from the communal tables and got a second breakfast of a vegetable and chickpea salad from the café, followed by an almond milk matcha latte and half a slice of beetroot chocolate cake, while working there before my next meeting.
Moroccan Meditation stew made from red lentils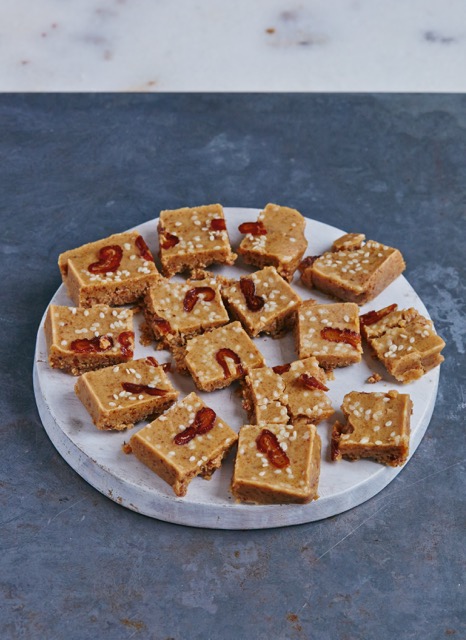 Lunch: I'd heated up one of my defrosted soups – butternut squash and coconut – and had brought it with me in a thermos so that was lunch sorted.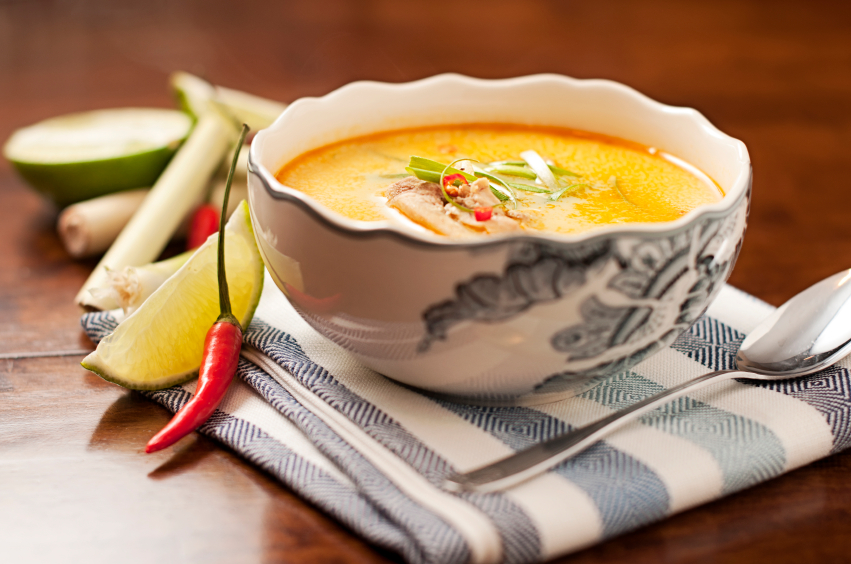 It's full of live cultures and beneficial bacteria that really help to aid digestion and prop up your immune system, especially in the colder months).
Mid-afternoon: Luckily I did have blood oranges in my fridge so I peeled two of them – Nick won't bother eating them unless I peel them! These are one of my favourite fruits and the best thing about winter…
Evening: Really easy Moroccan meditation stew made from red lentils with lots of steamed greens and some of the bone broth for dinner, served with some homemade fermented kimchi (I try to eat probiotic-rich, fermented foods like this and sauerkraut at least once every few days – it's full of live cultures and beneficial bacteria that really help to aid digestion and prop up your immune system, especially in the colder months). This was followed by the rest of the cake! Later I had some bedtime tea – a blend of chamomile, lavender, nutmeg and valerian root – before sleep…
Day 4 – Thursday
Veg box day! Our weekly delivery from Riverford arrived, full of seasonal fresh, organic veg – this one had broccoli, spinach, leeks and swiss chard – to name a few. The first thing we always do is make sure we eat the salad leaves!
Breakfast: Scrambled eggs on warm flax buns with a green salad and a cup of chicory, (a tablespoon of ground chicory topped up with just-boiled water – I like to drink it black, my boyfriend likes to add unpasteurised and unhomogenised milk from Hook + Son's Borough when we can get it, or almond milk)
A really tasty Japanese place where we enjoyed grilled mackerel (my favourite)
Mid-morning: Snacked on Caroby Fruit and Nut Balls –courtesy of one of our publishers – we'd gone in to sign some copies of the book and she'd kindly made them for everyone!
Lunch: Leftover red lentil stew in a thermos followed by a plain Coyo coconut yoghurt I'd picked up earlier. I love full-fat, probiotic yoghurt as well as coconut milk yoghurt style – Coyo is a lot richer, thicker and very filling so a small pot is often more than enough for me.
Evening: Yoga at Indaba with my friend who's in town and then walked to Soho to eat at Palomar. No room at the bar so we went to another favourite – Kirazu on Rupert Street – that we found last time she was here. A really tasty Japanese place where we enjoyed grilled mackerel (my favourite) seaweed salad, sauteed lotus root and some warm sake to catch up.
Honey is Mum's favourite thing on toast
Bedtime: A mug of warm lemon water before I went to bed. My meal was quite late so this gave my digestion a helping hand and helped to balance the earlier sake!
Day 5 – Friday
Morning: Woke up earlier than normal to have a good run in the park with Julie – she runs rings round me! I try to do at least three rounds of the park which takes at least 30 minutes because Julie is very social so there's a lot of stopping and starting as I wait for her to meet and greet everyone or have to run across the park after her if she spots another dog in the distance.
Flax buns are really simple
When it's very stop-start like this I make sure I sprint in between; the rest of the time I'm always running and not jogging which is not so good for you! Then I did 20 mins of chilled out stretching before work using a deep stretch yoga YouTube video by Colleen Saidman. I try to get a workout at least every other day and both running and YouTube yoga are my go-to exercises if I can't make it to a full-length class.
Breakfast: Flax buns (get the recipe here) with butter, local honey and a cup of Earl Grey tea – a real childhood nostalgic food to have for breakfast, I love marmalade or honey with butter on bread. Honey is Mum's favourite thing on toast and marmalade is Dad's.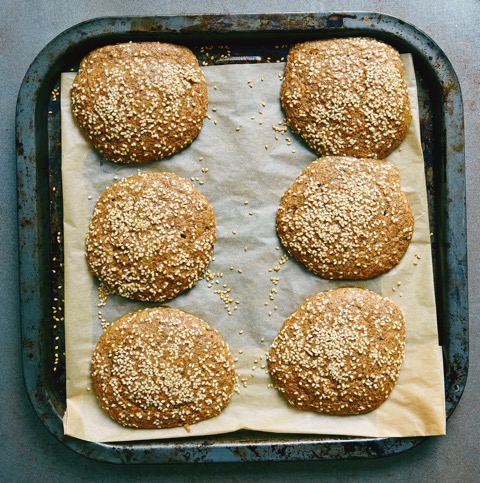 These days we like to make our own 'breads' using grain alternatives because when you're not cooking or eating at home all the other alternatives usually include grains. Flax buns are really simple – eggs, butter, ground flax, no need to proof, just mix and then shape into buns and bake – and of course they are the vehicle for my favourite topping – butter!
Lunch: Fancied something green and didn't have time to make a soup or salad so went for a creamy smoothie – made up of some kale from my veg box, vanilla, Sunwarrior protein powder, coconut oil and a banana – any extras made a perfect snack to have straight after a 'rave' dance class that evening at Frame in Shoreditch.
Evening: Decided on a quiet night in after a busy week and big birthday weekend ahead so skipped the dance class! Nick had been to Borough Market and picked up some heart for our dog Julie and some incredible steak from Lizzy at Wild Beef so we had a really early supper at 6.30 and a small glass of red wine.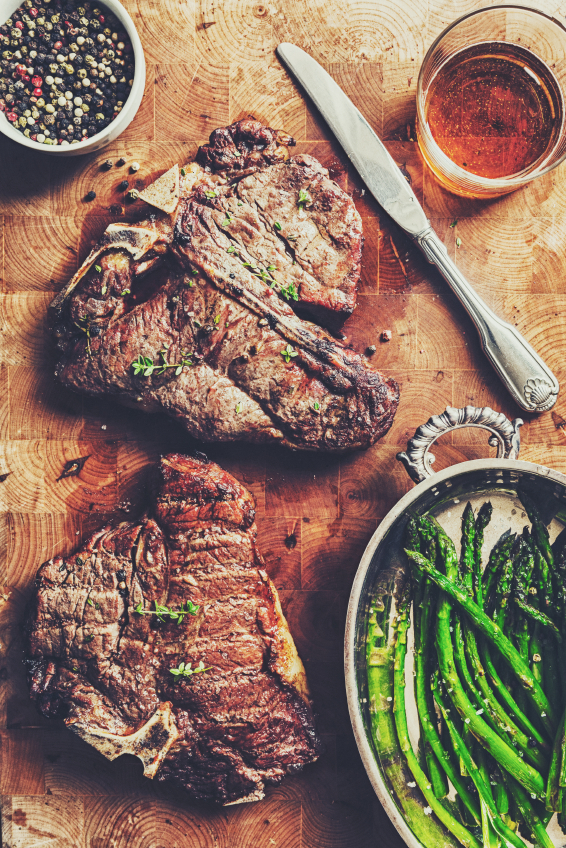 He's a really good cook and after eating out all weekend previously it's nice to have some home cooking. He cooks up some cabbage and leeks and we try it with the new brown sauce – it's really nice! We walk to the shops later with Julie to get some Green & Black's 85% dark chocolate and they don't have any, but luckily we have some Paradise bars in the freezer to go with a movie.
Day 5 – Saturday
Morning: Today is my morning potter around the house and yoga day so I have a cup of Chaga as and some leftover green smoothie while I have a tidy, water my plants and check my post and then it's off to a dynamic yoga class at Frame in Shoreditch.
Lunch: A birthday get-together at the Sea Containers in the Mondrian; I go with Nick and take mum too who's been staying with Mel, Mel is following later. As with all big get-togethers the main course doesn't arrive for ages as no one orders with all the chatting!
We start off with padron peppers and olives and then finally move onto a smorgasbord of grilled fish, roast chicken, wing of beef, shaved mushroom and parmesan salad, Kale caesar salad…enjoyed with 2 glasses of red wine (hard to tell when other people keep pouring!) and a glass of champagne. I have a mouthful of the flourless chocolate cake, nice but too sweet for me, so I get a ginger tea to finish.
Evening: Lunch turned out to be a 6 hour affair (!) so we didn't think we needed anymore food. But we got peckish at about 9pm and had some leftover bone broth and greens with miso and lemon juice before bed.
Day 6 – Sunday (Valentine's Day)
Morning: Sunday mornings are usually 'family' day – Nick and I love to go to a carboot sale, farmer's market or something and then spend a couple of hours in a park walking our dog Julie or if it's sunny lying down on the grass and reading the papers. This morning it's freezing and as it's Valentines we pop into Brickwood café in Clapham to enjoy a hot breakfast before our walk in Wandsworth Park. We discovered it on new year's morning and it's got a brilliant Australian vibe, laid-back with simple and delicious brunch options.
Breakfast: Bacon, egg and avocado with homemade chutney and a green juice
Today I'm meeting up with best friends and spouses – we're all Aquarian babies (so we all celebrate our birthdays around the same time each year) and haven't had the chance to get together yet – we're also celebrating the new kitchen extension so we decide to gather at 2pm for a PotLuck. Like all true weekends none of us are ready in time and lunch isn't on the table until 4.30pm so we're snacking on mackerel pate, crudites and crisps …
It was a feast that we all likened to Christmas lunch!
Lunch: The hosts had a lamb stew, dauphinoise potatoes cooked in cream and lamb stock, Nick and I made a marinated kale salad, a grated carrot, raisin and pumpkin seed salad and leeks baked in the oven with a crispy buckwheat and Daylesford cheddar topping. It was a feast that we all likened to Christmas lunch! My other friends had made our ground almond carrot cake with with strained yoghurt frosting from our new cookbook – she tested it 6 months ago and has made it for every celebration since including her son's 8th birthday in Cape Town where the kids and adults alike loved it.
We had brought each other gifts of dark chocolate –the one I received was from the Philippines (where our mum is from) which was a surprise and we enjoyed them with a pot of Teeccino (a caffeine-free herbal coffee substitute)
(not readily available in the Philippines so you won't see THAT in tinola often!
That night Nick and I drove to mum's to stay the night. She had made my favourite, Chicken Tinola – a brothy soup of poached chicken, onions, ginger and garlic with carrot and this time broccoli (not readily available in the Philippines so you won't see THAT in tinola often!) rather than cabbage or other leafy greens – it's like the classic Filipino version of Jewish 'Penicillin' Chicken Soup, that mum always made for us when we were sick – but I loved it all year around. We were both still too full to eat in at that point though so instead we enjoyed some Earl Grey Rooibos and then to bed!
Day 7 – Monday my birthday!
Breakfast: I woke up really early in my childhood room after a bit of a lie in – typical!
Mum heated up portions of the Chicken Tinola for our birthday breakfast adding broccoli to steam in it – delicious. I did some H+H work (it's never a day off when you have your own company!), then cleared out some old stuff from room including old accounts and diaries from years ago; it was fun to peek at them for a final time before saying 'out with the old'!
Lunch: We went for a long walk in Richmond Park which was a park I grew up near but was the first time I'd taken my 10 month old dog there. It was a bracing walk so as soon as we got back to mums we reheated the rest of the tinola and enjoyed its delicious brothy nutrition to warm us up.
Granny and Dad were very old-school British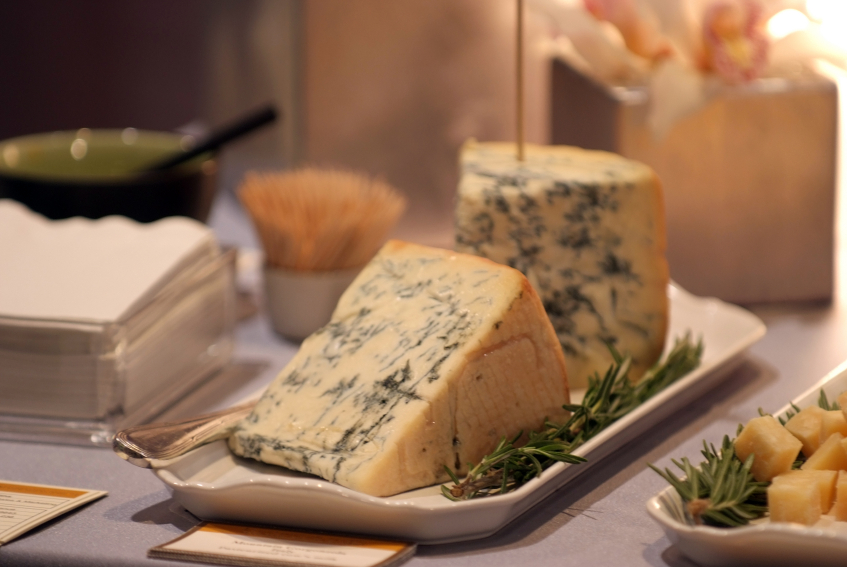 Snack: Mum had bought some Gorgonzola (our granny's favourite cheese) and some Russian/German style rye bread which was our dad's favourite so we had some of that with a cup of Pukka Love Tea (a delicate and tasty blend of rose, lavender, chamomile and elderflower) and remembered them…Granny and Dad were very old-school British – very 'waste not want not' – and both had a sweet tooth!
Though they cooked traditional British food at home they had lived in other countries
We always used to laugh that dad would find a delicious morsel in the most squashed or overripe fruit that everyone else was ignoring in the fruit bowl. He also loved curries and disliked chicken breast (too dry and tasteless) and maintained (even though we argued until we were blue in the face) that fish should always be served with a sauce.
We still have Granny's cookbooks, notebooks and her very practical cotton pinny and wipeable oil cloth apron. Both of them were well travelled and though they cooked traditional British food at home they had lived in other countries and liked all types of cuisine. Granny died when I was 5, a few months before Mel was born so I only remember snippets and the rest is from stories from the family and from her keepsakes.
Filipino tradition is to enjoy noodles on your birthday
Evening: Back at our flat. Filipino tradition is to enjoy noodles on your birthday for a long life so Nick cooked me buckwheat noodles with shiitake mushrooms, chillis, red onions, wilted spinach and gem lettuce and some passata, and we drizzled over some homemade basil and parsley pesto that we had in the freezer.
A cheaper alternative to classic pine nuts), extra virgin olive oil, lemon juice, garlic and a hard cheese like parmesan
Whenever we get fresh herbs we make sure they get used up in one go to avoid them going limp in the freezer! So we turn them into pestos – it's so simple, just throw them into the food processor with your choice of nuts (we like cashew and brazil – a cheaper alternative to classic pine nuts), extra virgin olive oil, lemon juice, garlic and a hard cheese like parmesan (although you can make it dairy-free if you leave this out) or even just herbs, garlic, olive oil and lemon sometimes.
The pesto will keep in the fridge for the week and pop any leftovers in the freezer for last minute additions. The rest of the dinner goes into 2 lunch boxes for lunch the next day. Always look for stainless steel lunch boxes and insulated flasks to avoid toxins from the plastic variety which may leach into your food.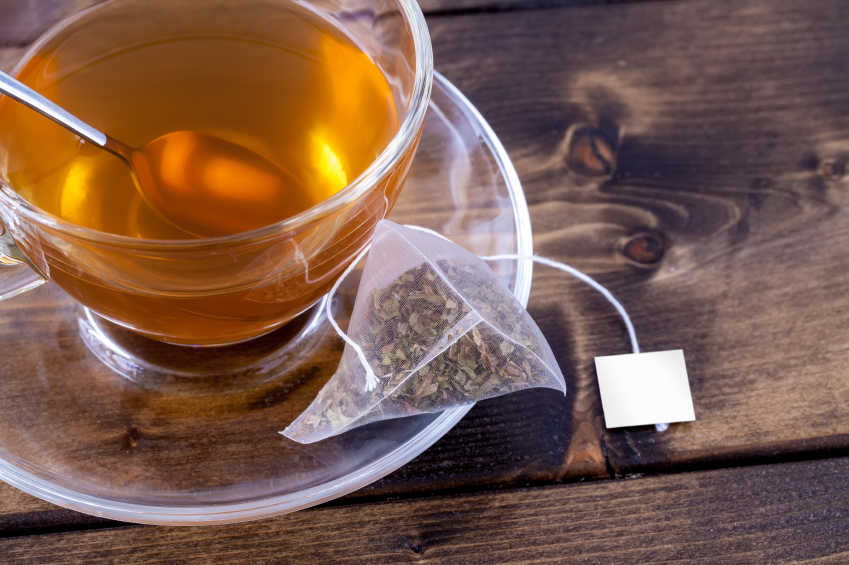 Bedtime: A bedtime tea before bed!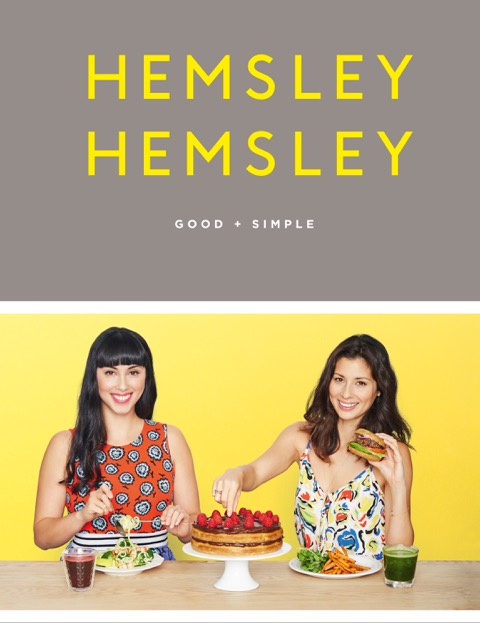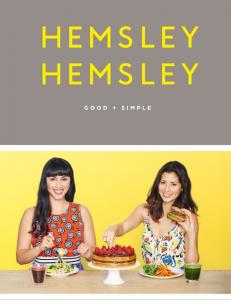 Get the Jasmine and Melissa Hemsley's new book Good + Simple, here for £12,00
Like this article? Sign up to our newsletter to get more articles like this delivered straight to your inbox.